Envato Market
Учитесь у лучших: перед вами топ-5 видеокреаторов на VideoHive в этом месяце.
В этой статье ми представим вашему вниманию топ-5 видеохудожников VideoHive на Envato Market, исходя из уровня их продаж.

Когда ви совершенствуете свои навыки, будучи видеохудожником, иногда трудно понять, с чего стоит начать. Пятерка лучших креаторов этого месяца - на вершине своего мастерства. Мы надеемся, что их истории и то, что они делают, вдохновят вас на создание собственных потрясающих видео и других товаров для рынка. Также вы можете в любое время посмотреть полный рейтинг на VideoHive, он обновляется еженедельно.
Под номером пять - студия Pressmaster - это команда преданных творческих профессионалов, которые создают концептуальные стоковые изображения, футажи и музыку. Они предлагают продукти от корпоративных футажей до семейных сцен и даже кулинарии.
Съемка селфи сейчас не совсем актуальная, но довольно сложно отснять людей, которые их делают. Обычно ми видим уже конечный результат! Такой тип стоковых футажей идеально подойдет для корпоративных презентаций, а также для трансляции социальных медиа.
Европейская студия Gorodenkoff Visuals занимает четвертое место, предлагая съемку фильмов, монтаж и пост-продакшн коммерческих фото и видеоматериалов. Их портфолио демонстрирует высокое качество, профессионализм и привлекательный микс стоковых футажей.
Отличительный товар: VR Headset
С акцентом на научные исследования, техническую и виртуальную реальность, стоковый футаж от Gorodenkoffs - актуальный, интересный и не похож на другие.
Под номером три - портфолио Евгения - приятный микс всевозможных элементов видео, которые вы только можете себе представить. Можете больше не искать динамические трейлеры, переходы или слайд-шоу.
Handy Seamless Transitions включает почти 500 переходов, которые идеально подойдут вашим видеопроектам. Включая такие опции, как "рыбий глаз", помехи и эффекты в стиле флэт, этот проект имеет все, что вы только можете пожелать и даже больше!
Как и подразумевается в имени, Mister Horse - наш номер два в этом месяце - имеет веселое и причудливое портфолио с целым набором пресетов motion 3D и некоторыми искусными наборами белых бордов. Вы без проблем найдете то, что вам понравится.
Этот набор включает более 1000 элементов, которые помогут вам с нуля создать собственную историю, используя белые борды. Просто вставьте ваш контент и добавьте анимацию с помощью предоставленных пресетов - и никакой лишней суеты.
Наш звездный автор под номером один - Joel Starling - фрилансер, моушн-дизайнер и арт-директор из Бразилии. Его портфолио - это впечатляющая совокупность заголовков и нижних титров, которые гарантировано добавят элегантности любой видеотрансляции.
Благодаря быстрому рендерингу и легкой настройке, эти заголовки разработаны так, чтобы предоставить вам максимальный контроль без лишних хлопот. Также имеются полезные видеоинструкции на случай, если что-то осталось непонятным.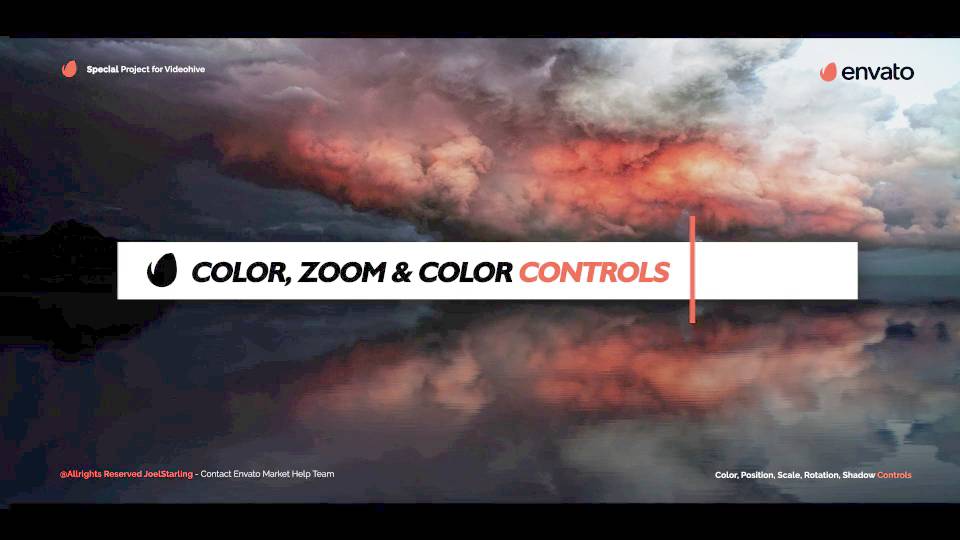 До встречи в следующем месяце!
Мы надеемся, что вам понравилась наша подборка этого месяца и что вы нашли для себя новый вдохновляющий контент, чтобы придать вашим видеопроектам и телевещанию нового измерения.

Want a weekly email summary?
Subscribe below and we'll send you a weekly email summary of all new Photo & Video tutorials. Never miss out on learning about the next big thing.
Sign up
Melbourne, Australia
Everything you need for your next creative project. Over 9 million digital products created by a global community of designers, developers, photographers, illustrators & producers.
Start your 7-day free trial*
*All Individual plans include a 7-day free trial for new customers; then chosen plan price applies. Cancel any time.