Read Time:
2 mins
Languages: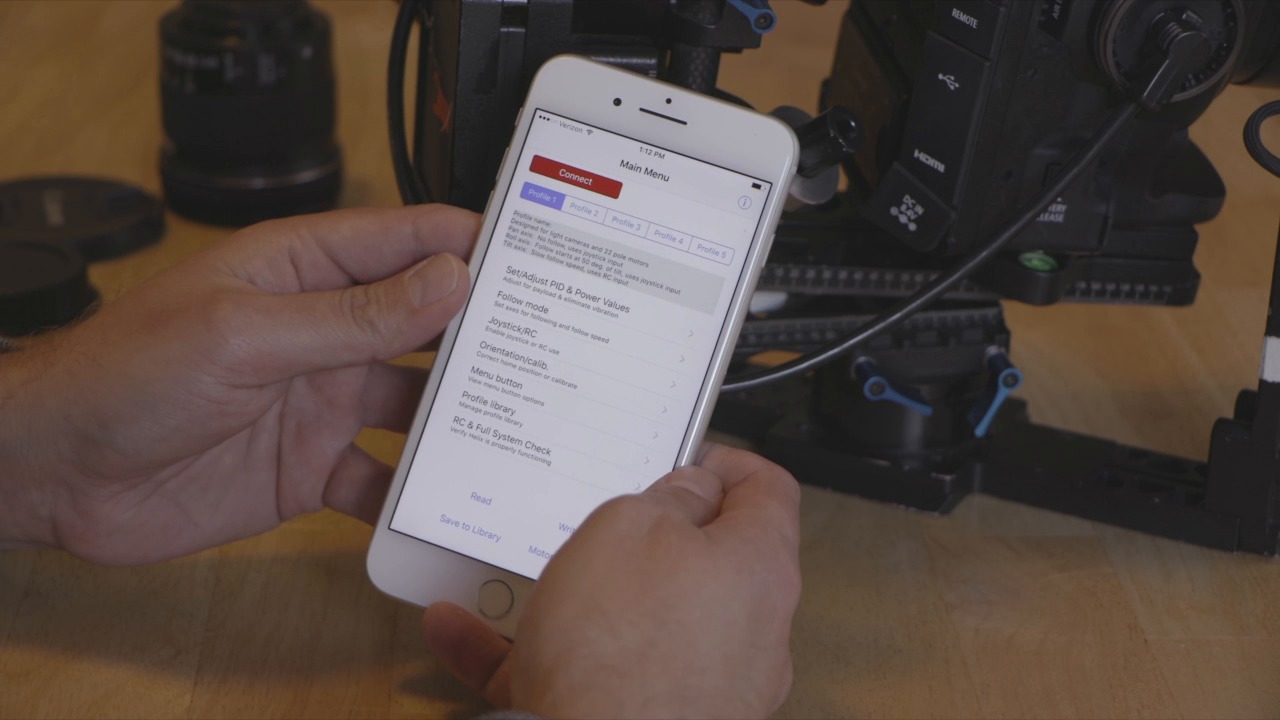 Прежде чем вы сможете использовать карданный подвес, вы должны сбалансировать вашу камеру на трех осях карданного подвеса. Вам нужно найти точку, в которой вы сможете перемещать камеру на любую позицию, в которой она остается, а не поворачивается обратно в другое положение. Это означает, что вы выполняете намного меньше работы двигателя, и ваш карданный подвес может эффективно выполнять свою задачу.
Баланс не должен быть идеальным, и если ваша камера не выходит за пределы грузоподъемности вашего карданного подвеса, то большинство двигателей могут отлично справиться даже без идеально сбалансированной настройки. Но чем легче она будет на двигателях, тем менее беспорядочно это будет действовать.
Некоторым карданным подвесам требуется, чтобы вы повесили их на стойку, для того чтобы сбалансировать камеру. Удобно, что теперь есть такие карданные подвесы, которые можно разместить на столе, поэтому вы можете сбалансировать свою камеру без надобности на каждую съемку таскать с собой стойку.
Начните с заднего и переднего размещения вашей камеры или осей наклона, а затем сбалансируйте вашу продольную ось, перемещая камеру вверх и вниз или добавляя противовесы как на левую, так и на правую сторону, в зависимости от того, как распределяется вес вашей камеры. Когда вы балансируете, поднимайте ее несколько раз, но будьте осторожны, чтобы вы не повредили камеру или объектив, в случае того, если вы поднимете камеру, а она быстро упадет в сторону.
Во время балансировки, не забудьте прикрепить все, что вы будете использовать во время работы, включая аккумулятор карданного подвеса, микрофон и внешний монитор, если вы его используете. 
После того, когда все будет сбалансировано, если вы включите его, и он начнет вести себя не адекватно, скорее всего, вам нужно будет настроить параметры карданного подвеса через компьютер или приложение для телефона. Эти настройки PID на первый взгляд кажутся пугающими, но вы всегда можете вернуться к номерам по умолчанию, если вы отклонились от правильного курса. К счастью, как только вы выберите правильные настройки для вашей камеры, вам не нужно будет снова корректировать PID номера.
Наконец, самое лучшее, что можно сделать, когда вы достигнете баланса, - это отметить точки вдоль оси, с помощью ленты или маркера. Таким образом, вы сможете быстро найти эти точки, если вам придется разобрать ваш карданный подвес для путешествия, если раздвинутся болты или карданный подвес выйдет из его сбалансированного положения.

Slavik Boyechko is an Emmy award-winning filmmaker and co-owner of Video Dads, which creates inspirational videos about people and organizations. He also runs the gear review website geardads.com.
Weekly email summary
Subscribe below and we'll send you a weekly email summary of all new Photo & Video tutorials. Never miss out on learning about the next big thing.
Update me weekly
Looking for something to help kick start your next project?
Envato Market
has a range of items for sale to help get you started.