Melody Nieves
Sponsored Content
This sponsored post features a product relevant to our readers while meeting our editorial guidelines for being objective and educational.
Vitajte v našej novej sérii Photoshop v 60 sekundách, v ktorej sa môžete naučiť zručnosti, vlastnosti alebo techniky vo Photoshope. V tomto krátkom videu vám Melody Nieves ukáže, ako rýchlo a jednoducho vyostriť vaše obrázky použitím Photoshop akcií.

Vylepšite svoj postup s Photoshop akciami

Aby sa váš postup trochu zlepšil, zauvažujte nad silou Photoshop akcií. Akcia vám umožní aplikovať efekty na fotografie a jednoducho je tak upraví jedným stlačením tlačidla. Objavte skvelý výber akcií dostupný na Envato Marketu.

A pozrite sa na krátke video, aby ste sa naučili rýchlo zostriť obrázky s Photoshop akciami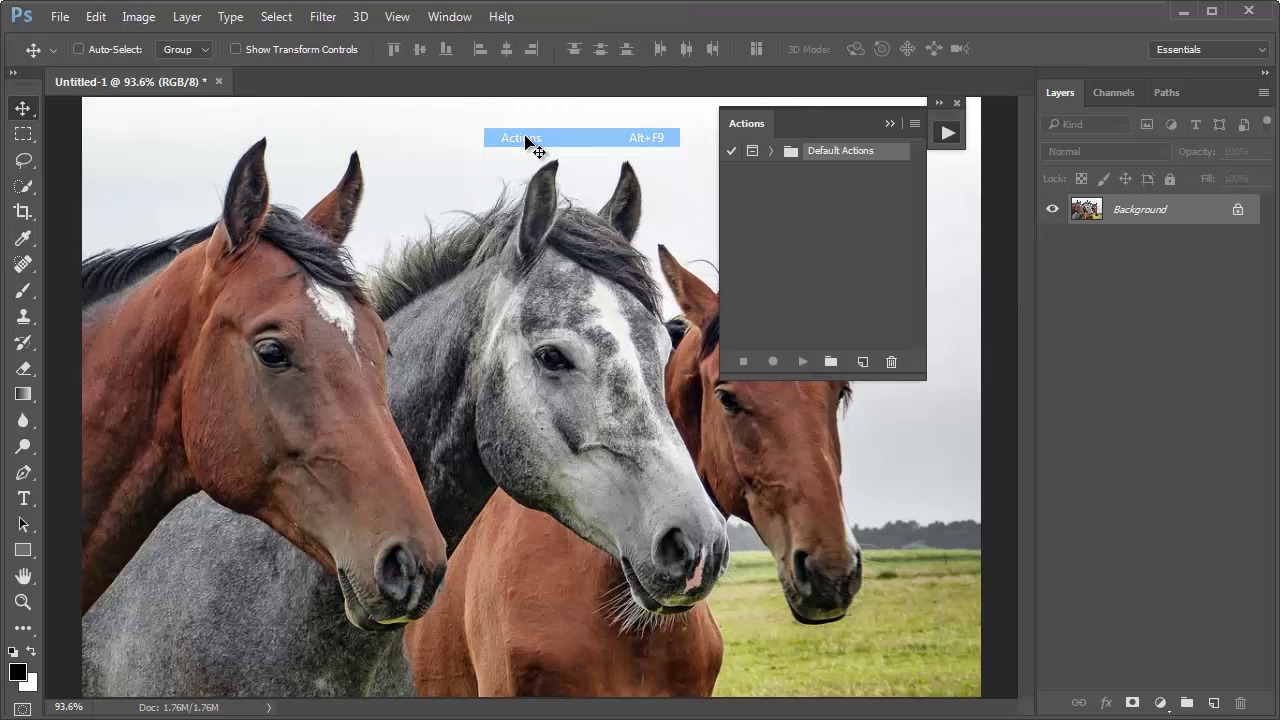 Ako zostriť obrázky s Photoshop akciami

K zvýšeniu ostrosti obrázku nižšie použijem balíček 10 Premium Photo Sharpen Actions z GraphicRiveru. Neváhajte si stiahnuť túto akciu a vyskúšajte si ju na vlastnej koži na obrázku koní použitom vo videu.

Po prvé, načítajte akciu, ktorú ste si vybrali. Choďte do Okná > Akcie a vyberte možnosť Načítať akcie v rámci panelu Akcie. Potom vyberte akciu, ktorú ste práve stiahli a stlačte Load.
Až budete pripravení použiť efekt, jednoducho vyberte jeden z listu akcií zostrenie a stlačte prehrať.
Objavujte aj iné možnosti zostrenie tým, že si budete hrať s ostatnými akciami, ktoré sú súčasťou balíčka. Naozaj je to tak jednoduché! Teraz si môžete užiť ostrosť vašich obrázkov

Nižšie je výsledný efekt.

Trošku viac detailnejšie
Chcete sa naučiť viac o Photoshop akciách? Pozrite sa na list úžasných tutoriálov:

60 sekúnd ?!
Toto je časť zo série krátkych tutoriálov tu na Envato Tutsi +, v ktorých predstavujeme rad tém, a to v 60 sekundách-akurát dosť na to, aby ste nestratili chuť. Dajte nám vedieť v komentároch, čo si myslíte o tomto videu a čo by ste chceli vysvetliť nabudúce v 60 sekundách

Want a weekly email summary?
Subscribe below and we'll send you a weekly email summary of all new Photo tutorials. Never miss out on learning about the next big thing.
Sign up
Digital Artist - CT, USA
I'm an Afro-Latina digital artist originally from Long Island, NY. I love to paint, design, and photo manipulate in Adobe Photoshop while helping others learn too. Follow me on
Instagram
or tweet me
@MelloNieves
and tell me what you'd like to see next!
Looking for something to help kick start your next project?
Envato Market
has a range of items for sale to help get you started.