Jose Antunes
When most people think about apps for smartphones, they think of software to enhance pictures taken with the phone. The apps here are different: they are for photographers that want tools to use with their DSLR or compact cameras.
There are thousands of apps for iOS and Android Smartphones, many doing the same thing over and over. Some are good, a lot are bad, some not even worth the effort of downloading them to try. The same happens with the apps for the most recent system in the market, Windows Phone 8. There are less apps for the system, because it is rather new. It's only now with new options like the entry level Nokia Lumia 620 that the system seems to be taking off.
In fact, Microsoft might have done something right. The Live Tiles work flawlessly and smartphones like the Lumia might make more people jump in. I just did, and I am glad I have decided to move to the system.
We're still at the infancy of apps for Windows Phone 8 (WP8). I've done some searching over the last few weeks, and I am happy to say that from a photographer's standpoint, there are a lot of good things to try. Better than that, most of the apps are completely free.
There are already hundreds of apps related to photography for WP8. Right now, I am mostly interested in apps that can be used for general photography alongside cameras, from compacts to DSLR. Tools that let you calculate long exposures, corrections needed when using neutral density filters or where the sun sets everyday are what I find most interesting. So here is a practical list of some of the apps I've installed on my Lumia 620 and tested.
---
PhotographersTools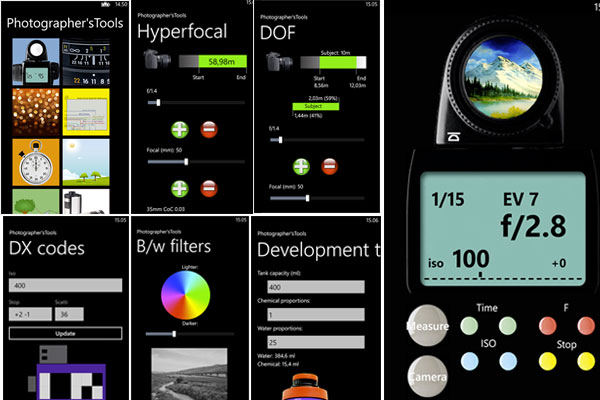 Created by Andrea Cristaldi, PhotographersTool is a paid app. There is a trial version, but it is really worth the $1.49. This app offers 14 different tools to be used by digital and film photographers. There are calculators for depth of field and hyperfocal distance.
There's an exposure meter whose accuracy depends on the camera phone, but it actually works. I've tested it with the light meter from my cameras. You'll also find a tool to calculate flash exposure, an angle of view calculator (important for comparing lenses between APS-C, Micro 4/3s and full frame cameras), info on Wratten filters and also a simulator that shows the effects of colour filters in black and white.
The film photographers are not forgotten. This application has a triple timer with voice, to use in the darkroom, development charts for films, calculators for quantities of water and chemicals to use, and also time and temperature for development of films. For the film data sheet you'll need to have Internet access, but the rest is usable anywhere.
---
Earth, Sun, Moon
Created by Lappstudios, Earth, Sun, Moon is useful for photographers that do landscapes and need to know the position of the sun. Until The Photographer's Ephemeris is launched for Windows Phone 8, users will have to live with apps like this one.
This said, I was so curious to try the app fully as the demo is very limited. I do not regret the $1.49 paid for it. This application provides 50+ dynamically updating measurements about the earth, sun and moon. Some of it I do not need as a photographer, for example, graphs of daily and annual heat radiation of sun, but it's interesting to check out.
From a photographer's point of view, Earth, Sun and Moon offers rise, noon and set of the sun and moon, including twilight transitions and the exact position of the sun and moon in the sky. That's a lot of needed information for photographers.
---
Sun Tracker
As you might have guessed, there are hundreds of apps that show you the position of the sun and moon, essential elements of photography, for some of us. So let me present you another nice app, Sun Tracker, created by FishOfPrey. It is not free, costing $1.29, but I found it to be one of the most interesting apps for my needs, even if it does offer some info similar to Earth, Sun, Moon.
With Sun Tracker you can track the position of the sun throughout the day. With tracking enabled the phone can be pointed at the sky to measure current elevation and azimuth angle. And there is more to it. You can switch to the augmented reality vision mode and see the path of the sun overlayed on your environment. The program gives you the position of the Sun today, but you can easily switch to verify the solstice and equinox paths.
---
Jack of Tools
Created by Digitalmason, the app Jack of Tools exists in free (a trial version which can be used indefinitely) and paid versions. In this case, you might want to try the free version first as it has some good tools on it's own.
It tells me exactly where I am and the distance from a point I defined earlier as my base. It also gives me a compass, a virtual level and even lets me know my altitude. It can also show me my heading and speed (including average and maximum speed markers). A sound meter completes the collection of seven tools available.
The Jack of Tool Pro app offers the same the free version and also a LED flashlight, geographic camera, a caliper, and a better sound meter.
---
Night Exposure
Some apps are very simple, yet do exactly what you need. Night Exposure, a free app created by Clunia, is a tool to calculate long exposures at night. You know those times you wish you had been good at maths! Well, this program calculates everything for you.
Start by measuring the exposure with your camera using a high ISO value (up to 12800 ISO), and then insert the values into the app, followed by the desired values of aperture and ISO. The program gives you the needed exposure time. Simple!
---
ND Converter
If you're doing landscape photography you are probably using neutral density filters. Cameras these days do calculate exposure with filters added, but some people still like to know exactly what is going on and how each filter affects exposure. ND Converter does that for you.
The free tool created by IJ Software calculates the exposure required when a neutral density filter is used on your camera. Just select your ND filter stop value and exposure time without the filter and the converter will tell you what the required exposure should be with the filter applied. Simple.
Using ND filters usually means long exposure times that may exceed the 30-second limit present in most cameras, forcing you to count time and use bulb mode. ND Converter has a countdown timer to use in just that situation. Just select the required exposure time, scroll across to the timer and start counting down!
---
Waiting for Developers
This selection of tools should be enough to show you that photographers haven't been neglected by Windows Phone 8 developers. Developers are working hard to create new apps and port their iOS and Android apps to WP8. But there is already a good selection for anyone involved with photography. These are real tools that make our lives easier.
The best way to check what is available and find the apps mentioned here is to visit the Windows Phone Store.
Want a weekly email summary?
Subscribe below and we'll send you a weekly email summary of all new Photo & Video tutorials. Never miss out on learning about the next big thing.
Sign up
Jose Antunes is a freelance writer and photographer based in Portugal. Besides writing about the technical and creative aspects of photography for various publications, he leads workshops and leads photo tours to reveal the hidden perspectives from his country. "Less Gear, More Fun" is an important idea for him.
Start your 7-day free trial*
*All Individual plans include a 7-day free trial for new customers; then chosen plan price applies. Cancel any time.