Andrew Childress
In this article we showcase new Final Cut Pro templates in ten top categories. We highlight several new template choices from Envato Elements and Envato Market in each category, and revisit a few memorable templates from previous years.
We review templates in these categories:
Intros and Openers
Channel Graphics
Lower-Thirds Titles
Slideshows
Transitions
Logo Animations and Stings
Titles
Promos
Infographics
Live Video
1.

Top Intro Templates for Final Cut Pro

An intro, or opening segment, makes the all-important first impression, introduces themes, and sets the tone for the rest of the video.
Featured Intro Template From Envato Elements
Flat 3D Opener is a simple, attractive intro template that is quick to load with your own media, and easy to edit. It's flat and 3D, at the same time! It's also well-animated and wonderfully dynamic. Swap in your logo at the end to tie the whole thing together.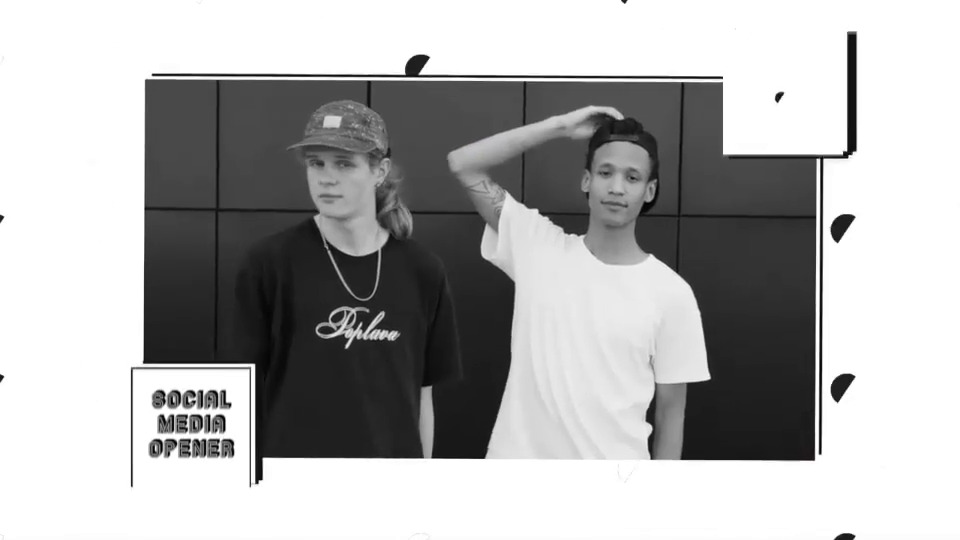 More New Intro Templates
From Envato Elements
With unlimited downloads and millions of creative items, an Envato Elements subscription includes thousands of professionally-designed template options—and you can try as many as you like.
For animation-themed openers, Anime Cosplay Opener and Comic Book Intro offer two impressive takes on the genre. New templates Creative Fashion Opener and Triple Freeze Frame also stand out for style. Trend Promo has a wonderfully angular thing going for it.
For the record, and for a few more Envato Elements options to try, our top intro/opener template highlights from previous years were:
From Envato Market
Not ready for a subscription? For an Envato Market option, try VHS Pack—it includes everything you need to create cool retro openers, including transitions, titles and presets, all in video tape style. $37.
2.

Top Channel Graphics Packs for Final Cut Pro

Broadcast packages are sets of motion graphics that you can use to create a unified look for your channel. The titles, graphics, and elements are designed to match and work together to create a cohesive feeling for all your videos.
Featured Channel Graphics Pack From Envato Elements
If you make a lot of videos for online newscasts or corporate presentations you can have some fun with this bundle. There are over 520 modern elements to experiment with, including titles, animated infographics, and more. The best part is that everything is easy to use and customize.
More Broadcast Template Packs
From Envato Elements
YouTube Pack is a new motion graphics template set that has everything you need for your channel. Other new options to try include Modern Broadcast Pack, Minimal Broadcast Package and Clean Broadcast Package.
Previous highlights in this category include:
Envato Market Channel Pack Option
Clean Broadcast Package is an elegant, minimal design with color accents, has over 200 graphic elements in 15 categories to help you create something that looks great for your brand. $35.
3.

Top Lower-Thirds Titles for Final Cut Pro

In many videos lower-thirds titles are the only graphics, and therefore even more noticeable and affecting. Even in complex videos, the use of informative titles has a lot of influence over how people experience the story.
Featured Lower-Thirds Templates From Envato Elements
Big Image definitely lives up to its name. This is a template for anyone that wants to crank up the style for their lower thirds. Each of the nine templates combines a photo placeholder with an animated and colorful lower-third title.
More Lower-Thirds Templates
From Envato Elements
For an unobtrusive option, a nice new set is Minimalist Titles for FCP. Try Social Media Lower-Thirds for Final Cut Pro to share your profile information in an easily recognizable way.
4.

Top Slideshow Templates For Final Cut Pro

Slideshows they take a basic photo presentation and turn it into an audio-visual story. They are one of the simplest—and still one of the best—ways to present your photos.
Featured Slideshow Template From Envato Elements
This slideshow template is a vibrant addition to your Final Cut Pro library in 2022. The hand-animated brush effect makes both pictures and text stand out. AWhat's better,  Colorful Brush Slideshow has an easy to modify modular structure.
More Slideshow Templates
From Envato Elements
Colourful Slideshow template is that in spades. If your business is making tasty treats, bake up a sweet display slideshow with Baked Goods Menu.
Previous slideshow templates we've recommended:
From Envato Market
FCP YouTube Essentials has everything you need to brand up your videos for your social channels, with a particular focus on YouTube—but it's also useful for making display videos and slideshows. $29.
5.

Top Design Elements for Final Cut Pro

Elements range from helpful extras like fancy cuts to creative, quirky effects that add fun and interest to your videos. Although many seem quite niche, together they serve a wide variety of purposes, and using elements is one way to create videos that stand out.
Featured Design Elements Template From Envato Elements
This transition pack is perfect for audiences that want to feel like a kid again. Even the kids that want to grow up too fast will slow down for these. Cartoon Transitions Pack features cool animated 2D effects to move between scenes; they're loud, they're vibrant, and they're easy to edit. With 24 unique animations, these transitions will get the creative juices a-flowin'.
More Video Elements Templates
From Envato Elements
Two great transition options to try, 3D Transitions and 4K Light Leaks Transitions. And try these elements template picks from previous years:
From Envato Market
Transitions and Sound FX + Bonus, on Envato Market, includes a whopping 500 transitions sorted into 21 categories, including shapes, distortions, and panels. $29.
6.

Top Logo Animation Templates and Stings for Final Cut Pro

Bring your brand to life by animating its most important visual element: the logo. Countless options make it easy to match a logo to any type of video, with only a few clicks required to creatively introduce your marketing.
Featured Logo Animation Template From Envato Elements
Your logo may already be awesome as is, but you can do better than just dropping it in your video. Go ahead and give it some "oomph" with the White Glitch Logo Reveal. This animation is energetic and customizable in Final Cut Pro. The effects won't overshadow your logo, and they even make way for your brand's slogan at the end.
More Logo Animation Templates
From Envato Elements
Logo animations come in many different styles and types. Here are a few examples: Twitch Logo Reveal is a nice addition to your live video channel graphics. Neon Logo Reveal has a dark electric mood. Food Logo and Liquid Splash Logo are fun.
Previous logo selections:
From Envato Market
Simple Logo Reveal is an uncomplicated, clean, quick reveal for your logo. This template works with any logo and includes two versions. $11.
7.

Top Title Templates for Final Cut Pro

Professionally-designed titles for your production introduce big ideas and help frame your narrative. The best title templates match your style and the mood of the video, and bring plenty of customization options to the table.
Featured Title Templates From Envato Elements
Like, subscribe, and click the bell, that's the YouTuber's mantra. If you want to add a fresh visual element to these words in 2022, action titles at the start or end of videos are a good way to get consistent with your appeal. With the nine included templates, you'll have plenty of options.
More Title Templates
From Envato Elements
There are many template options for Story titles, one example is Instgram Stories. Neon Creative Titles has a nice variety of titles in a 80s retro-esque vaporwave style. For something a little more subtle, try Minimal Call-Outs.
A few more title templates from previous years' selections:
From Envato Market
Try 99 Final Cut X Titles Pack from Envato Market: this comprehensive pack is suitable for a wide range of products and brands. The titles are easy to edit in Final Cut (10.2.2 or newer), or in Motion. $25.
8.

Top Promo Templates for Final Cut Pro

Promo videos are built to drive purchasing decisions, but also need to meet the expectations of your audience. Specialized promo templates can help you market your offerings, whatever they may be.
Featured Promo Video Template From Envato Elements
TikTok was officially the most downloaded app of 2021, and its influence isn't going away anytime soon. If you've got a personal or professional TikTok account to promote, here's a template for you. One thing that stands out is that the TikTok Promo for Final Cut Pro is always moving. The dynamic style works well with the customizable device mockups and text boxes. Don't forget the logo placeholder at the end if you're working on a brand video!
More Promo Templates
From Envato Elements
For a more traditional option, Product Promo Slideshow is a solid choice and so is Products Promo. For a menu, Food Menu Slideshow. Nice little set of related templates in Gaming Set Product Promo, Home Electronics Product Promo, Sport Product Promo and Fast Food Promo.
In previous years, we selected:
9.

Top Infographics Templates For Final Cut Pro

Video is a powerful way to communicating ideas, but it can be tough to keep things engaging and visually appealing when you have a lot of complex information to convey. That's where infographic templates for Final Cut Pro come in.
Featured Infographic Templates From Envato Elements
If your video subject is braving the elements, then check out these weather infographics. The six included elements are animated with a modern and bright art style, so even rainy days will look good with these templates. Try them out for travel, vacation, or giving the local forecast.
More Infographic Templates
From Envato Elements
For maps and driving-related, Maps and Routes animations helps tell a travel story. Trendy Infographics let's you display data with just the right amount of style. And Techno HUD Titles 4K is a kit to create futuristic heads-up display titles.
Our infographic pack picks from previous years:
From Envato Market
Infographics has three colour options and six chart elements. There are also helpful video tutorials included with the download. $21.
10.

Top Live Streaming Graphics for Final Cut Pro

Final Cut Pro templates for live video streaming applications are a new addition to this reviews page this year.
Featured Templates for Live Video From Envato Elements
This a lightweight download that renders super-fast. Just choose from the ten looping animations to promote your other videos or social platforms. Whether working in Final Cut Pro or Apple Motion, you can customize these no problem and with no plugins needed.
More Templates
From Envato Elements
If you broadcast on Facebook or it's subsidiary Instagram, try the templates Facebook Live and Instagram Live.
Keep Learning With Envato Tuts+
Here are more free learning resources from Envato Tuts+:
Frequently Asked Questions
Recommended Tutorials
Learning the ins and out of filmmaking is made fun and enjoyable with Envato Tuts+, with everything from quick tips to in-depth courses to take you through the needed steps to create great work.  If you're just staring out making video, check out Recording Video with a DSLR, how to record Better Video on Your Smartphone, and Learn the Lingo, Camera Shots & Techniques in Storyboarding to get started.
After you're comfortable with your camera, try following along with Video Editing in Final Cut and Setting Up Your Mac for Photo and Video to help you start out with editing.
Free Video Courses: Follow Envato Tuts+ on YouTube
Subscribe to the Envato Tuts+ YouTube channel for free courses taking you through step-by-step on a variety of software, subjects and techniques. Here's a free course from David Bode about What Every Photographer Should Know About Lenses:
More Final Cut Pro Resources From Envato Tuts+
Try these pages for more great templates.
About This Page
How We Picked
We looked at projects and considered all kinds of variables, including organization, complexity, experience required and overall difficulty, minimum hardware specifications, included versions and options, formats, resolution, file size, dependencies and required plug-ins (if any), language options, software versions supported, style, design, and cost. You can read more about how we select items at How We Pick Templates to Feature on Envato Tuts+.
This page was edited by Jackson Couse. It was originally published on December 15, 2018 and later updated by Tuts+ staff Maria Villanueva and Nathan Umoh.
Share Your Craft on the Envato Forums
Have you used one of these templates? Let us know on the Envato forums. We love to see the projects you create!
Want a weekly email summary?
Subscribe below and we'll send you a weekly email summary of all new Photo & Video tutorials. Never miss out on learning about the next big thing.
Sign up
I believe that life is too short to do just one thing. In college, I studied Accounting and Finance but continue to scratch my creative itch with my work for Envato Tuts+ and other clients. By day, I enjoy my career in corporate finance, using data and analysis to make decisions. I cover a variety of topics for Tuts+, including photo editing software like Adobe Lightroom, PowerPoint, Keynote, and more. What I enjoy most is teaching people to use software to solve everyday problems, excel in their career, and complete work efficiently. Feel free to reach out to me on my website.
Scroll to top
Start your 7-day free trial*
*All Individual plans include a 7-day free trial for new customers; then chosen plan price applies. Cancel any time.