Andrew Childress
Adobe has software for every type of creative project, or so it seems. In fact, there are so many apps in the Creative Cloud lineup that there are now multiple apps for the same type of project. 
This is the case for video editing. Adobe recently split its video editing platforms into two non-linear editing (NLE) apps: Adobe Rush Premiere (commonly called Adobe Rush), and Adobe Premiere Pro (commonly called Premiere).

So when it comes time to create your next video, which of the two apps should you use? The answer is, as usual, that it depends. In this article, we'll review and compare the two apps and help you decide which one is right for you. It might possibly even be both.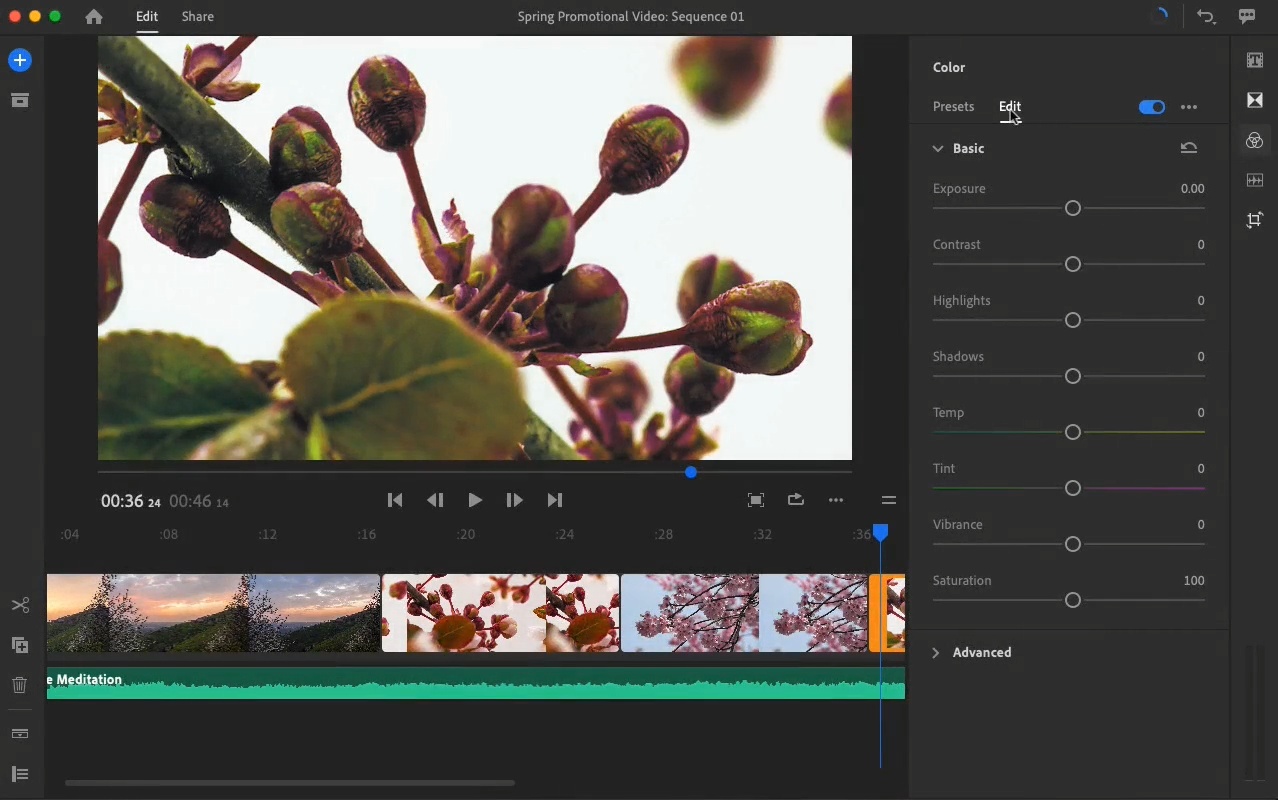 Is It The Best Video Editor? Meet Adobe Premiere
You probably have already heard of Adobe Premiere. It's one of the most popular video editing platforms and is used by everyone from amateur videographers to Hollywood production studios.
Premiere has all of the tools you need to produce a video. Sequencing, assembly, color correction, and editing each require a different approach and set of steps, and at the top of Premiere you can click on preset interface modes that quickly re-arrange the app to put the tools you need front and center.
With Premiere, Adobe's intent is clear: own the entire video edit from start to finish. Premiere can do the entire video production workflow.  There's a tool for everything, and additional extensions, plugins, and presets to add extra functionality. Adobe wants Premiere to be your one-stop editing shop. 

About the only thing missing from Adobe Premiere is fully-featured animation tools, which is best left for another, well-integrated, Adobe product: After Effects. 
The challenge of Premiere is taking on the learning curve. With so many tools inside one app, you'll have to spend time learning the ins and outs to produce a video. This can be challenging if you need to quickly complete a basic project. 
Luckily, we have some tutorials that can help ease that learning curve. Make sure to check out these tutorials for Adobe Premiere to learn more:
The New NLE: Meet Adobe Rush
Adobe Rush is the new kid on the block and it embodies all of the features of modern apps: cloud syncing, mobile-first app design, and smart features that handle work for you. That makes it an ideal choice if you're an occasional video editor who prefers simplicity over a full library of tools and layouts. Adding and rearranging clips is as easy as dragging and dropping.
Rush is also clearly targeted at social media content creators. Export settings make it easy to publish directly to social media platforms like YouTube and Facebook. Stylistically, the text overlays have the look and feel of the captions you might see on your favorite YouTube channels.
One of my favorite things about Adobe Rush is the availability of a full-featured mobile app. Editing a video production on an iPad, for example, feels like a first class experience. The mobile apps don't lack any of the features you see in the desktop apps. 
Both tools may have a place in your video editing workflows. So, which one should you choose? Here are some recommendations for which app might be the right choice for you.
Best for Editors On-the-Go: Adobe Rush
Rush isn't the first mobile video editing app, but it's one of the most polished that I've seen. It's clear that Adobe prioritized development of the mobile app that provides continuity on your editing projects. 

If you travel often or want to complete your edits on mobile apps, Adobe Rush is the ideal choice. I completed several test edits directly from my iPad Pro and found it to be equal to editing on the desktop (other than the precision that a mouse and keyboard offers.) Rush does a great job compressing the sample footage and syncing proxy copies to the cloud so that you can work with footage without downloading the original clips at full resolution.
For the occasional video editor, Rush might just be the perfect solution. It's free to get started with for your first three video exports, so it's ideal for getting your feet wet with video production. 
Adobe Rush doesn't purport to have every possible editing tool. It has enough features for most basic video edits, ranging from transitions to color adjustments to easy text overlays. It's the "good enough" video editor that comes in handy when you have to work with video footage. Rush focuses on the essentials of video editing to ease the learning curve. 
Another plus for Rush is that it supports .MOGRT (motion graphics template) files. Many resources already exist in the MOGRT format and using Rush allows you to take advantage of them.
I think that Rush is an excellent fit for part-time video editors who like to edit on the go. The quality of the mobile apps and simplicity of the app make it worth trying if you aren't already invested in another app.
Best for Experienced Editors: Adobe Premiere
The best tool is the one that you already know how to use. If you have deep experience with a desktop app like Adobe Premiere, there's no reason to move away now. You've already invested the time needed to learn the app, so don't be distracted by every new app that's offered.
Premiere has practically every feature you could need in a video editing platform. You won't get stuck on your edit because a feature is missing. You can always solve that by learning a bit more about Premiere or using a third-party plugin that helps bridge the gap.
If you're choosing a platform for the long-term, Premiere might be the best choice. It's here to stay and there's a huge community of users that will push Adobe to keep it updated and feature-filled.
Another plus for Premiere is the extensive library of resources and tools that already exist. Simply put, Premiere has been around long enough to have a deep library of tutorials and help videos. In addition, you can use templates for Premiere Pro from sites like Envato Elements to jump ahead on your video projects.
More Video Editing Resources
Whether you choose Adobe Rush or Adobe Premiere for your next project, learning a bit about the art of video editing can help you improve the finished product. Check out the tutorials below to learn more about video editing.
Which video editing platform are you choosing for your projects these days? Let me know in the comments section below if it's Rush, Premiere, or another editing platform and why.
Want a weekly email summary?
Subscribe below and we'll send you a weekly email summary of all new Photo & Video tutorials. Never miss out on learning about the next big thing.
Sign up
I believe that life is too short to do just one thing. In college, I studied Accounting and Finance but continue to scratch my creative itch with my work for Envato Tuts+ and other clients. By day, I enjoy my career in corporate finance, using data and analysis to make decisions. I cover a variety of topics for Tuts+, including photo editing software like Adobe Lightroom, PowerPoint, Keynote, and more. What I enjoy most is teaching people to use software to solve everyday problems, excel in their career, and complete work efficiently. Feel free to reach out to me on my website.
One subscription. Unlimited Downloads.