Marie Gardiner
Making something personal to sell or send out as a marketing tool can take time and effort. That might be off-putting, but there are ways to create something original that's time-efficient and cost-effective. Here, I'll show you how to create a calendar from a simple template, and explain why you might want to.
Tuts+ author Simon Bray, has created a calendar for the last five years, and shares some of his expertise with us here.
Why Create a Calendar?
If you're not a professional photographer, it can be difficult to find uses for your photography, which in turn, may lead you to do less of it. As Simon says, creating a calendar that you can share with your friends and family is a great excuse to use your own images and also show everyone what you've been up to.
I've put together a calendar each year for the past 5 or so years. It started out as an experiment, I took a gamble, not knowing whether anyone would buy one, but it turned out that as a tool for self-promotion and making a bit of cash, it worked very nicely. It's a great way for my friends and family to have my work on their walls without having to shell out loads of cash for a print.—Simon Bray

It's a Great Marketing Tool
If you're a professional, then sending out a calendar to your clients (or prospective clients) is an excellent way to keep them aware of your brand right through the year. I used to receive branded calendars in a previous job, and I'd always keep it, as it was useful.
It's an extremely affordable way of making an impact with potential clients. The thought that they might be looking at your imagery on a calendar on a daily basis is very enticing. Pick your clients carefully, the scatter approach can be expensive. It's all about building up relationships and a gift like a calendar at this time of year usually goes down very well.—Simon Bray

Having your brand sitting around an office that will need a photographer at some point is well worth the time put into making your calendar. Everyone loves a freebie.
You could also use these as a way to create extra value when you've completed work for someone. You send over their images and drop in one of your calendars 'just because'.
How to Select Your Photographs for a Calendar

With the template I used, which I'll talk about soon, it only requires one image, so that really narrows down the decision process. If you're using an image per month, then you'll have to be more methodical about your choices. It's no use putting a spring daffodil in November's slot. Simon again:

The image selection is crucial. As a landscape photographer, I work hard to ensure the imagery reflects the seasonal changes through the year. I like to get things printed out, even small 6"x4" prints, so I can physically arrange them, see how they work together, if they flow, or are too similar, and then find someone whose eye you trust to give you their thoughts and you'll be well on your way.

This year, I selected a series of images from a project that I've been working on called The Edges Of These Isles, which meant the work visually felt nice and concise, you want to avoid just picking 12 shots of random subject matter, find a theme and stick with it!

Following our example, choose an image that will roughly suit all seasons. This might be a landscape or it might be architecture for example. If you're sending out calendars around your local area, then it may make sense to use a well-known landmark. Conversely, you might decide that your local famous landmark is used too often, and go for something completely different.
Remember, everyone has different taste, and you probably won't please everyone, but you should be looking to select a picture that appeals to the majority of your audience. You could use your social media platforms to get people involved in the selection—if you have enough time in the lead up to creating your calendar.
How to Make a Photo Calendar
Choose a Theme
The first thing you'll want to consider is what you'll populate it with. It might be tempting to just pop all your best photos in there, but this tends to make for calendars that feel disjointed.

Who are you making the calendar for? If your intended audience is people in your local area, would they prefer images of that county, province, or state? If it's to sell internationally, would your travel photos appeal? Much of this will obviously depend on what your particular photography specialisations are. Think about adding where the place is in the corner of the calendar; there's nothing more frustrating than falling in love with an image but having no idea what or where it is.
Storytelling

You don't have to stick with pictures that represent each season, you could think about telling a story across each month from January to December. Many people do prefer a slightly seasonal appeal – it's nice to have a gorgeous sunny landscape on your wall when the sun is shining outside, and likewise seeing a cold, snowy image can be appealing in the winter. Don't feel too constrained, but then likewise it's probably best not to contradict the season too much with your image. Nobody feels comfortable seeing Christmas in June.

If you can be a little niche then it's wise to try. There are so many calendars already for pretty landscapes, pictures of animals and so on, but if you can appeal to something specific with a big enough audience then you have a much better chance of them buying your product.
Get An Objective Review
We all fall in love with our own images a little, usually because of the memories evoked and the emotions they bring about. Try and get someone objective to cast their eye over your images and make suggestions. 
It might be more obvious to them if your images don't work as a series, or if there are any that need switching out. Don't ask family or friends, as they'll just tell you it's brilliant and you're a genius – which is nice, but that warm glow you get won't help you sell calendars.

Sizing The Images

For many pieces of calendar software you won't need to resize your images, which is great. If that's case for you, upload the biggest size you can and the software will adjust to the right size for print.
If the software tells you to resize before upload then it's best to do that, to prevent unsavoury auto-resizing, cropping or compression.
Branding

It's so easy to forget to put your branding on your calendar. Do you have a logo? Include it. Put on your website and contact details. It's no use selling a wonderful marketing tool if you don't make full use of it.
If you don't want to pollute your calendar, think about adding it to the back, but certainly your cover image should contain your name at the very least.
Getting Orders
It sounds obvious but people aren't going to want calendars in January, or mid-way through the year. Generally we tend to look for new diaries and calendars around November, when it suddenly becomes apparent that the old ones are running out and new ones are appearing in stores. If you're really savvy, prepare to have a sale in January, when the more thrifty of us buy our calendars.
Retiring on the Proceeds
You probably won't make much selling calendars, but that's okay! They're a great marketing exercise and getting your work in front of new eyes can be really beneficial, even if that comes later on down the road. Calendars are also the perfect way to say 'thank you' to one of your clients. They're a relatively low-cost gift that hangs around for at least 12 months and keeps your photos and branding on display too.
In this example, I'm using a Calendar Template for Adobe Photoshop by Perfect Pixel14: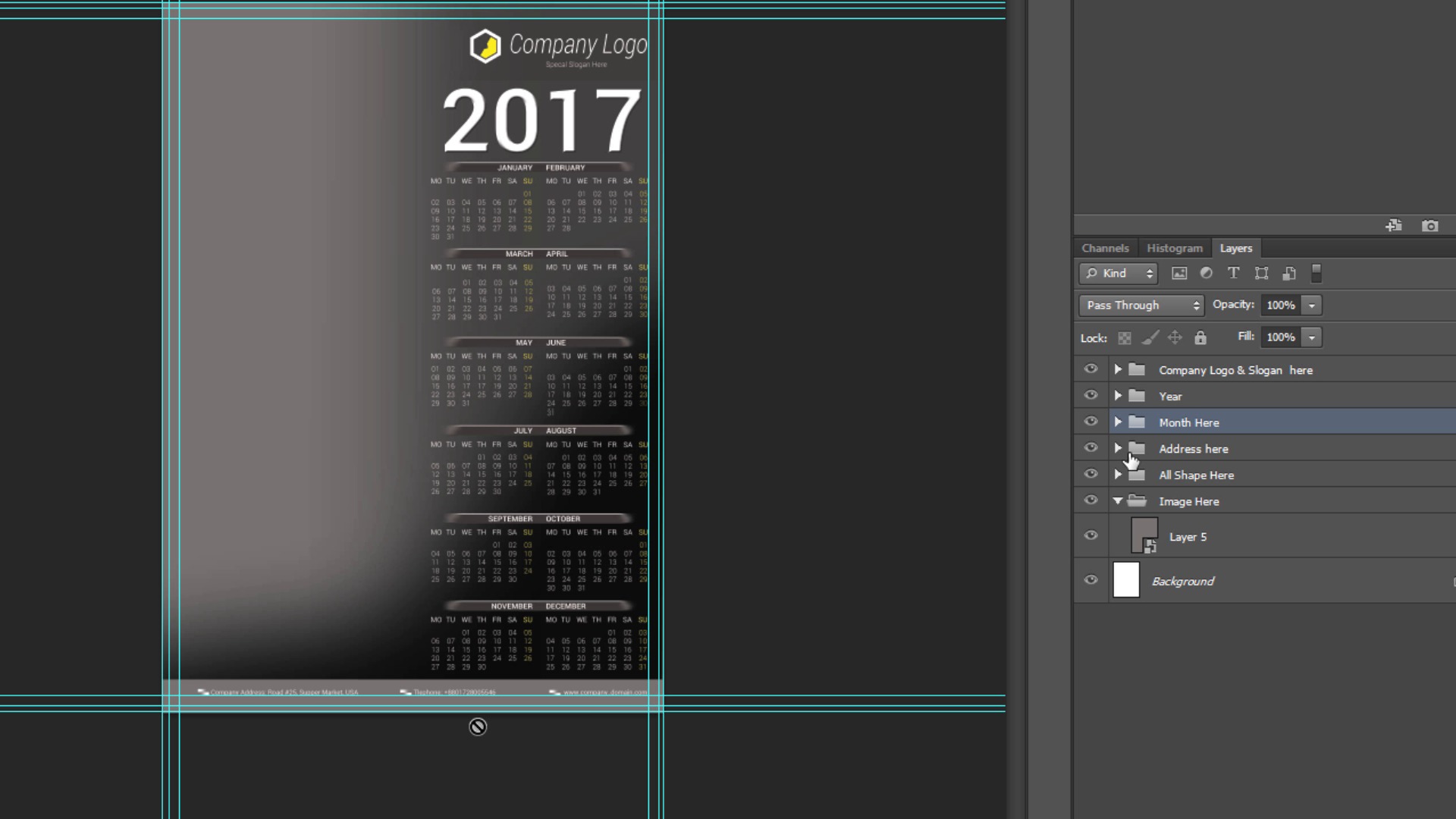 The template comes with two PSD files: a dark scheme, and a light one, so choose the one most appropriate to your image.

You'll need to pre-install the free font with the link provided by the template author or select a one you already have installed to substitute it. Be aware, if you choose the latter then you may have to re-position or re-size some of the text.
Drag your image to the folder 'Image Here' and it will appear as a smart object. Resize until it fills the space and is well composed.
I've chosen this black and white image of some boats as it's dramatic and fits well in the space provided and the colour scheme.
Add a Logo
Don't worry if you're not a business, you can use this space to write a message to your family and friends.
I've removed the 'shape' layers that made up the example logo, and added my own. I've then changed the 'slogan' layer to a simple message wishing clients a happy new year.
Make Colour Changes
I'm not so keen on the yellow the template uses for Sundays, and also think the whole weekend should be coloured to make it stand out.
Changing these is slightly laborious, as you'll have to go through each month's dates, highlight the relevant ones and then change the colour.
I've opted for blue here, as it still stands out well against the background and fits better with the existing business' colour scheme. 
The blue on the lighter sections is slightly lost, but if you navigate to the 'all shape' folder, under 'group 6' you'll see the black-to-transparent gradient used as the background.
You can adjust this until your text is clearer, or you can use a layer mask on your original image and brush out some of the detail.
Add Contact Details
If this isn't for professional use then you can go ahead and delete these layers or add something entirely different.
Remember, many companies will hold on to your contact details and potentially use them for sales lists or contacts in the future, so only put in details that you really want people to have and that you don't mind being made public.
I recommend you have a dedicated work number, rather than your personal mobile or home one, and unless you have an office address then it's best not to include that.
The Finished Calendar
A calendar is a good excuse to get in touch with prospective clients, or existing ones you've not had work from in a while, during a potentially tricky beginning of year. So soon after Christmas, people aren't quite switched on and ready to jump back into work yet, so this is a clever way to make contact, without seeming pushy or like you're selling something.
Alternatively, if you're not in the business of photography, a calendar is a nice thing to send to family and friends to show you're thinking of them.
If you decide you'd like to send out different versions, or even just that you fancy a chance, then it's really easy to substitute your picture for a new one as long as you've saved your template.

Want a weekly email summary?
Subscribe below and we'll send you a weekly email summary of all new Photo & Video tutorials. Never miss out on learning about the next big thing.
Sign up
Photographer and writer based in north east England.
Marie Gardiner is a writer and photographer from the North East of England. After gaining her degree in Film and Media, Marie worked in the media industry, before leaving to set up the business she runs with her partner: Lonely Tower Film & Media. As well as writing about visual practices like photography and video, Marie is also the author of Sunderland Industrial Giant (The History Press, 2017) and Secret Sunderland (Amberley Publishing 2019). Her photographic work focuses on landscapes and industrial ruins, particularly those of the North Pennines as she continues to work on her long-form documentary project Changing Landscapes.
Start your 7-day free trial*
*All Individual plans include a 7-day free trial for new customers; then chosen plan price applies. Cancel any time.