Peter Sawyer
Promoting yourself as a photographer can be an expensive process. Today we are going to look into how you can help promote yourself by designing promotional materials such as business cards and postcards. We don't stop at the design stage we head further and look at the different printers you can choose and what their differences are.
I have also included all the PSD files for those of you who are either short on time or have limited experience with Adobe Photoshop.
Business Cards - The first thing you will want to do is create a business card. Business Cards are often the first impression people get of you and your Business. You want to make sure it's the right impression
Postcards - Promotional postcards are another great way to showcase your work without spending too much for printing.
Printing your promotional materials - In this stage we talk about different types of printing as well as compare some of the leading printing companies over the world.
---
Business Cards - An introduction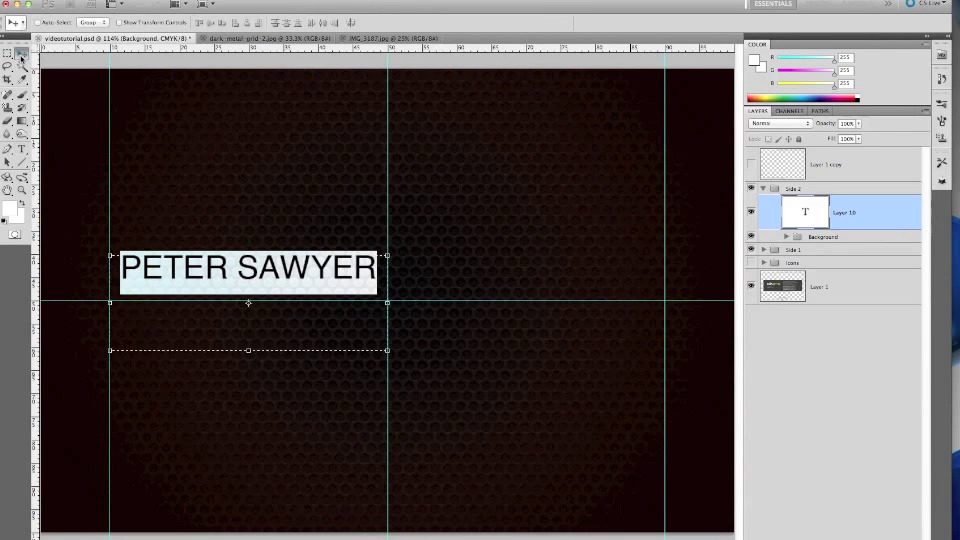 ---
When creating a business card to promote your photography, I would always set one side for a full size picture and the other side for important contact information.
Keep to a minimal style and only include the most important details such as your name, email, website and your focus area (eg: portrait photography).
Whereas in other trades you cannot show your business skills on your card, photography is different. You have a perfect chance to showcase one of your best photos. Make sure you choose one of your most awesome photos to capture the attention of the viewer.
One of the most obvious things to mention is to use a picture that covers your trade. Don't put a picture of a sunset on your business card if you are a portrait photographer. It just sends the wrong messages to possible clients.
When dealing your own promotion the best way to pick your main image is to ask your friends or your more friendly clients. Give them 5 photos to pick from and then just remember that the client is always right! Don't just ignore their advice and pick your favourite.
Now let's actually go ahead and design our very own card. It is actually quite a simple process even with limited Photoshop knowledge. If you have never used Photoshop, I would suggest watching the video tutorial, as the written tutorial doesn't show the location of the tools.
---
Business cards
Step 1:

Setting up the document

When dealing with print it is very important that you set up your document correctly. For business cards I use a brilliant template from the UK-based printing company called Solopress. It includes a 3mm bleed* which is widely adopted as the standard, however be aware not all printing companies will be the same.

You can download the template completely free from Solopress or if you prefer you can create you own document with the dimensions of 85mm x 55mm (then add your bleed* on top). Just make sure you document is set up as a CMYK document with 300 dots per inch (DPI). These are the most common printing standards.

*the bleed is the edge around the print. This area is the ink overlap. It will be cut off. Your printing company will tell you the correct measurement. It's normally around 3mm but sometimes can be up to 5mm.
Step 2:

The main photo

Before we start lets create a new folder named "Side 1". Then open up the photo you plan to use.

Switch on the rulers and guides, (CMD/CTRL + R). These make things slightly easier when dealing with precise measurements. To make things even smoother, you go to View, you can then select snapping. This will allow your photo to snap to the guides.

Right-click on the ruler and select the percentage measurement as it makes things nice and easy to understand. Drag a guide to the 50% mark. This should help when lining up your photo as the centre will snap onto your guide.

Copy and paste in your chosen photo. Use the resize tools, CMD/CTRL + T, to scale your photo down. Make sure the centre of your photo lines up perfectly with the guide you just placed.

Double check that your photo touches the bleeds, although just be aware this area will be chopped off in the printing process.
Step 3:

Designing the second side

Now we go onto the part of the business card that actually requires some design work. However before we start let's just cover some print theory quickly.

When using photoshop for print work, we have to be very careful when using black. On a computer monitor blacks tend to all look the same, however there are many different types of black. Adobe Photoshop has a default 'rich black' which uses the percentages of 63C, 52M, 51Y 100K.

However as a designer we can change these percentages in order to give us a different look.

For a cooler look select the percentages 60C, 0M, 0Y, 100K. This gives the black a blue tone.

For a warm black select the percentages: 0C, 60M, 30C, 100K. This gives the black a red tone.

For a burnt black select the percentages: 0C, 30M, 30C, 100K. This gives the black an darker red tone.

Registration black is 100C, 100M, 100Y, 100K. Don't ever use this for graphics, it is a complete waste of ink. It is only really commonly used to check that printer plates are correctly positioned.
If you haven't already, create a new folder and name it "side 2". Start by filling a new layer with your chosen color, in my case black.
Create a new layer and then select the gradient tool. Select the radial mode (located at the top). Click on the colour options and choose any colour to transparent.
Using the 50% guide from the last step, create a large circle down the middle. Aim for something similar to the picture below, you want it to come close to each of the four corners.
Step 4:

Texture

You can download this brilliant background pack, called "8 Seamless Dark Metal Grid Patterns" from Premium Pixels. It is completely free for commercial use.

Open up one of the patterns and paste it onto a new layer. Place the layer above the radial gradient and then set this layer as a clipping mask. You can do this simply by clicking layer > create clipping mask or using the shortcut CMD/CTRL + ALT + G.
Step 5:

Adding the text

We are now going to add our details onto the business card. This stage will take the longest as you will often shift around text and play with different locations.

To begin, select the text tool and select the font you wish to use, as long as it's not the dreaded comic sans. For my business card I am using helvetica, which is my font of choice when dealing with print.

Set up three new guides. On the Y axis place one at 10% and the other at 90%. Then on the X axis place a guide at 50%.
Start by creating a text box between the 10% mark and the 50% mark. In this text box, place in your name, and then turn the text mode to bold. Align the text to the center of the box.
I also added a slight drop shadow so that my name stood out slightly more than any of the other details.
Below this place your line of work, for example Phototuts+ author. I took the colour from my photograph using the eyedropper tool.
Just like before I centerd this up between the two guides.
For the contact information I used a icon to indicate the point of the information, for example an icon of a house for the address. The set I chose to use are available to download from Picon for roughly $35 a pack.
Import the icons you plan to use into Photoshop. Then place them on top of each other. Create a new shape layer and then set the height to 40 pixels. Using this shape layer you can then move the icons so that they are equally positioned. 40 pixels apart. Delete the shape layer when you are finished.
You can use a guide to make sure they are all perfectly inline which each other.
This might not be the most widely adopted method for positioning icons but it is one that has served me well in the last few years.
The last job we have to do is to add the text and line it up with our icons. Use the same font size as the text below your name.
Remember you can use the guides to help you position them.
Please note that all the contact information used here is fictitious.
Step 6:

Take a look

Print it out on your own printer and have a look. It is the only way you can be sure that your card looks fine.

Before you go ahead and order a 1000 pieces the best thing to do is show people and see their reactions. If it is impossible to show them the printed product then why not use a great mockup product? I am using a great mockup product from Graphic River, which you can purchase for just a few dollars.
---
Promotional Postcards Overview
Promotional postcards are another great way to showcase your work without paying so much for in printing costs.
I am going to design a quick postcard, however many of the techniques I'm using here are also used for the business card walkthrough above.
I am going to treat this postcard as one that you would actually send out to people rather than just hand out. If you were to hand them out, you wouldn't bother adding a holding area for a stamp or address lines.
I am going to be using the same picture and style as the business card. This isn't because I am lazy and cannot find any more icons, its for continuity and to start building up a brand identity.
Step 1:
Create a new document with the dimensions 7" x 5". Once again add the bleeds on top if needed. Make sure the document is CMYK at 300 DPI (dots per inch).
Step 2:
Just like with the business card I am only going to use one picture. Personally, I believe it stands out a lot more, however I can understand if you wish to put more photos onto the card.
In your "Side 1" file, resize your photo until you are happy.
Step 3:
Create a new folder named "side 2". Fill the background with your chosen colour. In my case, I am using a warm black, very similar to that used on my business card.
I then used the radial gradient tool to create a circle before placing my picture as a clipping mask on top. Then I reduced the opacity to 24%.
Step 4:
Time to add a box for a stamp. A typical US stamp measures 22 mm high by 18.5 mm wide. Create a box using the rectangle tool and then use the transform tools (CMD+T) to enter perfect dimensions at the top.
I then added a white stroke via the layer styles pallete (double click on the layer) before turning the fill to 0% on the layer panel).
Place this in the top right hand side. Below add some thin white lines for the address (hold shift to keep them straight). You might find it easier to put two guides between 55% and 90%. I duplicated each line and then held down shift and by hitting the down arrow you can move it 10px. Hit it around 12 times.
Step 5:
I placed 2 more guides, one at 10% and then the other at 45%. Between these two guides, start by adding your name and your focus area. Use the additional text tools to kern or track the text so that the two words line up perfectly.
Add a paragraph below of what you do or who you are. Then finish off my adding the icons and contact details. I copied and pasted these details straight across from the business card then scaled up the text and icons.
---
Printing your promotional materials
When printing your promotional materials, you need to think about a few important things. What style of paper would you like to print on? Do you want a digital or Litho print? How many pieces do you want? And do you want any lamination?
Paper types
I recently wrote a quick tip on different styles of printing paper and the differences in appearance and price. I would suggest that you take a read if you don't know the differences as it makes a huge difference on the final appearance of your work.
A good way to understand the differences would be to order a sample pack from the company you plan to order from. Most companies are happy to send a free pack if they believe you will purchase from them.
How Many?
The more pieces you order the cheaper each piece becomes. So plan ahead and order the amount you feel you need. Ordering small batches every few months quickly becomes expensive and is often unnecessary. I would suggest ordering at minimum 200 business cards, it is surprising how quick you hand them out. If you visit any type of marketing conference or shoot public events you will often hand out bucket loads.
Be aware that printing companies often have special deals on set pieces or deals for first time buyers although you often have to be careful, some companies will then add a huge amount of money on the postage, sometime up to 100% of the order price!
Digital or Litho?
Printing presses come in two different types, digital and litho. With offset lithography printing, the desired print image is burned onto a plate and is then transferred (or offset) from the plate to a rubber blanket, and then to the printing surface. The lithographic process is based on the repulsion of oil and water. The image to be printed gets ink from ink rollers, while the non printing area attracts a film of water, keeping the non printing areas ink-free.
Advantages of digital printing:
Every print is the same as the system is more accurate.
Shorter turn around time.
Cheaper low volume printing.
More accurate proofs
Advantages of Litho
High image quality
Becomes cheaper with higher quantity.
Quality and cost-effectiveness in high volume jobs
Works on a large amount of different materials (wood, cloth, metal, leather, rough paper and plastic)
Let's compare some of the leading companies, I have tried to compare each of the companies on the price of 1000 "gloss laminated" double-sided business cards. However not every company offered this so I choose the next best thing. Also keep in mind that paper weight isn't factored in here. Some companies may use thicker paper than others.
Solopress (UK)
Solo press is my choice of printer. With a 24 hour turn around time and special deals cropping up all the time. If you wish to check them out, they offer a free sample pack (with free postage) that is well worth claiming as it showcases all the different types of paper they offer.
1000 Gloss Lamination Business Cards: $130.25 USD
Print Express (UK)
Print Express has a 3-hour print and delivery service for anywhere in London however this extends to up to a week if you live further away. Print Express prints everything under the sun, business cards, flyers, folders, business documents and much more. They also offer a design service if you struggle or don't have time to design your own.
1000 Gloss Lamination Business Cards: $99.31 USD
Moo Printing (International)
Moo printing are a premium printing company that claim to use top paper, inks and print finishes. You can make your very own sample pack using your own images or their custom designs. They will send you 10 free cards for you to check out. Pretty awesome however it comes with a premium price for quite a slow delivery compared to many other companies.
Price includes standard shipping rate.
USA 1000 Matte Lamination Business Cards: $365.20 USD with a 7 day turn around. (Add $50 approximate for rush printing)
UK 1000 Matte Lamination Business Cards: 203.94 Pounds with a 7 day turn around. (Add £46 approximate for rush printing)
Europe 1000 Matte Lamination Business Cards: 246.36 Euro with a 7 day turn around. (Add €50 approximate for rush printing)
Uprinting (USA)
UPrinting is a socially responsible online printing, marketing and technology firm. It serves thousands of on-demand printing orders online daily, using high-quality printing presses and they have a pretty easy use online ordering system.
1000 Card stock gloss Business Cards: $29.33 USD with a 3 day turn around. (Shipping on top at approximate $13 USD depending on where you live)
Other mentions
Printing Center USA - 1000 glossy Business Cards: $49 (Add around $15 for shipping)
Printing Blue USA - 1000 glossy Business Cards: $104
Printingforless.com - 1000 glossy Business Cards: $111.40
---
Further Reading
Thanks for reading
I hope you have enjoyed this insight into the life of a graphic designer and have started to think up some new design ideas. Remember the techniques and put them into practice. It's not too difficult to design a larger range of products including flyers, posters and even billboards for when you get really famous!
Want a weekly email summary?
Subscribe below and we'll send you a weekly email summary of all new Photo & Video tutorials. Never miss out on learning about the next big thing.
Sign up
Start your 7-day free trial*
*All Individual plans include a 7-day free trial for new customers; then chosen plan price applies. Cancel any time.