Jamie Evan
Sometimes hiring a makeup artist is impractical. Your project may not have the budget to support it, or you're doing some really fast run-and-gun work and you need to move really quickly. In these types of situations, it can be helpful to have a small photography makeup kit to help you handle some quick fixes.
In this photography makeup tutorial, you're going to learn about what products you need to put in your kit.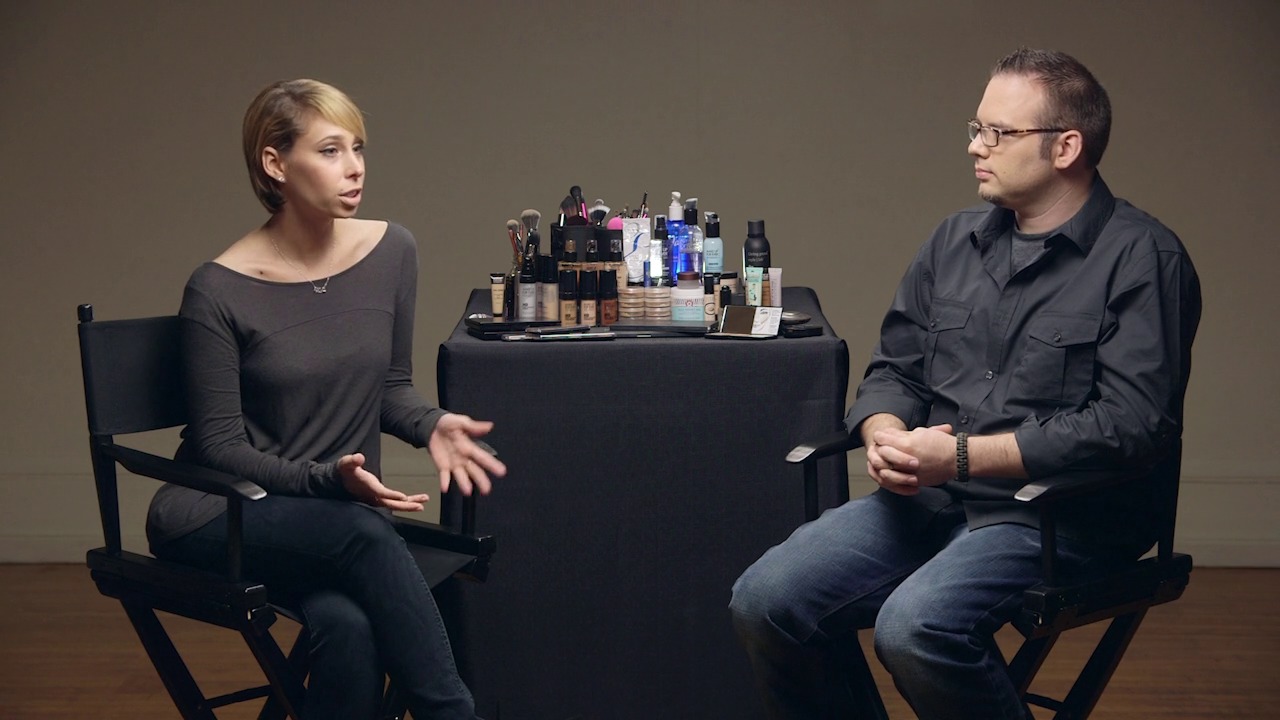 Photography Makeup Kit Essentials
What do we need to have in a basic makeup kit to take to our photo and video shoots? We need to be able to handle small fixes, like reducing some shine or covering up a tiny little blemish.
For minor fixes, I would make sure to keep these products with you on location:
a concealer
a lip product
a mattifying powder
Those are the main three things that you want to make sure you have with you for any touch-up purposes.
When I'm going to a shoot, I usually have no idea what skin tones I'm going to be working with. Because of this, I carry a range of mattifying powders with me. I make sure to have at least the lightest of the light, the darkest of the dark, and then an in-between shade. That way, you can mix and match and be able to accommodate any skin tone or colour that comes your way.
The same thing is true for concealers as well. We want to have a range: the lightest of the light, the darkest of the dark, and maybe one or two shades in between. This way, at least you're allowing yourself to have some variation so that you can accommodate whatever comes your way.
If you're able to then go a little further and maybe have a rosy tone and a yellow or a gold tone in each of those (the light, the dark, and a medium), that would allow for a broader spectrum, but you need at the least the light, medium, and dark.
Quality of Products
When it comes to drug store vs. department store makeup, paying a high price doesn't always mean high quality. I believe that there is a cap that you can spend as far as price point before the ingredients itself aren't really improving.
I typically source my higher-quality products at a department store. I believe that when it comes to makeup, there are a few things that you really should invest your money into, but there are also a few products that you could save on.
Products you should invest in:
your concealer
your foundation
a powder
Products that you can save money on:
mascara
a blush
lip colours
For any other products, you could really go either way.
The reason to invest in the concealers, foundations, and powders is because that's going to cover the largest area on a subject's face.
Tools to Bring on a Shoot
I would suggest taking at least three brushes with you. These brushes are:
a precision lip brush
a concealer brush
a powder brush
If you're going to be on location and need to recreate a really clean and precise lip, a precision brush is going to allow you to get that professional finish.
Your mattifying powder is going to be applied with a powder brush and also a concealer brush. You never know what the model is going to look like in the light that you're in until you get on location and look through the camera. So definitely make sure that you have concealer and a concealer brush to apply the product.
There are a few different types of concealer brushes. Some brushes are smaller and flatter, and others are a little larger. So for example, here you have a concealer brush that is very specific.
This would be a great brush for underneath the eye, if you needed to conceal just a little bit of blue/purple and you don't want to put a colour-correcting colour all across the eye, just in small areas.
Then we have another one here, which is a little larger.
You can see that this would be very easy for your complexion concealer. This brush is great for blending out any concealer that's on blemishes so it doesn't look as if you've just slapped a lot of product in one area.
A beauty blender is always a great product to have on location.
This can actually take care of a lot of your brushes. If you don't have a lot of space to bring brushes with you, using this little egg-shaped beauty blender can be very practical. At the bottom, there's a bigger, round area to apply product to the face. Then, the smaller tip can be used to substitute for areas of the eye. So this little non-latex foam is a really great tool to be able to have on location.
Applying Makeup for Yourself
If you're just applying makeup for yourself, you want to make sure that you have a few things in your photography makeup kit so that your makeup looks professional.
First, you want to take a prep and prime product, so a moisturizer and a primer. You'll also want a corrector and/or concealer, depending on what you need. Also, include a basic foundation and powder that's going to help to improve the skin. A basic contour, which is either your blush or your bronzers or both (that's mainly for women; men don't necessarily need to purchase those). For eyebrows, you'll want either a powder or a pencil, or even a clear brow gel, just to keep the hairs in place and tamed. Include a basic chapstick, something that's a semi-matte so the lips look nice and smooth and healthy. For basic eye makeup, just a light and a darker shade is really all you need to give a nice dimension to your eyes—something in the neutral range. Finally, you'll need tweezers or facial hair trimmers.
When you apply makeup on your face, you don't really see it at first, but you will notice that most people will have a bit of a peachy fuzz somewhere on their face, and the makeup really sticks to that hair that you don't normally see. Using a facial trimmer or something along those lines to get any peachy fuzz off the skin will allow for a smoother complexion.
Some consumer product lines that have some really good pigment to them for photography and video are Smashbox, NARS, and Make Up Forever. I'd also say Laura Mercier and Urban Decay are some high-quality lines that will always deliver, regardless of your application.
So in this photography makeup tutorial, we've gone over products and tools, and you now know what to put in your makeup kit. The last thing is to go over some final tips and tricks, which we're going to do in the next tutorial, so make sure to check that out.
Want a weekly email summary?
Subscribe below and we'll send you a weekly email summary of all new Photo & Video tutorials. Never miss out on learning about the next big thing.
Sign up
Dartmouth, Nova Scotia
I'm a drummer and photographer from Ontario, living in Dartmouth, Nova Scotia.
Start your 7-day free trial*
*All Individual plans include a 7-day free trial for new customers; then chosen plan price applies. Cancel any time.