Andrew Childress
Tools like Adobe Premiere have everything you need to produce a feature-length film, but such a powerful tool can sometime be overwhelming to work with, especially for shorter projects. A simple video edit might not need much: sequencing, cutting, and corrections to the look-and-feel of the footage are often enough.
That's where Adobe Premiere Rush fits in. Rush features the essential tools for editing video footage, has a useful mobile version, and might be the perfect platform for the occasional video editor or for video editors on-the-go. In this tutorial, you'll learn the basics of how to edit video in Rush.
Why Rush?
Check out the quick screencast below to see Adobe Rush in action and read the steps below. You'll learn how to use Rush to make quick video edits, apply a look, add transitions to your shots, and export a finished video.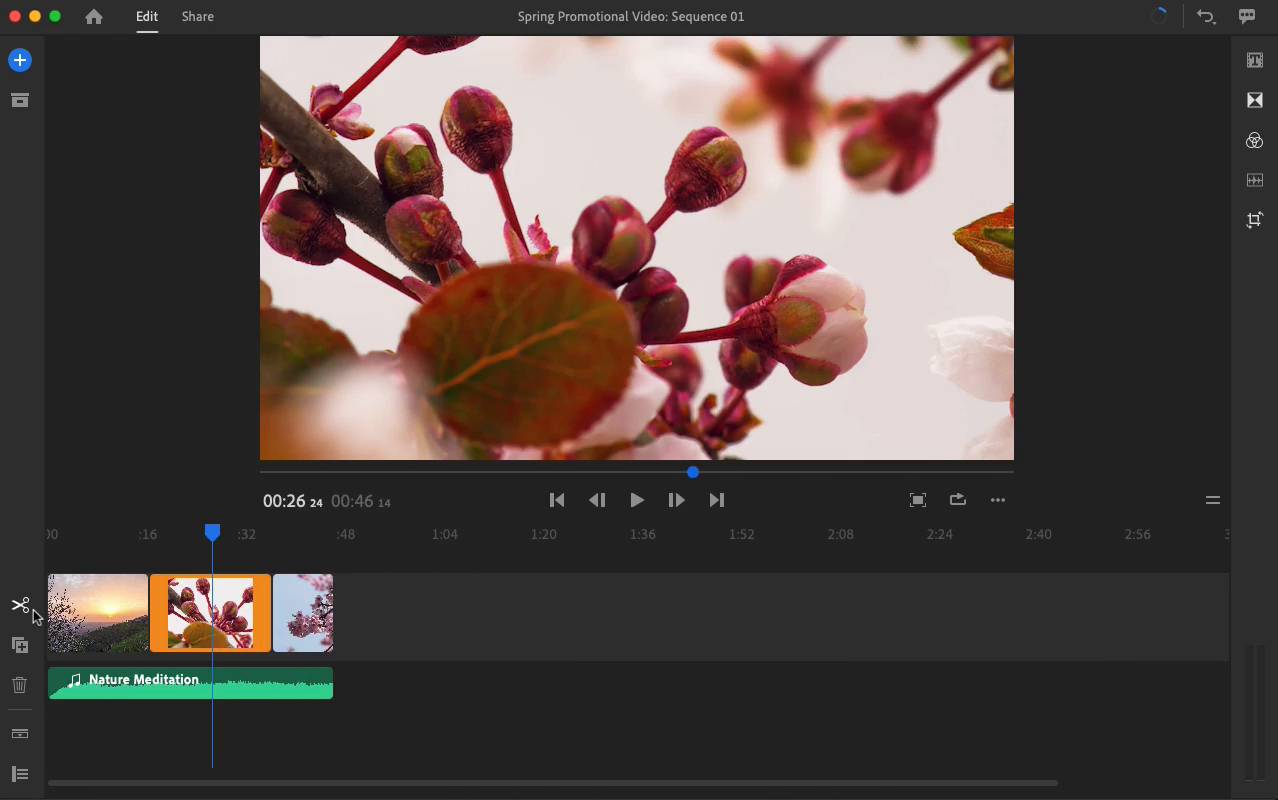 The Basics
Maybe you're already using another video editing app. If you're already comfortable in other apps like Premiere or Final Cut Pro, all more power to you, but Rush still might be interesting for editing on the go. I only edit videos occasionally, so a simpler app with a shorter learning curve appeals to me. Adobe Rush is worth a try if you don't already have a go-to video editing platform. See our Rush or Premiere? article for more on that relationship.
Here are a few of the key aspects that set Rush apart:
It's simpler, so it takes less time to complete a video edit.
It's relatively affordable, priced at $9.99 per month through Adobe's Creative Cloud subscription service.
Rush mobile apps are a legitimate way to edit a video on mobile devices.
Rush supports the ubiquitous .MOGRT file format, which enables it to work with a huge library of templates that are already out there for Premiere.
The fully-featured version of Rush is a monthly subscription, but you can get started with it for free with three video exports. Check out Adobe's page on pricing for more details on upgrading to the paid version of the app.
How to Use Adobe Rush
Let's walk through editing a video project in Rush. We'll cover the key steps that every video editor needs to know to get the most from the app.
1. Create a Project and Import Footage
To start off any video project, we'll need to import footage, photos, and audio into Rush. Start off by creating a new project: click on Create a New Project.
Now it's time to import all of the assets that you want to use. You can always add to this collection later, but start off by browsing to the folder where your video, audio, and images are stored.
Now click on each of the files that you want to add to your project. You'll see them each highlighted with a number on top, indicating that they'll be added to your current project.
If you want to pick up editing this project from another device, I highly recommend leaving the Sync with Creative Cloud box ticked. This will help you access the project on other devices, including on mobile apps.
That's it! Just click on Create, and you're ready to start with your new video editing project.
2. Trim and Sequence Your Shots on the Timeline
Once you click Create, Rush puts all of the clips on the timeline in the same order that you clicked on them in the import stage. You'll see each clip on the timeline and the video will play them in the sequence from left to right, just like most other video editing apps.
Every project may need a bit of re-sequencing. In Rush, that's as simple as dragging and dropping to move the clips around into your desired order. 
Many clips will have more footage than you want to include in the final product. To trim or split a video clip, select it, and then press the scissors icon on the left side of Rush. This splits the clip into two parts at the point you selected.
You can also grab the ends of a video to change their beginning and end points. Just grab the handles on the edge of a video and drag them to shorten or lengthen the clip.
Finally, transitions help you bridge together two clips. To do that, click on the two clips that you want to transition, and then click on the Transitions menu on the right side. You can choose from a built-in transition and adjust the duration from the Edit menu.
In general, none of these controls will seem unfamiliar if you've used any other video editing app. The controls are simple and straightforward. It's mostly drag-and-drop, and pulling on the handles to adjust the runtime of a clip.
3. Add Video Effects and Adjustments
Every video editing app needs a modest set of tools to adjust the look and feel of footage, with no other apps required. Again, Rush strikes a good balance of simplicity and effectiveness.
With a clip selected, click on the color tool (overlapping circles icon) on the right side of Rush. Right away, you'll see the presets that you can apply to an image for a one-click overhaul to the style of your footage.
For more precise controls, click on the Edit tab. If you've used Adobe Lightroom, many of these controls will look familiar. Many of the common correction tools for white balance, exposure, and contrast are all present. You'll also see more stylistic tools, like look presets for Faded Film and Vignette.
These tweaks are an easy way to adjust your footage. For simple corrects and visual tweaks, Rush has the tools you need.
4. Audio Controls 
Most projects will include audio clips as the backing tracks for the production or narration audio on top of key scenes. Working with audio is basically the same as video clips when it comes to sequencing: you can drag the clip around to move it on the timeline, or click the trim icon to split the clip.
In addition to these standard controls, you can also adjust the volume levels and apply "music" or "voice" presets. With the clip selected, click on the audio icon on the far right side: pull on the volume slider to adjust the overall clip volume.
On the Advanced dropdown, you can apply "types" to the audio. For example, change this to Voice for a preset that's tailored to spoken word audio. Controls in Rush are pretty limited for audio, but this is a nice touch to keep things simple.
5. Add Text Overlays and Titles
Adobe Rush is clearly targeted at social media content creators. Because of that, it has a really powerful and robust way to add text overlays and titles. 
To add text, click on the type tool on the right side. You'll see presets for text styles ranging from titles to lower thirds overlays.
This tool is especially easy to apply. Click on the text placeholder, type over it, and you'll see the text updated on it. You can always grab the clip on the timeline and shift or adjust the length of it as needed.
6. Export and Share
Export settings are one of those daunting features in most video editing programs that often seem to make things more complicated than they have to be. Choosing formats, codecs, and getting that final file size right is too tricky in most apps.
Rush's approach to this is one of my favorite features. Click on Share at the top of the app, then point the app to where you want to save your video. From the Advanced dropdown, there are a few (optional) choices but, in general, it's easier than most any other video editing app.
Also, Rush makes it easy to connect to social services and upload your files directly to them. Click on any of the social apps to start connecting it to your accounts and set up the pipeline to post directly to those services.
Go Mobile with Rush
Throughout this process, I've been showing Premiere for macOS, but that sells short one of my favorite features of Adobe Rush: the ability to keep editing even when I'm away from my computer. It's clear that mobile compatibility was a major focus.
The iPad Pro feels tailormade for editing footage on the go with Rush. If you chose to sync footage with Creative Cloud your projects are waiting for you on the mobile app.
Adobe uses compression and proxy files to keep this usable. The app is stay quick to use because you don't have to download the full resolution versions of the original footage. For storage-squeezed mobile users, this is a great feature.
Basically, everything in this tutorial works exactly the same as the desktop version. It's that continuity between platforms that makes Adobe Rush worth trying.
Keep Learning
Adobe Rush is a great reminder that less can be more. Because it features the essentials of video editing, I've found it to be one of the quickest ways to complete an editing project. And the ability to keep working on projects with mobile apps helps you complete an edit in places you've never been able to before!
One of my favorite features in Rush is the compatibility with the MOGRT file format. That means that many of the projects that have been developed for Premiere work great in Rush. Try these round-ups out to use templates in Adobe Rush:
Have you tried out Adobe Rush? What features does it need to become your main editing platform? Let me know in the comments section below.
Want a weekly email summary?
Subscribe below and we'll send you a weekly email summary of all new Photo & Video tutorials. Never miss out on learning about the next big thing.
Sign up
I believe that life is too short to do just one thing. In college, I studied Accounting and Finance but continue to scratch my creative itch with my work for Envato Tuts+ and other clients. By day, I enjoy my career in corporate finance, using data and analysis to make decisions. I cover a variety of topics for Tuts+, including photo editing software like Adobe Lightroom, PowerPoint, Keynote, and more. What I enjoy most is teaching people to use software to solve everyday problems, excel in their career, and complete work efficiently. Feel free to reach out to me on my website.
Start your 7-day free trial*
*All Individual plans include a 7-day free trial for new customers; then chosen plan price applies. Cancel any time.