Andrew Childress
A client calls you looking for an image from their shoot several years ago. Can you find it and deliver it within an hour?
If not, it's time to think about integrating a proper image management tool. An image manager is essential for commanding your image library. These tools help you browse your image collection quickly, filtering based on rules such as capture date and the camera used for the photo.
Daminion Standalone for Windows is an excellent option for managing your images. It's free to catalog up to 15,000 images, and affordable for larger image collections. It sports a powerful interface and fast performance.

If you're a solo photographer already using a tool like Adobe Lightroom, that has built-in image management features, you're probably set. But if you use a tool like Adobe Photoshop, Capture One, or ON1 Photo 10 for editing, you might need a more robust tool for managing images. 
That's where Daminion Standalone comes in. In this tutorial, you'll learn to use Daminion Standalone to catalog your images and get organized. It's free to try, so jump over to Daminion's website and download it to get started in this tutorial.
For team-based image management, Daminion offers Daminion Server as a premium product. Daminion Server let's you manage a shared collection of media between many team members, and is ideal for small companies or larger photography studios. This is something Lightroom, and most other consumer-level photo-organizing software, can't do.
Get Started with Daminion
To get started with Daminion, you first need to add images to your Daminion catalog. Like a Lightroom catalog, a Daminion catalog is a database that stores information about your images. It doesn't hold the image files themselves, but instead tracks data about the images in the catalog.
To add images to your Daminion catalog, go to the File > Add Files menu. Then, simply browse to where your images are stored and choose Add. Daminion supports RAW image files as well as finished images such as JPEG and PNG files.
After you've selected the folder of images to select, Daminion will show you a preview of the images that will be added to your catalog. The yellow boxes indicate an image that will be added to the catalog, but you can click on the yellow box to not import it.
Another choice is how you want to handle your image files. The primary choice is between whether to leave your images in the same folder or to organize them into new folders. Here's what each option does:

Add files to the catalog without copying them: when you choose this option, Daminion will simply leave images in the same folder. They aren't moved or organized, just added to the Daminion catalog.
Copy files to a folder and add to the catalog: if your images are disorganized, Daminion can sort them into new folders according to the capture date. This is a great option if your images are currently disorganized.
That's it! You've added the images to your Daminion catalog and we can now begin browsing, organizing and managing our image library. If you need to add more images to your catalog later, just return to the Add Files menu option and repeat the process.
Now that we've added our images to Daminion, we'll see them in the application as thumbnails. Let's move on to find out how to manage them.
Image Management with Daminion
Why is an image manager so important? It helps us slice and dice and explore our image collection based upon rules. These could be rules such as when an image was captured, what camera we used to capture it with, or the rating we've given the image. Daminion can do all of these.
Here are three key image management tasks that a Daminion can help accomplish:

Change Views for Power Browsing
The heart of an image manager is the ability to browse images, scrolling through them quickly to find what you're looking for. There are three very helpful views in Daminion to browse your images. Let's walk through them in the video below: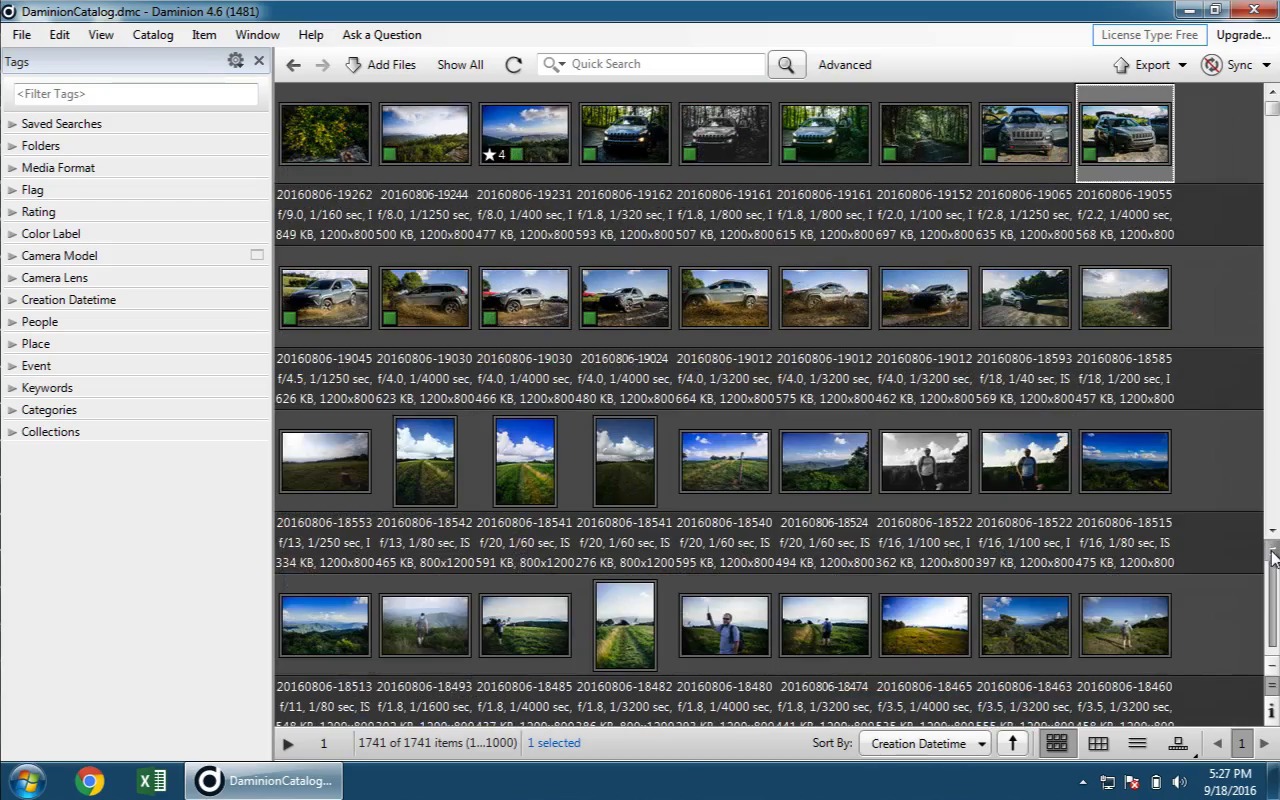 Add Ratings, Flags and Color Labels
Star ratings, flags, and color labels are used in many photo managers. All of these criteria are useful to help us organize our images. We can add the criteria now, and then filter to those metadata criteria later.

Star ratings are typically used to give an image a rating based upon our preferences.
Flags flags are a simple, "on/off" switch to mark which images are worth keeping or working with. 

Color labels are a way to add meaning and to your images. Every photographer uses them differently. For me, I might use a Blue color label to mark an image that needs to go to Photoshop for fine adjustments.
In Daminion, the easiest way to start adding each of these is from the right-click menu. With an image or several images selected, right click on the image. Choose one of three options—Set Rating, Set Color Label, or Set Flag—to add metadata to the images. You'll also note the keyboard shortcut from the menu as the fastest way to add it to future images.
Here's a list of the default keyboard shortcuts in Daminion Standalone:
Rating: Control+1-5 to add the corresponding number of stars
Color label: 1-9 to add a color label; 1-5 adds red through purple in color wheel order
Flag: F for flag, U for unflagged, X for reject

Filtering Images in Daminion Standalone

Adding data like flags or color labels is just the first step in managing our images. Let's look at how to filter images based on metadata.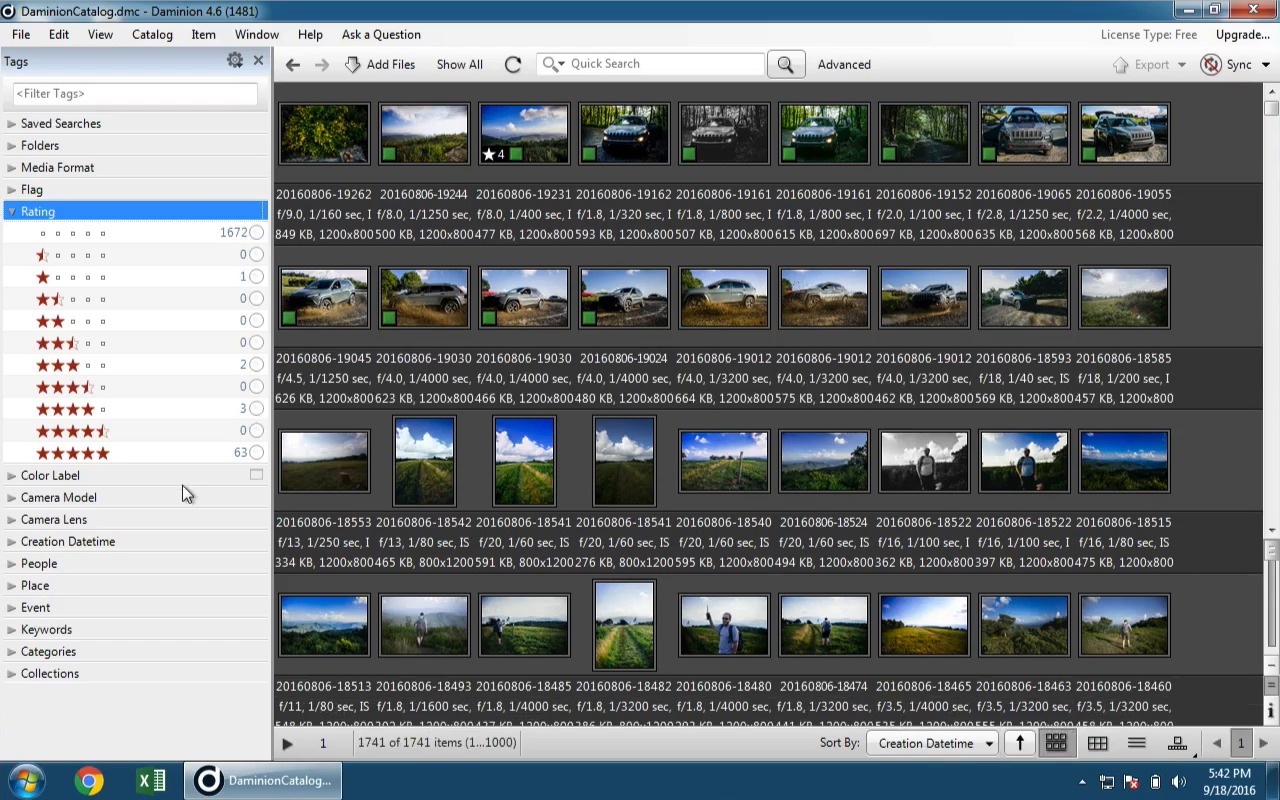 Delivering Images
At the beginning of this tutorial, I started with a question: can you find and deliver an image to a client quickly? We've already learned how to find images, so now let's export them from Daminion.

First, select the images that you wish to export from the browser view. You can hold control on your keyboard and select several at the same time. Then, click the Export > Copy to Folder option in the upper right corner of Daminion to start the export.
On the pop-up window, you'll need to choose two options with each export:
Transform: the default option is to export the original file, which means that the finished file is identical to the original image in resolution and quality. There are also dropdown options to export a smaller finished file to save space, which is ideal when the image is going to be used online.
Destination folder: this folder is where the finished image file will be saved.

Once you've set these options, press Copy to export your finished images.
Recap and Next Steps

Every photographer needs a tool to manage her image library. There are plenty of powerful tools for correcting and styling an image, but a well-organized photographer needs an image manager as well.
If you want to learn more about getting your images organized, check out these tutorials:
Check out The ABCs of Photo Sorting if you're just beginning to think about getting organized, this tutorial is a great first read.
What's in a Name? This tutorial will help you name your images in a way that's useful to photographers, embedding some meaning in filenames. This will be way more useful than DSC_23849.RAW.

Daminion is a Windows application, but Mac users need a capable image organizer as well. Check out the course Image Library Management with Lyn  on how to use Lyn, an inexpensive tool for Mac with many of the same features.

Want a weekly email summary?
Subscribe below and we'll send you a weekly email summary of all new Photo & Video tutorials. Never miss out on learning about the next big thing.
Sign up
I believe that life is too short to do just one thing. In college, I studied Accounting and Finance but continue to scratch my creative itch with my work for Envato Tuts+ and other clients. By day, I enjoy my career in corporate finance, using data and analysis to make decisions. I cover a variety of topics for Tuts+, including photo editing software like Adobe Lightroom, PowerPoint, Keynote, and more. What I enjoy most is teaching people to use software to solve everyday problems, excel in their career, and complete work efficiently. Feel free to reach out to me on my website.
Looking for something to help kick start your next project?
Envato Market
has a range of items for sale to help get you started.