Read Time:
7 mins
Languages:
International Women's Day, on the 8th of March, has been celebrated around the world since the first gathering in 1911. IWD celebrates and supports women's rights and recognises their achievements—join the cause by creating a special International Women's Day video.

What to Include in Your IWD Video?
There are lots of great reasons to use video to celebrate International Women's Day, but here are a few ideas to inspire you:
A historical timeline to help raise awareness of the struggle for women's rights and equality
A celebration of famous women in history
A celebration of awesome women you know who are rocking it today
A video to promote your IWD event
The history of the IWD and the associated fight(s) for rights, would be too much to cover here, but you can find out more from International Women's Day and the United Nations website. Here are a few of the key dates
1908-1910: A garment workers' strike to protest working conditions, in New York, was held in 1908. This inspired The Socialist Party of America to designate National Women's Day in their honour. In 1910, over in Copenhagen, The Socialist International garnered the approval of 17 other countries to create a Women's Day that would be recognised internationally.
1911: On the 19th of March, International Women's Day was marked for the first time across many countries. Over a million people attended rallies!
1914-1918: IWD becomes intertwined with protesting the First World War. Women start holding rallies around the 8th of March. In Russia, women strike for 'Bread and Peace' around the same time.
1975: 1975 was International Women's Year and the UN start to celebrate International Women's Day.
1996: The UN create an annual theme for IWD, some of which include: 'Women at the Peace Table' and 'Empower Rural Women, End Poverty & Hunger'.
2000-2001: International Women's Day sees a drop in activity around the world, and so several initiatives are introduced to re-ignite interest.
2011: A centenary of IWD! March 2011 is proclaimed 'Women's History Month' in the United States, and the 'extraordinary accomplishments of women' are marked.
How to Make a History Slideshow Video for International Women's Day

Using a template to help make your International Women's Day video will give you a professional result in very little time. Here's an example I made with an After Effects template from Envato Elements. The resources are included after the tutorial in case you'd like to use the same elements.
Resources
All of the resources I used were from Envato Elements where everything is included in one subscription, or were public domain.

This slideshow for After Effects has a lot going on. As well as being a timeline, it includes a lot of intricate details that make it professional and impressive—things like tracked camera movement, added elements (like particles and dust), and a variety of placeholders.
Images
Various via Wikipedia:
Audio
1. Open Template
When you open up the project, you'll notice that it's very well laid out into descriptively-named folders and then logical options within those folders. Some are more obvious than others, but with some poking around it quickly becomes apparent what controls which aspects of the template, like 'Solids' for the background colours, and 'Assets,' where you'll find transitions, depth of field controls, and brushes.
2. Make Changes
Making changes to your slides is pretty much the same, right across the project—so once you've got to grips with your introduction slide, you'll have a better (and quicker!) idea of how to make adjustments in subsequent slides.
In the Textholder folder, you'll find the intro text, which is set by default to Envato Presents. You can tell which placeholder goes with which slide by the number attached to it, which should correspond with numbers on the slides.
I changed that to International Women's Day 2020 and made the text purple, as that's the representative colour of the day.
The background is a bit dull and boring for our subject matter, so I added a stock image to brighten it up. Drop your content into the Photos folder so you have it easily available if you need it again, and then drag it into your timeline with the current slide highlighted. 
The photo was a little busy and distracted from the text, so I lowered the opacity on it and changed the background colour of the slide to white to brighten it up. The image has also been blurred slightly to knock it out of focus, with a camera lens blur which you can find in Effects and Presets.
I also removed the background text by clicking the eye next to the layer to hide it. If you prefer, you can change that text within the folders of the slide, to something more relevant.
3. Make Your Timeline
I'm using three dates from my timeline earlier in the article, to create some slides as examples. Here's how the first scene (or slide) on the template looks as standard:
You can see that it already looks intuitive and straightforward, the grey box is an image or footage placeholder and the text is made up of a date and then a block of information.
If you double-click on the textholder that goes with the slide, you'll see it opens up into an easy-to-edit window.
I decided to make the dates purple as a nod to the IWD colours. To add an image, drop your content into the Photos folder as before, and then drag it into the appropriate placeholder in your timeline. If you're not sure, flipping the layer visibility off and then on will show you which is the correct one.
4. Repeat Your Steps!
Now that you can easily change the basics, it's just a case of replicating that across as many slides as you'd like to include on your timeline.
Here's the second slide I did, changing out the text, images and colours.
There's actually so much more you can do with this template if you're feeling confident. It has some really nice camera tracking movements and there's a lot of control over most of the elements. If you have some time, it's worth digging down deeper into each slide to see what you can do.
5. Make an Outro 
Once you've finished your timeline slides, you'll want to finish up with a neat ending and a message to promote what you're doing for IWD 2020.
Here's the default last slide, it's a great base to finish up with a message.
Even though the text is limited, here, you can add as much as you like and increase the size of the text box to suit—just make sure you don't go over the edge, or conflict with any elements that might obscure your text.
Here I've added some text to ask people to join us here at Tuts+ for International Women's Day, there's another nod to the purple in there, and there are a couple of relevant images to make the background more interesting.
You'll also notice lots of other text in the background—this cleverly will pull from other slides, so you can have text you've already used sort of floating around in the background. This looks cool, but was a little distracting, so I hid those from the final version of the video.
Render!
When you're finished and happy, you can render out your video. As I mentioned, this is a very detailed template and those camera effects and elements come with the trade off of a fairly long render time.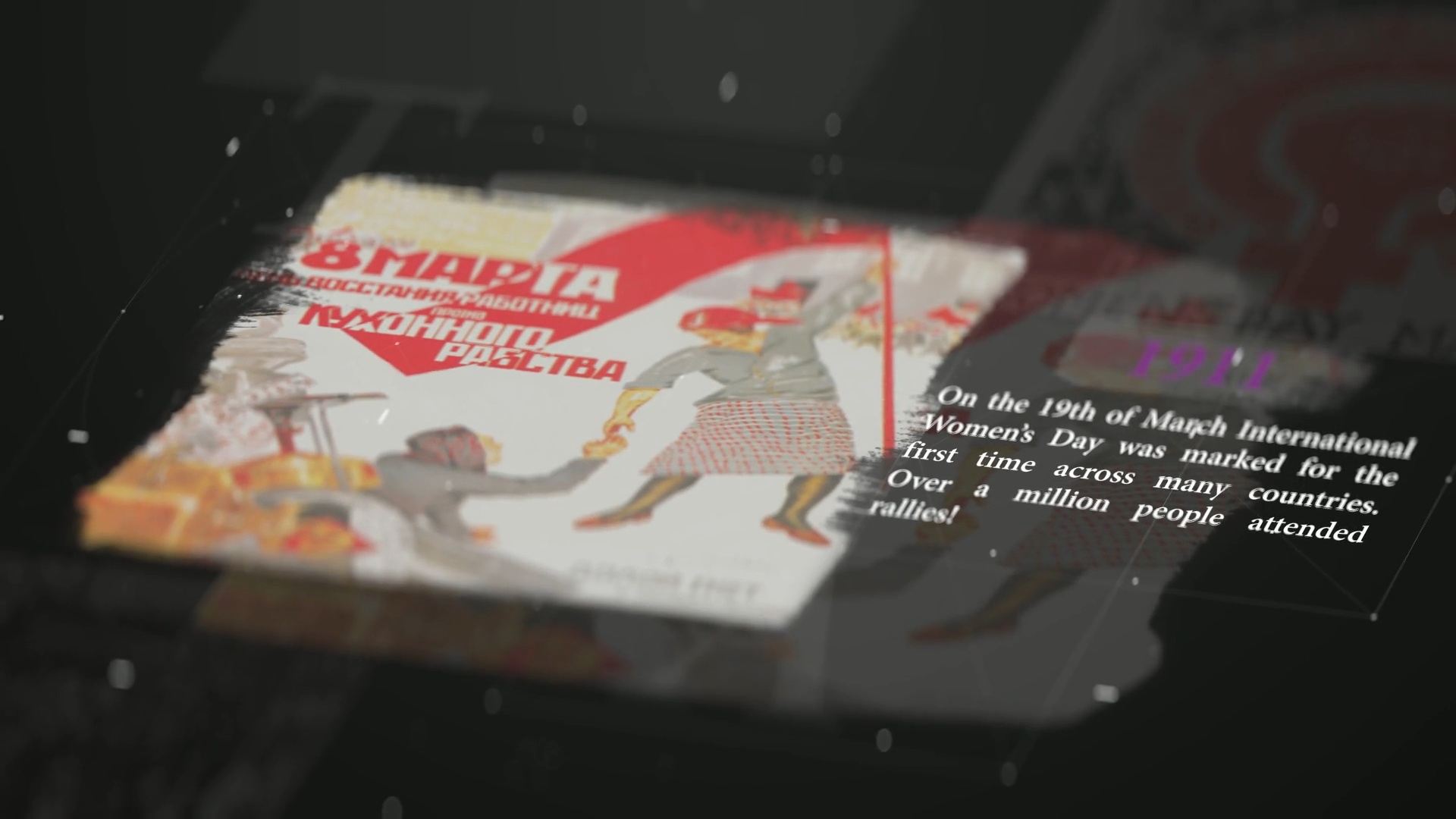 More Great Resources on Women in Film & Photography
Weekly email summary
Subscribe below and we'll send you a weekly email summary of all new Photo & Video tutorials. Never miss out on learning about the next big thing.
Update me weekly
Translations
Envato Tuts+ tutorials are translated into other languages by our community members—you can be involved too!
Translate this post
Powered by
Looking for something to help kick start your next project?
Envato Market
has a range of items for sale to help get you started.