Christopher Kenworthy
The medium lens makes for shots that look like normal human vision but, when used creatively, can still create cinematic imagery. When shooting camera moves, conversations or when opening a scene, the medium lens is more than a compromise. Used well, this lens is as powerful as any other.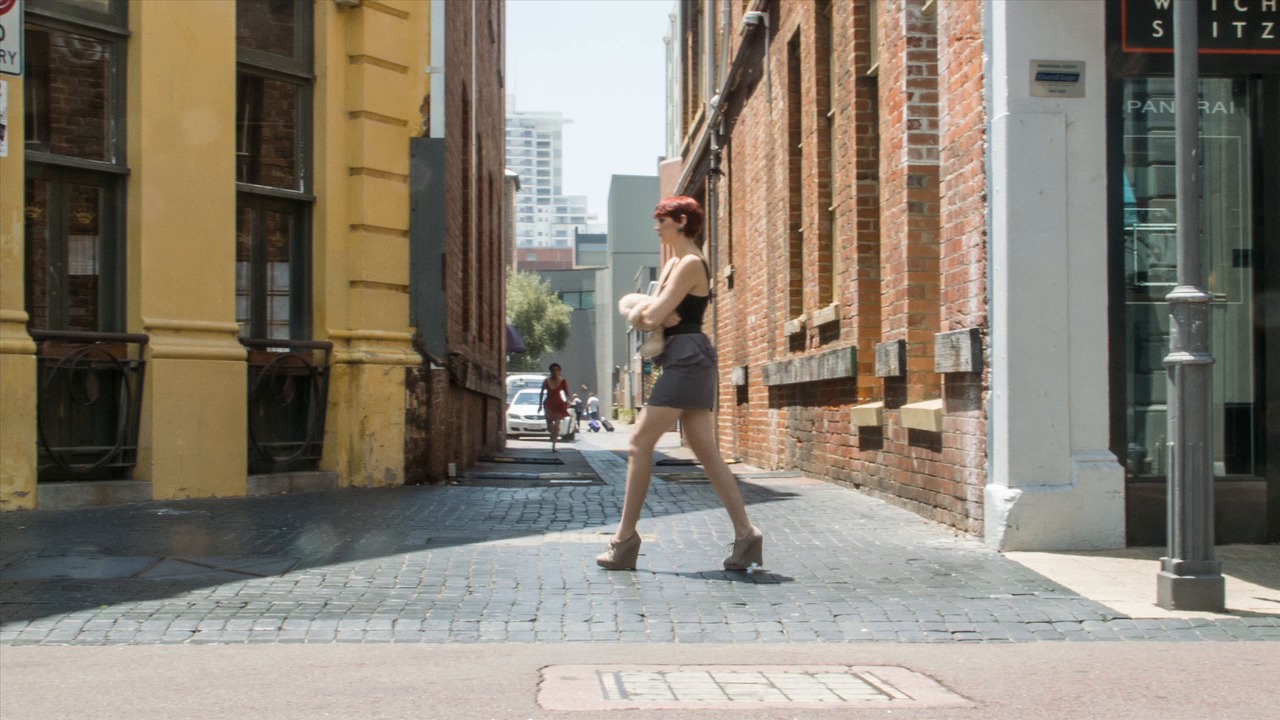 The Medium Lens
When we talk about a medium lens, we're talking about something that's got an apparent focal length of around 50mm on a 35mm camera. This does change depending on what camera you're using, but essentially it means you're looking for something that gives the impression of normal vision. 
When you use a short lens, everything becomes distorted and lines are curved away from the camera, while with a long lens, everything is flattened up and pushed together. 
A medium lens gives a medium look. Everything looks just as it does when you look with your own eyes. This is one reason that it can be problematic.
Very often, new filmmakers set up the actors in the middle of the room and they place the camera at the middle distance and they film with a medium lens and everything just looks… average. The shot above is an example of something that looks just like you would see it if you were standing there. It's no where near as interesting as if you shot it with a long or a short lens.
So let's look at working with a medium lens.
Detail Without Distortion
One of the greatest strengths of a medium lens is that you can show a lot of detail without having the distortion of a wide lens. 
In the shot in the video, we have two characters sitting in a room. It's an important part of the storytelling that we can see she's a musician and that she's staring off into the distance and that he's ignoring her. We could do that in a traditional way, by shooting several close ups and one big wide shot, but the medium lens lets us see everything at once. We can see both their faces, even though his isn't quite in focus, and we can see the room around them. So when you want to set the scene and place your actors within that scene, the medium lens can often be better than a wide master shot. 
A medium lens is very good when you have two actors in the frame that are both looking in the same direction. Sometimes the actors are having a conversation and other times they are just observing. Look at the shot below, the medium lens is the right choice here.
If the lens was too long, we'd have to go so far back that the background would be foreshortened and we'd only see sky behind them. We wouldn't really be able to see any of the ground down there. If we used too wide a lens everything would look a little distorted and strange. The medium lens works well with this because the scene itself isn't that ordinary. Two girls lit with sunset light against a field is not something you see every day. The normality of the medium lens offsets that slight strangeness. 
Opening Conversations
The medium lens is also a very good way to introduce dialogue scenes that have a lot of close ups. You open with the shot with a medium lens to establish where the actors are in relation to each other and then switch to a series of over the shoulder close ups of each actor. 
Moving Wide to Close
In the video lesson, you can see an example of a shot where the camera moves from something that looks relatively wide to something much more close up. This is a great use of the medium lens.
Here, as the guy moves across, the camera pushes in on a dolly, and then we frame the two of them.
A long lens wouldn't really be suitable because it would be too difficult to keep focus through that shot, and a short lens would mean that when we got close their face are distorted and we see too much background.
Balancing Foreground and Background Actors
In the video, you'll see a shot where I wanted to show one actor walking past and the other seeing her in the background. In the first attempt, I used a short lens (aka a wide angle lens) and it didn't really work. The foreground actor was too small in the frame and the background actor was so small you can hardly see her at all. The short lens also distorts the lines of those buildings so much that they dominate the frame more than the actors. 
In the second version, I switch to a medium lens and moved back across the road. Now we're able to see the foreground actor pass through the frame. Even though we can't see her face, the story's being told. We see her walk past the frame, and the other actor in the background is big enough for us to see her reaction. 
If instead, we'd used a long lens for this shot we wouldn't be able to see both actors at once. The foreground actor would have been just a blur and we wouldn't really have got the full sense of the alleyway. The medium lens wasn't a compromise here. It was a perfect choice for this shot. 
Get Long Lens Effects Even When You Can't Use a Long Lens
Long lenses are often used to hide things we don't want the viewer to see. It's a technique we looked at in the lesson on using long lenses. Sometimes, though, you want to hide something but don't have the space to use a long lens. Instead, you can use a medium lens and get a little closer.
In the shot above, I only wanted to show white wall behind the actor. The room wasn't big enough for me to use a long lens so I got closer with a medium lens. This technique is apparently used a lot on Grey's Anatomy.
Simple Camera Movement
For shots where you push in on an actor, a medium lens is ideal. A short lens can exaggerate the motion too much and reveal too much of the room, while a long lens would hide the motion of the camera; you wouldn't really feel that you got any close. With just a short camera move, the medium lens lets us feel the forward motion without it being overdramatic. 
An Actor Breaks into the Frame
One of Steven Spielberg's favourite techniques is to begin a shot with something in the background and then have somebody break into the frame. You can see an example in the video lesson.
There's a lot of flexibility with this technique. You can have the person breaking in appear close or far away from the camera, you can have action happening in the background, you can appear to start with a wide shot of one subject and then transition to a standard conversation set up. 
In the video example, we start with what appears to be a shot of one actor as she moves towards the camera. A second actor breaks into the frame from the right and the shot becomes all about him.
With a short lens, this sort of shot wouldn't work. The second actor would appear too distant.
To Make Things Feel Normal
One of the best uses for a medium lens is when you want to ground the audience and make them feel some sense of normality. This is particularly useful if you're showing something fantastical or supernatural.
I once made a supernatural thriller. All the way through I used short lens to exaggerate motion and long lens to get close up with actors and show their emotions. The crew actually took bets on whether I would ever use a medium lens.
Eventually I did. It came when we were shooting a supernatural scene at night in the middle of a forest. It was just so weird that if we'd shot the whole thing with long or short lenses, it would have felt too extreme. By having one main shot with a 50mm lens, it helped make the scene feel more realistic. 
If you get to a point in a film where things get very strange, you can make it believable by using a medium lens.
Wrapping Up
Be careful overusing a medium lens because it really can make a film boring, but used creatively, it's just as important as any other lens. Don't be afraid to try it in the right circumstances.

Want a weekly email summary?
Subscribe below and we'll send you a weekly email summary of all new Photo & Video tutorials. Never miss out on learning about the next big thing.
Sign up
Christopher Kenworthy (born 1968) is an Australian writer and former film director. He is the author of two novels, The Winter Inside and The Quality of Light for Serpent's Tail, along with a short story collection, Will You Hold Me? and the chapbook Sullom Hill. His fiction has been widely praised by authors such as Michael Moorcock, and anthologised in books such as The Year's Best Fantasy and Horror. Born in Preston, England, he moved to Australia in 1997 and began a directing career which lasted until 2013. His Master Shots books are best-sellers for Michael Wiese Books. He is the director of The Sculptor. He won the Award For Directing (WA Screen Awards) in 2007. He directed many music videos, including Dreaming Light for Anathema (band).
Start your 7-day free trial*
*All Individual plans include a 7-day free trial for new customers; then chosen plan price applies. Cancel any time.