Jonathan Lam
Sponsored Content
This sponsored post features a product relevant to our readers while meeting our editorial guidelines for being objective and educational.
With the help of Cartoon Animator, creating and rigging your own character designs for animation couldn't be easier. Cartoon Animator provides a fully-functional PSD in-and-out feature that lets you synchronize your changes from an external editor like Adobe Photoshop or Affinity Photo with character rigging in Cartoon Animator.
In this tutorial you will learn how to use a combination of Cartoon Animator, Adobe Photoshop and Adobe After Effects to create everything you need to animate a character design. We'll show step-by-step how to rig your own 2D character design for animation.
In the next part of this tutorial, we'll continue with the custom character workflow, learning how to take your animation from Cartoon Animator into After Effects for more refinement and added effects. Later in this animation this series we'll explore Cartoon Animator's handy transparent video features, which allow fast and flexible animation workflows in Premiere Pro, Resolve, Final Cut Pro X and other familiar non-linear editors.
This tutorial builds on a few of the skills we learned in previous tutorials. You don't need to do the other tutorials first to follow along here, but if you find yourself stuck and want to practice with another project they're a good place to start, or continue, your learning:
What You Will Make
Here is the rendered animation from the completed tutorial. By the end of these steps you'll be able to make the same thing! On this page you will learn to rig a character for animation, and in the next part we will refine and complete the animation.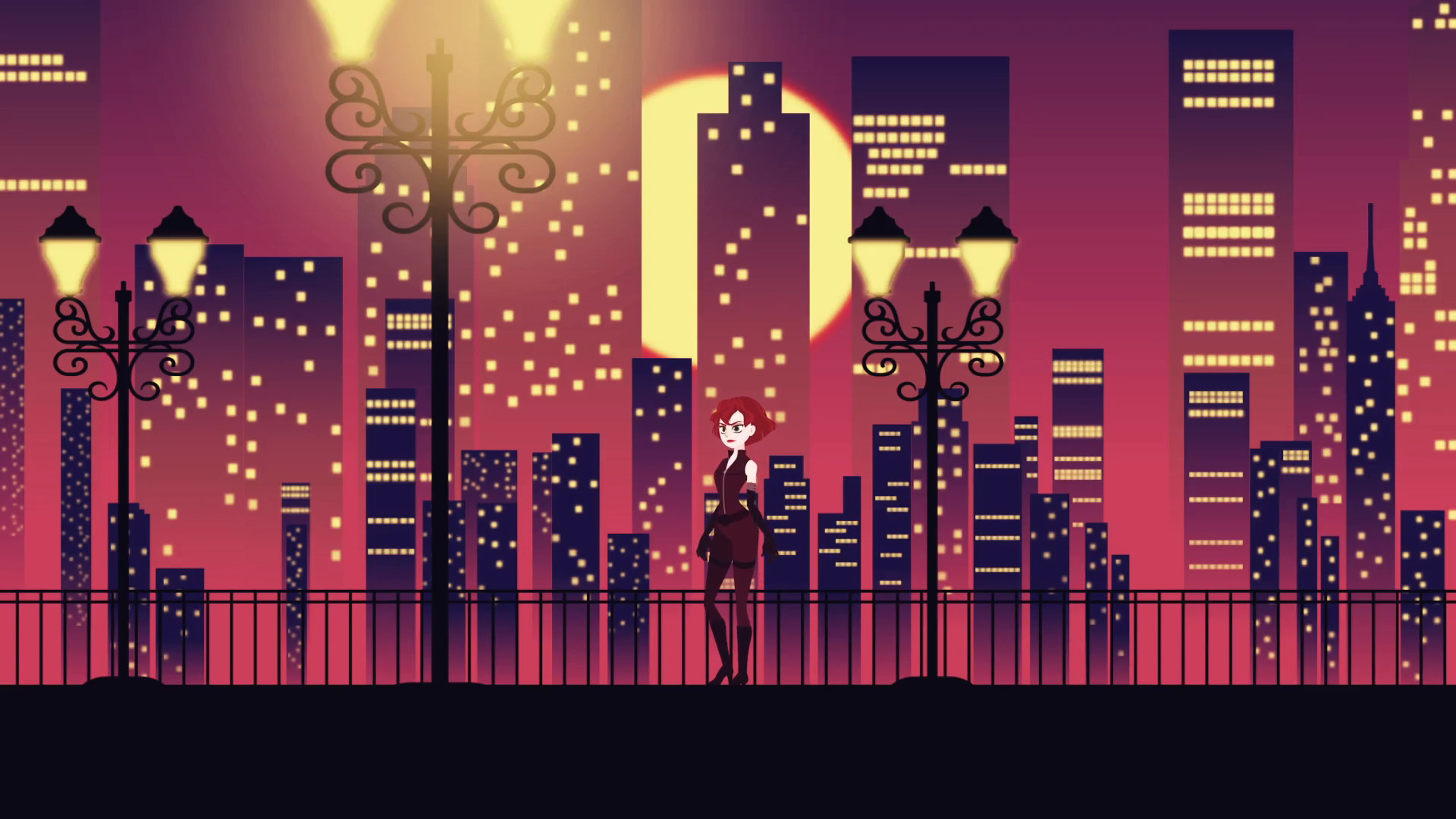 What You'll Learn in This Character Rigging Tutorial
How to use a character template to import your own character design in Cartoon Animator
How to rig your own character in Cartoon Animator
How to use the Adobe Photoshop workflow to edit your character
How to export your project from Cartoon Animator to Adobe After Effects using the Cartoon Animator—AE Script
What You'll Need
To follow along with this tutorial you will need a PSD editor. If you don't have Photoshop, you might be using Affinity Photo, Krita, Photopea. You'll also need your own version of Adobe After Effects and Cartoon Animator. You can download a free trial version for Cartoon Animator on the Reallusion Website.
You'll also need a character to animate. If you don't have a character already, Cartoon Animator has a content library with a good selection of stock characters you can alter. Character kits are also available for sale on Envato Market and with the Envato Elements subscription.
1.

Set Up the PSD Editor

The PSD Editor in Cartoon Animator saves a lot of time creating your characters and animations, letting you synchronize the editing from Photoshop with the existing character that you are working with in Cartoon Animator. Let's get started.

In Stage Mode, you will see a brush icon button at the top right of the screen (Launch PSD Editor Button). Click the button and you will then be prompted to choose the external editor you want to work with. For this tutorial we will use Adobe Photoshop, but if you use one of the other editors and they will work similarly.
Select the executable file for your PSD editor by clicking on the open file icon.
Select the Photoshop.exe file on your computer and click Open.
Once you have selected the Photoshop.exe you will see that the brush icon button will change into the Adobe Photoshop icon. Now we can work in Cartoon Animator and Adobe Photoshop at the same time!
2.

Open a Character Template Dummy

Before we begin to create and rig our own custom character, let's take a look at the Content Manager inside Cartoon Animator. Here we will be able to browse through the library of character templates, heads and body shapes that we can use as a starting point.

You can access the Content Manager by going to Window > Content Manager or by pressing F4 on the keyboard.
Once you have access to the Content Manager, select the Actor tab and then select Template.
From here you can browse through all the different types of characters, heads, body types and accessories that you can use for your animation.
To create a rig for your character we need to navigate to Actor Template > Character > _G3 360 > 1_G3 360 Human > Dummy for 3D Motion to access all the available Dummies that you can use.
From here you can choose the angle which fits closest to your character:
Dummy_1 Front
Dummy_2 Front Side
Dummy_3 Side
Dummy_4 Back Side
Dummy_5 Back
For this example we will be using a character which is facing the side at an angle, so let's use Dummy_2 Front Side by clicking and dragging it into the scene.
With the dummy selected, click on the Zero Key button at the top to make sure that it is on the scene route.
3.

Create a Custom Character in Adobe Photoshop

With the dummy still selected, click on the Composer button. This will take you into Composer Mode where we can isolate our object and start making adjustments to it.
In Composer Mode you can now see the bones, which automatically come with the dummy model that we are using.
In order to edit the dummy character and to import your own custom character, we need to use the PSD Editor. To do this, click on the PSD Editor button located on the bottom left of the screen.
This will open up Adobe Photoshop and synchronize the character in both programs (Adobe Photoshop and Cartoon Animator). From here we can use Photoshop to import a custom character into our rig.
Now we'll open up the layer folders for each body part and replace the contents with your own custom character design. For example, let's open up the folder RL_Image > Hip, which contains the Hip layer.
Replace the Hip layer with your own character design by importing it into the same Photoshop file. Make sure that the layer name is exactly the same as the layer being replaced (in this case it is called "Hip"). You can do this by merging the two layers together or deleting the old layer.
Make sure that your own custom character is broken down into the same parts as the dummy.
Continue to replace each layer until your whole custom character is complete. 
Once you are happy with the way your character looks, go to File > Save to save your character and all the changes you have made will be reflected in Cartoon Animator.
If you need to make any further changes to the character design, simply make them in Adobe Photoshop and then save the file to synchronize.
Break Time
When you are learning a new skill, it helps your memory to take lots of small breaks. Relaxing, even for as short as 15 seconds every once in a while, helps with learning. So take a short break now, and then we will continue.
4.

Rig Up Your Own Character

Now that you have successfully imported your custom character into Cartoon Animator, you may need to make some small adjustments to the bones to make sure they're are aligned to our custom character. Click on the Transform Bone button located at the top menu bar.
Upon clicking on the Transform Bone button we'll be able to click and edit the bones of our custom character. You can do this by clicking on a specific bone that you want to move and then click and drag it into the position that you want it in on top of your character.
You can also use the scene manager on the right of the screen to select your bones that you want to move or edit.
In order to add new bones to your character you will need to click on the Bone Editor button. This will give you more options to choose from when creating, editing and adjusting your bones. To add new bones simply click the Add Bone button.
Once you've clicked on the Add Bone button, just click anywhere on your character to create new bones using the Left Mouse Button. Click the Right Mouse Button once you have finished adding your bones.
You can also find your newly created bones, and see how they are connected to your overall rig, in the Scene Manager. Here you can also rename your new bones by double-clicking on the name using the mouse.
To connect a bone to a new one, simply select the bone node, which is the small circle at the end of your bone. Once that has been selected, click on the Add Bone button and any new bones you create will be connected to the node you previously selected.
5.

Test Your Rigged Character

Before we start animating our custom character, we need to check to see if our rig works. To do this click on the Preview button located near the centre of the top menu bar.
Upon clicking the Preview button, you will then be able to move the bones on your rig to see how it affects your character. Below you'll see that the joints are disconnected from each other when we try to move the arm. This is because we don't have the Stretch Bind activated. 
Stretch Bind the Bones
To activate the Stretch Bind for our joints you need to head over to the Layer Manager, which is located on the right of the screen.
Find the joint that you want to edit and then on the far right section you'll see a small diamond shape. Click on it to activate the Stretch Bind. Do this for all the joints of your character, including the knees, ankles, elbows and wrists.
Once you've activated Stretch Bind on all the joints of your custom character, you can click on the Preview button again to test that your rig is working correctly.
6.

Adjust the Layers

You may also need to adjust the layer order of the different parts that make up your custom character.

In the example below you'll see that the right arm is placed in front of the body incorrectly. To change this we need to access the Layer Manager. This is usually located on the right side of the screen along with the Content Manager and Scene Manager. 
To access the Layer Manager click on the tab at the bottom.
Locate the right arm (or whichever layer you wish to move) and then simply click and drag that layer to the correct location. In this example we want to move the right arm all the way down so that it is behind the rest of the body parts. 
Move all the parts of your character in the correct order using the Layer Manager. 
Once you are happy with the way your custom character looks we can start to import the project into Adobe After Effects.
7.

Import Your Project to Adobe After Effects

OK, we have completed the preparations for our character. In order to prepare us for animation, let's go ahead and setup Adobe After Effects so that we can import our project.

To do this simply click on the Ae button located on the top toolbar or go to Render > Export to After Effects.

This new script allows us to seamlessly move our animation from Cartoon Animator into After Effects. Now officially released, it includes useful features like exporting video with transparent backgrounds and a way to add objects from Cartoon Animator into After Effects without overwriting the project.
From here you will need to click on the Download Script button to download the script, and then install. To install the file into Adobe After Effects, unzip the Zip file and then paste the file Cartoon Animator—AE Script.jsx into the ScriptUI Panels folder, which is by default located at the following path:
Windows: C:\Program Files\Adobe\Adobe After Effects <version>\Support Files\Scripts\ScriptUI Panels
Mac: Applications/Adobe After Effects CC <version>/Scripts/ScriptUI Panels
If this folder does not exist, then create a folder with the name ScriptUI Panels.
Head back to Cartoon Animator and make sure that you have checked the following:
Your character is selected under Select Object(s): this is the character that you have created and animated in Cartoon Animator
Adjust your Export Settings, including the resolution and frame size
And finally you can choose the export range to determine how much of your timeline you want to export into Adobe After Effects
Once you've checked through all the options click on the Export button and choose a desired destination for your new Adobe After Effects file.
Congratulations! You've completed Part 1 of 2 in this tutorial. You can now import a custom character into Cartoon Animator by synchronizing the program with Adobe Photoshop, all the different ways that we can create and edit a a custom character rig, and then how to export your character to After Effects.
In the next part of this tutorial, we'll take you through step by step on how to can create an animation for your custom character and then take it into Adobe After Effects to complete the animation.
You can also check out even more tutorials below and apply them to the project.
In the meantime, I hope you've found this tutorial useful. I'll see you next time, on Envato Tuts+!
Want a weekly email summary?
Subscribe below and we'll send you a weekly email summary of all new Photo & Video tutorials. Never miss out on learning about the next big thing.
Sign up
Digital Artist
Hi everyone! My name is Jonathan Lam and I'm a Digital Artist on a mission to empower, educate and inspire creative students just like you to gain the creative skills you desire! Currently I work for Ubisoft as a concept and game artist. My skills range from graphic design, illustration, animation, 3D modelling/sculpting, concept art and video editing. Some of the projects I've worked on include Hungry Shark World, Hungry Shark Evolution, Starbeard and the Kickstarter Funded Game called Eminence: Xander's Tales. I've also worked with many high profile clients including Riot Games, Sony Entertainment, Hasbro and Google as a graphic designer and illustrator.
One subscription. Unlimited Downloads.