Andrew Childress
With Lightroom's Smart Previews you can work on your Lightroom catalog without access to the image files. This is a powerful, but under-appreciated feature of Lightroom.

Smart Previews give you the freedom to keep working even if you lose access to the drive that stores your image files. This feature makes it easy to send and receive catalogs of images to work on, without needing to transfer the images files, and can save you a lot of hard-drive space. In this tutorial, you'll learn all about this powerful Lightroom feature and how to use it.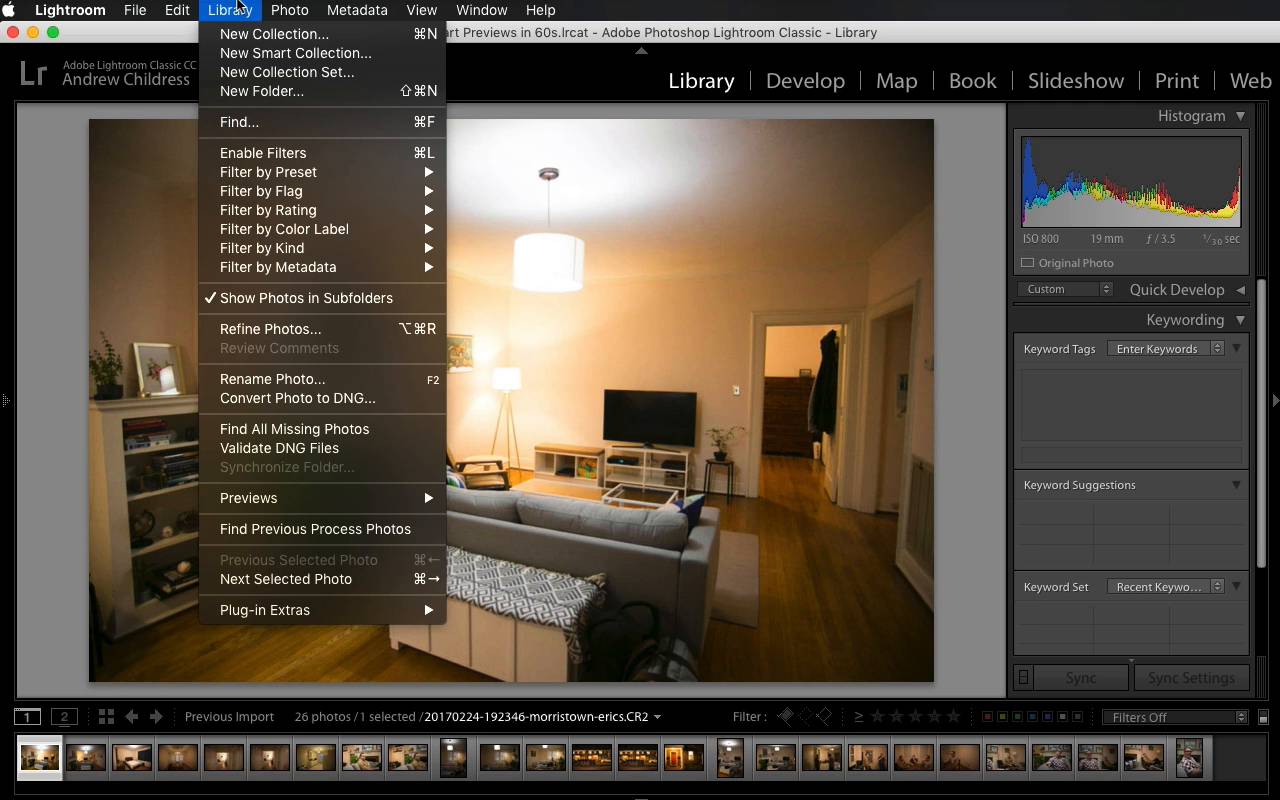 Just How Does Lightroom Work?

To understand the power of Smart Previews, you have to first understand how Lightroom has traditionally worked.
Lightroom stores all the information related to your pictures in its catalog. The original image files aren't changed when you're making edits and corrections: the catalog holds all of the data from the changes you make. When you're ready to use a picture outside of Lightroom, the program applies any adjustments stored in the catalog to the picture and exports the finished version without ever altering the original. This is the basis of a non-destructive post-production workflow.

If you ever open a Lightroom catalog and the images have been deleted from your computer or moved, Lightroom will immediately raise error messages. Being disconnected from the source images will show blurred previews until you tell Lightroom where the images have moved to by clicking the error and pointing it to the file.
The issue was simple: if you wanted to edit your images, you had to keep the files with you, either on an external drive or the computer itself. And this was the case until Adobe added Smart Previews in Lightroom 5.
What Are Smart Previews?
Smart Previews are brand new files that Lightroom can build to supplement your image collection. They're smaller than the original image files and let you keep editing, whether you have the original images on the computer or on a connected drive. With this huge saving in space, you can probably fit Smart Previews on your drive even when the original images don't.
This is really powerful. No longer do you have to keep your entire image collection with you; instead, you can import images, build Smart Previews, and edit them regardless of whether you stay connected to the original files or not. This is a brand new format created for use in Lightroom that gives you more flexibility about keeping the images with you.
Although Smart Previews don't allow you to delete RAW images, they can supplement your workflow and allow you to edit without being connected. Keep reading to find out how to build them and how to get the most from them.
Testing the Storage Savings

So how much space can you save by using Smart Previews? I set out on some testing to find out for myself. Adobe mentions on its Smart Previews information page that 500 RAW images that would normally occupy 14 gigabytes of space will take up just 400 megabytes with the Smart Previews instead.
I did some testing of my own, and here's what I found. The space savings are truly remarkable, and even a small hard drive can fit a rather large image collection.
| Number of Images | File Size | Smart Previews |
| --- | --- | --- |
| 50 | 1 gigabyte | 48 megabytes |
| 100 | 2.02 gigabytes | 98 megabytes |
| 250 | 2.56 gigabytes | 240 megabytes |
| 500 | 5.08 gigabytes | 481 megabytes |
Testing information: Lightroom 5.6, Fuji X100 RAW files, Windows 7.
Building Smart Previews

Building Smart Previews can take place in one of two primary ways: either as part of the import process, or at any time in the future.
One key note: Smart Previews are by no means required to use Lightroom. Building them does increase the overall size of your catalog. However, you can travel without being connected to the original RAW images, effectively reducing the size of what's on your drive at any given time.
On Import

Importing images into Lightroom has a ton of possibilities, including the previews that we can build while importing. Smart Previews can be added as a part of this import process so that you'll have them at any time they are needed.
Building Previews Later

If you didn't build Smart Previews while importing images, have no fear; they can be added for all images or any selected images at any time.
Keep in mind that you'll need to reconnect to the drive that contains the original to do full-sized exports, although the Smart Previews do allow for some smaller size exporting.
The Possibilities

A Lighter Setup

Above all, the biggest benefit of using Smart Previews is to reduce the size of your image collection that must be connected at all times.
As I mentioned earlier, more and more photographers are travelling with lighter setups. I use a mirrorless camera and use an ultraportable laptop with a lower-capacity SSD. It's a flexible setup, but it's not a mobile workstation in the way that a 15-inch laptop with a Terabyte hard-drive is, and that's okay.
The newest version of my Smart Previews workflow includes housing the catalog with Smart Previews in my Dropbox. It's small enough to fit, and my original images reside safely at home on a large drive.
Collaboration
In addition to writing about Lightroom for Tuts+, one of my favorite freelance jobs is outsourced editing for other photographers. Many of these professionals are wedding and portrait shooters who are looking to deliver images to clients quickly and spend less time editing due to their high seasonal workloads.
At some point, sending hard drives full of RAW images back and forth through the mail becomes cumbersome and costly. This is where a catalog with Smart Previews is a game changer. No longer do clients have to send along a hard drive. Instead, I set up shared Dropbox folders with each of them and receive catalogs with Smart Previews rendered. I can use this catalog to complete my edits and then send them back seamlessly. Given the small size of this catalog—usually just a couple of gigabytes—this is a very workable, economical, and speedy solution.
Lightroom Mobile

Another key item that Smart Previews enabled was the development of Lightroom Mobile. With limited storage on our phones and tablets, Adobe used Smart Previews to help us view smaller file size version of the images on our tablet or iPhone.
If you use Lightroom Mobile, the desktop version of Lightroom will build the Smart Previews automatically so that your images can be accessed on your mobile device through cloud storage.
Wrapping Up

Whether you're using Smart Previews to cut down on hard drive usage or create smaller catalogs to send to other photographers, this is a great feature that not enough photographers are using. When you're wanting to disconnect with that lightweight laptop, make sure you render Smart Previews.
Want a weekly email summary?
Subscribe below and we'll send you a weekly email summary of all new Photo & Video tutorials. Never miss out on learning about the next big thing.
Sign up
I believe that life is too short to do just one thing. In college, I studied Accounting and Finance but continue to scratch my creative itch with my work for Envato Tuts+ and other clients. By day, I enjoy my career in corporate finance, using data and analysis to make decisions. I cover a variety of topics for Tuts+, including photo editing software like Adobe Lightroom, PowerPoint, Keynote, and more. What I enjoy most is teaching people to use software to solve everyday problems, excel in their career, and complete work efficiently. Feel free to reach out to me on my website.
Start your 7-day free trial*
*All Individual plans include a 7-day free trial for new customers; then chosen plan price applies. Cancel any time.