Grant Friedman
Photographers have a lot of complaints when you ask them what they think about tablets. Most tablets lack the tools that photographers need to preview and edit their photos in the field. Wireless tethering is slow and the apps available to manage and edit those photos just aren't sufficient. For several years, photographers have been waiting for a device that will give them all of the flexibility that their desktop computers give them, but with all the mobility of a tablet. Fortunately, that device already exists, it's just not an iPad.
In this tutorial, we will show you how you can tether a DSLR camera to a Microsoft Surface tablet using a USB cable. We will also show you how to manage and edit those photos using full versions of Lightroom and Photoshop.
---
Equipment
---
Introduction
Previewing your photos in the field can be quite challenging. The small screen on the back of your camera doesn't exactly give you a good representation of how well your photos are turning out. When you get back to your computer, you might find that your focus wasn't right, your ISO was too high, or any number of other problems that can arise while you're out in the field taking shots.
If you're in the studio with a laptop, you can easily tether your camera via USB to see how your photos are turning out. In the field, that is not always possible. Laptops are a bit too bulky, and most tablets just aren't made to tether directly to a camera.
You can tether your iPad to your camera wirelessly, but let's be honest, wi-fi and other wireless transfers take a long time to move data. In fact, it could take a wi-fi connection as long as 45 seconds to transfer a 7 MB file. In addition, most tablets can't run the software that most photographers need.
That leaves very few choices for photographers who want to be able to review and edit photos while they are in the field without having to be tied down to a big and clunky laptop.
What you really need is a tablet that can run full versions of Photoshop and Lightroom that also has a USB port. That is why I was excited to learn about the Microsoft Surface Pro tablet. It runs Windows 8, has a USB port, and can do just about anything a PC can do including the ability to run full versions of Photoshop and Lightroom.
---
1.

Tethering Your Tablet to a DSLR Camera Via USB
Step 1
Your first step should be to install Lightroom by downloading it from Adobe's website.
Step 2
Once Lightroom is installed, connect your camera directly to the tablet using a USB cable. In this tutorial, I am connecting the Surface Pro tablet to my Nikon D7000. Please see Adobe's website for the list of cameras that support tethering in Lightroom.
Step 3
Open Lightroom and go to File > Tethered Capture > Start Tethered Capture.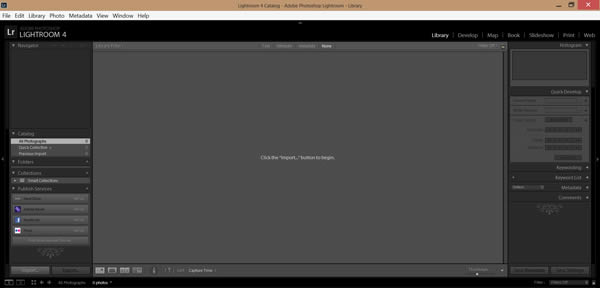 Step 4
Now enter a session name and press OK.
Step 5
Your camera is now connected.
---
2.

Shooting

Once your camera is connected and tethered to your Microsoft Surface Pro, adjust your camera's settings and start to take photos. Your photos will transfer to the Surface automatically. Unlike using wireless options on an iPad, the transfer will occur almost instantaneously.
Option 1. Use as a Remote for Landscape and Macro Photography
If you place your camera on a tripod, the Microsoft Surface Pro works really well as a remote and can be used to shoot and review photos for landscape and macro photography.
Option 2. Shooting Photos Without a Tripod
In addition to shooting landscape and macro photos, the Microsoft Surface can also be used to help shoot portraits and other types of photos as well. With that said, shooting portraits while tethered to a Microsoft Surface via USB cable is a bit more complicated than it is to shoot landscape and macro photos.
This is mainly due to the fact that it can be a bit cumbersome to hold the tablet with one hand and to hold the camera with your other hand. If placed into a small messenger bag or onto a small table however, the Microsoft Surface Pro can easily be used as lightweight alternative to your laptop while you are in the field.
Unfortunately, while there are some nice accessories built for the iPad (for instance Tether Tools' TabStrap), there aren't any shoulder strap accessories that I could find for the Surface Pro. Maybe an industrious designer will make a Kickstarter campaign soon.
---
3.

Edit Your Photos

One of the benefits of running full versions of Lightroom and Photoshop on your Microsoft Surface Pro is that you can also make edits to your photos while you are in the field. While you will probably make more precise edits when you get back to your studio, this set up is a really great way to make sure that your photos will work before you wrap up for the day.
You can also use the Surface Pro's stylus to make edits using Lightroom's spot removal or adjustment brush tools. The stylus can also be used in Photoshop although pen pressure sensitivity in Photoshop is not currently supported (although we are told that it will be supported soon).
---
4.

Exporting Your Catalog

When you're done shooting for the day and are ready to edit your photos on your primary computer, the first thing you should do is export your catalog. This is really important, especially if you made any adjustments (metadata, color adjustments, etc) to your files. When you export your catalog, all of those adjustments will be transferred to your computer, as well.
Step 1
Go to File > Export as Catalog.
Step 2
Select the destination.
---
How to Transfer Your Files
When you shoot tethered, your camera will transfer your photos to your Surface automatically. Photos will not be stored on your camera's memory card. The nice thing about this is that the Surface Pro 128 gives you about 90 GB of useable storage for your photos. The downside is that you will need to find a way to transfer those files to your primary computer. The Surface Pro gives you several options to transfer your photos.
Option 1. External Hard Drive or Thumb Drive
Plug an external hard drive or thumb drive in to your Surface's USB port. Keep in mind that hard drives are not universal between a Mac and a PC. If you are running Windows on your studio computer, then you shouldn't have any issues. If you're running OSX, you will want to use a drive that is formatted as FAT32. Here is some more information about how to share an external hard drive between a Mac and PC.
Option 2. USB SD Card Reader
USB SD Card readers also work really well to transfer photos between a Microsoft Surface and another computer.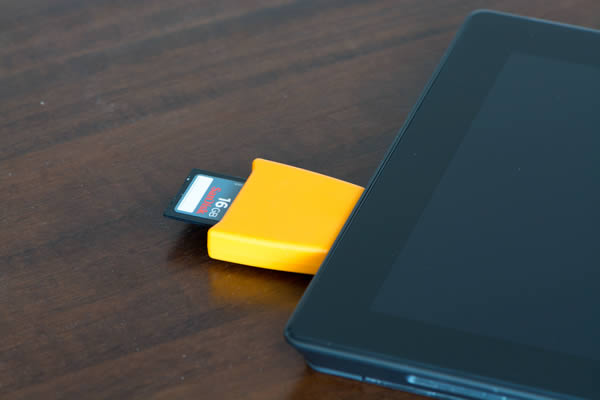 Option 3. Micro SD Drive
In addition to a USB port, the Surface Pro also comes with a Micro SD port. You can use this to easily transfer your files from your Surface Pro to your computer.
Option 4. Dropbox
You can also use Dropbox or another cloud storage solution to transfer your files from your Surface to your computer. The nice thing about Dropbox is that it will transfer the files automatically. Unfortunately, the Surface Pro is wi-fi only. So it won't begin the transfer until you are connected to a wi-fi network.
---
6.

Import Your Catalog
Step 1
After you have transferred your files to your other machine using the methods described above, Open Lightroom, then go to File > Import From Another Catalog and select the appropriate .lrcat file to import.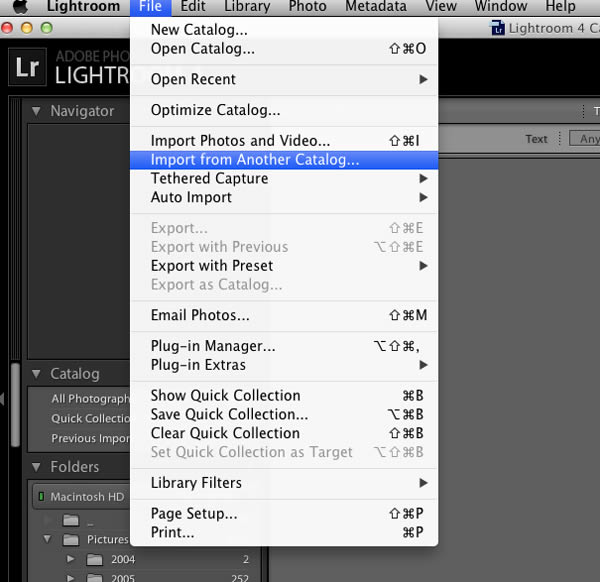 ---
Conclusion
Overall, the Microsoft Surface Pro is superior to other tablets if you want to quickly review and transfer photos from your DSLR in the field. It also works really well as a remote control for landscape photographs as well.
There are some drawbacks to the Surface Pro, however. At the time of writing this tutorial, it does not currently support pen pressure sensitivity on any of Adobe's products (although this seems to be something that they are working on).
In addition, I found that the touch screen was not as precise as I would have liked. You will definitely need to use the stylus to select menu options and make adjustments. I also found the screen to be just a tad small.
The Surface Pro was also a bit cumbersome to hold and take photos as the same time. At the moment, there don't seem to be very many accessories for it to help you carry it around. The iPad has lots of shoulder strap accessories like the one from Tether Tools that I mentioned earlier in this tutorial. I had to use a small messenger bag to carry the tablet around while I worked. While it did the job, it wasn't optimal.
With that said, there were lots of things that I really liked about it. It can do just about everything that a computer can do. It has USB, micro SD, wi-fi, and a touch screen. It transferred the photos quickly and it worked really well as a remote. The screen was bright and clear, and the upgraded keyboard that I used made editing really easy. Keyboard shortcuts could be used to quickly help edit your photos as long as the keyboard was attached.
Overall, I really liked working with the Microsoft Surface. As a Mac user, I was a bit apprehensive about using a Windows-based machine, but honestly, it really wasn't that bad. If you're a photographer looking for a tablet to use while you're traveling or shooting on the go, and you're open to using a non-Apple product, give the Microsoft Surface Pro a look. You might actually like it!
---
A Couple Photos Made with This System
Want a weekly email summary?
Subscribe below and we'll send you a weekly email summary of all new Photo tutorials. Never miss out on learning about the next big thing.
Sign up
Grant Friedman
is a veteran blogger, social media manager, design enthusiast, and photographer. Grant is a former editor of EnvatoTuts+ (formerly Psdtuts+) and Editor-in-Chief of Layers Magazine. Grant now works as a photographer and filmmaker covering the fashion and beauty industries.
Looking for something to help kick start your next project?
Envato Market
has a range of items for sale to help get you started.