Jess Hooper
Instagram has matured considerably, with a user community that is large, diverse, and highly active. There's little debate now that it can be a creative outlet and professional avenue for photographers. 
Whether you want to use your DSLR exclusively or are open to taking spontaneous photos with your phone's camera, Instagram is a useful tool for sharing photos, finding inspiration, and promoting your photography business. It now has over 300 million users so there's no shortage of powerhouse creatives, potential collaborators, and prospective clients within reach.
Why Do Professional Photographers Use Instagram?
Asking around, there are three main reasons professional and semi-professional photographers decide to use Instagram.
1. As a Creative Avenue
Instagram is instantly gratifying and a simple way to test out quick ideas, see your older photos viewed in a new light, or make use of snapshots that aren't going to end up in your portfolio. The images are all small, which can be quite liberating for the working photographer. No need to fuss over noise, grain and other fine details! 
2. To Connect With Other Photographers
The social aspect of Instagram is ideal for meeting fellow photographers whose work inspires you, as well as models, stylists and other sources of inspiration or collaboration. 
3. To Build Awareness of Your Business 
Social media is a pretty important aspect of most small businesses today. Obviously we're not talking about a small app or a niche market, Instagram is already huge and continuing to grow. It's not quite the same as having a full-scale portfolio site, but it has its own advantages. 
DSLR or Mobile Phone Camera? 
Whatever camera(s) you use, I recommend posting a mixture of carefully planned out photos (the ones that end up in your portfolio) and spontaneous ones (behind the scenes action, photos you capture while 'off the clock', quick creative experiments). It's good to have a plan for how you're going to use Instagram, to make it unique from your online portfolio. 
To keep a professional edge to your Instagram feed, use a consistent editing process no matter what kind of camera you're shooting on. Choosing what that process should be comes down to your own style and body of work.
Most people who look at your photos on Instagram will be doing so from a mobile device. Fine details get lost, and a closer crop is often better. Consider focusing in on a single detail of a larger image, with a tight crop that suits the square format. 
Instagram shouldn't just be a carbon copy of your website—what would be the point? Instead, try viewing it as complementary to your professional portfolio, like a visual diary.
Filters, Tools and Effects
I'm going to admit up-front that I don't use Instagram's filters. It's worth having a look through them, but I'd recommend using a more sophisticated app for your colour and contrast editing.
There are no shortage of apps you can use to organize and process photographs on a phone or tablet. Adobe Lightroom Mobile and Lightroom CC are the programs we've covered most.
The main thing to remember when editing your photos for Instagram is that they're going to be viewed at small sizes on mobile devices. This makes contrast, saturation and sharpness all the more important, while the finer details of the image become less visible.
Different Workflows for Different Needs
For DSLR photos I use Photoshop to zoom, crop and perform basic colour correction, then send them over to my phone to finish the editing process. Experiment with a few different apps and workflows and find out what works for you.
Don't go overboard! Try to steer clear of creating an editing process that's too convoluted or time-consuming. It'll just become frustrating. The beauty of Instagram is in how quickly you can go from taking an image to sharing it. Lightroom presets and LUTs are a a handy way to create a repeatable look.
Scaling Your Photos For Mobile Devices
Whatever workflow you end up using, make sure to keep in mind that most mobile apps compress or scale down high resolution photos automatically to conserve space on your phone or limit the amount of memory and processing power used. 
If you're shooting on a DSLR and editing in an app and want to maintain the highest quality image, make sure you use Photoshop (or similar) to crop and resize your photos first, and save them at a size appropriate to your phone. VSCO Cam have more information to help you figure out what'll work best.
Final Effects, Resizing and Posting Your Images
When you post images to Instagram they're resized and compressed. Don't worry too much about the compression—they're meant to be viewed small, and nobody's expecting to see fine details on a phone screen. A little grain and noise can add to the effect! Instagram generally does a pretty good job of compressing images while retaining quality.
The Lux Filter
The one Instagram feature I do like to use is Lux. Relatively new to Instagram, Lux is a simple slider that lets you adjust the contrast and saturation of the image. It's useful for last-minute adjustments, and was clearly designed with mobile browsing in mind.
Tags and Followers
Alright, so that's the basics of editing photos and posting to Instagram sorted. Now let's talk about how to get noticed, and grow your follower count. 
The most important thing to remember is that Instagram is a community. The app has a few built-in ways to promote yourself, but ultimately the best thing you can do is join the community and participate earnestly. Everything else flows on from that. Here are some strategies to help you get started:
Follow People You Find Interesting
Don't follow every single account you come across. Be genuinely interested in everyone on your feed. Making a personal connection is the best way to find like-minded people who'll be into your photos, and this comes with the added bonus of giving you lots of photographic inspiration in your feed.
Join the Conversation
If people comment on your photos, thank them. If you see a conversation elsewhere that interests you, contribute. Leave comments or likes on photos you find interesting, inspiration, or awesome.
Post Regularly 
If you dump all your images at once it'll flood your followers' feeds. From a user's perspective this is a bit annoying. I keep myself motivated by aiming to post at least one picture a day, but if I've got a bunch to post I'll hold off and post them one by one. 
Use Hashtags
You can add as many hashtags as you like. It's best to add only the most relevant. Hashtags that are popular will be viewed more often, but there'll also be more images posted to them, quickly pushing yours down the page. Try a mixture of niche and popular hashtags.
Follow Trends
Look out for other photographers posting images like yours and get inspiration on new hashtags to use. Some can be quite straightforward (like #food or #landscape) while others are more evocative and creative—think #dayslikethese, #thatsdarling, or #slowliving. 
Also keep an eye out for competitions and accounts that feature other photographers' works. Nominating yourself for a feature slot can be as simple as adding a particular hashtag to your photo. If the photo is good enough, they'll repost your image, giving you exposure. 
Add a Location to Your Images
If you have images of popular landmarks or well-known places, use the Add Location feature when posting.
Video on Instagram
Photography is the focus of this tutorial, but we can't ignore video. Is it right for your account? Like your photo feed, have a plan for what you'll post that both keeps things coherent and gives you room to experiment. Here are a few tutorials and resources to get you started:
Top Instagram Video Templates for Premiere Pro
If you're ever tempted to add video to the aesthetic of your Instagram profile, try a template from Envato Elements. It's a subscription service that gives you unlimited access to digital assets like video project templates and graphics. Here are some popular Instagram video templates from Envato Elements.
Buro is a template pack for Instagram Stories videos. It features a modern design with large typography and motion graphics. Choose from the 130 template options to put together your perfect Instagram Stories video.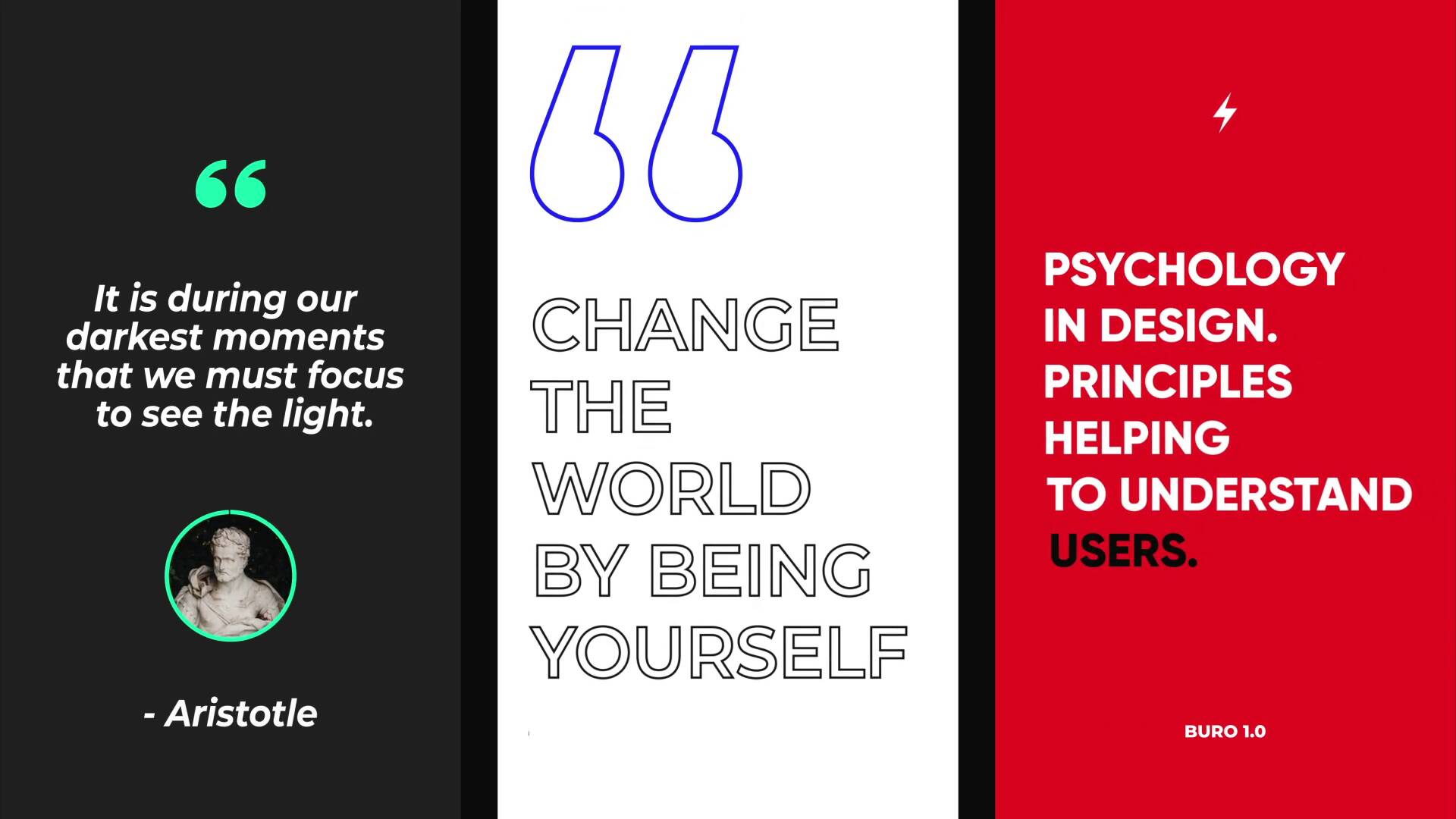 Keep with the colorful theme of your Instagram feed. These Instagram Stories templates have a variety of colors. Add your photos and use them in unique image frames. Each template comes in two resolutions so your Stories can look good on different devices.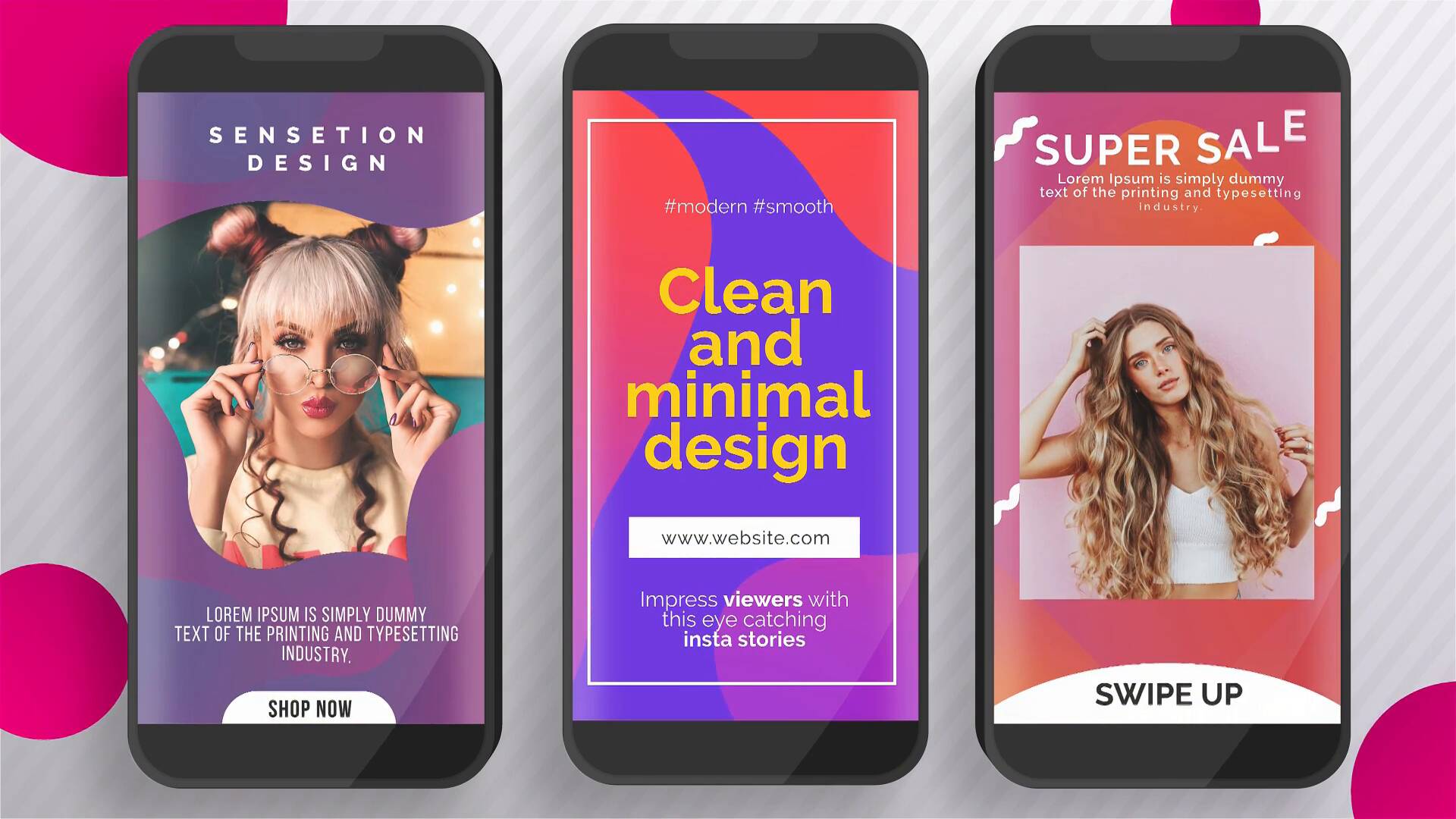 Add some more style to your Instagram feed with the Dynamic Puzzle template. Using Premiere Pro, you can make unique Instagram posts that fit together like a puzzle. It works great for carousel photo and video posts, as well as a portfolio showcase.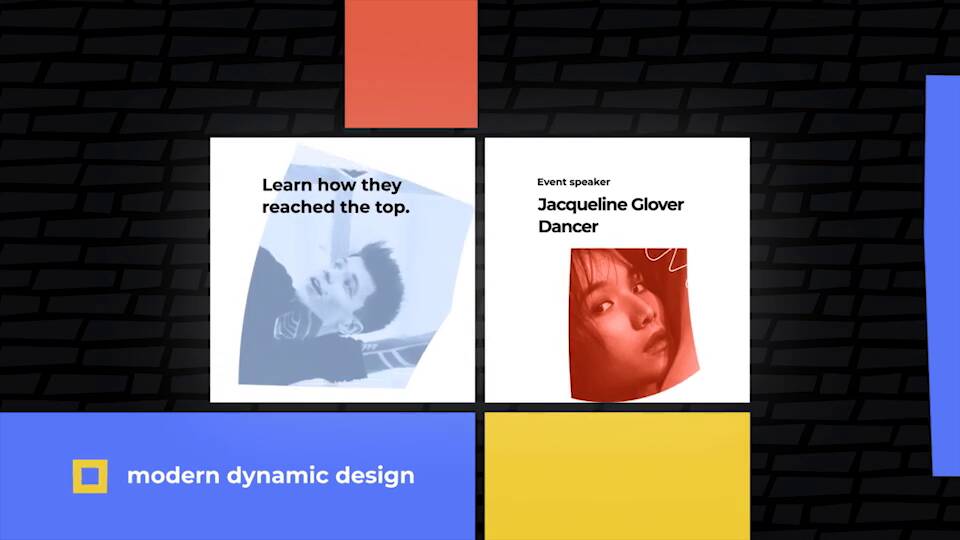 Instagram Stories get a lot of attention, which makes them a great second home for your photography. This modern black-and-white template lets you show off photos in a modern way. There are 15 Stories to choose from for multiple posts.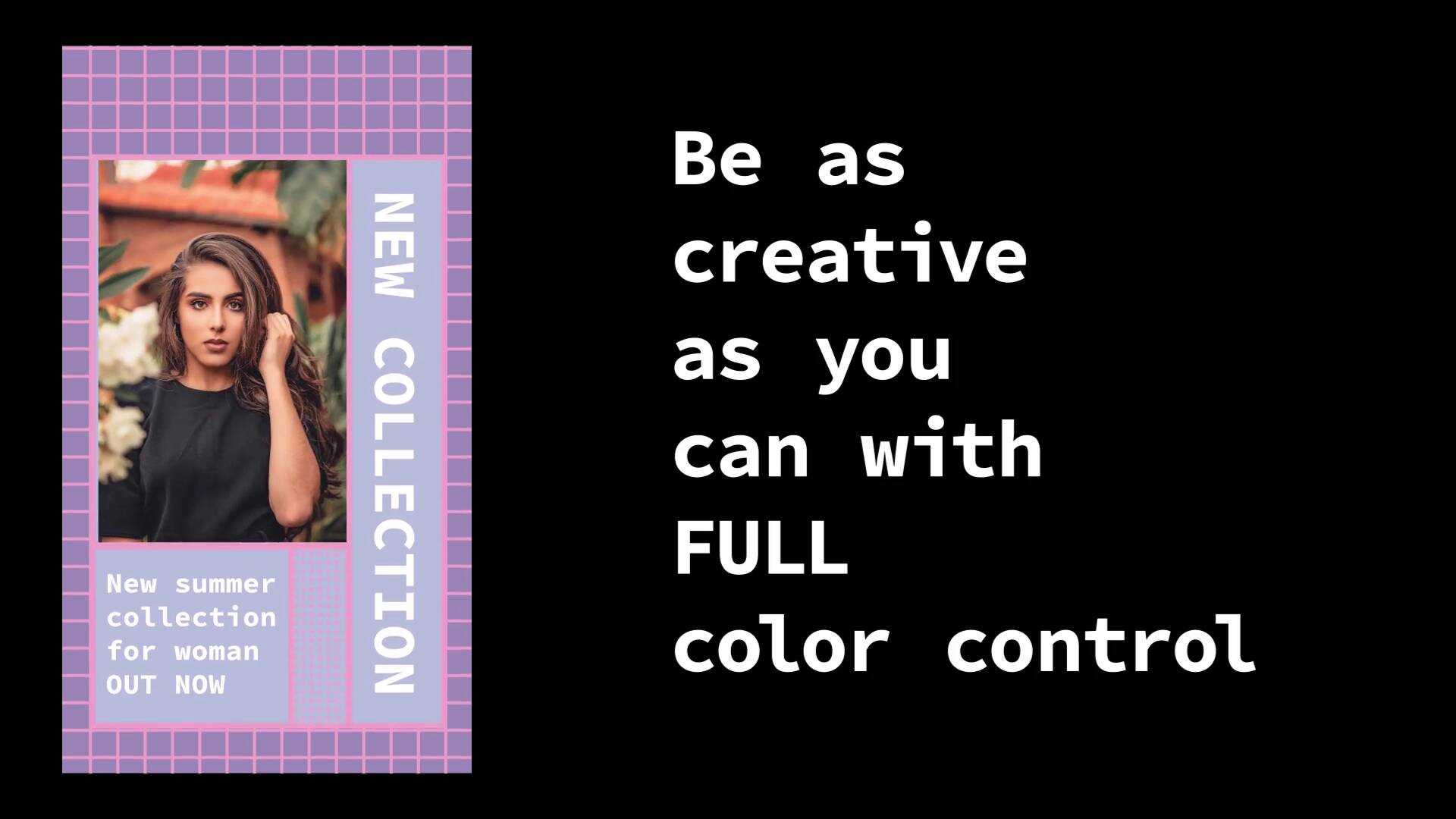 Finally, we have this modern Instagram Stories video pack. They feature dynamic animations, vibrant colors, and a multipurpose format. Each template is 10 seconds long and renders quickly in Premiere Pro.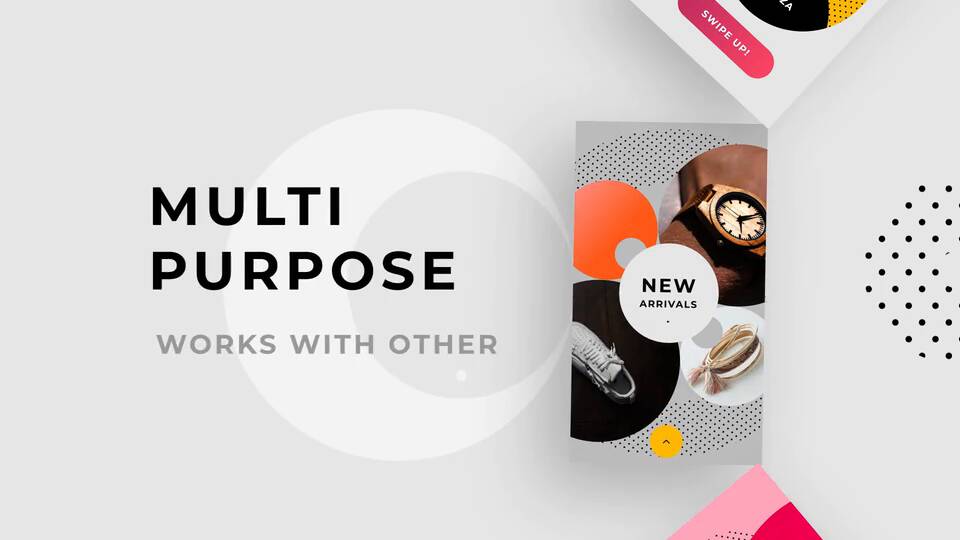 More Instagram Resources From Envato
Milkshake: Instagram Website Maker
Milkshake is an Instagram website maker that helps you create a free website for your Instagram profile all on your phone, instantly. Check out Milkshake.
Boost Your Video Marketing With the Envato Guide
Boost your video marketing skills with our comprehensive guide: You'll learn video marketing from start to finish, so that whether you're a novice or a pro, you'll learn some useful skills that will improve your next video.
Download Free Video, Music, and Templates From Mixkit
Check out Mixkit for free stock videos, free stock music, and free templates for Adobe Premiere Pro.
Make a Motion Graphics Video Online With Placeit
Placeit is an online video maker with professionally-designed motion graphics templates.
Envato Elements: Unlimited Downloads
Envato Elements offers millions of stock items: photos, music, video clips, fonts, video project templates for After Effects, Premiere Pro, Final Cut Pro and Motion, and creative courses from Envato Tuts+, all with a single subscription: Download as many items as you want for one low monthly price.
Learn How to Use Instagram
This post was originally written in 2015 and, while much of it is still applicable today, there are lots of new features. For the very latest on how to use Instagram effectively, check out the School of Instagram, a free site dedicated to helping you with Instagram.
Want a weekly email summary?
Subscribe below and we'll send you a weekly email summary of all new Photo tutorials. Never miss out on learning about the next big thing.
Sign up
Melbourne, Australia
I'm a photographer, editor and serial dabbler. You can find me online via the links below, or check out my Instagram: https://instagram.com/smallbuteffective/ Say hello!
Looking for something to help kick start your next project?
Envato Market
has a range of items for sale to help get you started.