James Cull
When it comes to editing photographs on OS X, I'm sure you'll agree with me in saying that Mac users are quite spoiled for choice. Not only do we have iPhoto, an excellent (and completely free) photo editor, but there's also the Adobe Suite offering Lightroom and Photoshop.
In this tutorial, we're going to be focusing on Aperture, Apple's own photo editor designed towards the more professional user. Or is it? Yes, it's priced towards the professional end of the market. Amateurs will certainly not want to spend $80 on some software simply to touch up their holiday snaps. On the other hand, Aperture doesn't have to be complicated, and even absolute beginners can use it with ease.
---
Getting Started
Funnily enough, iPhoto is actually based loosely on Aperture and there's (almost) complete integration between the two, so you can open up your iPhoto library in Aperture and vice-versa. If you haven't already installed Aperture, then go ahead and grab it from the Mac App Store (there's no demo version, unfortunately) and let it install.
You'll need about 550 MB of free disk space and a fairly fast Mac to run it smoothly. I recommend at least 4 GB of RAM. Please note that Aperture will only run on Intel systems, sorry PowerPC users.
Upon first opening the app, Aperture's interface may seem a little overwhelming, but it's fairly simple to get your head around.
The box highlighted in blue is the Inspector. Those of you who have already used iWork will know about this. It's where all your tools are kept. The red box is the toolbar and allows you to jump between various views or sections of Aperture and the yellow box shows the photo you are currently working on and it's where you'll do the bulk of your editing.
As you can see, I already have some images within my Aperture library from a variety of sources. You can import files into your library either from your digital camera (Aperture can detect when either a memory card or a camera is connected and will ask you whether or not you wish to import any images) or from elsewhere on your Mac. To do so, simply click on the Import button in the top toolbar and point Aperture to the directory where your images are located.
Before we start importing, there is one thing worth pointing out, and that is projects. Think of a project within Aperture as a folder. They make it easier to group your photos, so you could group them by category (landscapes, portraits, etc.), dates, location and so on.
Aperture will by default import all photos into a new project, but you can also choose existing projects, if you've got any set up, using the Destination drop-down box (as you can see in the green box above). Once you're happy with everything click on Import Checked.
Aperture does support RAW files from a variety of cameras and updates are added frequently, so make sure you update via the Mac App Store on a regular basis. When importing a RAW file, Aperture will present you with the option to tinker around with the settings, such as the saturation, white balance and exposure.
---
Working With Metadata and Adding Geotags
Metadata within Aperture is really simple. On any photo, if you click on Inspector then select the Info tab you can view the metadata attached to that particular photo easily.
You can edit certain aspects of your photo's metadata (such as its name, the caption, any relevant copyright notices and its title) by simply selecting the relevant text box then typing in what you'd like its value to be. Some aspects of the metadata (such as the camera data and lens used) cannot be customised through Aperture, though you can clear any metadata inserted by clicking on the cog icon and selecting Clear IPTC Metadata.
Another really easy way to keep track of your photos is to add geotags to them so all your photo locations can be easily seen on a map. If your camera already does this, then there's no need as the GPS co-ordinates will be encoded into the metadata and automatically recognised by Aperture. However, most cameras don't feature this functionality (with my Nikon D5100, the GP-1 GPS unit would set me back £200, or $305, a price that I'm not prepared to pay!), but thankfully it's really easy within Aperture.
Click on the Metadata menu within Aperture (as shown in the screenshot above) then select Assign Location… You can also adjust the date and time of your photo as well as tag faces using either the Assign Date and Time… or Assign Names options respectively.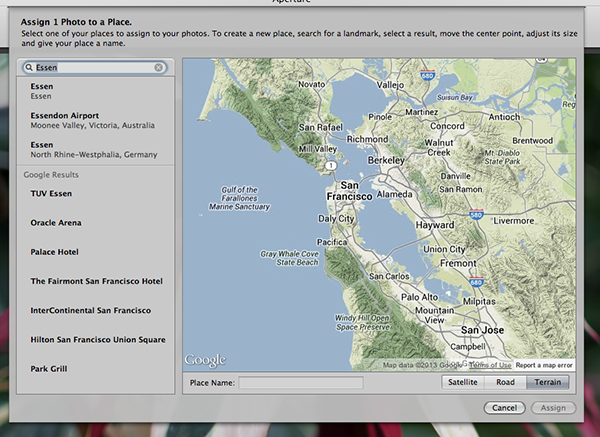 You can either search for a particular location or drag the map to the point where your photo was taken.
Now, if you click on the Map icon, as the red arrow shows, Aperture will present you with a map showing pins of all of the places you've taken photos in. Although it does require a bit of effort, the map makes it really easy to stay on top of your entire photo collection (and, in my case, is certainly a much cheaper method of geotagging my photos than Nikon's proposed solution!).
---
Editing Your Photos
Now we really get onto the nitty-gritty stuff within Aperture: editing your photos. For this, click on the Adjustments tab within the Inspector and you'll be presented with a whole load of options for playing around with your photos. You can either edit them using adjustments (which will change the look of the entire image) or selectively touch up areas of each photo using brushes (which we'll get onto in a minute).
Adjustments
Adjustments help improve the look of your entire image. If you click on the Add Adjustment drop-down box you will see all of the adjustments available within Aperture. Select one to bring up the appropriate panel.
As you can see in the blue box above, you can change the photo by dragging the sliders to the left or to the right, or by typing in a value (I recommend using the sliders, though) and your image will be updated on the right-hand side. Some adjustments feature a handy Auto button (as shown by the green arrow) which will select the best value (in this case, the best exposure value) based on an analysis of the image.
This is great if you want to touch something up quickly but then again, iPhoto has this ability and seeing as you've just spent $80 on this piece of kit, you'll want to get more out of it, won't you?
The Adjustments tab is where you'll also find the histogram for your image, which for those of you who haven't used it before is one of the most useful portrayals of your photo. Incredibly oversimplified, the histogram shows you whether or not your image is underexposed (i.e. too dark) or overexposed (i.e. too light). A histogram which is skewed to the left (as the screenshot above shows) indicates that an image is underexposed and one which is skewed to the right - yes, you guessed it - tells you that an image is overexposed.
An ideal histogram will be clustered around the centre (or, for the statistics geeks out there, will resemble a normal probability distribution) and fiddling with the settings in Aperture should get you this.
If you're short of time, then clicking on the little magic wand to the right of the drop-down Effects box will touch up your image automatically, selecting the best exposure and white balance (amongst other things) to make your photo look presentable. Naturally, though, Aperture will yield better results if you touch up your images manually.
The Adjustments panel features around 25 different image adjustments. For the beginner, it's really a matter of trial and error to find a combination that makes your picture look good. Aperture is meant for professionals who want this level of control over their photographs, so amateurs probably won't use every single one.
Whilst you're getting to grips with the software, I would recommend focusing on the Exposure, the White Balance, the Highlights & Shadows and the Enhance panels. These are the four that I use the most often when editing my pictures.
It's probably worth mentioning the kind of editing procedure Aperture uses, and how you can undo any changes if you make a mistake. In short, Aperture has a feature known as non-destructive editing. This means that you can always revert back to the original version of your photo (i.e. the one your camera took) really easily.
See that little toolbox icon in the screenshot above, highlighted by the red arrow? That tells you that you've made some form of alteration to your photo within Aperture. If you want to get rid of all your changes and start again from scratch, then simply right-click on it and select Revert to Original. Aperture will then restore your photo to exactly how it was when you made it.
You may also find that you want to get rid of some of the changes you've made, but not all of them. Yes, you could cycle back through everything using the Undo function, but what happens if you want to selectively delete a change? Right-click on that toolbox icon again and select Lift Adjustments.
As you can now see in the screenshot above, Aperture keeps track of every single adjustment you make to your photo and it even tells you what has been modified.
To delete a change, make sure the drop-down box in the left-hand corner is showing Replace (currently, mine shows Add) then select the adjustment you want to get rid of. Hit Backspace, then click Stamp Selected Images. Aperture will then update your image, getting rid of the adjustments you selected.
Brushes
Brushes are a really easy way to touch up areas of your image without having to change the entire image. Click on the Brushes menu on the bottom of the screen and select the brush you'd like to use. I'm going to use Dodge,which will selectively brighten up areas of my image.
A little box will pop up which allows you to choose the size of your brush and the strength you'd like the effect to be. Then, simply click and hold then drag the brush across where you would like to touch it up. The changes should be visible instantly.
As you can see in the screenshot above, I have brightened up the area across the statue's chest (marked with the green tick). The area shown by the red cross was what it looked like before I brightened it up. Of course, this doesn't just apply to brightening. You can also selectively darken areas of your image or up the contrast and/or colour saturation. With Aperture, you can always go back if you make a mistake, so don't be afraid to experiment!
---
Sharing Your Creations
Now that you've made your photos look the best they can be, it's time to share them with your friends and family! To export an individual photo, select it then right-click on it and hover to the Export menu. You can either export the original version of your photo (without any changes) or the modified version. You can then choose where you want it to be stored and the format. Aperture can export into JPEG, TIFF, PNG and PSD formats in a variety of different sizes.
Of course, you can export multiple photos and the procedure is exactly the same. Just select the photos you wish to export then follow the instructions above.
Aperture can share your photos to both Facebook and Flickr (there's no Twitter integration as of yet). You'll need to set these up. Go to the Aperture main menu, select Preferences and select the Web tab to add your various accounts.
When exporting to either Facebook or Flickr, make sure you choose the right name for your album (by default the name is New Album) and whether or not you want your album to be visible or not. Aperture will then convert your photos into a suitable format (which may take some time, depending on the speed of your Mac and how many photos you are uploading) before uploading them.
You can also order professional prints of your images or print them off yourself at home. To do so, right-click on an image or group of images, hover over Output… then select the option you'd like. Ordering prints through Apple requires you to sign in using your Apple ID and prices vary, depending on where you are in the world (I'm based in the UK, hence the prices in GBP).
---
That's It!
Congratulations, you've reached the end of this tutorial! I hope that I've given you a very simple introduction to Aperture and made you realise that although the application is geared towards professionals, even amateurs can use it to transform their images raw pixels to polished masterpieces.
Of course, Aperture is an advanced program and I've just scratched the surface in this tutorial. Sometimes the most successful results come purely by fluke so don't be afraid to have a play around with Aperture to see what you can achieve. Remember, you can always undo any changes you make!
If you've enjoyed this tutorial, or you feel like there's something worth sharing with our readers, then please feel free to post it in the Comments section below!
Want a weekly email summary?
Subscribe below and we'll send you a weekly email summary of all new Photo & Video tutorials. Never miss out on learning about the next big thing.
Sign up
N/A
Start your 7-day free trial*
*All Individual plans include a 7-day free trial for new customers; then chosen plan price applies. Cancel any time.