Cindy Burgess
All hail the smartphone—the mobile device that lets journalists record, edit, and publish video faster and easier than ever before.
It's an amazing piece of technology that's changing the way journalists around the world do their jobs. But smartphones have limitations when it comes to capturing video, such as:
they're awkward to hold
they have a limited battery life
the built-in microphone isn't sufficient for recording interviews
they don't capture quality video in low light
The good news is, there are many smartphone accessories available to help overcome these challenges. Here are the top five tools every mobile journalist needs to have to rock their next news video:
1.

 Stabilizer or Selfie Stick 

Smartphones are compact and light, which makes it possible for journalists to shoot video quickly and discreetly. But these same features also make mobile devices difficult to hold steady, especially when recording video for more than a few seconds. While many newer smartphones have Optical Image Stabilization (OIS) to help smooth out the bumps and shakes that are inevitable when capturing video handheld, you'll still want to add some kind of stabilizing device to your kit.

One of the coolest stabilizers on the market is the DJI Osmo Mobile. Your shots will be silky smooth and stable­­—even when you're moving around—thanks to the device's three-axis gimbal system.
Download the DJI GO app and you'll have full control over your mobile device's camera, plus cool features like ActiveTrack and Motion Timelapse. ActiveTrack is especially useful for journalists because it allows you to lock focus on a subject (which could be you) with a simple touch of the screen. When the subject moves, the Osmo Mobile pans and tilts automatically to keep them in the shot.
If you can't justify the expense of the Osmo Mobile (it sells for US $399), get yourself a selfie stick. Yeah, I know—they're the butt of many jokes, and are even banned in some venues—but selfie sticks offer mobile video journalists a lot of bang for the buck.
Let's say you want to record an interview, and you want viewers to see both you and the person you're interviewing on camera. Your arms are only so long: chances are, you won't be able to fit both of you in the shot (or at least, not well). But attach your smartphone to a selfie stick and extend it, and you'll have a much wider field of view.
A selfie stick makes it easier to hold your mobile device while you're shooting video. It also allows you to capture shots from high and low vantage points. For example, if you're recording video at a large protest or rally, you could extend the selfie stick above your head to get an aerial view of the crowd. Or you could use it to lower your smartphone to the ground to capture a shot of feet marching on the pavement.
Other options for smartphone stabilization are tripods and monopods, but remember: your goal is to be mobile. More and bigger stuff will just slow you down.
2.

 External Microphone

Good audio is essential for news video, but it can be difficult to capture with a smartphone alone. Your mobile device's built-in microphone is pretty decent, but only if you're very close to the action or to the person who's speaking. If you're in a noisy environment, forget it. Those built-in mics are omni-directional, meaning they pick up sound from all around you. You won't be able to make out what you or your subject is saying over the noise in the background.

So an external microphone is a must for mobile video journalists. There are two main types: shotgun and lavaliere.
Shotgun Microphone
A shotgun microphone attaches directly to your mobile device. It's called a "shotgun" mic partly because of its long, narrow shape, but also because it's directional. It picks up sound from directly in front, while minimizing noise from the back and sides.
Lavaliere Microphone
A lavaliere (lav) microphone is also known as a lapel or clip mic. You plug one end into your smartphone, then attach the mic to the clothing of the person speaking. You can also hold it in your hand near their mouth if your mobile device is attached to a tripod or selfie stick.
There are many types of smartphone mics to choose from, at a wide range of price points. AJ+, for example, recommends that video journalists use the Audio-Technica ATR3350IS Lavalier Microphone. A popular choice for shotgun mics is Rode's VideoMic Me. Your best choice will depend on the make and model of your mobile device and your budget.
3.

 External Light

Journalists have little to no control over when and where news happens, so they have to be prepared to record video in all types of environments—including dimly-lit spaces and at night. Low light conditions are challenging for any video camera, but especially for smartphones, which have tiny sensors.

Many mobile devices are equipped with a small built-in light that can be activated from within the camera settings:
This may help you in a pinch, but for best results you really need to invest in an external light. More light means better contrast, better details, and less image noise.
There's a wide variety of small portable lights designed specifically for smartphones. Some attach to the headphone jack of your mobile device, while others can be attached in different ways (which is useful if you're already using the jack for a microphone).
One of my favourite lights is the iBowerSmartphone LED Video Light. It offers several options for controlling the light and attaching it to your smartphone, giving you more bang for your buck: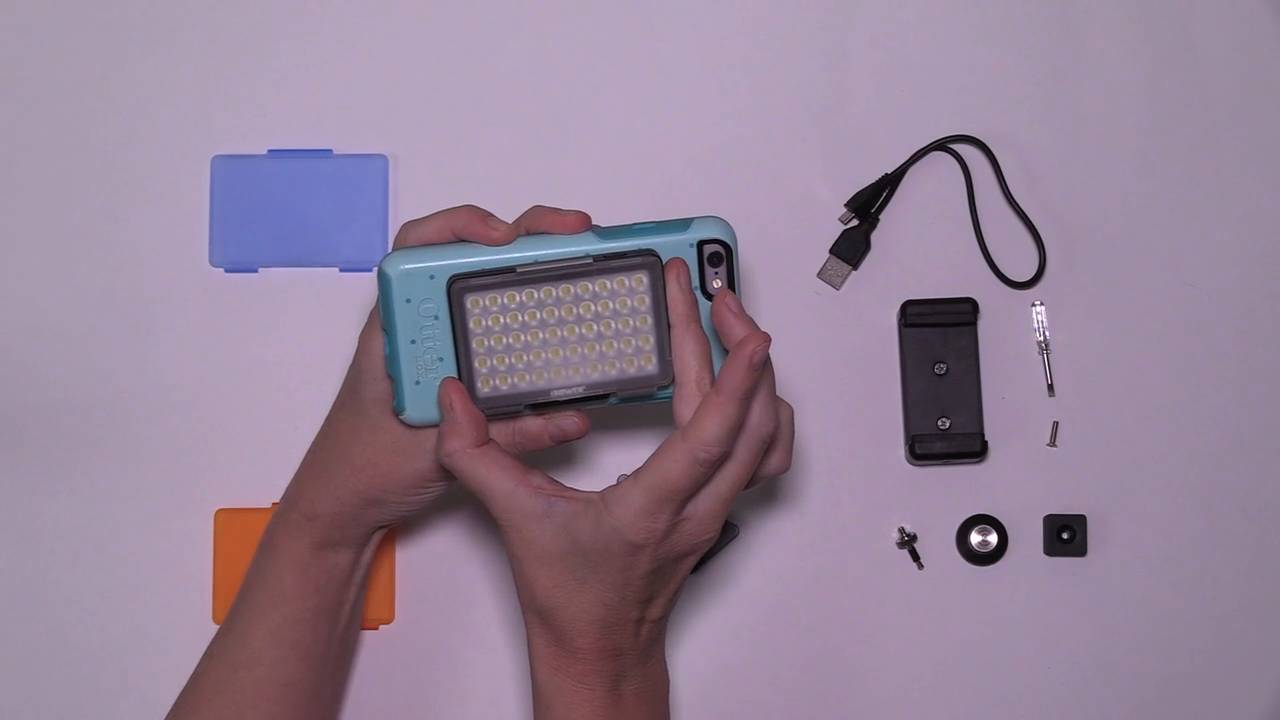 The iBower's battery lasts up to 18 hours on a single charge, which is more than enough to get the job done.
4.

 Accessory Mount

By now you're probably wondering how you're supposed to attach and carry all these accessories when your smartphone has only one headphone jack and you have only two hands. This is where an accessory mount or specially-designed smartphone case comes in.

One of the first cases developed—and still considered by many mobile video journalists to be the gold standard—is the iOgrapher. 
The durable polycarbonate case has several cold shoe mounts for lights and microphones, and can be attached to any standard tripod or monopod. The side handles allow for a steady grip when shooting video handheld. You can even add optional iOgrapher lenses to your smartphone's camera for wide angle or macro views.
If you find the iOgrapher a bit too bulky, you might want to check out the mCAM from Action Life Media. 
5.

 Portable Battery Charger

Finally, shooting video is a huge drain on power. If you think your smartphone's battery runs out quickly now, wait until you start recording or live streaming video. You can't afford to run out of juice in the middle of an important story, so a portable power bank to recharge your smartphone's battery on the go is a must.
When deciding which power bank to purchase, you need to consider:
the type of mobile device you're using
how many times you need to charge it
how much bulk and weight you want to carry around
The Wirecutter has run extensive tests on dozens of USB battery packs, and offers an excellent rundown of which power banks are best depending on your particular smartphone and situation.
Do Your Research
So just to recap, the top five tools for smartphone video journalism are a stabilizer or selfie stick, an external microphone, an external light, an accessory mount or specialized case, and a portable battery charger. There are many options available for each, so do your research. What you buy will ultimately depend on whether you're using an iOS or Android device, how old it is, and what kinds of video stories you expect to produce.
Want a weekly email summary?
Subscribe below and we'll send you a weekly email summary of all new Photo & Video tutorials. Never miss out on learning about the next big thing.
Sign up
Toronto, Canada
Cindy Burgess has been telling stories with video for more than 20 years. She's worked in all aspects of the TV news industry – both in front of and behind the camera – in markets across Canada, the United States and Central America. Her many skills include producing, shooting, editing, scripting, reporting and hosting. Cindy now runs a video production company and teaches journalism part-time at the college and university level.
One subscription. Unlimited Downloads.