Marie Gardiner
Sponsored Content
This sponsored post features a product relevant to our readers while meeting our editorial guidelines for being objective and educational.
From start to completion, a film project takes a lot of planning and work. There are a great many steps to get through, and without a proper structure things can get overlooked. In this tutorial we've teamed up with monday.com to show how to get your films organised.
1.

Why Platform Your Production

Like other project management software, monday.com resembles a spreadsheet or database, but it is much more than that. Capturing custom data, creating production dashboards, assigning tasks, tracking deadlines, and integration with other software are all major benefits of using this platform. The built-in features mean you have one central hub that everyone can access and update, so that nothing gets missed.
E-mail is Not Enough

E-mail is a tempting default, but it's just not a good way to organise a film production team. There are inevitable pitfalls: key information gets buried, people get cut out of the discussion, and important files are lost in the shuffle. A smooth production needs one easily accessible place for collaboration. With monday.com you can develop a clear, repeatable, streamlined workflow that everyone on your team can use together.

Build Good Routine With Templates

Once you're signed up, monday.com includes ready-made templates for video production and post-production. You can then customise those to suit the particular projects you work on.
You can also make your own templates once you're comfortable with the features and know your own typical production workflow. We recommend doing this, as creating your own templates saves you from setting up the same steps every time for each new project.
Easy Overviews

The layout and design of monday.com makes it plain to see what's going on with your production: who is working on what, and the progress you've made against your timelines. The service also has the ability to reference and recombine all of your data, meaning that if you work on multiple productions at the same time it's relatively straightforward to create project overviews, dashboards, and progress reports.
In the rest of this article, we'll work through an example of a board you might set up for a small video production team.
2.

How to Define Your Production Stages

Your project will likely be broken down into five main parts: development, pre-production, production, post-production, distribution, and, optionally (but highly recommended), feedback. Let's take a closer look at each of these.

Development
This is where your idea takes shape into something more real.

Development might include writing an initial pitch, adapting it for a specific client or audience, and story-boarding the idea to help the person you're pitching the idea to have a better understanding of what you're trying to achieve. As well as this, you'd likely have some breakdown of timing, cost etc, even if these are estimated.
Key Steps
Initial proposal and ideas
Pitch, plus costings
Storyboard
Branding and identity
Scripting (if required)
Locations
Filming schedule (working draft)
Pre-Production

Here you'll be considering practical requirements, like casting or sorting interviewees, a schedule for filming and what you'll ideally want to film, booking in locations, and sorting out any props or costumes you'll need.
Key Steps
Casting and/or interviews
Filming and crew schedule (final version)
List of required A-roll
List of ideal B-roll
Tech checklist
Location booking and licenses, insurance
Props and costumes (if required)
Catering and transport (if required)
Production
The actual shooting of your movie. You'll most likely want to have someone checking that you're getting everything you need, including b-roll. Your shooting schedule should be as firmed up as it can be, and everyone should know what they're doing and where they should be.
Key Steps
Shooting schedule
Call sheet
A-roll checklist
B-roll checklist
Post-production
Post-production could potentially be split into actual video post-production and housekeeping like payments and paperwork, but we'll keep it as one to make things simple. Here you'll look at things like transferring your footage, colour-grading and editing it, creating motion graphics like titles and VFX, making a trailer, and rendering your video out to certain formats.
Key Steps
Data transfer of raw footage and backup
Rough edits
Audio mix
Colour grading
Motion graphics and VFX
Credits
Final edit
Trail creation
Rendering
Specific format rendering list and requirement (different outputs)
Payment and housekeeping
Distribution
Distribution will all depend on what your film is being made to do. Will you be selling it by creating hard copies like DVDs or blu-rays? Will it be streamed, or broadcast? You'll also need to consider how you'll promote your film and how you'll roll it out across your various social media channels. This section should also include any festivals you plan to enter your film into, and likewise, any awards and competitions you intend to apply to.
Key Steps
Promotion
Hard copies (DVD/bluray) ordering
Streaming outlets
Social media roll (trail, tease, release)
Retail
Screening venues
Festivals and awards
An Optional Sixth Section: Feedback
It's always good to have an evaluation after any major project has concluded, so you might want to create a specific board to feed back any advice, discuss any problems that were encountered along the way, and to pick out anything that went really well.
Key Steps
3.

How to Add Your Team, Assign Tasks, and Set Timelines

You can see from the examples above that we've set out a two-person team, with each person represented by their initials, assigned to various tasks. You can choose to be notified each time the status of a particular task is marked as complete, but it's easy enough to keep an eye on within monday.com, particularly if you colour code the statuses and stick with the same colours for each element.

Add Your Team

Adding a team member is as quick as sending them an email.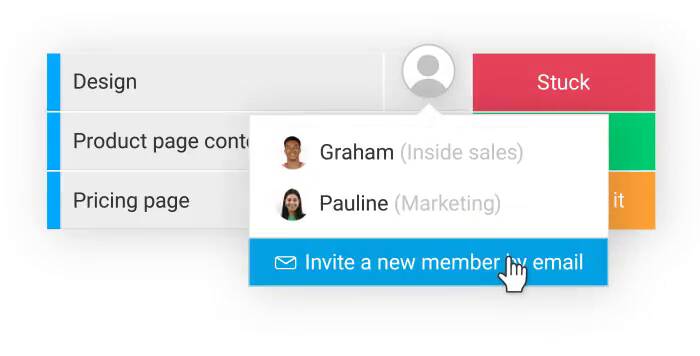 Add a Deadline

Adding deadlines is simple and you can choose to be notified if a deadline is approaching without the task(s) being completed. There's also an option to see the week as a whole so that you can look at what's coming up and whether any deadlines are looming.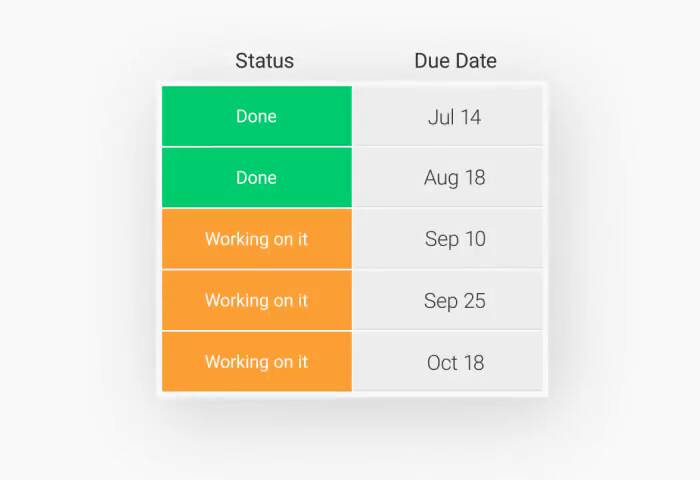 Talk Through and Track Each Step

If there are questions about a particular assignment, there's a nifty speech bubble icon beside each task. Clicking that will open up a chat with the person or people who are assigned to that task, and you can leave updates, attach files or add any questions that you might have.
4.

Integration and Attachments

It can be hard to start using a new site or programme, so it's always incredibly useful to integrate other platforms you use. It's a good idea to make room for attaching files and links to external sites as part of your initial board set up, with a specific column to add anything to. monday.com also lets you add a number of other apps and boards, including Trello, Outlook, Slack and more, in many handy places.

Conclusion
The great thing about monday.com is that it works for teams of any size, so if your business grows, you can adapt your boards and work-space. If you're a person who likes to be organised (or even wishes they were more organised!) then it's a really useful tool, because you can throw everything at it and there's a place for everything.
Being able to open up quick and easy dialogues with other team members means that everyone stays on track and assignments don't get stuck, holding up the rest of the project. 
Having the option to see your data visually, in graphs and charts, is a practical way to view figure-heavy data like budgets or calendared information like timelines. This is also a useful way to display data to clients in any presentations. There are apps for Windows and Mac PCs, and Android and Apple mobile devices, to keep track while you're on location.

There's one last thing that we don't often consider, but really is very important, and that is that the people using organisational tools like this are often contractors and remote workers, and one of the major benefits of having everything in one place is that it also becomes as familiar as a physical workplace. Remote work, even as part of a team, can be very isolating, but knowing there's a base where everyone can work together, share information and even chat while they work, can be a real boon.

More Tips to Help You Get Organised
Want a weekly email summary?
Subscribe below and we'll send you a weekly email summary of all new Video tutorials. Never miss out on learning about the next big thing.
Sign up
Photographer and writer based in north east England.
Marie Gardiner is a writer and photographer from the North East of England. After gaining her degree in Film and Media, Marie worked in the media industry, before leaving to set up the business she runs with her partner: Lonely Tower Film & Media. As well as writing about visual practices like photography and video, Marie is also the author of Sunderland Industrial Giant (The History Press, 2017), Secret Sunderland (Amberley Publishing 2019), and Celebrating Sunderland (Amberley Publishing 2023). Her photographic work focuses on landscapes and industrial ruins, particularly those of the North Pennines as she continues to work on her long-form documentary project Changing Landscapes.
Looking for something to help kick start your next project?
Envato Market
has a range of items for sale to help get you started.