André Bluteau
Adobe's Premiere Rush ist eine großartige Software für die Videobearbeitung für unterwegs. Rush ist für die Erstellung von Videos in sozialen Medien gedacht und ist eine abgespeckte Version von Adobe Premiere Pro für mehrere Geräte (Telefon und Computer), mit der Sie schnell bearbeiten und posten können. Rush ist zwar nicht so leistungsfähig wie die Mutter-Software, aber dennoch sehr nützlich, wenn Sie Ihr Handy in eine zentrale Anlaufstelle für die Videoproduktion verwandeln möchten. Sie können somit zum Beispiel sehr einfach Text zu Video hinzufügen, oder Videoschnitt direkt von Unterwegs erledigen.
In diesem Artikel werfen wir einen Blick auf die zehn besten Titel Vorlagen für Premiere Rush, die bei Envato erhältlich sind. Wir sehen uns die Premium-Vorlagen von Envato Elements und Envato Market an, sowie eine kostenlose Vorlage von Mixkit.
Top Premiere Rush Titel Vorlagen
Rush arbeitet mit Adobes .MOGRT-Vorlagendateien und bietet Ihnen damit noch mehr Vielseitigkeit für den Einsatz unterwegs. Die Verwendung dieser Adobe Premiere Pro Vorlagen in Rush ist ganz einfach: Importieren Sie sie in eine Creative Cloud-Bibliothek und öffnen Sie diese Bibliothek dann in Rush.
Vorlage für Titel von Envato Elements
Paper Titles bietet tonnenweise Optionen, aus denen Sie wählen können. Die Titel sind schlicht, minimalistisch und mit wunderschön animierten Bewegungen gepaart.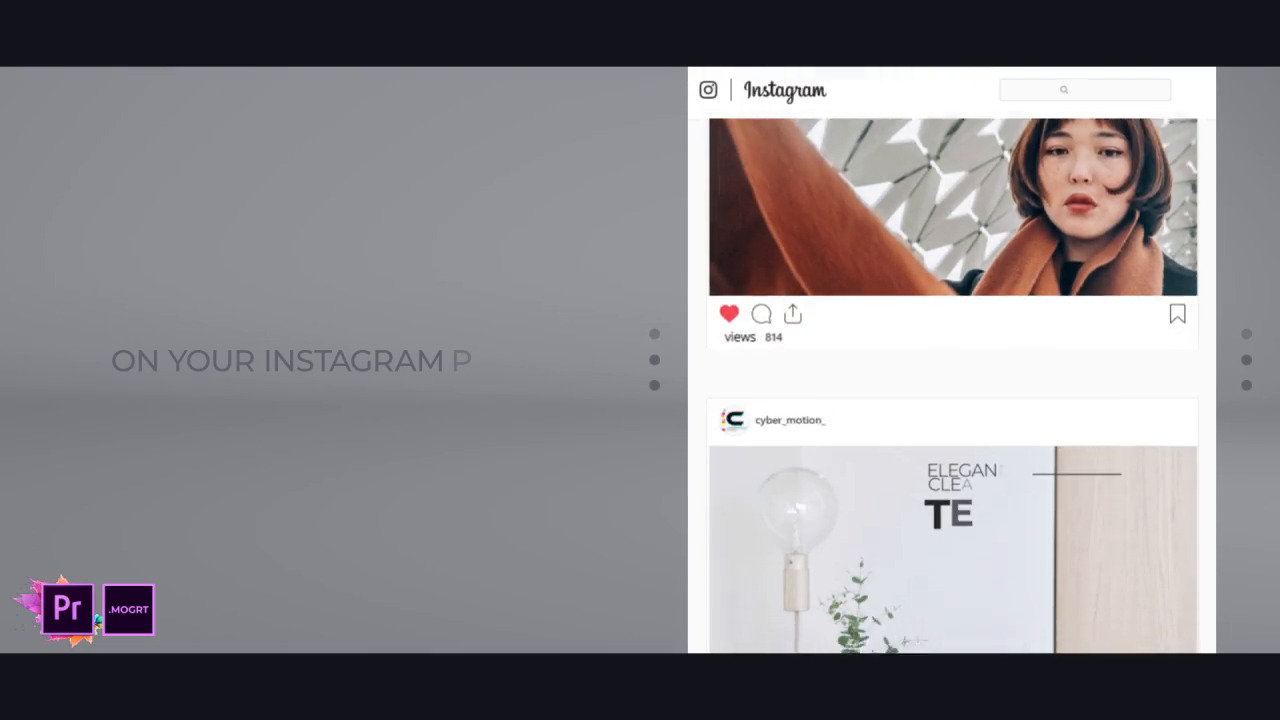 Projektdetails
Diese Vorlage wurde von Envato Elements Autor CyberMotion erstellt.
INFO
Unterstützte Versionen: Premiere Pro, Premiere Rush, .MOGRT
Voraussetzungen: Keine, keine Plugins erforderlich
Auflösung: Bis zu 4K
Wichtige Funktionen
Paper Titles ist eine gut organisierte und leicht anpassbare .MOGRT Vorlage. Sie verfügt über eine vollständige Farbkontrolle und universelle Ausdrücke, die unabhängig von Ihrer Muttersprache leicht zu verstehen sind. Die Animationen werden mit 30 Bildern pro Sekunde aufgezeichnet, so dass Sie flüssige, klare Titel erhalten. Als Bonus hat CyberMotion dem Download eine kostenlose Schriftart beigefügt.
Testen Sie diese Vorlage
Diese Vorlage ist Teil von Envato Elements, dem Stock-Service mit unbegrenzten Downloads und Millionen von kreativen Assets, mit denen Sie großartige Videos erstellen können.
Probieren Sie Paper Titles Vorlage für Premiere Rush von Envato Elements:
Mehr Top Titel Vorlagen von Envato Elements
Elements bietet Ihnen Tausende von atemberaubenden Titel Vorlagen zur Auswahl. Hier sind fünf weitere unserer Top-Vorlagen!
Minimalisto - Flat Titles and 3D Elements ist eine brandneue Vorlage auf Elements. Sie bietet 15 .MOGRT-Optionen, schöne Farbpaletten und minimalistische abstrakte Animationen. Außerdem sind alle kreativen Schriftarten enthalten.
Für etwas Abwechslung sorgen Retro Titles und 80's Retro Title, zwei einzigartige Vorlagen, die an die Synthwave-Szene der 80er Jahre anknüpfen.
Wenn Sie nach etwas weniger künstlerisch Kreativem, aber dennoch von professioneller Qualität suchen, probieren Sie Titles Corporate Slots und Catch Your Titles für sorgfältig gestaltete Unternehmenstitel aus.
Die neuesten Titel Vorlagen auf dem Envato Market
Ein Abonnement wird nicht jedem gerecht. Mit Premiere Rush Vorlagen von Envato Market können Sie die Vorlage kaufen, die Sie für Ihren Auftrag benötigen, ohne auf Qualität und Funktion verzichten zu müssen. Hier sind drei ausgewählte Rush-Titel Vorlagen von Envato Market:
Passen Sie die Ein- und Aus-Zeiten vollständig an, ändern Sie die Dauer der Animationen und kontrollieren Sie die Farbe und die Schriftart. Diese benutzerfreundliche Vorlage ist kräftig und eindrucksvoll und verfügt über ein Video-Tutorial für eine einfache Installation.
Utility Texts ist ein durchdachtes Paket mit 20 grundlegenden Titelanimationen, die sich leicht für eine Vielzahl von Szenen verwenden lassen. Es bietet eine einfache Drag & Drop-Methode zum Hinzufügen Ihrer Assets, und obwohl es sich um eine 2k-Auflösung handelt, unterstützt es verlustfreien Zoom.
Als letztes auf der Liste der Angebote von Envato Market ist Neon Creative Titles, ein einzigartiges Paket mit modernen und Retro-Titeln.
Kostenlose Premiere Rush Vorlagen
Für eine große Auswahl an kostenlosen Titel Vorlagen, probieren Sie diese Rush Vorlagen von Mixkit aus:
Eine einfache, aber wirkungsvolle Titelmaske, die Ihrem Video erlaubt, die Schrift zu füllen.
Weitere Ressourcen für kreatives Filmemachen
Lernen Sie professionelle Videoproduktion mit Envato Tuts+
Fragen zur Videoproduktion
Empfehlenswerte Tutorials
Envato Tuts+ hat Tausende von Lektionen! Schauen Sie sich Videobearbeitung lernen oder Videodreh mit einem Gimbal an, um mit unseren kreativen Tutorials weiter zu lernen. 
Wenn Sie sich dazu entschließen, diese Vorlagen und andere Stockmedien für Ihre Videobearbeitung zu verwenden, sollten Sie sich über die Lizenzierung informieren. Achten Sie darauf, dass Sie es richtig machen, um Urheberrechtsansprüche zu vermeiden. Hier ist unser Leitfaden, Copyright für Film und Video: Wie Sie Stock Footage sicher verwenden.
Kostenlose Videokurse: Folgen Sie Envato Tuts+ auf YouTube
Wenn Sie darüber nachdenken, wie Sie Ihre Videos verbessern können, ist es ein guter Anfang, zu verstehen, wie Sie Ihr Filmmaterial in Ihrem NLE bearbeiten. Dieser Kurs ist vollgepackt mit mehr als drei Stunden Unterricht und deckt alle Grundlagen von Adobe Premiere Pro ab.
Weitere Ressourcen von Envato
Envato bietet eine Vielzahl von Ressourcen zum Ausprobieren. PlaceIt lässt Sie hochwertige Grafikanimationen in Ihrem Browser erstellen, ganz ohne Software. Envato Studio bringt Sie mit kreativen Talenten für Ihre Projekte zusammen. Reshot bietet kostenlose Fotos, Icons und Grafiken. Twenty20 verfügt über eine vielfältige Bibliothek von Stockfotos und sorgfältig zusammengestellten Kollektionen. Und warum sollten Sie den Kanal Ihrer Marke nicht mit den Tipps in unserem umfassenden Leitfaden zum Videomarketing für Content-Ersteller aufpeppen?
Weitere Vorlagen und Tutorials für Premiere und Rush
Weitere Top-Vorlagen für Premiere finden Sie in diesen Artikeln:
Über diese Seite
Auswahl
Wir haben uns Projekte angesehen und dabei alle möglichen Variablen berücksichtigt, darunter Organisation, Komplexität, erforderliche Erfahrung und Gesamtschwierigkeit, Mindestanforderungen an die Hardware, enthaltene Versionen und Optionen, Formate, Auflösung, Dateigröße, Abhängigkeiten und erforderliche Plug-ins (falls vorhanden), Sprachoptionen, unterstützte Softwareversionen, Stil, Design und Kosten. Mehr über unsere Auswahl erfahren Sie unter Wie wir Video Vorlagen für Envato Tuts+ auswählen.
Diese Seite wurde bearbeitet und veröffentlicht von Jackson Couse.
Teilen Sie Ihr Handwerk in den Envato-Foren
Wenn Sie eine dieser Premiere Rush Vorlagen verwenden, lassen Sie es uns bitte in den Envato Foren wissen. Wir freuen uns darauf, Ihre Kreationen zu sehen!
Want a weekly email summary?
Subscribe below and we'll send you a weekly email summary of all new Video tutorials. Never miss out on learning about the next big thing.
Sign up
Ottawa, Canada
Andre Bluteau is a writer and producer based out of Canada. He specialises in Adobe Creative Cloud, Final Cut Pro X, and Logic.
Looking for something to help kick start your next project?
Envato Market
has a range of items for sale to help get you started.