Slavik Boyechko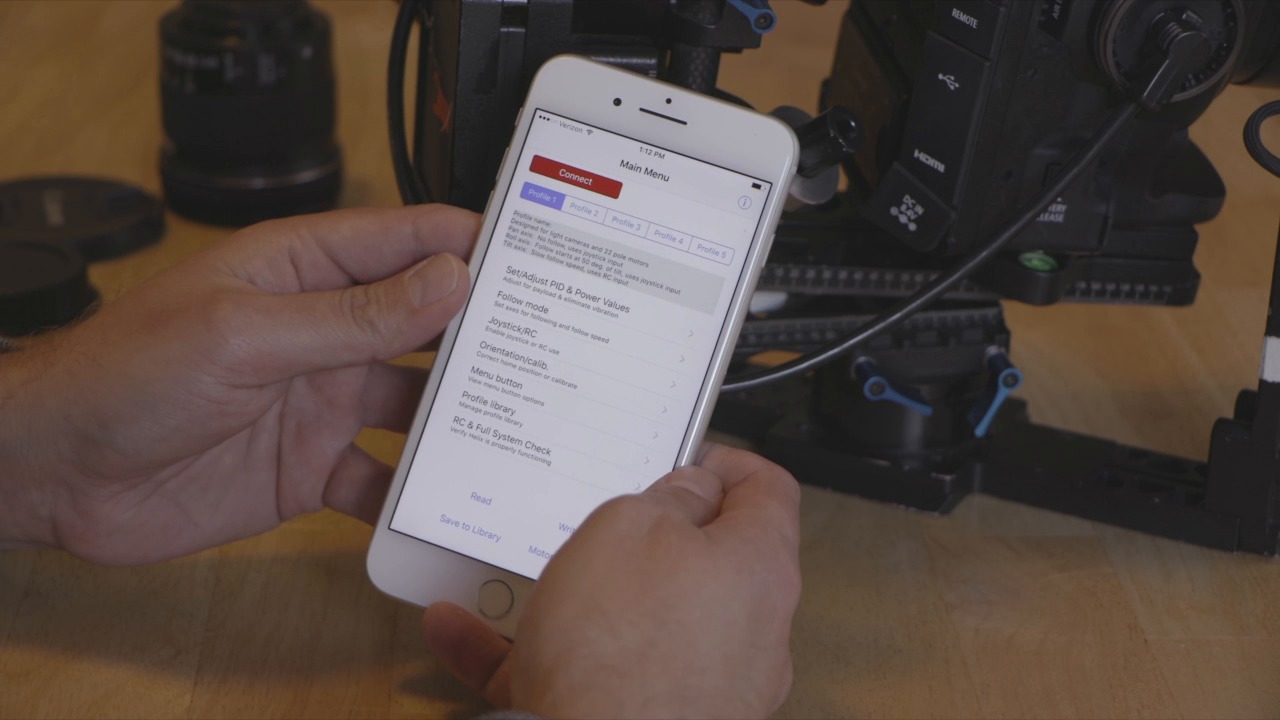 Bevor Sie einen Kardanring verwenden können, müssen Sie Ihre Kamera auf den drei Achsen des Kardanrahmens ausbalancieren. Sie möchten einen Punkt erreichen, an dem Sie die Kamera in eine beliebige Position bewegen können und sie dort bleibt, anstatt sich in eine andere Position zurückzudrehen. Das bedeutet, dass Sie die Motoren viel weniger arbeiten lassen und Ihr Gimbal seine Arbeit effektiv erledigen kann.
Die Balance muss nicht perfekt sein, und wenn Ihre Kamera die Grenzen Ihrer kardanischen Tragfähigkeit nicht überschreitet, können die meisten Motoren auch ohne ein perfekt ausbalanciertes Setup gute Arbeit leisten. Aber je einfacher es für die Motoren ist, desto weniger chaotisch wird es wirken.
Bei einigen Kardanringen müssen Sie es an einem Ständer aufhängen, um die Kamera auszugleichen. Praktischerweise gibt es jetzt Kardanringe, die auf einer Tischplatte platziert werden können, sodass Sie Ihre Kamera ausbalancieren können, ohne bei jedem Shooting einen Ständer mit sich herumschleppen zu müssen.
Beginnen Sie mit der Hin- und Herposition Ihrer Kamera oder der Neigungsachse und gleichen Sie dann Ihre Rollachse aus, indem Sie die Kamera nach oben und unten bewegen oder je nach Gewichtsverteilung der Kamera Gegengewichte auf der linken oder rechten Seite hinzufügen. Heben Sie es beim Ausbalancieren einige Male auf, aber achten Sie darauf, dass Sie Ihre Kamera oder Ihr Objektiv nicht beschädigen, wenn Sie es aufnehmen und es schnell zur Seite fällt.
Denken Sie beim Auswuchten daran, alles anzuschließen, was Sie während des Betriebs verwenden, einschließlich des kardanischen Akkus, eines Mikrofons und eines externen Monitors, falls Sie einen verwenden.
Sobald es ausgeglichen ist und Sie es einschalten und es etwas verrückt wird, müssen Sie wahrscheinlich die Einstellungen des Kardanmotors über einen Computer oder eine Telefon-App anpassen. Diese PID-Einstellungen scheinen zunächst beängstigend, aber Sie können jederzeit zu den Standardwerten zurückkehren, wenn Sie weit vom Kurs abweichen. Glücklicherweise müssen Sie die PID-Nummern nicht mehr erneut anpassen, sobald Sie die richtigen Einstellungen für Ihre Kamera vorgenommen haben.
Wenn Sie eine Balance erreichen, markieren Sie die Punkte entlang der Achse am besten mit einem Gaffelband oder einem Stift. Auf diese Weise können Sie diese Punkte schnell finden, wenn Sie Ihr Gimbal für die Reise zerlegen müssen oder wenn sich die Schrauben lösen oder wenn das Gimbal aus seiner ausgeglichenen Position gestoßen ist.

Want a weekly email summary?
Subscribe below and we'll send you a weekly email summary of all new Photo & Video tutorials. Never miss out on learning about the next big thing.
Sign up
Slavik Boyechko is an Emmy award-winning filmmaker and owner of Minn Films, which creates inspirational videos about people and organizations.
Looking for something to help kick start your next project?
Envato Market
has a range of items for sale to help get you started.