Slavik Boyechko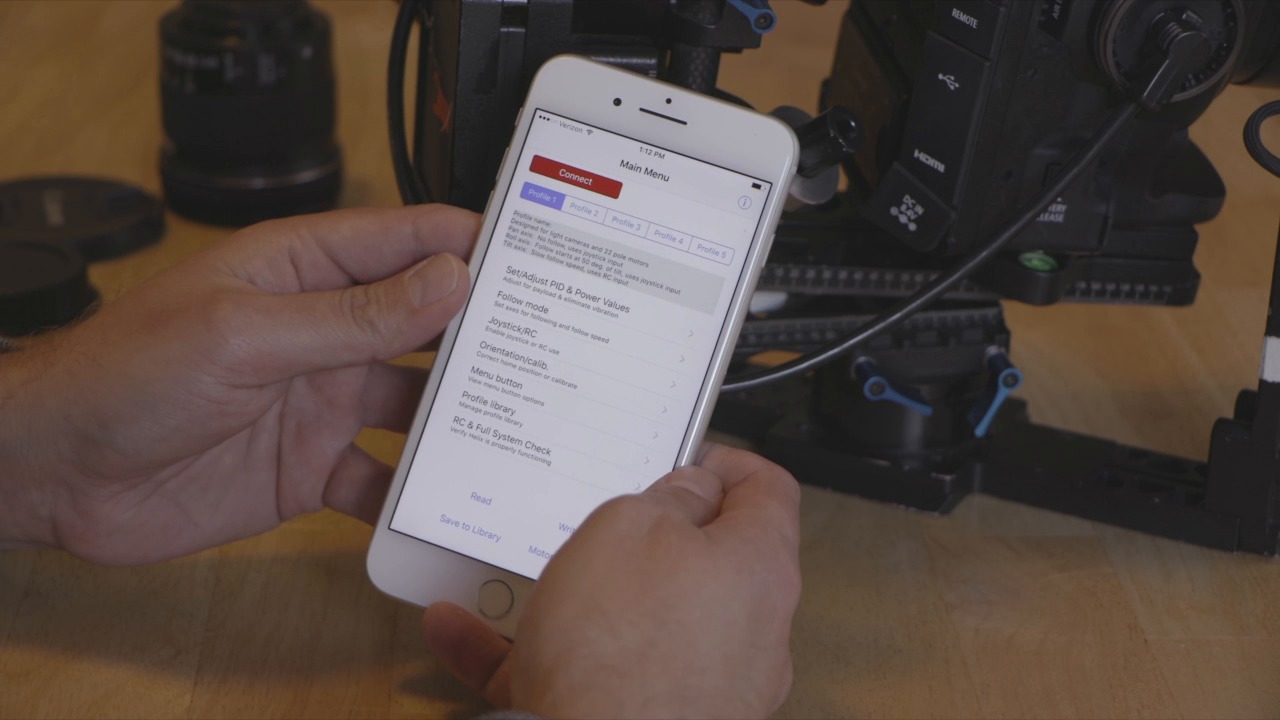 Sebelum kamu dapat menggunakan gimbal, kamu harus menyeimbangkan kamera pada ketiga sumbu itu. Kamu ingin sampai pada titik dimana kamu dapat menggerakkan kamera ke dalam posisi apapun dan itu tetap di situ, bukannya berputar balik ke posisi lainnya. Itu berarti kamu membuat motor berkerja lebih sedikit, dan gimbal dapat melakukan tugasnya secara efektif.
Keseimbangan tidak harus sempurna, dan jika kamera tidak mendekati batasan kapasitas muatan gimbal, kebanyakan motor dapat melakukan pekerjaan yang baik bahkan tanpa pengaturan keseimbangan yang sempurna. Namun semakin mudah itu pada motor, semakin mudah kerjanya.
Beberapa gimbal memerlukanmu untuk menggantungkan itu pada dudukan, untuk menyeimbangkan kamera. Baiknya, sekarang ada gimbal yang dapat ditempatkan pada permukaan meja, sehingga kamu dapat menyeimbangkan kameramu tanpa harus membawa dudukannya setiap syuting.
Mulai dengan penempatan kamera maju mundur, atau sumbu tilt, dan kemudian seimbangkan sumbu roll dengan menggerakkan kamera ke atas dan ke bawah, atau menambahkan pengimbang entah pada sisi kiri atau kanan, tergantung pada bagaimana beban kameramu didistribusikan. Ambil itu beberapa kali saat kamu menyeimbangkan, namun hati-hati bahwa kamu tidak merusak kamera atau lensamu jika kamu mengangkatnya atau menjatuhkannya terlalu cepat ke satu sisi.
Ketika menyeimbangkan, ingatlah untuk menempelkan semua yang akan kamu gunakan selama pemakaian, termasuk batre gimbal, mikrofon, dan monitor eksternal jika kamu menggunakannya.
Setelah itu seimbang, jika kamu menyalakannya dan itu mulai sedikit liar, kemungkinannya kamu akan perlu menyesuaikan pengaturan motor gimbal via komputer atau aplikasi ponsel. Pengaturan PID ini mungkin tampak menakutkan pada awalnya, namun kamu dapat selalu kembali ke angka default jika kamu kehilangan jejak. Syukurnya, setelah kamu mendapatkan pengaturan yang benar untuk kamera, kamu tidak akan benar-benar perlu menyesuaikan angka PID lagi.
Terakhir, hal terbaik untuk dilakukan ketika kamu mencapai keseimbangan adalah menandai titik pada sumbu, dengan pita galah atau pena. Dengan cara itu kamu dapat menemukan titik-titik itu secara cepat jika kamu harus mengambil gimbal untuk berpergian, atau jika sekrupnya kendor, atau jika gimbal keluar dari posisi seimbangnya.

Want a weekly email summary?
Subscribe below and we'll send you a weekly email summary of all new Photo & Video tutorials. Never miss out on learning about the next big thing.
Sign up
Slavik Boyechko is an Emmy award-winning filmmaker and owner of Minn Films, which creates inspirational videos about people and organizations.
Start your 7-day free trial*
*All Individual plans include a 7-day free trial for new customers; then chosen plan price applies. Cancel any time.