Slavik Boyechko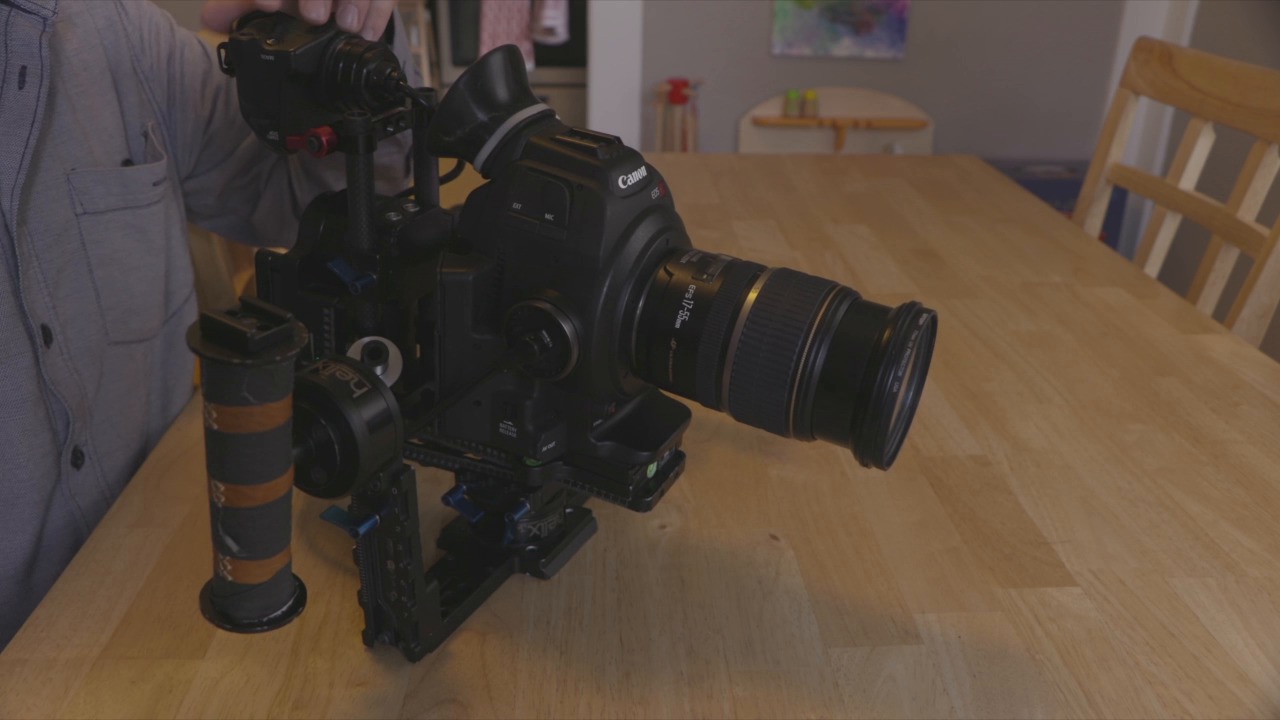 Wenn Sie eine Vielzahl von Objektiven oder nur ein Zoomobjektiv haben, müssen Sie einige wichtige Entscheidungen treffen, wenn Sie mit einem Gimbal fotografieren.
Im Allgemeinen sind breite Objektive mit geringem Gewicht und Autofokus die beste Wahl für den kardanischen Gebrauch. Mit einem Weitwinkelobjektiv ist es einfacher, die Bewegung filmisch zu halten. Während es mit einem vergrößerten Objektiv schwieriger ist, eine anmutige, kontinuierliche Bewegung zu erzielen, wenn Sie das Gimbal um ein Motiv bewegen und drehen.
In einem Auto können Sie mit dem breitesten Objektiv mehr Innenraum einrahmen und weniger holprige Auf- und Abbewegungen des Autos anzeigen. Der Nachteil ist jedoch, dass Sie nur eine Art von Aufnahme von einem Weitwinkelobjektiv erhalten können. Wenn Sie also eine Weile in einem Auto sitzen, können Sie mit einem Zoomobjektiv aus Ihrer statischen Position auf dem Beifahrersitz eine größere Auswahl an Aufnahmen machen. Sie können die Landschaft aus dem Fenster, die Tasten und das Armaturenbrett, Objekte im Auto und vor allem das Gesicht Ihres Motivs vergrößern, während es nach vorne schaut. Sie werden überrascht sein, wie oft diese Aufnahmen in allen Arten der Videoproduktion verwendet werden.
Die Schwierigkeit bei Linsen und Kardanrahmen besteht darin, dass sich die Gewichtsverteilung ändert und der Kardanring aus dem Gleichgewicht geraten kann, wenn beispielsweise von einem breiten auf einen mittleren Zoom umgeschaltet wird oder wenn nur ein Objektiv selbst vergrößert wird. Manchmal wirkt das Gimbal dadurch chaotisch, und manchmal können Sie zoomen und ein paar gute Aufnahmen machen, selbst wenn die Motoren etwas härter arbeiten. Es ist eine gute Idee, vor dem Aufnehmen mit Ihrer Kamera und Ihren Objektiven zu experimentieren, um zu sehen, wie weit Sie Ihr Objektiv auf Ihrem Gimbal zoomen können, bevor Sie das Gleichgewicht wieder herstellen müssen.
Und schließlich, wenn Sie die Option haben, verwenden Sie Objektive mit Bildstabilisierung? Beeinträchtigt das die elektronische Stabilisierung des Kardanrahmens? Je nachdem, welche Kamera, welches Objektiv und welches Gimbal Sie verwenden, gibt es unterschiedliche Perspektiven. Sie können also am besten selbst experimentieren. Zum größten Teil muss jedoch keine Bildstabilisierung aktiviert sein, da das Gimbal selbst dafür sorgt, dass Ihre Aufnahmen glatt und jitterfrei aussehen. Wenn Sie jedoch die Bildstabilisierung des Objektivs aktiviert lassen, werden Ihre kardanischen Aufnahmen nicht beeinträchtigt.
Want a weekly email summary?
Subscribe below and we'll send you a weekly email summary of all new Video tutorials. Never miss out on learning about the next big thing.
Sign up
Slavik Boyechko is an Emmy award-winning filmmaker and owner of Minn Films, which creates inspirational videos about people and organizations.
Looking for something to help kick start your next project?
Envato Market
has a range of items for sale to help get you started.