Marie Gardiner
En este artículo, hemos recopilado recursos que te ayudarán a producir vídeos para compartir con tus amigos, familiares o clientes para las fiestas de Ramadán y Eid al-Fitr, incluyendo 10 plantillas After Effects editables y un vídeo tutorial sobre cómo crear un sencillo y atractivo logo animado y un breve mensaje.
En Ramadán, el noveno mes del calendario islámico, los musulmanes de todo el mundo celebran la revelación del Corán al profeta Mahoma en el año 610 de la era cristiana. Durante este tiempo los musulmanes ayunan, rezan y practican actos de caridad; es un momento de reflexión espiritual y comunión. La celebración del Eid al-Fitr marca el final del Ramadán y el comienzo del siguiente mes lunar.
Nota, este artículo es actualizado periódicamente por el personal de Envato Tuts+ e incluye contribuciones de Nathan Umoh y Jonathan Lam.
Cómo animar un título para el Ramadán en After Effects
Aprende a utilizar Títulos para Ramadán, una plantilla After Effects editable de Envato Elements, para crear una breve animación de título para el Ramadán con este vídeo de Jonathan Lam:
10 plantillas After Effects editables para proyectos de vídeo para Ramadán y Eid al-Fitr
Estas son 10 plantillas After Effects editables gráficas, títulos y proyectos que te ayudarán a producir vídeos este Ramadán.
Las mejores plantillas After Effects editables de Envato Elements
Las primeras 5 plantillas After Effects editables son de Envato Elements, un sitio donde podrás descargar todas las plantillas y recursos que quieras por una suscripción mensual.
Estos títulos con mucho colorido añadirán un toque de glamour a tu proyecto de vídeo de Ramadán o Eid. Salpicados con bokeh y partículas muy elegantes, son fáciles de editar y se incluye un tutorial con la descarga.
Saluda con un Eid Mubarak y deséale todo lo mejor a tus amigos y familiares, o a tus clientes y seguidores en las redes sociales, con esta elegante intro para After Effects.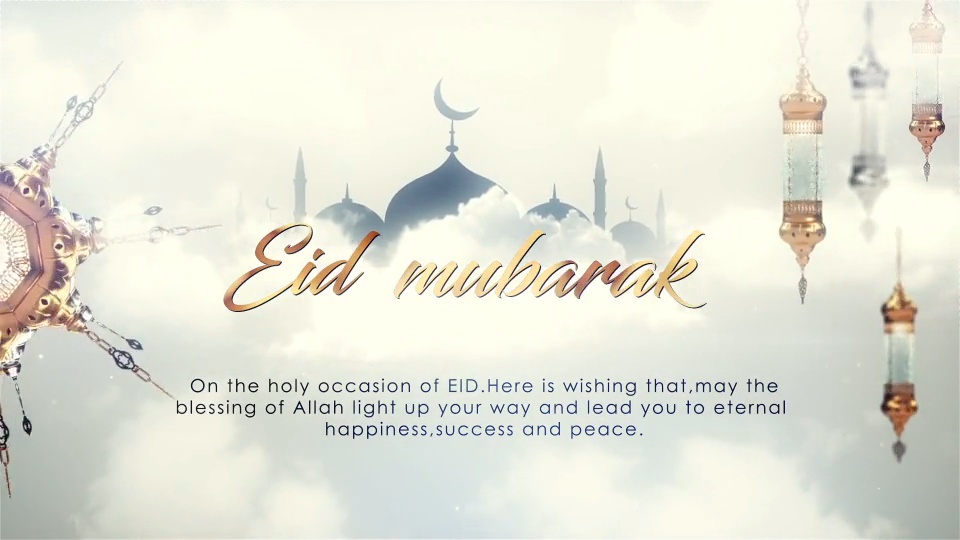 De estilo sencillo, pero con una bonita animación, esta intro para After Effects te ayudará a contar una historia sobre el Ramadán que conectará con tu público.
Historias de Instagram para el Ramadán te ofrece 10 diseños con temas relacionados con el Ramadán y Eid al-Fitr. Comparte los detalles de tu evento, una venta, o simplemente saluda a tu audiencia con un Eid Mubarak.
Lámparas que giran suavemente, bokeh y colores vivos te esperan en esta plantilla de títulos para After Effects. Es fácil de usar, pero incluye un tutorial en caso de que te quedes estancado.
Las mejores plantillas After Effects editables de Envato Market
Las siguientes 5 plantillas pertenecen a Envato Market, un sitio donde podrás comprar plantillas y recursos sobre la marcha en función de lo que necesites.
Ramadán es una intro animada After Effects sumamente encantadora, diseñada en tonos rosas y púrpuras. Envía un mensaje especial a tus seres queridos en este Ramadán.
Prueba este logo animado especial que cuenta una historia este Ramadán. Desde un barco iluminado por la luz de las lámparas, pasando por una estrella que decora un árbol, hasta tu logo.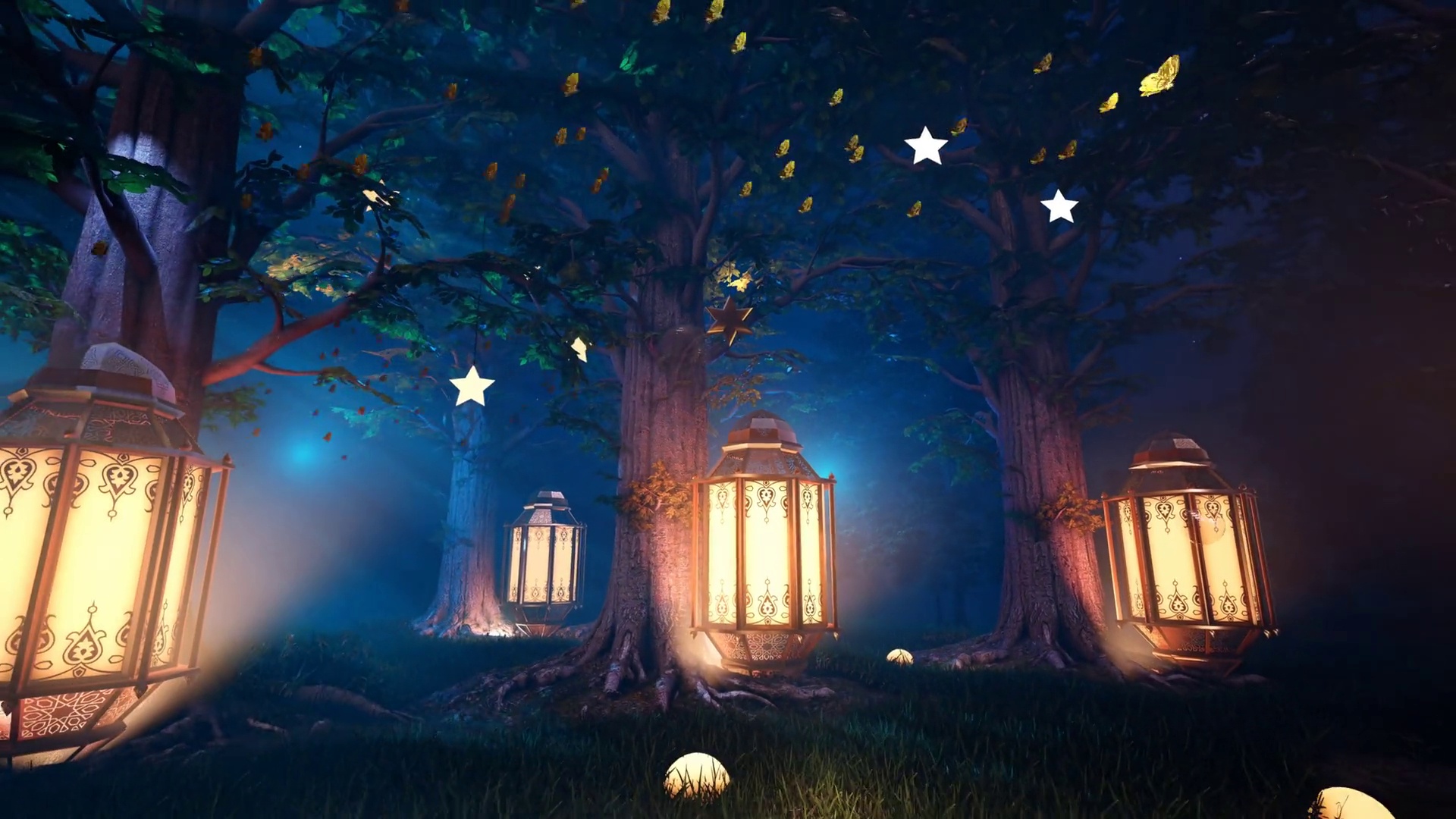 Una bonita intro o un revelado de logo un poco más larga, Intro de Ramadán es lujosa y sofisticada, y es muy fácil cambiar los colores para que se adapten a tu evento o propósito.
Un diseño elegante y sutil, Paquete de Ramadán para After Effects tiene todo lo que podrías necesitar si vas a transmitir durante esta época tan especial. El paquete incluye una intro, tercios inferiores, logos animados y mucho más.
Este completo paquete es un estupendo todo en uno para tu vídeo de Ramadán o Eid. Además de los habituales tercios inferiores, intros y títulos, también incluye 2 fondos animados. Contiene un enlace a la fuente gratuita.
Cómo producir un vídeo de Ramadán y Eid al-Fitr con éxito en After Effects
Antes de darle un buen uso a tus plantillas de After Effects con temática de Ramadán y Eid al-Fitr, aquí tienes algunos consejos y cosas que debes tener en cuenta y que ayudarán a que tu vídeo para Ramadán conecte.
Piensa en tu audiencia
La forma en que se celebran estas fiestas religiosas puede variar en función del origen de tu público. El nombre puede cambiar incluso en función del país. Por ejemplo, el Eid en Senegal se conoce como Korité, pero los musulmanes indonesios lo conocen como Lebaran. Si vas a producir un vídeo para un público específico, tómate un tiempo para encontrar las tradiciones culturales adecuadas para incluirlas en tu vídeo de Ramadán.
Hay más de un Eid
En el calendario islámico, hay dos fiestas religiosas conocidas como Eid: Eid al-Fitr y Eid al-Adha. Ambas tienen un profundo significado, pero solo una, el Eid al-Fitr, está asociada al Ramadán. Puedes utilizar algunas de las plantillas de After Effects antes mencionadas para crear vídeos para ambas, pero asegúrate de que tu contenido sea más específico.
Haz énfasis en lo comunitario
El Ramadán es una época de espiritualidad, disciplina y autorreflexión. Pero también es una época de caridad y comunidad. En tu proyecto de vídeo sobre el Ramadán, incluye imágenes que se enfoquen en estos aspectos. Son bases importantes de la festividad y te ayudarán a conectar con tu audiencia.
Más recursos de Envato
Ideas para After Effects
Sigue creando magníficos proyectos de vídeo con estos recursos de Envato Tuts+:
Potencia tu vídeo marketing con la guía de Envato
Potencia tus habilidades de vídeo marketing con nuestra guía completa. Aprenderás sobre vídeo marketing de principio a fin, de modo que tanto si eres un principiante como un profesional, puedas adquirir algunas habilidades útiles que te permitirán mejorar tu próximo vídeo.
Descarga metrajes de vídeo gratuitos de Mixkit
Si estás buscando una excelente combinación de vídeos libres de regalías, visita Mixkit, un sitio de Envato para conseguir metrajes de alta calidad que puedes utilizar cuando quieras y donde quieras, de forma gratuita.
Produce un vídeo con gráficos animados con Placeit
No necesitas un programa profesional para producir vídeos visualmente atractivos, puedes hacerlo directamente en tu navegador. El generador de vídeos de Placeit utiliza plantillas con gráficos animados diseñadas por profesionales.
Envato Elements: descargas ilimitadas
Want a weekly email summary?
Subscribe below and we'll send you a weekly email summary of all new Photo & Video tutorials. Never miss out on learning about the next big thing.
Sign up
Photographer and writer based in north east England.
Marie Gardiner is a writer and photographer from the North East of England. After gaining her degree in Film and Media, Marie worked in the media industry, before leaving to set up the business she runs with her partner: Lonely Tower Film & Media. As well as writing about visual practices like photography and video, Marie is also the author of Sunderland Industrial Giant (The History Press, 2017) and Secret Sunderland (Amberley Publishing 2019). Her photographic work focuses on landscapes and industrial ruins, particularly those of the North Pennines as she continues to work on her long-form documentary project Changing Landscapes.
Looking for something to help kick start your next project?
Envato Market
has a range of items for sale to help get you started.