Melody Nieves
Explore su creatividad con historias individuales en Instagram. En este tutorial, aprenda a crear una presentación de diapositivas corta desde cero utilizando Adobe Photoshop y las aplicaciones de edición de video.

Y para obtener más consejos excelentes, aprenda cómo comenzar con las historias de Instagram.

Elegir un tema
Hay todo tipo de aplicaciones para una presentación de diapositivas rápida, desde la presentación de un nuevo proyecto hasta las burlas de un próximo anuncio para compartir fotos de su viaje a la playa.

Hazlo personal
Si compartes tu vida con tus seguidores de Instagram, entonces no hay mejor tema que cubrir que algo personal. La belleza de ser personal es que permite que las personas entren a tu vida. ¡Involucra a tus seguidores en los grandes triunfos y celebraciones de lo que te hace a ti!
Hace poco volví a mi ciudad natal en Long Island, Nueva York, para dar la bienvenida al nacimiento de mi pequeño sobrino, Max. Así que para personalizar mi historia, llevé a mis seguidores a lo largo del viaje de principio a fin con una presentación de diapositivas simple.

Considere un álbum de diapositivas

Al igual que hojear las páginas de un viejo diario o un álbum de recortes, la próxima parte de mi tema incluirá una presentación de diapositivas en forma de libro.

Este aspecto se puede lograr desde cero utilizando sus propios materiales o descargando la aplicación de edición adecuada en su dispositivo. Considere la transformación que tiene lugar cuando pone un poco más de esfuerzo en su Instagram y realmente vende los momentos detrás de sus historias.

Disparando tus imágenes
¿Estás buscando crear una historia de Instagram basada en presentaciones de diapositivas? Aquí hay algunas cosas que necesita saber.

Que necesitas
Un libro: Utilicé un anuario antiguo que edité más tarde.
Una cámara digital: Su dispositivo regular de teléfono inteligente funcionará, pero para fotos de alta calidad utilicé mi Samsung NX2000.
Un trípode (opcional): Si te encuentras con las manos temblorosas, considera llevar un pequeño trípode cuando viajas. En caso de duda, estabilícese contra una superficie resistente para obtener fotografías nítidas.

Aplicaciones de presentación de diapositivas: Si prefieres una ruta más fácil, prueba una aplicación de edición de videos.

Busque los momentos especiales
¿Qué debe buscar cuando toma imágenes y cómo captura momentos especiales?

Es fácil adquirir el hábito de publicar más. Ese impulso increíble de compartir el mismo momento, desde el mismo ángulo, con la misma composición, realmente puede absorber la vida de tus imágenes con la misma monotonía. Incluso si cada imagen se ve bien por sí misma, trate de considerar cómo se verá la imagen completa en una serie.

No dejes que tus historias se confundan al publicar las mismas fotos.

Mientras toma fotografías o videos, piense cómo debe buscar esos momentos especiales que lo hacen sonreír o brindarle el estado de ánimo que desea. Tenga la cámara a mano para que esos momentos no pasen desapercibidos y los capture para compartirlos con todos. 
Si está fotografiando algo tan especial como un nacimiento (o una boda, una fiesta de jubilación u otro evento familiar), recuerde ser lo más respetuoso posible. No solo le hice algunas preguntas a mi hermana sobre lo que le gustaría que filmara, sino que también me aseguré de que estuviera de acuerdo conmigo publicando algo tan personal en línea.

Organiza la historia
Cada gran historia tiene un comienzo, un medio y un final. Recoge todas tus imágenes y cíñelas en tu disco duro o teléfono inteligente. Organice las fotos en orden, separándolas en diferentes pilas que ilustren el comienzo, el medio y el final de su historia. 

Elija las imágenes que mejor representen la sensación que desea crear para cada parte de su historia. Cambie el nombre de los archivos y agregue los números para que se muestren en orden secuencial.

La primera parte de mi historia comienza con mi viaje de regreso a Long Island. Lo ilustraré con tomas de mi equipaje, así como mi viaje en barco y autobús. 

La segunda parte de mi historia está esperando que el pequeño llegue aquí. Es normal que te olvides de tomar ciertas tomas, así que tómate un momento para escanear tu entorno o incluso apuntar ideas cuando se te ocurran.  Aquí, decidí que las fotos de la sala de espera en el hospital serían suficientes. 

La tercera parte de este viaje es la construcción hasta la revelación final del hermoso bebé de mi hermana. Esto se exhibirá con los regalos de la tienda de regalos, las pequeñas huellas del bebé y, finalmente, las imágenes del pequeño Max.

Cómo crear la presentación de diapositivas

Ya sea que prefiera algo con las manos, o simplemente una presentación de diapositivas rápida y fácil, hay varias opciones disponibles para ayudar a que sus historias se destaquen.

Crear un Scrapbook desde cero con Adobe Photoshop
Puede crear su propia presentación de diapositivas en forma de libro con solo usar sus habilidades de Photoshop. Primero tome un par de fotografías de un libro sencillo sobre un fondo blanco sólido. Elegí usar mi viejo anuario ya que no tenía muchos libros para elegir.

Abra cada foto en Photoshop y use las herramientas de selección y Magic Wand para eliminar el fondo de la foto. Cambie la portada creando una Nueva capa y utilizando la herramienta Cubo de pintura (G) para rellenar la portada y las páginas marcadas con los colores sólidos apropiados. Coloque capas de cada imagen de libro en un solo archivo .psd para que pueda asegurarse de que estén alineadas correctamente.
Aplicaciones para crear presentaciones de video

También puede crear una presentación de diapositivas de video descargando la aplicación adecuada. Elija una aplicación como la siguiente:
Agregue filtros, pegatinas, música y texto para personalizar su presentación de diapositivas, luego súbala a Instagram Stories. Es posible que deba recortar el video o subir la presentación de diapositivas en varias partes para obtener la historia completa, así que tenga esto en cuenta al ir por la ruta más fácil.

Editando la historia
Una vez que haya preparado su libro en Photoshop y esté listo para usar, inserte las fotos para su presentación de diapositivas en cada página. Use la Herramienta de Transformación Libre (Control-T) para colocarlos en su lugar.

Para obtener más dramatismo, notará que tengo un tema que transita de fotos en blanco y negro a color. Esto también se suma a la revelación del bebé y creé estas ediciones fácilmente usando simples capas de ajuste en Adobe Photoshop. Agregue texto, emojis o calcomanías para personalizar aún más las páginas. Para la portada de mi presentación de diapositivas, decidí agregar un borde y texto rápidos para darle la bienvenida al bebé Max al mundo.

Termine el libro colocándolo sobre un fondo sólido, eligiendo una textura simple como esta Acción de grano de madera de Pixabay, o seleccionando entre nuestra amplia variedad de materiales disponibles en Envato Elements.

Al igual que antes, guarde cada diapositiva en orden numérico y transfiera las nuevas imágenes a su dispositivo para que pueda acceder a ellas de manera más fácil al deslizar hacia abajo al crear su historia.

Y no lo olvide, con Instagram Stories siempre tiene la opción de agregar filtros o decorar sus diapositivas con dibujos y mucho más. Pero por simplicidad, voy a mantener mis ediciones de la manera que son.

La historia final de la presentación

Aunque requiere un poco más de trabajo, crear tus propias diapositivas te brinda más control con lo que estás publicando en Instagram Stories. ¡Celebra las mejores partes de tu vida con una presentación de diapositivas creativa para que los demás sepan más sobre ti!

Mira mi historia final en este video rápido a continuación: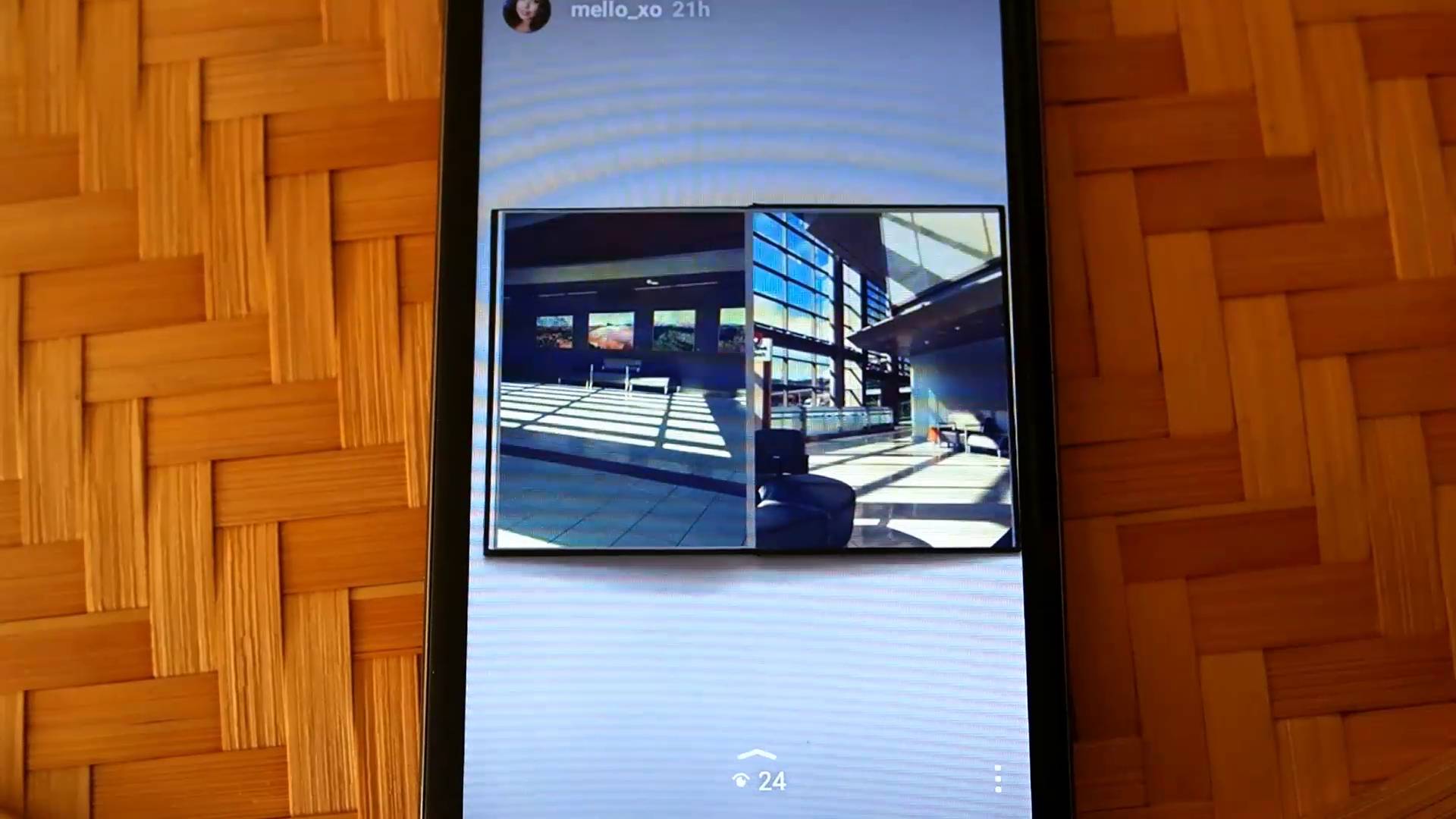 ¿Cuáles son algunas formas divertidas en las que te gusta usar Instagram Stories? Háganos saber en los comentarios, y compartir enlaces a sus propios perfiles a continuación!

Want a weekly email summary?
Subscribe below and we'll send you a weekly email summary of all new Photo & Video tutorials. Never miss out on learning about the next big thing.
Sign up
Digital Artist - CT, USA
I'm an Afro-Latina digital artist originally from Long Island, NY. I love to paint, design, and photo manipulate in Adobe Photoshop while helping others learn too. Follow me on
Instagram
or tweet me
@MelloNieves
and tell me what you'd like to see next!
Looking for something to help kick start your next project?
Envato Market
has a range of items for sale to help get you started.