Marie Gardiner
Cuando se hacen transmisiones, hay momentos en los que no quieras presentar contenido en vivo, pero aun así deseas que aparezca algo en la pantalla para que tu audiencia sepa que algo estás a punto de transmitir o que ya estás transmitiendo. En este tutorial, aprenderás a crear y utilizar una pantalla de espera que te servirá para estas ocasiones, así también cómo poner un vídeo en bucle para tu stream en vivo.
¿Qué es una pantalla de espera y por qué debería usar una?
Los tipos más comunes de pantallas de espera son:
Ya empieza
Vuelvo enseguida
Gracias por ver
Se explican por sí solas, pero el uso de una pantalla de espera como "Ya empieza" puede ayudar a crear expectación, además de proporcionarte una página de espera para promocionar tus enlaces a otras redes sociales a la audiencia antes de empezar tu stream en vivo. El mensaje "Vuelvo enseguida" es útil si surge un problema inesperado o si necesitas ir al baño. "Gracias por ver" es una manera de asegurarse de que tu transmisión no termine abruptamente, y una buena manera de agradecer a tus fanáticos y, una vez más, promocionar tus enlaces a redes sociales, próximos programas y, con suerte, conseguir que algunos televidentes te sigan en otros medios.
Cómo crear una pantalla de espera para OBS Studio
Desde cero
¿Tienes un poco de tiempo o necesitas algo personalizado? Con un programa como Adobe Photoshop y Premiere o After Effects no te será muy difícil crear algo por ti mismo desde cero.
Ya hemos explicado cómo crear una overlay para transmisiones en vivo en Photoshop. Este es un tutorial sobre cómo tomar esta overlay y combinarla con un vídeo de stock en bucle para crear una pantalla Ya comienza. El proceso es el mismo con la mayoría de los programas de edición de vídeo, pero aquí lo hemos hecho en After Effects:
Utilizando una plantilla
O bien, puedes utilizar un modelo prediseñado y modificarlo hasta que se adapte a tu marca. Con Placeit puedes crear algo rápida y fácilmente directamente en el sitio web por una pequeña tarifa o incluido como parte de una suscripción, por lo que no necesitarás ningún software adicional. Solo tienes que elegir una plantilla de "pantalla de espera", editarla para que se adapte a tu marca y renderizarla para utilizarla.
Veamos un ejemplo rápido:
Esta plantilla con líneas onduladas es lo suficientemente sencilla y genérica como para utilizarla en cualquier canal, con espacio suficiente para añadir un enlace adicional a otro canal.
Como puedes observar, tienes opciones para cambiar la pista de audio, el color de fondo, los colores de las ondas, el texto, la fuente (y el color) y la velocidad de reproducción.
Cuando hagas clic en los cuadros desplegables verás varias alternativas a las opciones preseleccionadas, y un botón "más" que te permitirá buscar (una fuente o música), o más colores, incluyendo la opción de introducir un código hexadecimal.
Busqué "fun" ("diversión") para encontrar un nuevo tema, y elegí el color verde del logo de Envato como el color de las olas, con reflejos blancos.
Tienes que hacer clic en Play All (Reproducir todo) en la parte inferior de la pantalla antes de poder descargar tu vídeo.
Una vez que lo hayas hecho, la opción de descarga estará disponible y cuando hagas clic en ella verás esto:
Tu vídeo "Ya comienza"
Ahora que tienes tu vídeo listo, tendrás que añadirlo en OBS para que puedas utilizarlo.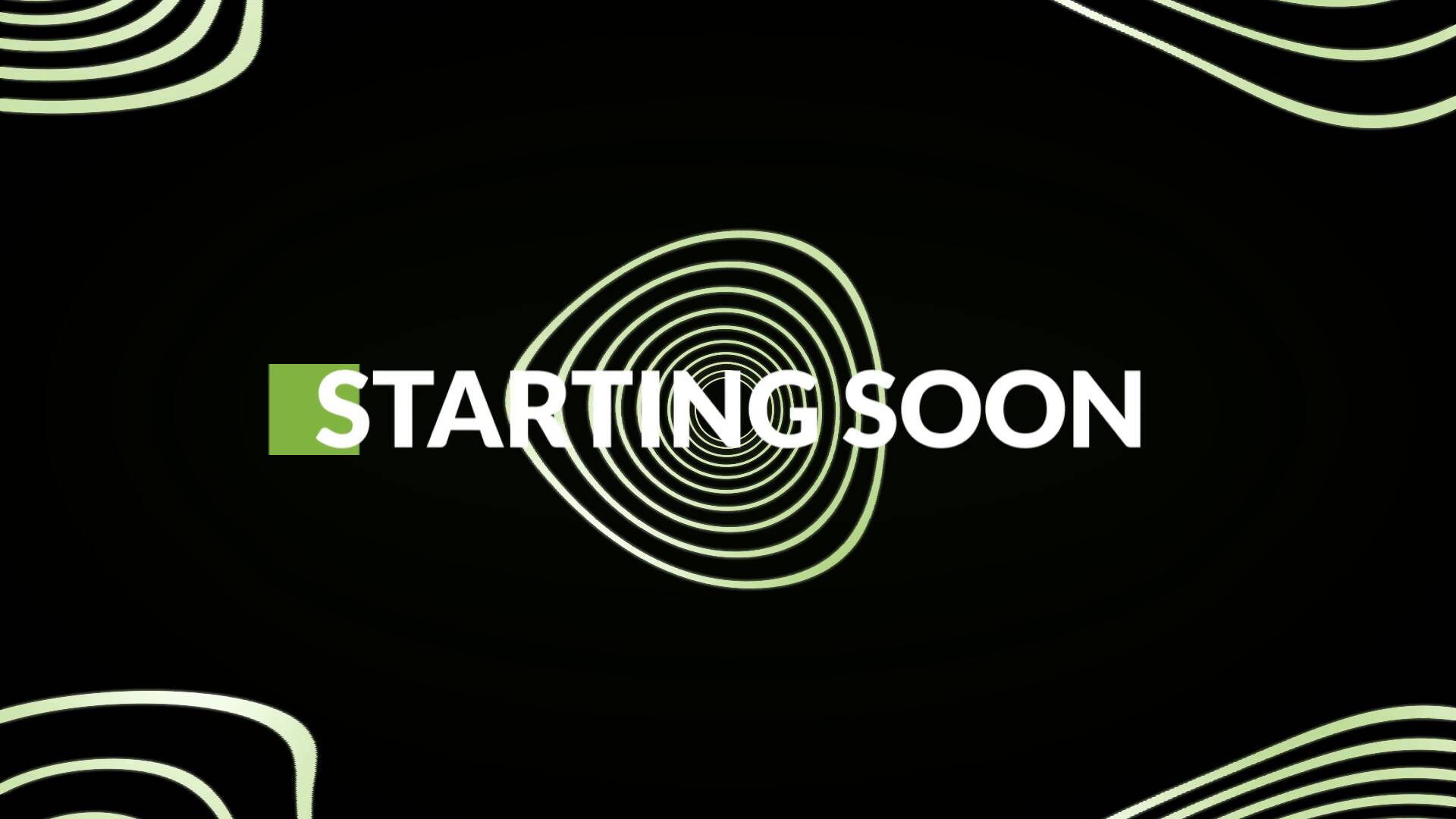 Cómo añadir tu pantalla de espera a OBS Studio
Utiliza Escenas
La función Escenas es ideal para crear colecciones de gráficos. Por ejemplo, si tienes tus 3 pantallas de espera configuradas como escenas, Ya comienza, Regreso enseguida, Gracias por ver, podrás disponer de ellas cuando las necesites.
Para añadir el vídeo de "Ya comienza" a una Escena (mientras está seleccionada), haz clic derecho en Fuentes y elige Fuente multimedia entre las opciones.
Se te pedirá que crees o selecciones tu Source (Fuente). Como vamos a añadir una nueva, deberás hacer clic en Create new (Crear nuevo) y darle un título (yo la he llamado "Ya comienza").
Aparecerá otra ventana para que selecciones otras opciones. Asegúrate de que la opción de Loop (Bucle) está marcada si deseas poner un vídeo en bucle, de lo contrario el vídeo se reproducirá una vez y luego se detendrá. Deberás detenerlo manualmente cuando estés listo para comenzar tu stream en vivo.
Tu pantalla de espera está lista para ser utilizada
Ahora podrás ver tu pantalla de "Ya comienza" en Fuentes y, cuando aparezca en tu stream en vivo, se reproducirá en bucle hasta que estés listo para detenerla y empezar con tu stream en vivo. Si te estabas preguntando cómo poner un vídeo en bucle para tu transmisión, espero que este paso fuera de ayuda.
Cuando hayas creado otras pantallas de espera, como "Ya regreso" y "Gracias por ver", sigue los mismos pasos para añadirlas y las verás aparecer en Sources (Fuentes). Recuerda utilizar Scenes (Escenas) para agrupar eficazmente tus fuentes y cambiarlas fácilmente cuando sea necesario.
Más recursos para que hacer una transmisión increíble
Más increíbles recursos de vídeo de Envato
Guía de vídeo marketing de Envato
Potencia tus habilidades de vídeo marketing con nuestra guía completa. Aprenderás sobre vídeo marketing de principio para mejorar tu próxima producción y conectarte con tus clientes.
Recursos de vídeo gratuitos de Mixkit
Visita Mixkit y consigue vídeos de stock gratuitos, música de stock gratuita y plantillas gratuitas para Adobe Premiere Pro.
Produce vídeos con gráficos animados en línea con Placeit
Placeit es un generador de vídeos en línea con plantillas con gráficos en movimiento diseñadas profesionalmente. Con su ayuda, podrás producir vídeos de forma rápida directamente en tu navegador.
Want a weekly email summary?
Subscribe below and we'll send you a weekly email summary of all new Photo & Video tutorials. Never miss out on learning about the next big thing.
Sign up
Photographer and writer based in north east England.
Marie Gardiner is a writer and photographer from the North East of England. After gaining her degree in Film and Media, Marie worked in the media industry, before leaving to set up the business she runs with her partner: Lonely Tower Film & Media. As well as writing about visual practices like photography and video, Marie is also the author of Sunderland Industrial Giant (The History Press, 2017) and Secret Sunderland (Amberley Publishing 2019). Her photographic work focuses on landscapes and industrial ruins, particularly those of the North Pennines as she continues to work on her long-form documentary project Changing Landscapes.
Start your 7-day free trial*
*All Individual plans include a 7-day free trial for new customers; then chosen plan price applies. Cancel any time.