Al hacer transmisiones, hay ocasiones en las que tu contenido podría no ser en vivo, pero aún así quizá desees tener algo en la pantalla para indicarle a tu audiencia que algo está a punto de suceder o que algo está sucediendo. En este tutorial aprenderás cómo crear y usar una pantalla.
¿Qué es una pantalla de espera y por qué deberías usar una?
Los tipos de pantallas de espera más comunes son:
Comenzando en breve
Vuelvo enseguida
Gracias por ver
Estas se explican por sí mismas, pero el uso de una pantalla de espera como "Comenzando en breve" puede ayudar a crear anticipación, además de proporcionarte una página de espera para promover tus otros enlaces de redes sociales frente a la audiencia antes de tu transmisión. "Vuelvo enseguida" es útil si tienes un problema inesperado, ¡o si necesitas ir al baño! "Gracias por ver" es una manera de asegurarte de que tu transmisión no termine súbitamente, y una buena forma de agradecer a tus fanáticos y nuevamente promover tus enlaces de redes sociales, tus próximos programas y, con suerte, enviar a algunos espectadores a que te sigan en otros lugares.
Cómo crear una pantalla de espera para OBS Studio
Desde cero
¿Tienes un poco de tiempo, o necesitas algo personalizado? No es tan difícil crear algo desde cero por tu cuenta en un programa como Adobe Photoshop y Premiere o After Effects.
Anteriormente hemos cubierto cómo crear una superposición para transmisiones en Photoshop. Este es un tutorial sobre cómo tomar esa superposición y combinarla con video en bucle de archivo para crear una pantalla "Comenzando en breve". El proceso es el mismo con la mayoría de los programas de edición de video, pero aquí se demuestra en After Effects:
Usa una plantilla
O puedes usar algo prefabricado y adaptarlo hasta que se ajuste a tu marca. Con PlaceIt puedes crear algo de forma rápida y sencilla directamente en el sitio web por una pequeña tarifa o incluido como parte de una suscripción, por lo que no necesitarás ningún software adicional. Simplemente elige una plantilla para "pantalla de espera", edítala para adaptarla a tu marca y genérala para usarla.
Revisemos un ejemplo rápido:
Esta plantilla con líneas onduladas es lo suficientemente simple y genérica como para usarla en cualquier canal, además de tener espacio suficiente para un enlace adicional a otro canal.
Puedes ver que tienes opciones para cambiar la pista de audio, el color de fondo, los colores de la onda, el texto, la fuente (y su color) así como la velocidad de reproducción.
Al hacer clic en los cuadros desplegables, verás varias alternativas a las opciones preseleccionadas y un botón "more" ("más") que te mostrará la posibilidad de buscar (una fuente o música), o más colores, incluyendo la opción de introducir un código hexadecimal.
Yo he buscado "fun" ("diversión") para encontrar una pista nueva, y elegí el verde de Envato como color para las ondas usando luces blancas.
Debes hacer clic en Play All (Reproducir todo) en la parte inferior de la pantalla antes de poder descargar tu video.
Una vez que hayas hecho eso, la opción para descargar será habilitada, y cuando hagas clic en ella verás esto:
Tu video "Comenzando en breve"
Ahora que tienes tu video preparado, necesitarás agregarlo a OBS para que esté listo para ser usado.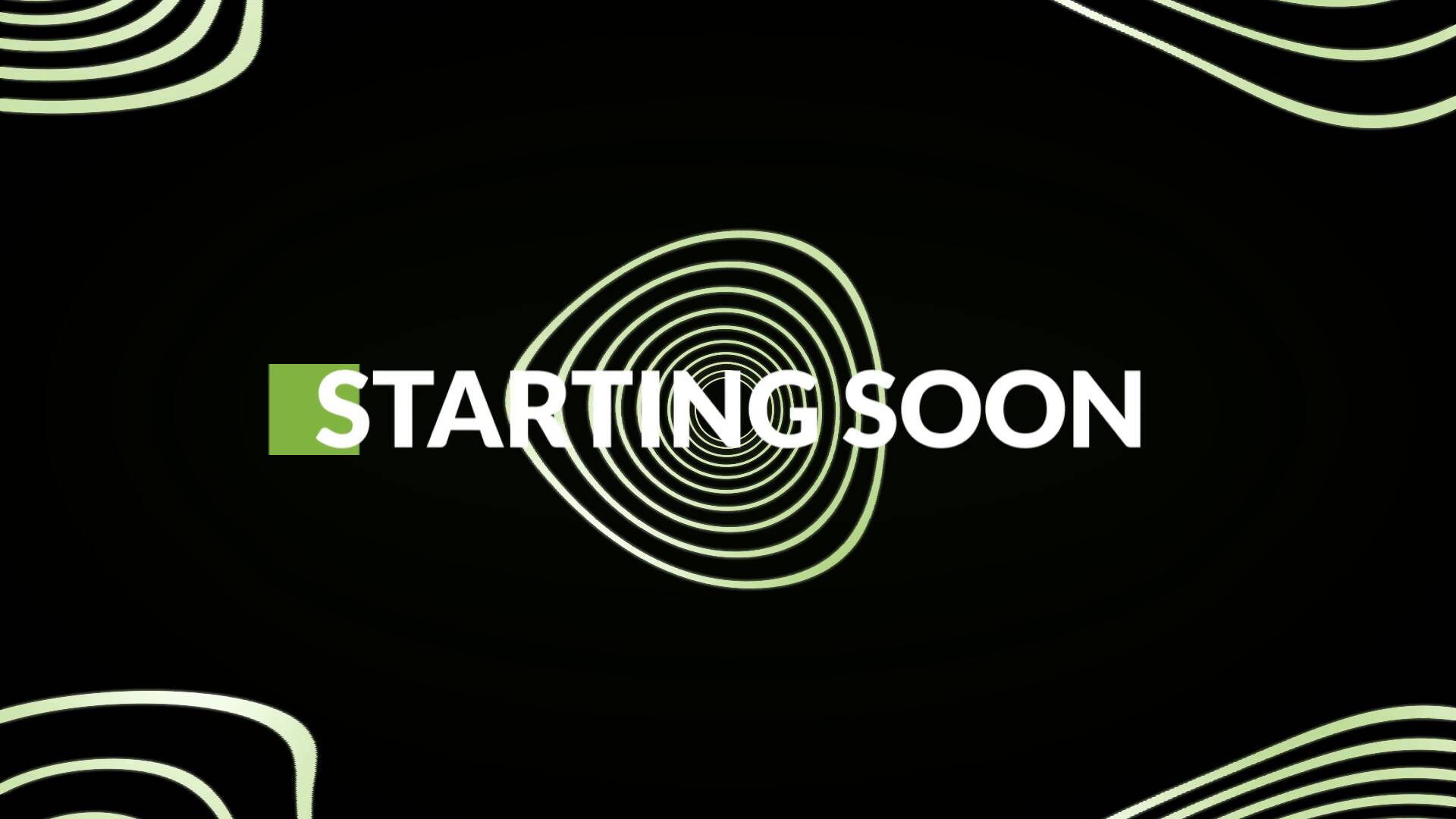 Cómo agregar tu pantalla de espera a OBS Studio
Usa escenas
La función Scenes (Escenas) es excelente para crear colecciones de gráficos que puedes usar a través de diferentes transmisiones, y esto permite que se pueda acceder a ellas más fácilmente. Por ejemplo, si tienes tres pantallas de espera ("Comenzando en breve", "Vuelvo enseguida", "Gracias por ver"), puedes configurarlas para tenerlas a la mano cuando las necesites.
Para agregar tu video "Comenzando en breve" a una Scene (Escena, con esta seleccionada), haz clic con el botón derecho en Sources (Fuentes) y elige Media Source (Fuente de medios) de entre las opciones.
Se te pedirá que generes o que selecciones tu Source (Fuente). Ya que estamos agregando una nueva, tendrás que hacer clic en Create New (Crear nueva) y asignarle un título; yo la he llamado "Comenzando en breve".
Aparecerá otra ventana para que selecciones algunas opciones más. Asegúrate de que la opción loop (bucle) esté marcada, de lo contrario tu video se reproducirá una vez y luego se detendrá. En su lugar, es recomendable que lo detengas manualmente cuando estés listo para comenzar tu transmisión.
Tu pantalla de espera está lista para ser usada
Ahora podrás ver tu pantalla "Comenzando en breve" en Sources (Fuentes), y cuando esté en pantalla se repetirá hasta que estés listo para detenerla y comenzar a transmitir.
Cuando hayas creado otras pantallas de espera, como "Vuelvo enseguida" y "Gracias por ver", simplemente sigue los mismos pasos para agregarlas y las verás aparecer en Sources (Fuentes). Recuerda usar Scenes (Escenas) para agrupar tus fuentes entre sí de manera efectiva y facilitar el cambio entre ellas cuando sea necesario.
Más ayuda para lograr una transmisión increíble
Más recursos de video increíbles de Envato
Guía de mercadotecnia por video de Envato
Mejora tus habilidades para la mercadotecnia por video con nuestra guía. Aprenderás mercadotecnia por video de principio a fin para mejorar tu siguiente producción y para crear una conexión con los clientes.
Recursos de video gratuitos de Mixkit
Consulta Mixkit para obtener videos de archivo gratuitos, música de archivo gratuita y plantillas gratuitas para Adobe Premiere Pro.
Crea videos de gráficos en movimiento en línea con PlaceIt
PlaceIt es un generador de videos en línea con plantillas de gráficos en movimiento diseñadas profesionalmente; puedes crear videos de forma rápida directamente en tu navegador.
Weekly email summary
Subscribe below and we'll send you a weekly email summary of all new Photo & Video tutorials. Never miss out on learning about the next big thing.
Update me weekly
Translations
Envato Tuts+ tutorials are translated into other languages by our community members—you can be involved too!
Translate this post
Powered by
Looking for something to help kick start your next project?
Envato Market
has a range of items for sale to help get you started.