Melody Nieves
Con historias de Instagram, usted puede conectar a tus seguidores de manera especial ultra. Publicar fotos y videos de tu vida y compartir momentos especiales de su día en cuestión de segundos.

Aprender a Empezar a Trabajar con Historias de Instagram para más información sobre este tema y probar proyectos creativos como esta historia de color abajo.

¿Qué es una historia de Color?

Una historia de color es una serie de imágenes o vídeos que siguen una paleta de colores particular. Una historia de color utiliza color deliberadamente como una pista visual para los espectadores para buscar conexiones entre sus cuadros, invitándolos a crear una historia en su mente. Cuando se utiliza eficazmente, puede crear una experiencia visual maravillosa para tus seguidores.

Incorporar historias de color en tus redes sociales para hacer sus perfiles más hermosos.
Dónde Encontrar Inspiración de Color
Perfiles de Instagram
Hay muchos perfiles inspiradores con hermosas imágenes que puede encontrar en Instagram. De fotógrafos profesionales, artistas talentosos y gurús de la belleza, todo el mundo ahora sabe el poder de una bella imagen en las redes sociales.
Si deseas algunos de tus favoritos Instagrammers para inspirarte. Ver qué colores les encanta usar más y estudiar la manera de sus imágenes la transición a lo largo de su línea de tiempo.
Mi ir a los perfiles son de Shameless Maya y Michelle Phan. Son ambos gurús de belleza con experiencia en arte y fotografía. Puesto que sus paletas de color son más en el lado brillante, me gusta intentar llevarse ideas para composición, estado de ánimo y la narración de calidad.

Generadores de la Paleta de Color

Como diseñador y artista, un recurso que me encanta usar son sitios web dedicado a los generadores de color. Utilizarlos colores de una foto, seleccionar de un catálogo de hermosas paletas, o crear su propio. ¿Está interesado en algunos generadores? Si deseas Adobe Color, Coolors y Colour Lovers para nombrar unos pocos.

Su Vida y Entorno

Aprovechar el mundo que te rodea para más inspiración de color. Explorar su vecindario obtener astuto con papel y materiales para arte y escoge tu color favorito para empezar.

Aquí están algunas de las áreas de su vida que usted puede ser inspirado en:
Naturaleza
Moda
Personas
Animales

Arquitectura
Tecnología

Diseño de Interiores

Elegir una Paleta de Colores
Como creativo, me gusta crear según cómo me siento. Y a veces dice mucho de una ausencia de color.

Yo soy su artista estereotipada, llevo sobre todo negro y me encanta un buen contraste en el diseño, así que decidí ir con una paleta de colores blanco y negro para mis historias. No sólo se esta paleta destilan diseño elegante y sofisticado, pero me permite concentrarse en practicar mis conocimientos de fotografía para imágenes grandes, impactantes.

Elija un Estado de Animo y el Tema
Instagram es conocido por ser... un poco superficial. Entre los más procesan fotos y los reportajes impecable, parece como todo el mundo está viviendo una vida perfecta en línea.

Una de las cosas que me gusta recordar creativos es que está bien ser humano. Tus días siempre no van a ser llenos de sol y aerografía, así que es importante reconocer que está bien tener días malos y darse un tiempo para procesar sus sentimientos.
Esto es simplemente una parte de la experiencia creativa. Expresarse a través de su arte y sus historias de Instagram sea la plataforma.

Para el estado de ánimo y el tema de mis historias de color, quiero hablar de esta idea en realidad. Y lo mejor de una paleta de colores blanco y negro que establece un tono serio para mí reforzar el mensaje un poco más.

Así que voy a empezar con esta sencilla pregunta:
"¿Cómo te sientes?"
Seguir para arriba con algunos ejemplos de diferentes emociones. Al final, voy a tomar un momento rápido para enchufe de amor consejos y compartir con mis seguidores.

Lo Que Usted Necesita Antes de Iniciar
Todo lo que necesitas realmente para cualquier Instagram Story es su teléfono y la aplicación descargado en su dispositivo. Pero si quieres llevar la calidad y efectos visuales a otro nivel, no dude en experimentar con diferentes y con aplicaciones de edición de vídeo.

Aquí hay un par de cosas que utiliza para crear mi historia de color:
Mi Teléfono: Cualquier dispositivo iOS o Android.

Una Cámara Digital: Para mejores fotos, usé mi Samsung NX2000.
Un Trípode de Smartphone: Para estabiliza las fotos y videos.

Photoshop CC: Para editar mis fotos con más control sobre los ajustes.
Aplicacion Boomerang: para bucles de vídeo rápidos.

Para ayudar a ilustrar mi historia aún más, y por lo que podría seguir a lo largo, he incorporado algunas poblaciones libres de Pixabay. Si usted no puede averiguar qué disparar pero con sus historias para ver fotos buenas, entonces acción, como Envato Elements, son una gran manera de añadir imágenes de calidad a sus historias.

Cómo Crear la Historia de Color
Organizar Su Mensaje
Si desea crear una historia que durará más de largo que una sola imagen o video, luego crear un contorno rápido. Organizar sus pensamientos en algunos puntos y averiguar lo que quiere decir antes de tiempo.
Dispara tus Fotos y Vídeos

Ahora vamos a disparar nuestras historias. Aunque tomé videos directamente en mi telefono he optado para transferir fotos de mi camara digital ya que mi telefono no hace tan bien con poca luz. Usa fotos de brotes anteriores o tomar otras nuevas. Para la diversión adicional, incluso incorporé un vídeo enlazado con la aplicación Instagram, Boomerang.

Revisa estos tutoriales para obtener más ayuda, disparos de fotografías y videos:
Editar la Historia de Color

Utilización de Photoshop Para la Edición de Precisión

Apps de foto son grandes, pero estoy tan acostumbrado a usar Adobe Photoshop que nada se compara. Pero si usted está buscando una solución rápida, no dude en utilizar su aplicación de filtros de colores de edición de fotos favorito.

Para editar mis fotos para un buen look blanco y negro, utilicé varias Ajuste de Capas y experimentó con Modos de Fusión de Capa. Intentar replicar los ajustes lo mejor que puedas con cada foto así su transición en uno con el otro.

También usé Photoshop para añadir texto a unas imágenes. Usted puede hacer esto directamente en historias de Instagram en lugar de ello, pero no tendrás acceso a diversión y hermosas fuentes para sus mensajes. Si usted está interesado en el tipo de letra que utiliza, no dude descargar Master of Break.

Filtros de Instagram Historia
Cambiar sus historias a blanco y negro utilizando una aplicación independiente o los filtros construidos justo en historias de Instagram. Simplemente pase el derecho en la pantalla varias veces para recorrer los distintos filtros o utilizar una app como InShOt para obtener los colores que desee.

Si quieres más filtros para elegir, también puede editar tus vídeos con los filtros de Instagram normales en su lugar. Recortar y aplicar un filtro y compartir tu video. Una vez guarda en su dispositivo, simplemente borra de la línea de tiempo y utilizarlo para sus historias en su lugar. Se puede ver uno de los filtros que utiliza para la porción de dibuja creativa de mis historias en el siguiente video corto.

Marcas y Texto
¡Obtener lujo con texto y marcadores! En primer lugar, escriba el texto. Luego dibujar con el marcador como fondo detrás de él. Los marcadores no cubren el texto para que pueda crear un fondo fácil para sus mensajes cada vez.

Mi Historia de Color Final

Editar sus fotos primero y luego guardarlos en su dispositivo. Cuando haya terminado, usted puede cargar su historia completa con cada transición de una vez. No sólo le permitirá sus seguidores hasta el final sus pensamientos y punto de vista, sino también le impide tener cualquier torpe lag entre el registro.

¿Quieres ver mi historia de color final? Echa un vistazo este video rápido a continuación: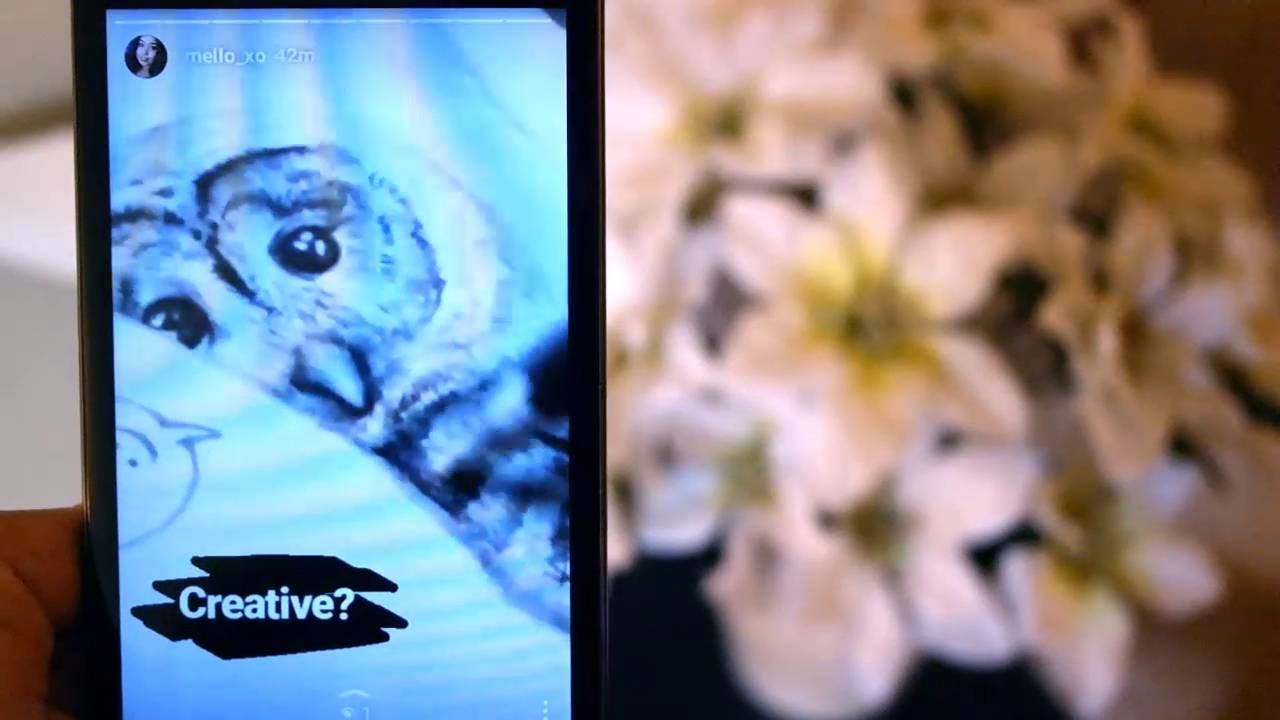 Impresionar a sus seguidores con historias creativas y utilizar Instagram como una salida para mejorar tu foto y videos habilidades.

¿Cómo sería incorporar color en tus propias historias? Háganos saber en los comentarios y manténgase en sintonía para más diversión tutoriales para darle vida a tus historias de Instagram.

Want a weekly email summary?
Subscribe below and we'll send you a weekly email summary of all new Photo & Video tutorials. Never miss out on learning about the next big thing.
Sign up
Digital Artist - CT, USA
I'm an Afro-Latina digital artist originally from Long Island, NY. I love to paint, design, and photo manipulate in Adobe Photoshop while helping others learn too. Follow me on
Instagram
or tweet me
@MelloNieves
and tell me what you'd like to see next!
Looking for something to help kick start your next project?
Envato Market
has a range of items for sale to help get you started.