Melody Nieves
With Instagram Stories, you can connect to your followers in a ultra special way. Post photos and videos of your life, and share special moments from your day in a matter of seconds.

Learn how to Get Started With Instagram Stories for more on this topic, or try the lessons in the School of Instagram, such as how to ace Instagram Stories or the best apps for creating Instagram Stories.

What Is a Color Story?

A color story is a series of images or videos that follow a particular color palette. A color story uses color deliberately as a visual clue for viewers to look for connections between your pictures, inviting them to create a story in their mind. When used effectively, you can create a wonderful visual experience for your followers.

Incorporate color stories into your social media to make your profiles more beautiful.
Where to Find Color Inspiration
Instagram Profiles
There are many inspirational profiles with beautiful imagery you can find on Instagram. From professional photographers, to talented artists and beauty gurus, everyone now knows the power of a beautiful picture on social media.
Check out some of your favorite Instagrammers to get inspired. See which colors they love to use the most and study the way their images transition throughout their timeline.
My go-to profiles are from Shameless Maya and Michelle Phan. They're both beauty gurus with a background in art and photography. Since their color palettes are more on the bright side, I like to try to walk away with ideas for composition, mood, and quality storytelling.

Color Palette Generators

As a designer and artist, one resource I love to use are websites dedicated to color generators. Use them to pick colors from a photo, select from a catalog of beautiful palettes, or create your own. Interested in some generators? Check out Adobe Color, Coolors, and Colour Lovers to name a few.

Your Life and Surroundings

Take advantage of the world around you for more color inspiration. Explore your neighborhood, get crafty with paper and art materials, or pick your favorite color to start.

Here are just a couple of areas from your own life that you can become inspired by:
Nature
Fashion
People
Animals

Architecture
Technology

Interior Design

Pick a Color Palette
As a creative, I like to create according to how I'm feeling. And sometimes an absence of color speaks volumes.

I'm your stereotypical artist, I wear mostly black and I love a good contrast in design, so I decided to go with a black and white color palette for my stories. Not only does this color palette exude sleek and sophisticated design, but it allows me to focus on practicing my photography skills to come up with great, impactful imagery.

Pick a Mood and Theme
Instagram is known for being a bit...superficial. Between the over processed photos and the flawless photo shoots, it seems like everyone is living a perfect life online.

One of the things that I like to remind creatives is that it's okay to be human. Your days aren't always going to be filled with sunshine and airbrushing, so it's important to recognize that it's okay to have bad days, and to give yourself some time to process your feelings.
This is simply a part of the creative experience. Express yourself through your art and let your Instagram stories be the platform.

For the mood and theme of my color stories, I want to speak this idea into fruition. And the best thing about a black and white color palette is that it sets a serious tone for me to reinforce the message a little more.

So I'll start with this simple question:
"How do you feel?"
Then follow up with a few examples of different emotions. At the end, I'll take a quick moment to plug in some advice and share love with my followers.

What You Need Before You Start
All you ever really need for any Instagram Story is your phone and the app downloaded to your device. But if you want to take the quality and visual effects to another level, feel free to experiment with different photo and video editing apps.

Here are a couple of things I used to create my color story:
My Phone: Almost any Android or iOS device will do.

A Digital Camera: For better photos, I used my Samsung NX2000.
A Smartphone Tripod: For stabilized photos and videos.

Photoshop CC: To edit my photos with more control over the adjustments.
Boomerang App: For quick video loops.

To help illustrate my story even more, and so that you could follow along, I've incorporated some free stocks from Pixabay. If you can't figure out what to shoot but still want your stories to look good, then stock photos, like from Envato Elements, are a great way to add quality images to your stories.

How to Create the Color Story
Organize Your Message
If you want to create a story that will last longer than a single image or video, then create a quick outline. Organize your thoughts in a few bullet points and figure out what you want to say ahead of time.
Shoot Your Photos and Videos

Now let's shoot our stories. Although I took videos directly on my phone I opted to transfer photos from my digital camera since my phone doesn't do so well in low light. Use photos from previous shoots or take new ones. For added fun, I even incorporated a looped video using the Instagram app, Boomerang.

Check out these tutorials for more help shooting photography and videos:
Edit the Color Story

Using Photoshop for Precision Editing

Photo apps are great, but I'm so used to using Adobe Photoshop that nothing else compares. But if you're looking for a quick fix, feel free to use your favorite photo editing app for colorful filters.

To edit my pictures for a nice black and white look, I used several Adjustment Layers and experimented with Layer Blend Modes. Try to replicate the adjustments as best as you can with each photo so that they transition well into one another.

I also used Photoshop to add text to a few images. You can do this directly on Instagram Stories instead, but you won't have access to fun and beautiful fonts for your messages. If you're interested in the font type I used, feel free to download Master of Break.

Instagram Story Filters
Change your stories to black and white by using either a separate app or the filters built right in to Instagram stories. Simply swipe right on the screen repeatedly to cycle through the different filters, or use an app like InShOt to get the colors you want.

If you want more filters to choose from, you can also edit your videos with the normal Instagram filters instead. Crop and apply a filter then share your video. Once it saves onto your device, simply delete it from your timeline and use it for your stories instead. You can see one of the filters I used for the creative drawing portion of my stories in the short video below.

Markers and Text
Get fancy with text and markers! First, write the text. Then draw with the marker as a background behind it. The markers never cover the text so you can create an easy background for your messages every time.

My Final Color Story

Edit your photos first then save them to your device. When you're finished, you can upload your full story with each transition all at once. Not only will it allow your followers to finish your thoughts and point of view, but it also prevents you from having any awkward lag between posting.

Want to see my final color story? Check out this quick video below: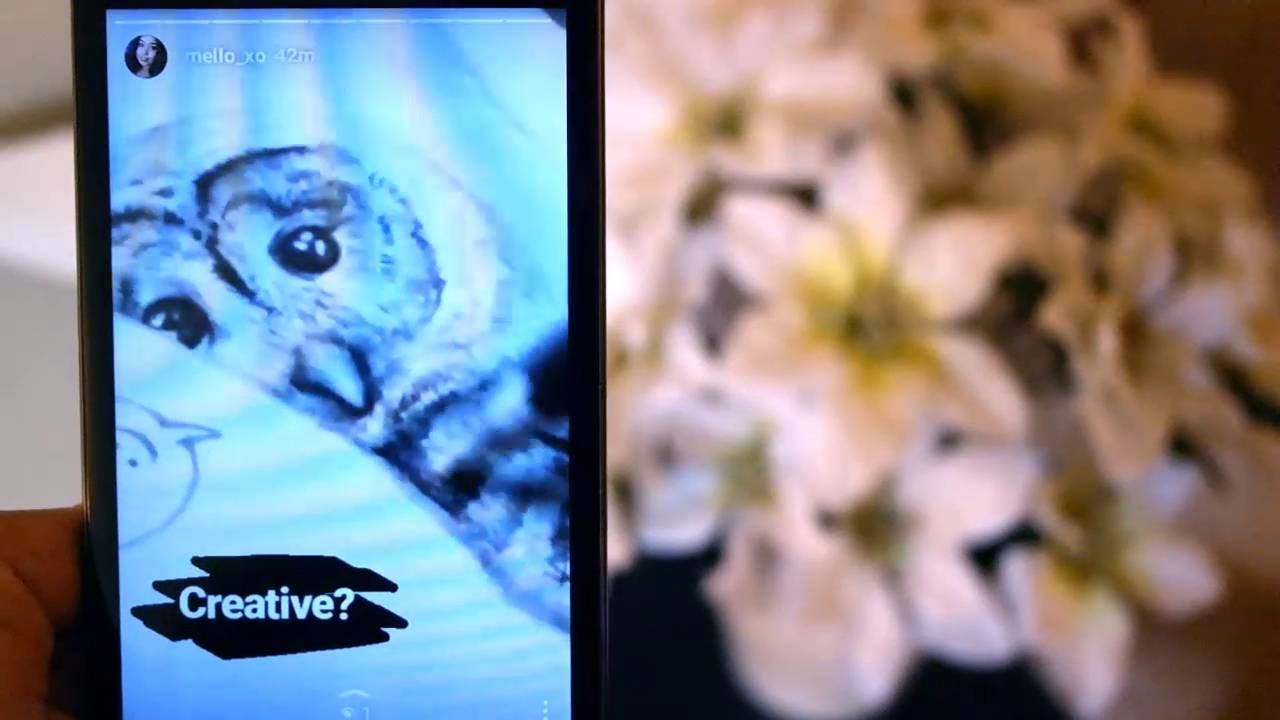 Impress your followers with creative stories and use Instagram as an outlet to improve your photo and video skills.

How would you incorporate color into your own stories? Let us know in the comments, and stay tuned for more fun tutorials to liven up your Instagram Stories.

Build an Instagram Website With Milkshake
Milkshake is an Instagram website maker. Milkshake will help you create a free website for your Instagram profile all on your phone, instantly. Show the world what you're made of, and build a beautiful website for your Instagram fans and followers. Check out Milkshake. 

Want a weekly email summary?
Subscribe below and we'll send you a weekly email summary of all new Photo tutorials. Never miss out on learning about the next big thing.
Sign up
Digital Artist - CT, USA
I'm an Afro-Latina digital artist originally from Long Island, NY. I love to paint, design, and photo manipulate in Adobe Photoshop while helping others learn too. Follow me on
Instagram
or tweet me
@MelloNieves
and tell me what you'd like to see next!
Looking for something to help kick start your next project?
Envato Market
has a range of items for sale to help get you started.