Marie Gardiner
Aumenta la calidad de tus historias con una plantilla para Instagram stories con gráficos animados, rápida y profesional, diseñada especialmente para Final Cut Pro X; esta es nuestra selección de las mejores plantillas para Instagram stories de Envato Elements y Envato Market. ¡Consigue gráficos y títulos para Instagram!
Las 10 mejores plantillas para Instagram stories con texto y títulos Final Cut Pro de Envato Elements
Si eres un creador de vídeos apasionado y amante de Instagram, tu suscripción a Envato Elements, un sitio que te ofrece descargas ilimitadas de recursos creativos, te permitirá descargar todas las plantillas para Instagram stories que quieras. Elements te brinda acceso a recursos creativos que incluyen miles de plantillas y gráficos animados de diseño profesional para crear animaciones de logos, intros, títulos y mucho más. A continuación, hemos recopilado una colección de plantillas con texto y títulos para Instagram.
Elements también incluye fotos, música, videoclips y fuentes para complementar tu contenido, además de cursos creativos detallados aquí en Tuts+ para ayudarte a mejorar tus habilidades.
Bien, veamos las mejores plantillas de vídeo de Instagram para Final Cut Pro. Nota, el personal de Envato Tuts+ mantiene este artículo actualizado con nuevas y excelentes plantillas.
Si estás buscando un completo paquete de plantillas para Instagram stories, este le dará un aspecto realmente único y diferente a tus historias gracias a sus títulos y su genial efecto de texto para stories de Instagram. ¡Utiliza estos títulos Final Cut Pro para promocionar eventos, negocios, ventas, artistas o cualquier cosa que se te ocurra en tus historias de Instagram!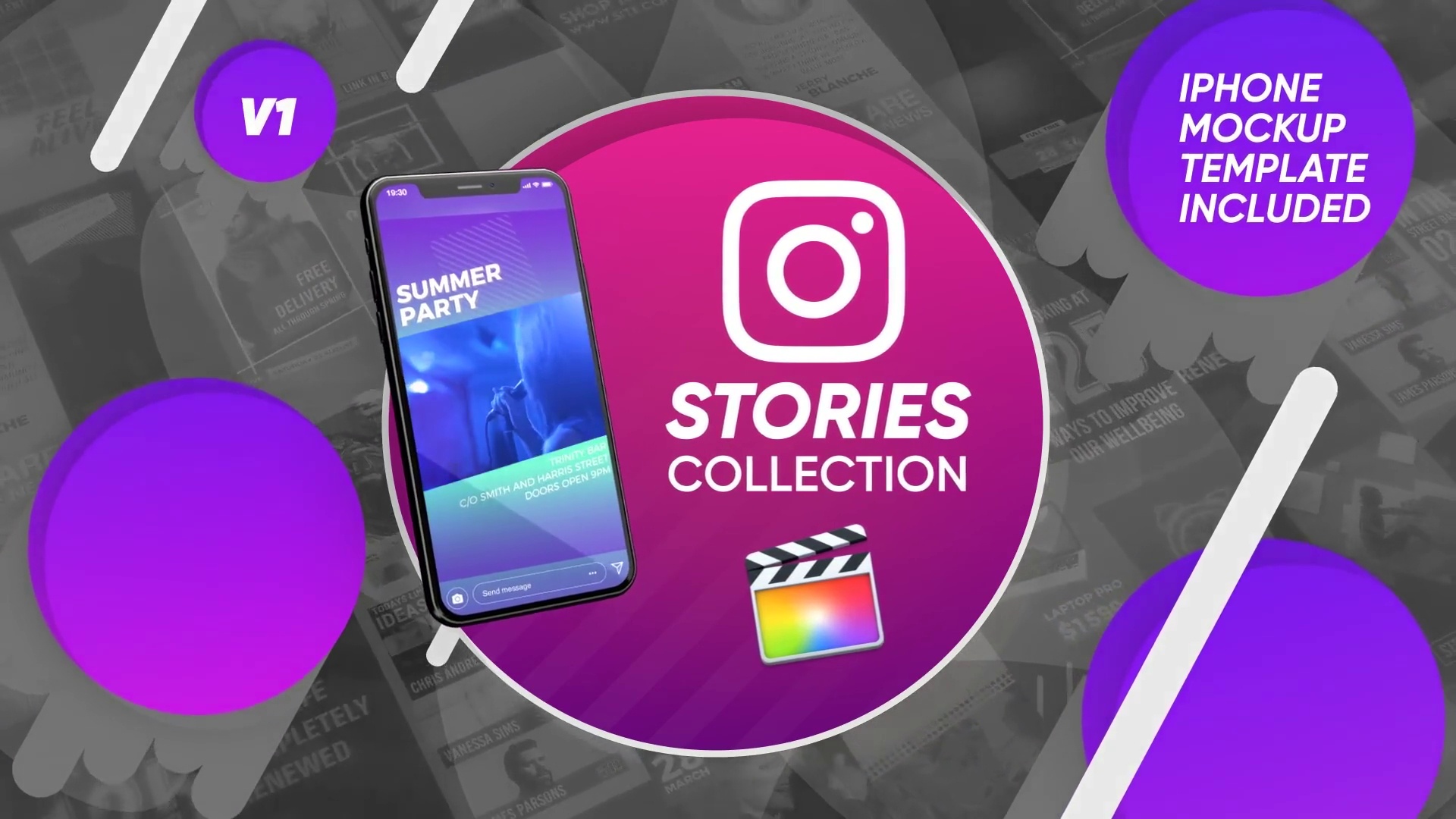 Los títulos para Instagram en tonos monocromáticos son una tendencia de moda. Échale un vistazo a esta plantilla para Instagram stories, que incluye 5 historias con texto monocromático para tu próximo proyecto de Instagram.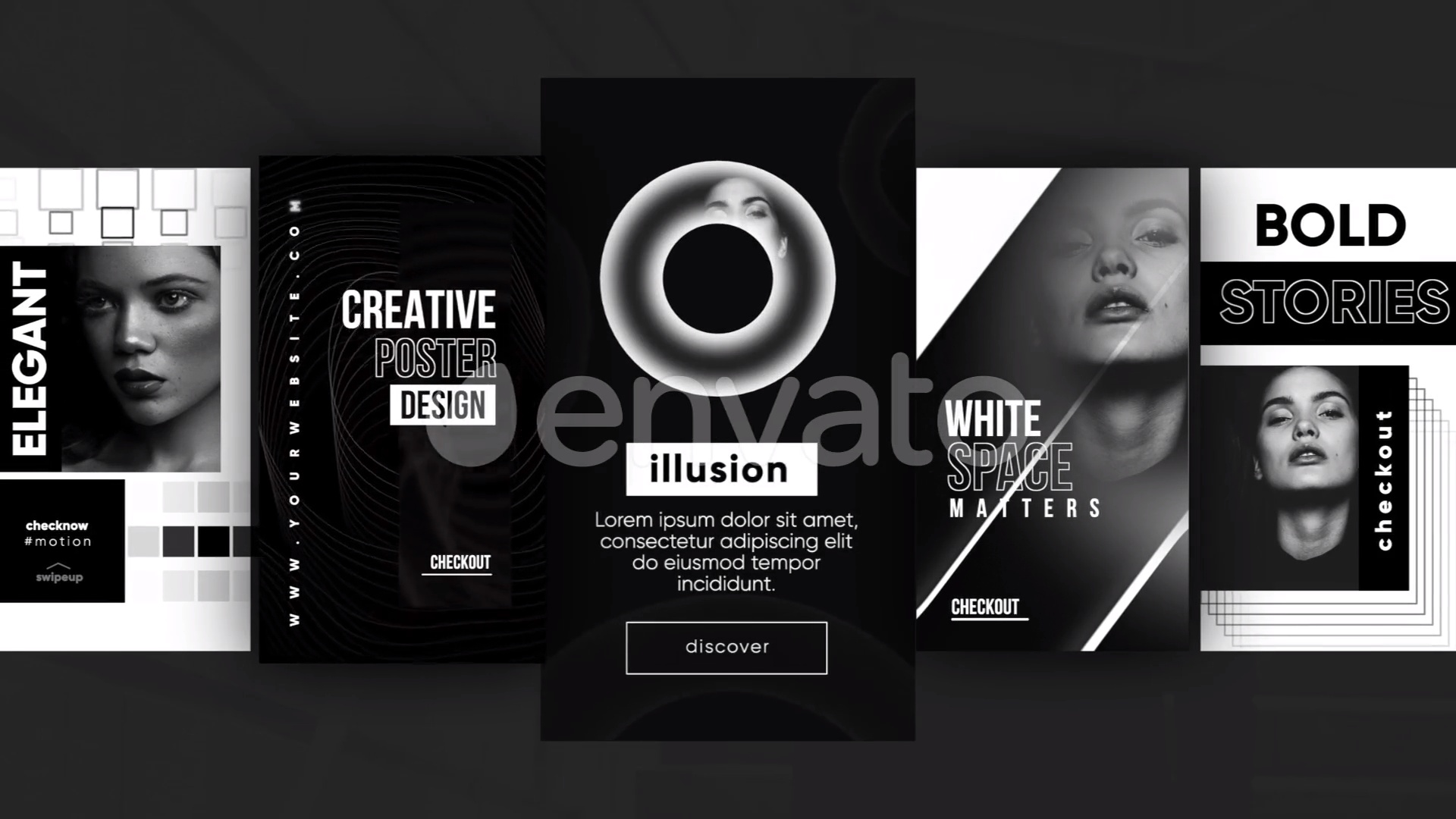 Esta bonita plantilla para Instagram stories es perfecta si quieres presentar una historia de amor, o si trabajas en la industria nupcial. Estos títulos y texto para stories de Instagram presentan una fuente tipo script, perfecta para la temática.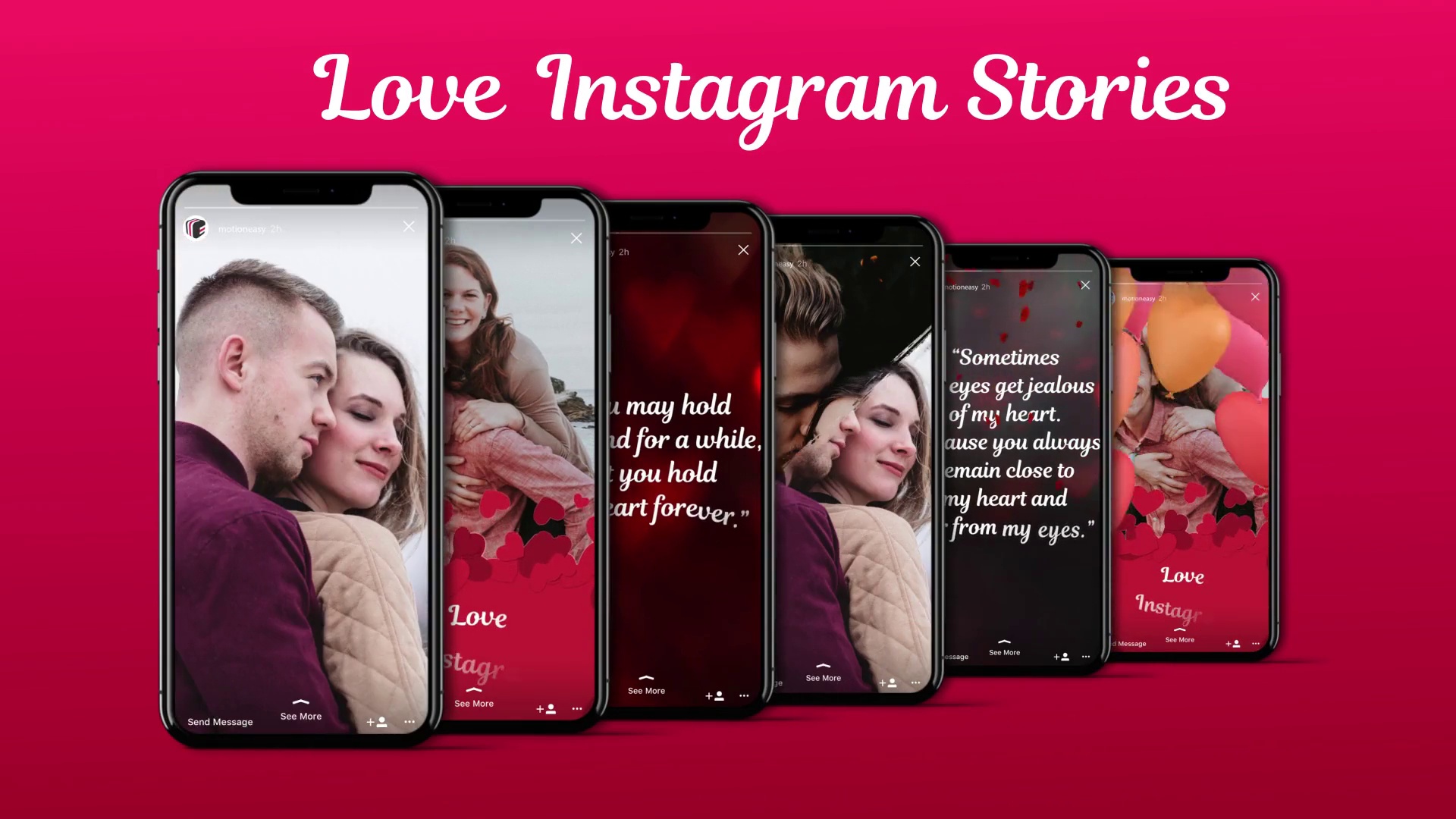 Este elegante paquete de plantillas Final Cut Pro tiene un sencillo control del color y no requiere ningún plugin adicional. Todos los parámetros son editables y se pueden modificar rápidamente. Esta plantilla para Instagram stories incluye un enlace a la fuente gratuita utilizada y tutoriales de texto y vídeo para ayudarte si te quedas estancado.
Este enorme paquete de títulos Final Cut Pro y texto para stories de Instagram contiene historias, marcadores de posición de elementos multimedia y texto, overlays y dos estilos de "swipe up" ("deslizamiento hacia arriba"). Además de algunos efectos gráficos, ofrece muchas opciones de texto para stories de Instagram que puedes modificar para adaptarlas a tu marca.
Este conjunto de plantillas de historias de Instagram para Final Cut Pro X es ideal para enviar mensajes atrevidos y minimalistas, ya sea una venta, compartir una cita para inspirar al público o incluso dirigir a la gente a tu sitio web.
Si te gusta mantener la sencillez y la elegancia, entonces dale una oportunidad a Historias minimalistas de Instagram. Cuenta con 5 opciones diferentes creadas solo para Apple Motion o Final Cut Pro.
Este paquete contiene 10 plantillas Final Cut Pro, cada una de ellas diseñada para darle un aspecto exclusivo a tus historias de Instagram, con suaves animaciones de texto.
Con 5 historias para Instagram, este paquete de plantillas Final Cut Pro combina sencillos efectos y texto para stories de Instagram; es perfecto para citas y mucho más. Las animaciones y los estilos son variados, por lo que siempre que encontrarás algo que se adapte a una amplia gama de proyectos.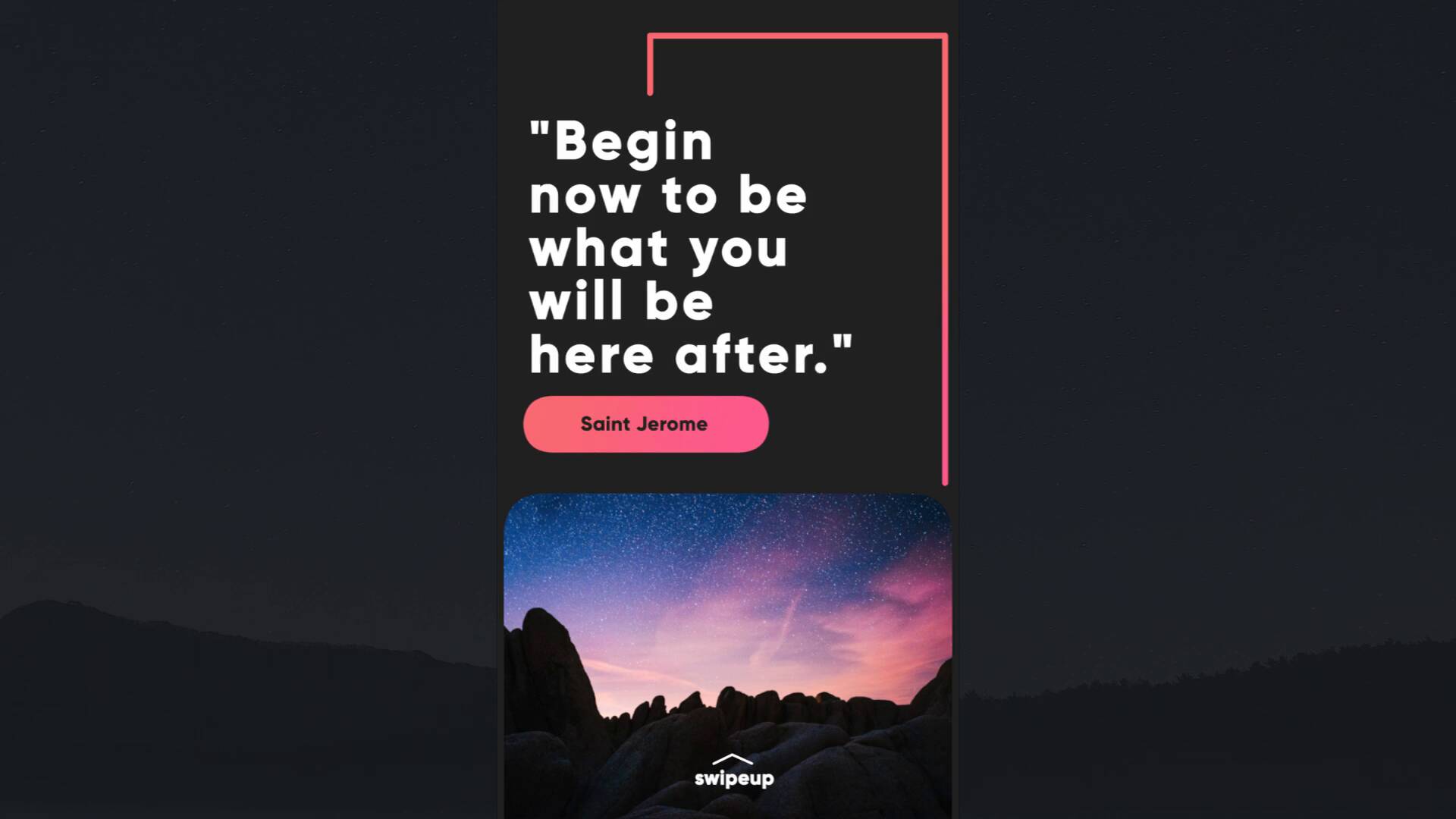 3 plantillas para Instagram stories de Envato Market
¡Las suscripciones no son para todos! No te preocupes: Envato Market es un mercado creativo de pago por uso, por si prefieres adquirir plantillas y recursos de forma individual.
Si solo necesitas una única plantilla Final Cut Pro para tu historia de Instagram, asegúrate de visitar Envato Market para encontrar lo que necesitas. Estas son las 3 mejores opciones:
Una moderna plantilla Final Cut Pro con 6 historias de Instagram únicas y animadas dinámicamente. Son fáciles de usar y puedes cambiar fácilmente los colores para adaptarlos a tu estilo. Engancha y haz crecer a tus seguidores, ¡todo sin necesidad de ningún plugin!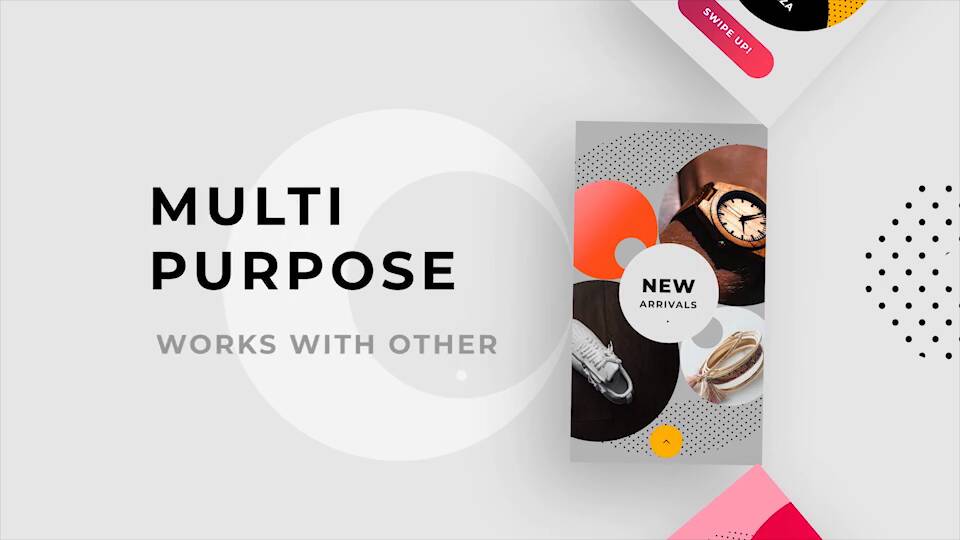 Esta descarga incluye 20 plantillas FInal Cut Pro de historias de Instagram y un conjunto adicional de 11 títulos Final Cut Pro, por lo que tendrás muchas opciones para diversificar tu oferta y conseguir resultados diferentes cada vez. Hay un tutorial incluido en caso de que necesites ayuda para empezar.
Crea tu propia historia de Instagram con este completo paquete para Final Cut Pro X. Mezcla y combina elementos, como texto o títulos Final Cut Pro para obtener diferentes resultados: esta plantilla para Instagram stories está perfectamente organizada en categorías y todo es editable.
Aprende a utilizar Instagram
Sácale el máximo provecho de Instagram con estos tutoriales:
Elementos básicos de los vídeos para las historias de Instagram: longitud, tamaño y duración. Siempre es más conveniente conocer lo básico, y este artículo te ayuda a entender todo sobre las historias de Instagram. Incluye la duración que deben tener tus subidas, los problemas de tamaño que podrías encontrar y cómo conseguir el máximo nivel de engagement o interés.
Cómo crear filtros para fotos de Instagram en Photoshop te ayudará a crear 3 increíbles efectos de retrato en Photoshop, ¡que luego podrás utilizar en tus imágenes para darles efectos impresionantes inspirados en Instagram!
Crea un sitio de Instagram con Milkshake
Instagram te proporciona un hipervínculo en tu biografía, ¡así que no lo desperdicies! Crea un magnífico sitio de Instagram con Milkshake, en tu teléfono, sin necesidad de conocimientos informáticos o de diseño.
Más recursos para Final Cut Pro
Más increíbles recursos de vídeo de Envato
Guía de vídeo marketing de Envato
Potencia tus habilidades de vídeo marketing con nuestra guía. Aprenderás sobre vídeo marketing de principio a fin para mejorar tu próxima producción, y así conectar con tus clientes.
Recursos de vídeo gratuitos de Mixkit
Visita Mixkit para conseguir vídeos de stock gratuitos, música de stock gratuita y plantillas gratuitas para Adobe Premiere Pro.
Produce un vídeo con gráficos animados en línea con Placeit
Placeit es un generador de vídeos en línea que utiliza plantillas con gráficos animados diseñados por profesionales; podrás producir vídeos rápidamente, directamente en tu navegador.
Envato Elements: descargas ilimitadas
Want a weekly email summary?
Subscribe below and we'll send you a weekly email summary of all new Photo & Video tutorials. Never miss out on learning about the next big thing.
Sign up
Photographer and writer based in north east England.
Marie Gardiner is a writer and photographer from the North East of England. After gaining her degree in Film and Media, Marie worked in the media industry, before leaving to set up the business she runs with her partner: Lonely Tower Film & Media. As well as writing about visual practices like photography and video, Marie is also the author of Sunderland Industrial Giant (The History Press, 2017), Secret Sunderland (Amberley Publishing 2019), and Celebrating Sunderland (Amberley Publishing 2023). Her photographic work focuses on landscapes and industrial ruins, particularly those of the North Pennines as she continues to work on her long-form documentary project Changing Landscapes.
One subscription. Unlimited Downloads.