Rob Mayzes
A todos nos gustaría tener un audio limpio y claro en nuestras grabaciones de vídeo. Sin embargo, en la vida real, lidiar con el ruido ambiental es una tarea de prácticamente todas las producciones.
La mayoría de las veces, un mínimo ruido en el fondo de tu vídeo puede pasar inadvertido. Pero, tan pronto como ese ruido se perciba, puede convertirse en una distracción para tu audiencia.

Aunque lo mejor es eliminar el ruido de raíz, existen herramientas de producción especializadas que pueden ayudarte a limpiar una grabación ruidosa. La herramienta que la mayoría de la gente busca es una 'puerta de ruido' (noise gate), pero estas pueden llegar a ser rápidamente destructivas. En su lugar, puedes usar un expansor para reducir el volumen del ruido sin eliminarlo por completo, que lo hará sonar más natural. En este tutorial, aprenderás a hacer precisamente eso.

Reducir el ruido, sin destruir

Al igual que en la fotografía y el vídeo, el objetivo con el tratamiento de ruido de audio no es eliminar el ruido. El propósito es reducir el ruido hasta que deje de distraer, sin introducir ningún artefacto negativo o distorsiones en el sonido original. En general, la mejor reducción de ruido es siempre la mínima cantidad que se pueda conseguir.
Utiliza un expansor cuando tengas un ruido de fondo sutil de la grabación en el lugar (como el viento o el tráfico lejano) o un ruido de fondo de la grabación en un estudio (como el aire acondicionado o los sonidos exteriores). Los expansores también son útiles cuando se producen voces superpuestas y ADR.
Ten en cuenta que el expansor no es efectivo cuando el nivel del ruido es casi igual al nivel del diálogo. En este caso, un expansor no podría diferenciar entre la voz y el ruido. Aquí se necesitarían herramientas de eliminación de ruido más destructivas.
Las puertas y los expansores son herramientas muy similares, y la mayoría de aplicaciones de procesamiento de audio y vídeo especializadas combinan la Puerta con el Expansor. Como dije antes, los expansores crean un tratamiento del ruido más natural. Los parámetros que necesitas ajustar para convertir una Puerta en un Expansor depende del software que utilices, cuestión que abordaremos a continuación.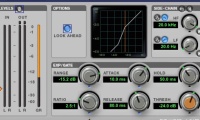 Parámetros de reducción de ruido: ajustes recomendados

Ratio

Al controlar este parámetro, le dices a la puerta que reduzca el nivel de volumen en una cantidad relativa a los sonidos que están en la pista de audio. A veces al Ratio se le llama Proporción, como en Sony Vegas.
Un ratio inferior a 20:1 actuará como un expansor, con ratios en la región 2:1 haciendo una sutil expansión hacia abajo. Por ejemplo, en 2:1, por cada 1dB, el nivel desciende por debajo del Umbral, el expansor lo reducirá en otro 1dB (con un total de 2dB, por tanto 2:1).
Rango

Mientras que el Ratio establece una relación de reducción relativa, el parámetro Rango establece un límite de reducción absoluta. Por ejemplo, al establecer el rango en -10dB, le dices al expansor/puerta que nunca reduzca el nivel en más de 10dB. Esto significa que el ruido estará 10dB más silencioso que el diálogo.
A veces al Rango se le llama Reducción, como en Final Cut Pro X.
Umbral
El umbral (threshold) indica el nivel en el que el expansor se activa. Debes establecer este nivel para que el diálogo no se vea afectado, pero el ruido se reduzca. Por ejemplo, si el diálogo tiene un promedio de -18dB, fija el umbral en -20dB (es mejor dejar unos pocos dB de contingencia).
Ataque y relajación

El tiempo de ataque (attack) y relajación (release) indica cuánto tarda el expansor en activarse completamente (o "abrirse") y en desactivarse (o "cerrarse"). Para el diálogo, recomiendo de 10 a 50ms de Ataque y 12ms de Relajación.

Tiempo de sostenimiento

El tiempo de sostenimiento (hold) indica cuánto tiempo la puerta permanece abierta después de que el nivel sea inferior al Umbral. Para el diálogo, colócalo en 0 (o tan bajo como puedas).
Ejemplos de software
En Pro Tools, ajusta el control de Rango.
Adobe Premier Pro tiene un Expansor incorporado.
En Final Cut Pro X, puedes usar el Expansor incorporado (en Efectos > Audio).
O puedes usar la puerta de ruido y ajustar el parámetro de Reducción.
Sony Vegas, Reaper y otros programas no vienen con un expansor. En su lugar, instala gratuitamente este plugin VST, Floorfish.

Want a weekly email summary?
Subscribe below and we'll send you a weekly email summary of all new Video tutorials. Never miss out on learning about the next big thing.
Sign up
London, UK
Rob Mayzes is an audio professional, musician and educator. He has helped thousands of musicians to produce better music at home through his website,
Musician on a Mission
.
Looking for something to help kick start your next project?
Envato Market
has a range of items for sale to help get you started.