Kirk Nelson
Para continuar con nuestra serie de creación de efectos aplicados en videos musicales, este Consejo rápido se enfoca en el hermoso e impactante efecto del video Send My Love de Adele. La imagen transparente, multiplicada y de desplazamiento temporal con siluetas en movimiento, es visualmente fascinante.
En mi tutorial anterior, puedes aprender a cómo crear una imagen fantasmal. En este tutorial, conseguirás crear un video fantasmal en Adobe Photoshop.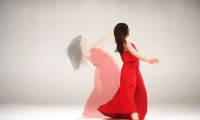 ¿Qué necesitarás?
El efecto funciona mejor en un video con una silueta realizando movimientos bastante prolongados en un fondo sencillo: ya que lo que quieres es que los movimientos de arrastre de los fantasmas sean fáciles de detectar. Es este tutorial, emplearemos el video Prestigious Elegant Red Dancer (Prestigiosa y elegante bailarina roja) de Envato Market para nuestro ejemplo.
Generalmente, los videos con efectos necesitan un software especializado como Adobe After Effects; sin embargo, puedes conseguir este efecto con solo un editor no lineal (como lo son la mayoría) que soporte más de una pista de video. Photoshop no cuenta con las herramientas de video más sofisticadas; sin embargo, sus funciones tienen la capacidad de crear el efecto desplazamiento de tiempo que queremos para este ejemplo.
1.

Efecto desplazamiento de tiempo básico
Paso 1
Abre el video en Photoshop a través del comando habitual Archivo > Abrir (Control+O). Es importante que te asegures de que el panel de Línea de tiempo esté abierto; si no lo está, dirígete a Ventana > Línea de tiempo. Observa cómo el panel de Capas muestra el video como la Capa 1, que a su vez está dentro de un Grupo de videos.
Paso 2
Mueve el cabezal hasta el segundo 00:01:00 y haz clic en el icono tijeras para cortar el video en ese punto. Luego, ubícalo en el segundo 00:43:00 y corta el video nuevamente. Así obtendrás tres capas de video en el grupo de videos.
Paso 3
Mantén presionada la tecla Alt, luego haz clic y arrastra la capa de video del medio para crear una copia de la misma. Arrastra esta copia hacia afuera del grupo de videos para que se sitúe paralelamente al grupo de la línea de tiempo. Observa que los video clips del grupo son secuenciales, de extremo a extremo, mientras que los video clips que están fuera del grupo aparecen de forma simultánea. Cambia el nombre de esta copia a Fantasma 1.
Paso 4
En el panel Línea de tiempo, empuja el video clip Fantasma 1 un segundo más hacia la derecha. Luego, reduce la Opacidad de la capa a un 35% y establece el modo de fusión en Multiplicar.
Paso 5
En el panel Línea de tiempo, haz clic en el icono Transición, para abrir el menú respectivo. Establece la Duración a 1 segundo y arrastra la Transición hasta el inicio del clip Fantasma 1.
Paso 6
Mantén la tecla Alt presionada y arrastra el clip Fantasma 1 en el panel Capas para crear una copia de este sobre la pila de capas.  Este método también replica la transición que aplicamos. Cambia el nombre a Fantasma 2 y establece la Opacidad a un 20%.
Paso 7
En el panel Línea de tiempo, empuja el clip Fantasma 2 un segundo hacia la derecha. Reproduce y recorre el resto del video para ver el efecto fantasmal doble.
Paso 8
Abre el menú de Transiciones nuevamente y establece unos 5 segundos de Duración. Luego, arrastra una Transición con negro al inicio del clip original.
2.

El efecto final

El efecto fantasmal se vuelve aún más eficaz si en el final, los fantasmas regresan al movimiento original y se mezclan con el mismo. Esto se puede conseguir de forma aún más fácil, si el video original termina con la silueta quieta por algunos segundos. El clip que empleamos aquí, en realidad no tiene eso; por ello, te brindo algunos trucos que necesitarás para tratar de conseguir el mismo efecto.
Paso 1
Selecciona y elimina el tercer clip del video original llamado Capa 1 copia 2. Mueve el cabezal al segundo 00:42.00 y corta el clip original en ese punto.
Paso 2
En la Línea de tiempo, haz clic derecho en el nuevo clip, que ahora es más pequeño, y establece la Velocidad a un 42%. Luego, arrastra el borde final del clip para alinearlo con el final del clip Fantasma 2.
Paso 3
Abre el menú de Transiciones nuevamente y cambia la Duración a 1 segundo. Arrastra la Transición hacia el final de los clips de fantasmas para que se desvanezcan en el clip original.
3.

Ajuste de colores

En este punto, los movimientos se ven bien, pero los colores lucen bastante opacos y aburridos debido a la transparencia y los modos de fusión. Estos pueden mejorar empleando solo un poco de Capas de ajuste.
Paso 1
Logra que la capa Fantasma 2 sea la capa activa y luego añade una capa de ajuste de Curvas sobre la pila de capas. Photoshop se asegurará que la línea de tiempo de la capa de ajuste cubra toda la longitud del área de trabajo. Luego, ajusta las Curvas creando una forma de S, como está en el ejemplo, para aumentar el contraste del video.
Paso 2
Posteriormente, añade una capa de ajuste con Tono/Saturación. Emplea la herramienta de ajuste en el lienzo para hacer clic y arrastrar sobre el fondo del video. Esto cambiará el enfoque de Tono/Saturación a Amarillos Establece la Saturación en -100 y la Luminosidad, en +20.
Paso 3
Mira el panel Línea de tiempo nuevamente y ajusta la primera manija del área de trabajo para alinearlo con el inicio de la Transición con negro del clip original. El área de trabajo final debería estar alineada con el final de todo el video.
Paso 4
Dirígete a Archivo > Exportar > Interpretar video. También, establece un nombre de archivo y de carpeta apropiados. Cambia el formato a H.264 y selecciona el tamaño que prefieras. Asegúrate de establecer el Rango como el área de trabajo y luego, haz clic en el botón Interpretar y ¡deja a Photoshop hacer la magia!
¡Y eso es todo!
Incluso con las herramientas limitadas de Photoshop para la edición de videos, no es tan complicado crear algunos efectos hermosos en poco tiempo. Puedes ver el resultado final aquí, pero ¡también nos encantaría ver tus resultados de fantasmas con desplazamiento de tiempo! Añade un enlace para tu video en los comentarios.
Want a weekly email summary?
Subscribe below and we'll send you a weekly email summary of all new Photo & Video tutorials. Never miss out on learning about the next big thing.
Sign up
I have been working as an all around graphics geek or "Visual Information Specialist" for the past 17 years around the Washington DC Metro area. With my career spanning across almost every aspect of the design industry, I have worked from web design, to 3d animation, to logo design, to photo retouching.
Start your 7-day free trial*
*All Individual plans include a 7-day free trial for new customers; then chosen plan price applies. Cancel any time.