Aquí te mostraremos cómo usar Sobreexposición y Subexposición para rescatar sombras en tus fotografías y darle un atractivo extra a la imagen. Como con muchas cosas en Adobe Photoshop (y en la vida), el truco es el equilibrio.
Sobreexposición y Subexposición
"Sobreexposición" y "subexposición" son términos usados en fotografía para corregir y ajustar los niveles de luminosidad (claridad) en partes de una imagen. Sobreexponer es iluminar una zona de la imagen, subexponer es oscurecer un área. Las técnicas digitales de sobreexposición y subexposición se basan en el método que los fotógrafos usan en un cuarto oscuro tradicional: bloquear la luz de la ampliadora (o 'sobreexponer' la luz) para crear una zona menos expuesta y por lo tanto más brillante en el papel, y con más luz (o 'subexponer' en la luz) para hacer una zona más oscura.
La sobreexposición y subexposición pueden utilizarse en cualquier parte de la imagen, clara u oscura, pero en este tutorial nos estamos centrando en las partes oscuras o sombrías, de la imagen. Aunque la técnica es similar, los medios tonos y resaltados necesitan cada uno su propio enfoque de sobreexposición y subexposición.

1. Evalúa la Imagen: ¿Qué Resultado Quieres Conseguir?
El balance es la clave para usar bien la sobreexposición y la subexposición. Para conseguir balance, necesitas saber como quieres que se vea la imagen. ¿Buscas alto contraste? ¿Quieres mantener una apariencia realista? ¿Qué partes de la imagen son importantes para enfatizar? ¿Qué partes te gustaría desenfatizar?

Tu resultado ideal probablemente dependerá del tipo de imagen que estés editando y de las limitaciones que podrían proveerse. Por ejemplo, si estás editando un retrato, debes de tener en cuenta la calidad de los tonos de piel: manipular sombras podría tener un efecto perjudicial sobre la forma de la cara. Cada estilo de fotografía—desde paisajes hasta arquitectura o fotografía para productos—lleva sus propias posibilidades y trampas cuando se alteran las sombras.
Cuando sabes lo que quieres conseguir, puedes usar las herramientas a tu disposición para crear efectivamente la apariencia que deseas.
2. Haz Correcciones Globales
Esta es la imagen en la que estaré trabajando. Puedes ver que las sombras están subexpuestas y el cielo un poco sobreexpuesto.
Conversión RAW

El primer lugar para comenzar con cualquier imagen es hacer correcciones globales, es decir, amplias correcciones a la imagen completa. Como disparo en RAW, mi primer paso es desarrollar la imagen en Adobe Camera RAW antes de abrirla en Photoshop.
La imagen fue tomada en la tarde. Tiene una calidad particular de luz que me gustaría mantener. Por esa razón, no estoy tirando de las sombras hacia arriba aquí hasta donde pueda en RAW, aunque puedes ver en la barra deslizante, todavía hay algo que dar.

Échale un vistazo al histograma en la esquina superior derecha: el gráfico muestra que la mayoría de la información en la imagen (el pico grande) está acumulada en las sombras, pero nunca de las sombras están aplastadas, o perdiendo information. Eso es perfecto, porque quiero mantener esa fresca y húmeda sensación en la foto sin perder detalle.

Corrige el Contraste Focal con Curvas
Rescaté los aspectos más destacados en RAW y los disminuí un poco, devolviendo los detalles al cielo. Todo parece un poco plano sin embargo, y ahí es donde entran nuestros ajustes locales.
Una curva 's' en Photoshop (una sutil en este caso) introduce más contraste: los píxeles claros se vuelven más claros y los oscuros más oscuros. Eso pone algo mas drama de vuelta en el cielo y el agua, pero también oscurece nuestras sombras de nuevo. Eso está bien, usaremos Sobreexposición y subexposición para recuperarlas.
3. Haz Ajustes Locales
La siguiente cosa a observar son las partes específicas que quieres mejorar en la foto. He mencionado que quiero mantener algunas de las sombras profundas, para quedar fiel al estado de ánimo de esa hora del día, pero hay áreas como el agua e incluso partes de los árboles donde creo que podría aclarar las sombras sin perder la iluminación general y cambiar la sensación de la imagen.
Rescata las Sombras con Sobreexposición

En el fondo duplicado (Control-J), voy a trabajar en las sombras de los árboles con la herramienta Sobreexposición, con el Rango establecido en Sombras, en una Opacidad muy baja (entre 2-5%) para traer algunas de las sombras de vuelta. La idea de esto es dejar intactos los medios tonos y resaltados, y simplemente aclarar las partes más oscuras de la imagen, las cuales voy a retocar.
Siempre pienso que una buena técnica es ir un poco más allá con tus ajustes de lo que en realidad deseas, para luego reducir la opacidad de tu capa de ajustes hasta dejar las cosas correctas.
Este resultado es de retocar las sombras con un 5% de Exposición pero ya puedes ver las diferencias en las áreas más oscuras. Si lo necesitan, puedes cambiar el Rango a Medios tonos y traerlos de vuelta.
Las diferencias son sutiles. Crea el efecto retocando continuamente sobre las mismas áreas sucesivamente hasta que estés feliz.
Esta es la imagen con la capa de Sobreexposición en el 90% de opacidad. A continuación, duplicaré la capa y trabajaré con la Subexposición para añadir más profundidad y contraste.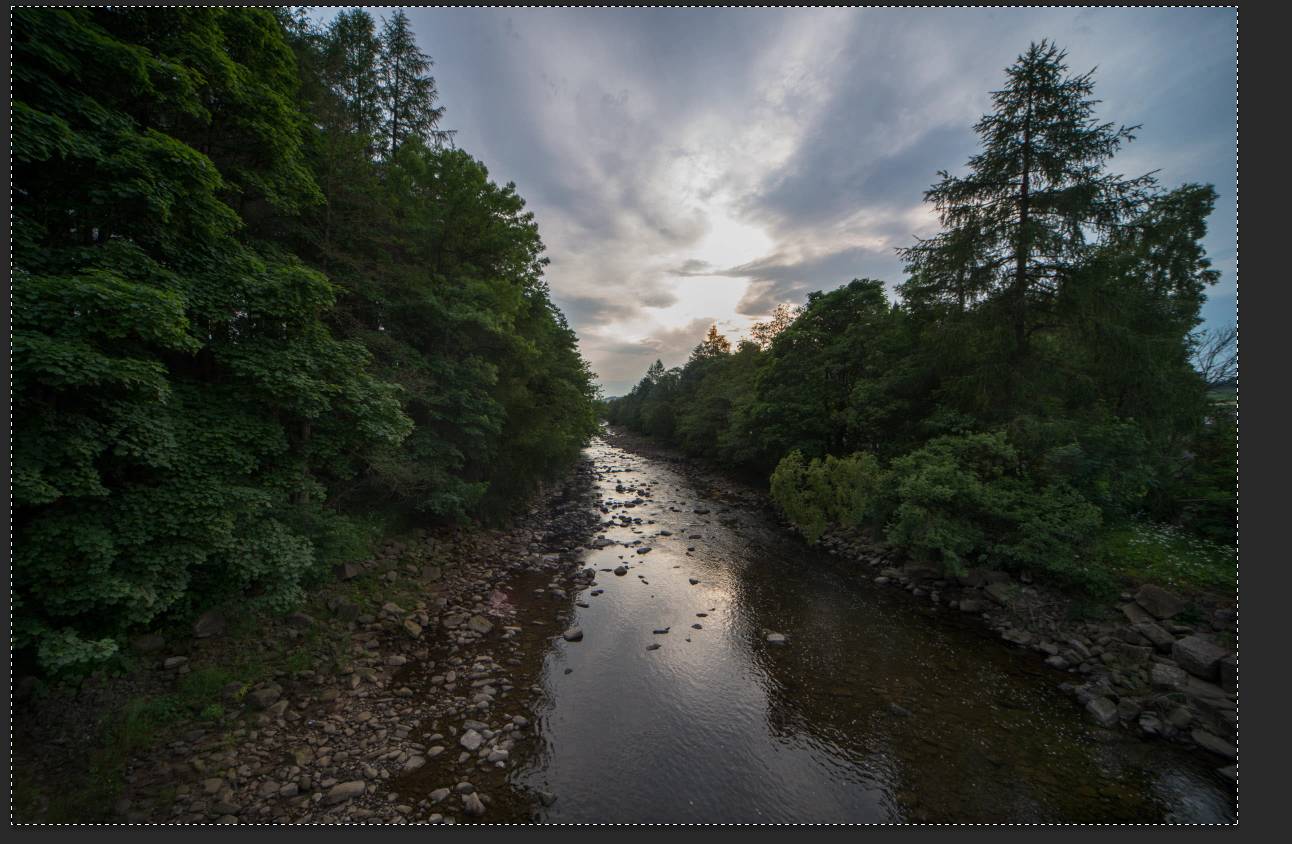 Agrega Profundidad con Subexposición
La capa de curvas ayudó con el contraste global, pero todavía hay áreas de la fotografía que podrían requerir un poco de contraste más fuerte. Utilizando la herramienta Subexposición, con el Rango ajustado en Sombras y la Exposición fija otra vez al 5%, voy a retocar sobre algunas áreas que añadirán más contraste y profundidad cuando se oscurescan.
Puedes ver la diferencia que es causada a las sombras al retocar el cielo algunas veces, mientras se dejan las partes brillantes intactas. Esto ha causado una saturación un poco excesiva y ha destacado algunos halos alrededor del árbol a la izquierda. La capa está todavía al 100% de opacidad, así que bajandola un poco resolverá esas cuestiones.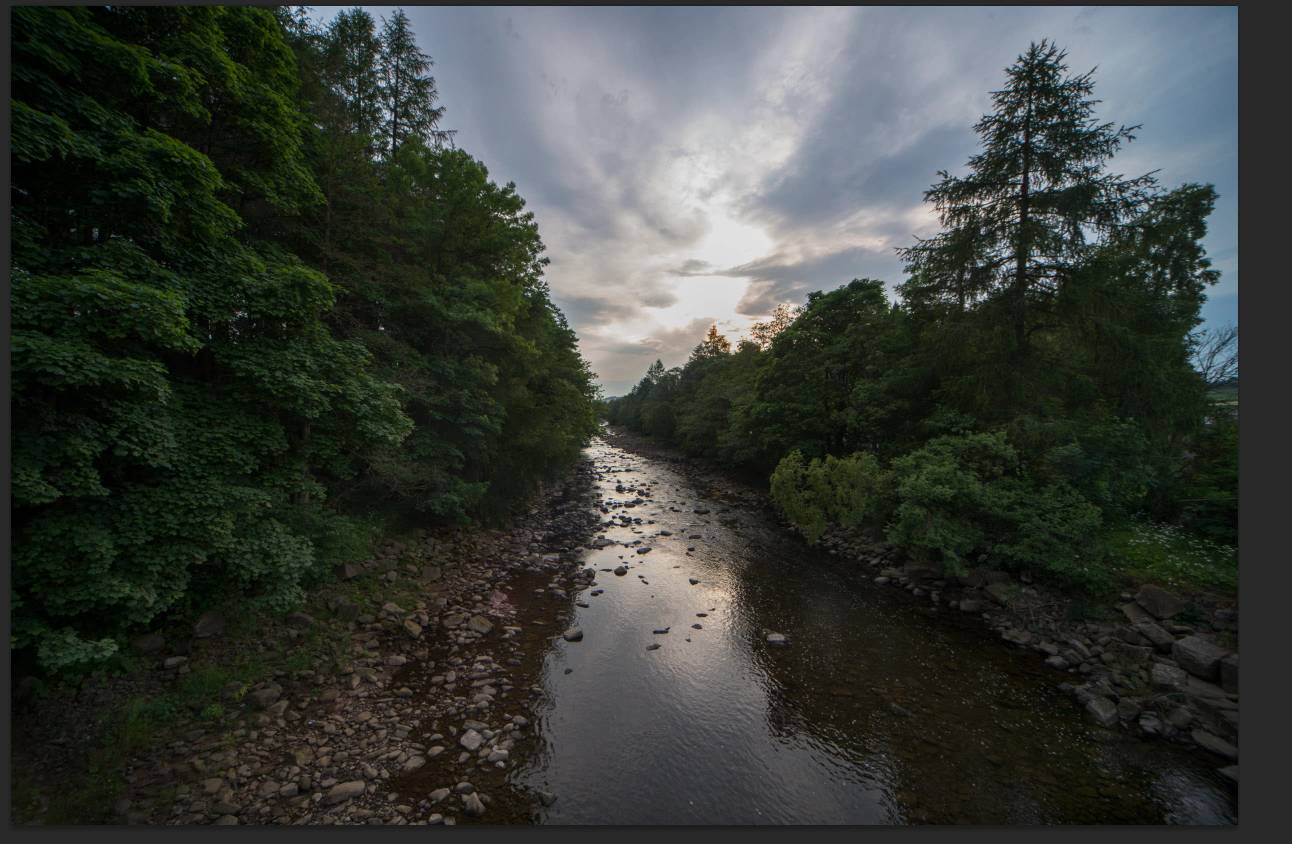 4. Toques Extras
La recuperación de sombras y el agregado de contraste son magnificos usos de sobreexposición y subexposición, pero también los puedes usar para atraer el ojo del espectador a una parte particular de tu imagen. Voy a usar la herramienta Subexposición de nuevo, esta vez con la Exposición ajustada en Sombras, y fundiré alrededor del borde de la imagen para crear una sutil viñeta para ayudar a conducir el ojo al brillante, centro de la imagen.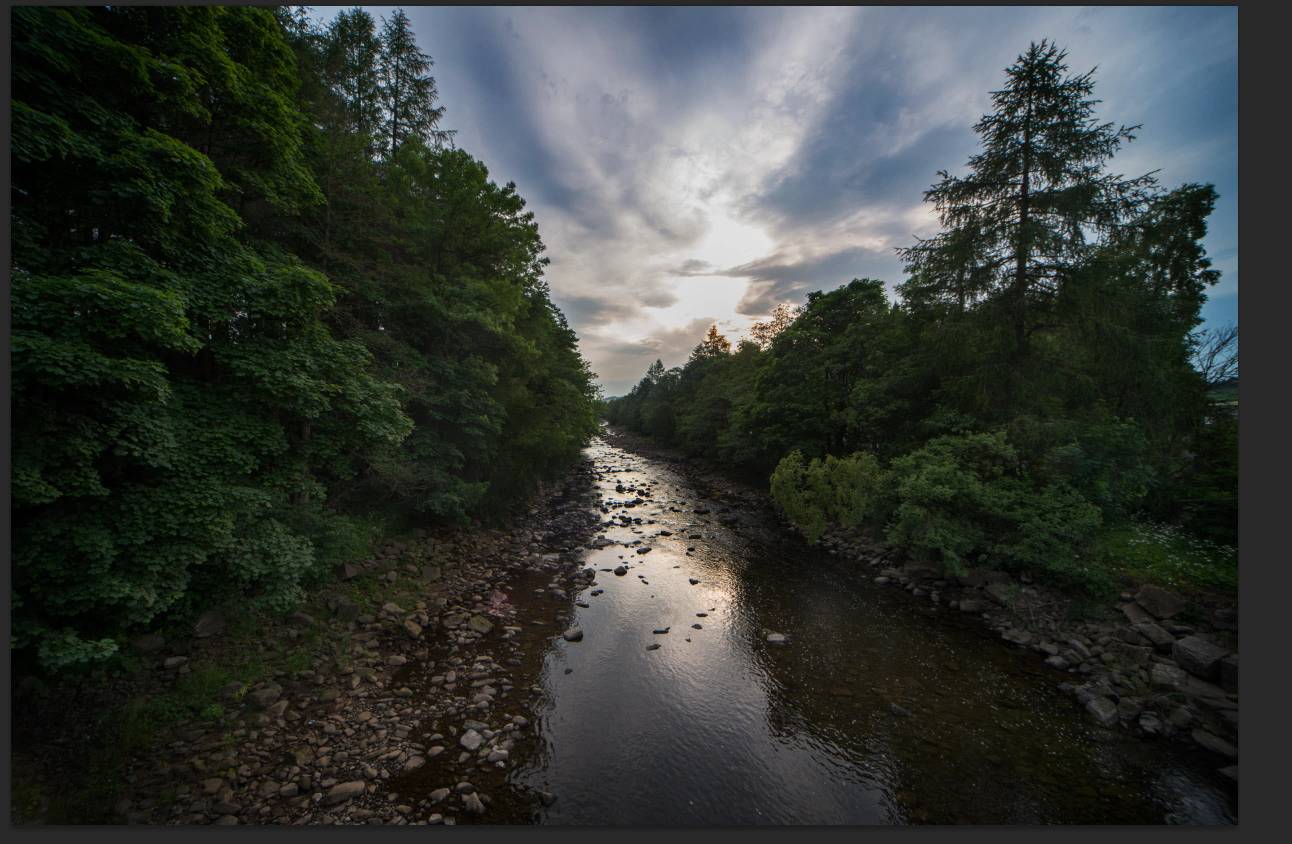 5. Terminando
Una vez que estés feliz con tus cambios, haz cualquier ajuste final a tu imagen. Un problema con sobreexposición y subexposición puede ser la sobre-saturación, así que podrías necesitar hacer uso de una capa de ajuste medio de Saturación para hacer algunas correcciones finales.

Aquí he ajustado ligeramente el balance de color y le he dado un pequeño recorte para quitar la distractiva brecha de los árboles en el extremo derecho.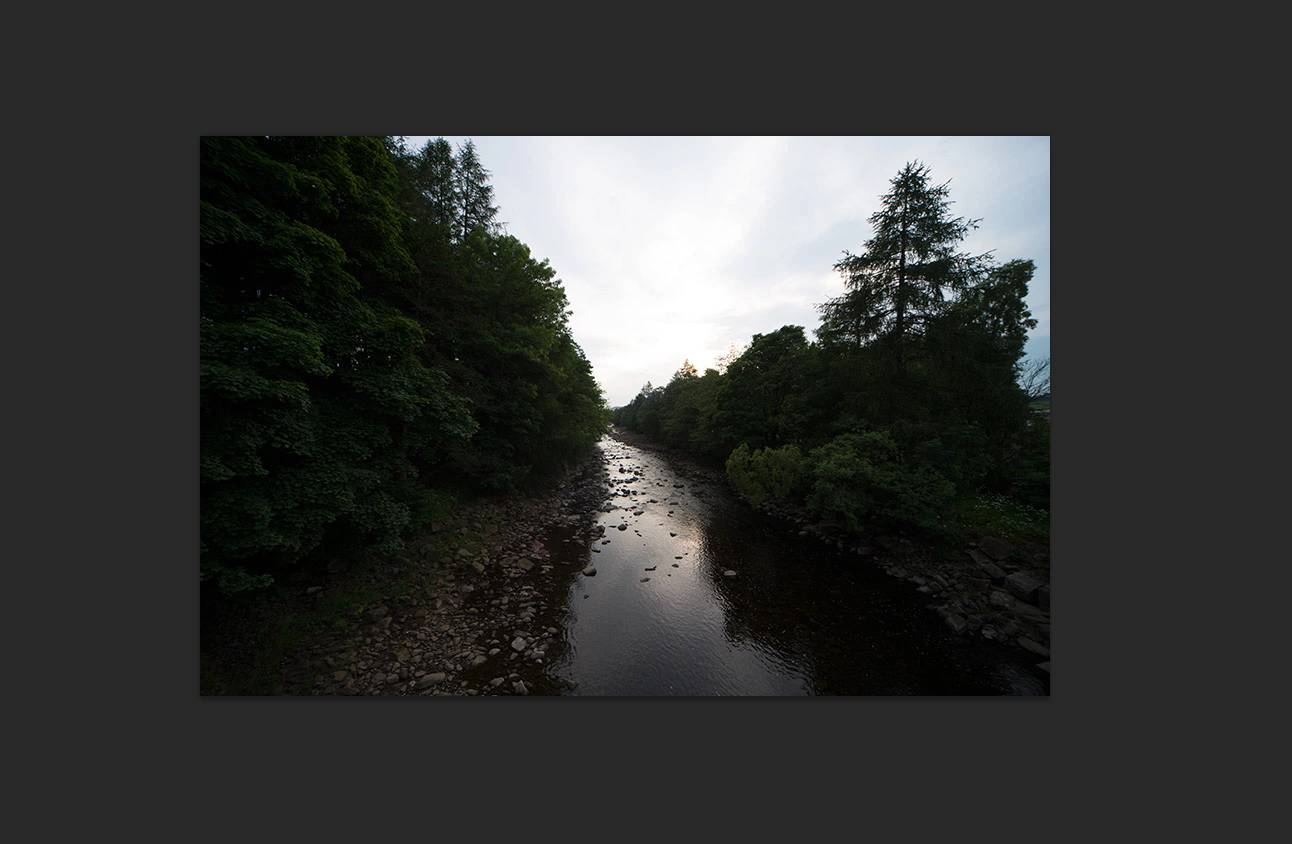 Últimas Ideas
Saber solamente cómo usar Sobreexposición y Subexposición no es suficiente para hacer una imagen perfecta, nunca lo será. En lugar de eso, lo más importante es saber lo que quieres de la imagen. Si no sabes con qué quieres terminar, podrías durar para siempre haciendo cambios y ajustes, y aún así sentir que no está realmente bien. Decidir tu meta final incluso antes de comenzar te ahorrará un montón de problemas y también te detendrá de sobre-hacer cosas.
Asegurate de hacer los ajustes globales primero. Comienza con RAW, si así es como disparas, y juega con las sombras y destellos hasta que se vean como te gustaría. Eso no siempre significará mover los controles deslizantes hasta donde lleguen—recuerda, eso tiene un efecto en todas tus sombras/destellos. El truco en esta etapa es dejar todas las partes de la imagen en un estado de "no a nada" así tendrás la flexibilidad de sobreexponer y subexponer.
Cuando se trata de hacer tus ajustes locales, duplica tus capas, así puedes trabajar en una forma no destructiva y enfocarte en un lugar y método a la vez. Si retocas tu imágen completa entonces se aplicará a todas las áreas de ese rango. Acerca la vista y trabaja en pequeñas partes a la vez, luego alejala para ver la imágen completa, una y otra vez, así puedes saber como se ve en contexto. Cuando estés feliz con una parte, crea una nueva capa duplicada y muévete a la siguiente.
Cuando estés feliz con como se ve tu capa de Sobreexposición y Subexposición, puedes hacer ediciones finales como ajustes de color y temperatura, entre otros. Es importante hacer eso al final, ya que sobreexponer y subexponer puede exagerar colores y resaltar problemas.
Como con todas las cosas, lo lejos que puedas ir con tus ediciones es cuestión de gusto, pero tiendo a pensar que menos es más. De cualquier forma, enloquece en tus capas, siempre y cuando puedas reducir la opacidad y hacer todo el proceso más sutil. Si has editado por un largo tiempo y te has vuelto ciego para distinguir cuando algo es demasiado, guarda tu proyecto y vuelve después, con ojos frescos.

Want a weekly email summary?
Subscribe below and we'll send you a weekly email summary of all new Photo & Video tutorials. Never miss out on learning about the next big thing.
Sign up
Photographer and writer based in north east England.
Marie Gardiner is a writer and photographer from the North East of England. After gaining her degree in Film and Media, Marie worked in the media industry, before leaving to set up the business she runs with her partner: Lonely Tower Film & Media. As well as writing about visual practices like photography and video, Marie is also the author of Sunderland Industrial Giant (The History Press, 2017), Secret Sunderland (Amberley Publishing 2019), and Celebrating Sunderland (Amberley Publishing 2023). Her photographic work focuses on landscapes and industrial ruins, particularly those of the North Pennines as she continues to work on her long-form documentary project Changing Landscapes.
Looking for something to help kick start your next project?
Envato Market
has a range of items for sale to help get you started.