Cindy Burgess
Todos elogian al teléfono inteligente-el dispositivo móvil que permite a periodistas grabar, editar y publicar video más rápido y más fácil que nunca.
Es una fabulosa pieza de tecnología que está cambiano la manera en la que los periodistas alrededor del mundo hacen su trabajo. Pero los teléfonos inteligentes tienen limitaciones cuando se trata de capturar video, como las siguientes:
es incómodo sujetarlos
el tiempo de su batería es limitado
el micrófono integrado no es suficiente para grabar entrevistas
no capturan video de calidad cuando hay poca luz
La buena noticia es que, existen muchos accesorios para teléfonos inteligentes disponibles para ayudar a superar éstos desafíos. Aquí están las mejores cinco herramientas que cada periodista necesita tener para realizar un estupendo video de una noticia:
1.

Estabilizador o Brazo Extensible (Selfie Stick)

Los teléfonos inteligentes son compactos y ligeros, lo que posibilita a los periodistas grabar video rápida y discretamente. Pero éstas mismas prestaciones también dificulta que los dispositivos móviles sean estables, especialmente cuando graban video por más de unos cuantos segundos. Mientras que muchos teléfonos inteligentes más recientes tienen Estabilizador Óptico (OIS) para ayudar a reducir la vibración y el movimiento que son inevitables cuando se captura video con un dispositivo sujetado con la mano, aún querrás añadir alguna clase de dispositivo estabilizador a tu kit.

Uno de los estabilizadores más geniales en el mercado es el DJI Osmo Mobile. Tus tomas serán suaves y estables-aún cuando te estás moviendo-gracias al sistema de cardán de tres ejes.
Descarga la aplicación DJI GO y tendrás control total sobre la cámara de tu dispositivo móvil, además de fenomenales prestaciones como ActiveTrack y Motion Timelapse. ActiveTrack es especialmente útil para periodistas porque te permite asegurar el foco en un sujeto (que podrías ser tu) con un simple toque de la pantalla. Cuando el sujeto se mueve, el Osmo Mobile hace un paneo y se inclina automáticamente para mantenerlos en la grabación.
Si no puedes justificar el gasto del Osmo Mobile (se vende por $399 dólares estadounidenses), hazte de un selfie stick (brazo extensible). Sí, lo sé-son la herramienta de muchas bromas, e incluso están prohibidos en algunos sitios-pero los selfie sticks ofrecen a los videoperiodistas que utilizan teléfonos inteligentes mucha emoción por el dinero gastado.
Digamos que quieres grabar una entrevista, y quieres que la audiencia te pueda ver a tí y a la persona que estás entrevistando en la cámara. Tus brazos tienen un alcance limitado: seguramente, no podrás hacer que los dos aparezcan en la toma (o al menos, no bien). Pero conecta tu teléfono inteligente a un selfie stick y extiéndoelo, y tendrás un campo de visión mucho más amplio.
Un selfie stick hace más fácil sostener tu dispositivo móvil mientras estás grabando un video. También te permite capturar tomas desde puntos altos y bajos. Por ejemplo, si estás grabando un video durante una protesta o manfiestación masiva, podrías extender el selfie stick arriba de tu cabeza para obtener una vista aérea de la multitud. O podrías  usarlo para bajar tu teléfono inteligente hasta el piso para capturar una toma de los pies que marchan en el pavimento.
Otras opciones para estabilización del teléfono inteligente son los trípodes o monópodes, pero recuerda: tu meta es poder moverte. Material más grande solo te dificultaría el desplazarte.
2.
Micrófono Externo
Buen audio es esencial para un video de noticia, pero puede ser difícil capturar con tan solo un teléfono celular. El micrófono integrado de tu dispositivo móvil es muy decente, pero únicamente si estás muy cerca de la acción o de la pesona que está hablando. Si estás en un ambiente ruidoso, olvídalo. Esos micrófonos integrados son omnidireccionales, lo que significa que ellos capturan sonido de todo lo que te rodea. No podrás entender lo que tu sujeto está diciendo por el ruido de fondo.
Así que un micrófono externo es imprescindible para videoperiodistas en movimiento. Hay dos tipos principales: shotgun y lavaliere.
Micrófono Shotgun o de Cañón
Un micrófono de cañón se une directamente a tu dispositivo móvil. Se llamar un micrófono "shotgun" en parte por su forma larga y angosta, pero también por su directividad. Captura sonido de la parte frontal, mientras que minimiza el ruido de la parte posterior y de los laterales.
Micrófono Lavaliere
Un micrófono lavaliere (Iav) también es conocido como un micrófono de solapa o de seguro. Conectas un extremo en tu teléfono inteligente, luego fijas el micrófono a la ropa de la persona que está hablando. Tambén puedes sujetarlo en tu mano cerca de su boca si tu dispositivo móvil es unido a un trípode o selfie stick.
Hay muchos tipos de micrófonos de teléfonos inteligentes para elegir, en una amplia gama de precios. AJ+, por ejemplo, recomienda que los videoperiodistas utilicen el Micrófono Lavalier Audio-Technica ATR3350IS. Una elección popular para micrófonos de cañón es el VideoMic Me de Rode. Tu mejor elección dependerá del fabricante y del modelo de tu dispositivo móvil y de tu presupuesto.
3.

Luz Externa

Los periodistas tienen poco o ningún control de cuando y donde ocurren las noticias, así que tienen que estar preparados para grabar video en todo tipo de ambientes-incluyendo espacios pobremente iluminados y de noche. Condiciones con poca luz son desafiantes para cualquier cámara de video, pero especialmente para los teléfonos inteligentes, que tienes diminutos sensores.

Muchos dispositivos móviles están equipados con una luz integrada que puede ser activada desde dentro de los ajustes de la cámara:
Ésto podría ayudarte en un apuro, pero para mejores resultados realmente necesitas invertir en una luz externa. Más luz significa mejor contraste, mejores detalles y menos ruido de imagen.
Hay una amplia variedad de pequeñas luces portátiles diseñadas específicamente para teléfonos inteligentes. Algunas se conectan a la entrada de los audífonos de tu dispositivo móvil, mientras que otras pueden conectarse de diferentes maneras (lo cual es útil si ya estás usando la entrada del micrófono).
Una de mis luces favoritas es la iBowerSmartphone LED Video Light. Ofrece varias opciones para controlar la luz y conectarla a tu teléfono in teligente, dándote más emoción por la cantidad de dinero que gastas.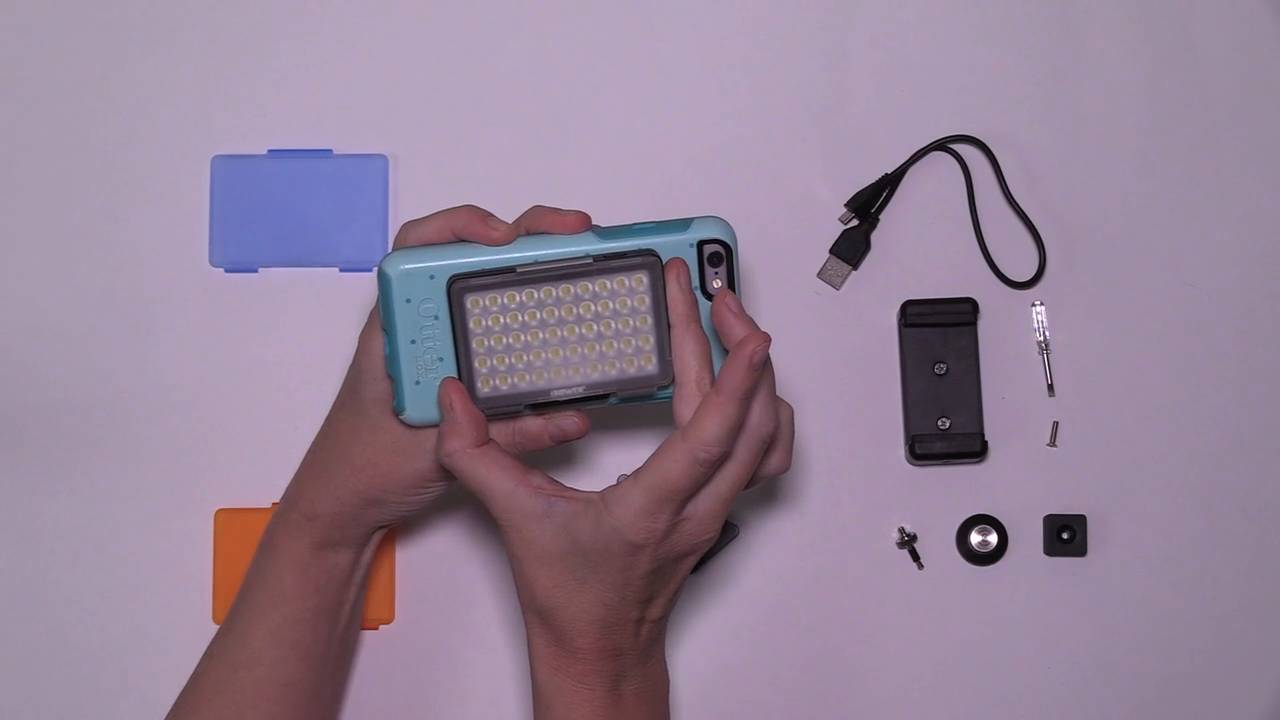 La batería de la iBower dura hasta 18 horas en una sola carga, lo cual es más que suficiente para terminar el trabajo.
4.

Soporte para Accesorios

Para éste punto probablemente te estarás preguntando cómo deberías conectar y cargar todos éstos accesorios cuando tu teléfono inteligente solo tiene una entrada para audífonos y tu tienes únicamente dos manos. Aquí es donde entra en juego un soporte para accesorios o un estuche diseñado específicamnete para teléfonos inteligentes.

Uno de los primeros estuches desarrollados-y todavía considerado por muchos videoperiodistas en movimiento para tener el estándar de oro-es el iOgrapher.
El durable estuche de policarbonato tiene varias zapatas para sujetar luces y micrófonos, y puede ser conectado a cualquier trípode o monópode estándar. Las asas laterales permiten un agarre estable cuando se graba video. Puedes incluso añadir lentes iOgrapher opcionales a la cámara de tu teléfono inteligente para un ángulo amplio o vistas macro.
Si encuentras un poco bromoso el iOgrapher, podrías querer consultar el mCAM de Action Life Media.
5.

Cargador de Batería Portable

Finalmente, grabar video consume mucha energía. Si piensas que la batería de tu teléfono inteligente se agota rápidamente ahora, espera hasta que empieces a grabar o a transmitir video en vivo. No puedes permitirte que se te agote la batería en medio de una noticia importante, así que un banco de energía portátil para recargar la batería de tu teléfono inteligente en cualquier lugar es algo imprescindible.
Cuando decides que banco de energía comprar, necesitas considerar:
el tipo de dispositivo móvil que estás usando
cuántas veces necesitas cargarlo
cuánto peso y cosas bromosas quieres estar transportando
The Wirecutter tiene ha realizado pruebas a docenas de paquetes de baterías USB, y ofrece un excelente resumen de qué bancos de energía son mejores dependiendo de tu particular situación y teléfono inteligente.
Realiza Tu Investigación
Así que solo para recapitular, las mejores cinco herramientas para realizar videoperiodismo con teléfono inteligente son un estabilizador o selfie stick, un micrófono externo, una luz externa, un soporte para accesorios o estuche especializado y un cargador de batería portátil. Existen muchas opciones disponibles para cada una, así que realiza tu investigación. Lo que compres al final dependerá de si estás usando un dispositivo iOS y Android, qué tan antiguo es, y qué clase de historias en video esperas producir.
Want a weekly email summary?
Subscribe below and we'll send you a weekly email summary of all new Photo & Video tutorials. Never miss out on learning about the next big thing.
Sign up
Toronto, Canada
Cindy Burgess has been telling stories with video for more than 20 years. She's worked in all aspects of the TV news industry – both in front of and behind the camera – in markets across Canada, the United States and Central America. Her many skills include producing, shooting, editing, scripting, reporting and hosting. Cindy now runs a video production company and teaches journalism part-time at the college and university level.
Start your 7-day free trial*
*All Individual plans include a 7-day free trial for new customers; then chosen plan price applies. Cancel any time.