Adi Purdila
Dans la deuxième partie de la série j'ai ajouté du tapis sur le sol et en faisant cela je me suis débarrassé de la plupart de l'écho dans la pièce. Maintenant il est temps de passer au prochain niveau et d'affiner le traitement du son.
Ce dont vous avez besoin: Matériaux de sculpture sonore
J'utiliserais deux types de panneaux: les panneaux de mousse d'amortissement (je les appelle "panneaux" à partir de maintenant) et des trappes de graves.
J'ai quatre trappes de graves, chacun mesurant un mètre de hauteur et une largeur d'environ 30cm de chaque côté. J'ai également trois panneaux acoustiques, chacun mesurant deux mètres de longueur d'un mètre de hauteur. Ils ont environ 6 cm d'épaisseur. Ceci est suffisant pour l'application légère que je me prépare—surtout parlé—mais si vous souhaitez régulièrement enregistrer des musiciens, par exemple, vous avez besoin de plus (ou d'une configuration différente) pour la taille et la forme de votre chambre.

Maintenant, pourquoi deux types de matériaux différents? C'est simple. Les panneaux de mousse feront un très bon travail en absorbant les sons de moyenne à haute fréquence. Les trappes de graves sont les meilleurs pour absorber les sons de basse fréquence. En ajoutant des objets absorbant le son de densités multiples à votre pièce, assurez-vous de couvrir autant de gamme de fréquences que possible.
Un mot sur la mousse: recherchez la qualité. Nous avons eu du matériel acoustique en mousse bon marché pour libérer des gaz nocifs. Recherchez des marques de bonne réputation et lisez les revues avant d'acheter.

Maintenant, comment devraient-ils être montés sans endommager les murs? Découvrons-le.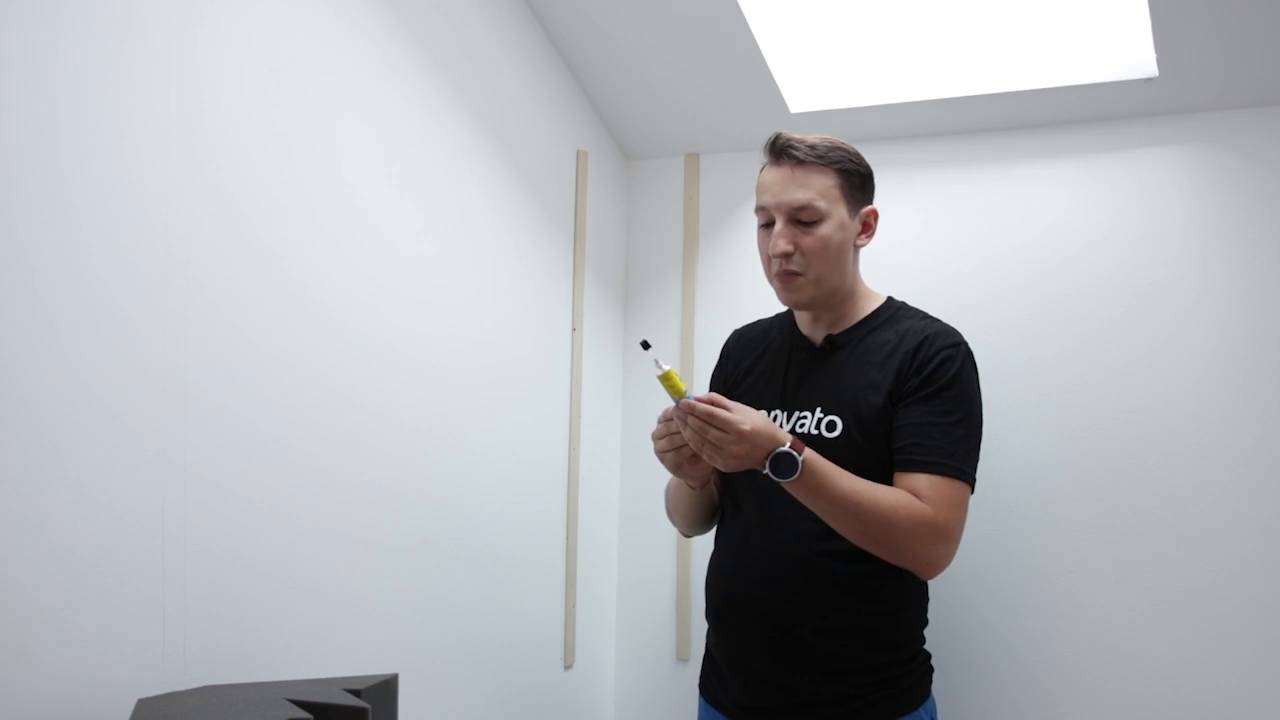 Comment mettre en place les panneaux de son
Les panneaux et les trappes de graves sont en hausse, mais qu'est-ce qui se passe avec le placement des trois plus grands?
Placement de panneaux
Les panneaux que vous montrez devraient négliger autant que possible la réflexion sonore. C'est pourquoi deux d'entre eux sont placés directement en face l'un de l'autre sur les parois latérales (Image 3).
Le troisième panneau est placé devant moi pour arrêter les sons reflétés par ce mur. Idéalement, je voudrais un quatrième panneau placé sur le mur derrière moi, mais puisque c'est la toile de fond, je ne peux pas le faire.
Dans l'ensemble, je suis vraiment satisfait des résultats en utilisant ces trois grands panneaux. Il y a encore un peu d'écho, mais le microphone lavalier n'en reprend pas trop.

Il y a un peu d'équilibre ici: vous souhaitez utiliser suffisamment de ces panneaux pour obtenir votre voix et le son de la tonalité mieux, mais pas tellement qu'il tue toutes les bases et siffle le son. Vous ne voulez pas non plus mettre en place autant de traitements que la salle est difficile à utiliser en studio vidéo. Donc, je quitterai le quatrième panneau du mur arrière, où la toile de fond va, pour l'instant.

J'ai acheté ces panneaux afin que ma tâche soit plus facile, mais que faire si vous êtes sur un budget plus serré? Eh bien, vous pouvez les faire vous-même:
Faites vos propres matériaux de sculpture sonore

Avec un peu de temps et d'efforts, vous pouvez créer certains de ces panneaux vous-même et à un coût beaucoup plus bas.

La première façon, et à certains égards plus simple, est de répéter le dernier tutoriel. Ce qui fonctionne sur le sol fonctionne aussi bien sur les murs: les tapis suspendus font une excellente mise en forme du bruit. Et ça peut paraître cool! Il suffit de faire attention à ce que la couleur du tapis ne reflète pas trop votre éclairage (nous allons aborder l'éclairage plus tard dans cette série).

Voici d'excellentes ressources qui vous aideront à faire exactement cela et vous aideront à en savoir plus sur l'acoustique de la pièce:

Prochaines étapes
Le traitement acoustique est maintenant terminé, il est donc temps de passer à autre chose et de créer la toile de fond. Je vais le faire dans le prochain tutoriel.
Want a weekly email summary?
Subscribe below and we'll send you a weekly email summary of all new Photo & Video tutorials. Never miss out on learning about the next big thing.
Sign up
Adi Purdila is a web design instructor for Tuts+. With over 100 courses and 200 tutorials published to date, Adi's goal is to help students become better web designers and developers by creating content that's easy to follow and offers great value. Being self-taught himself, Adi strongly believes that constant learning (academic or otherwise) is the only way to move forward and achieve your goals. When not typing away at his keyboard, he loves woodworking and caring for his ever-growing family of rescue pets. You can stay up to date with what he's doing by following him on social media or visiting his website at adipurdila.com.
One subscription. Unlimited Downloads.