Marie Gardiner
Dikatakan bahwa sebuah gambar bernilai seribu kata — tetapi kata-kata apa? Betapa mudahnya mengatakan bahwa foto dan video adalah alat storytelling yang powerful, tetapi hanya jika Anda tahu cara menggunakannya. Bagian penting dalam menceritakan kisah pada gambar adalah memberikan video Anda "look" visual yang unik dan khas.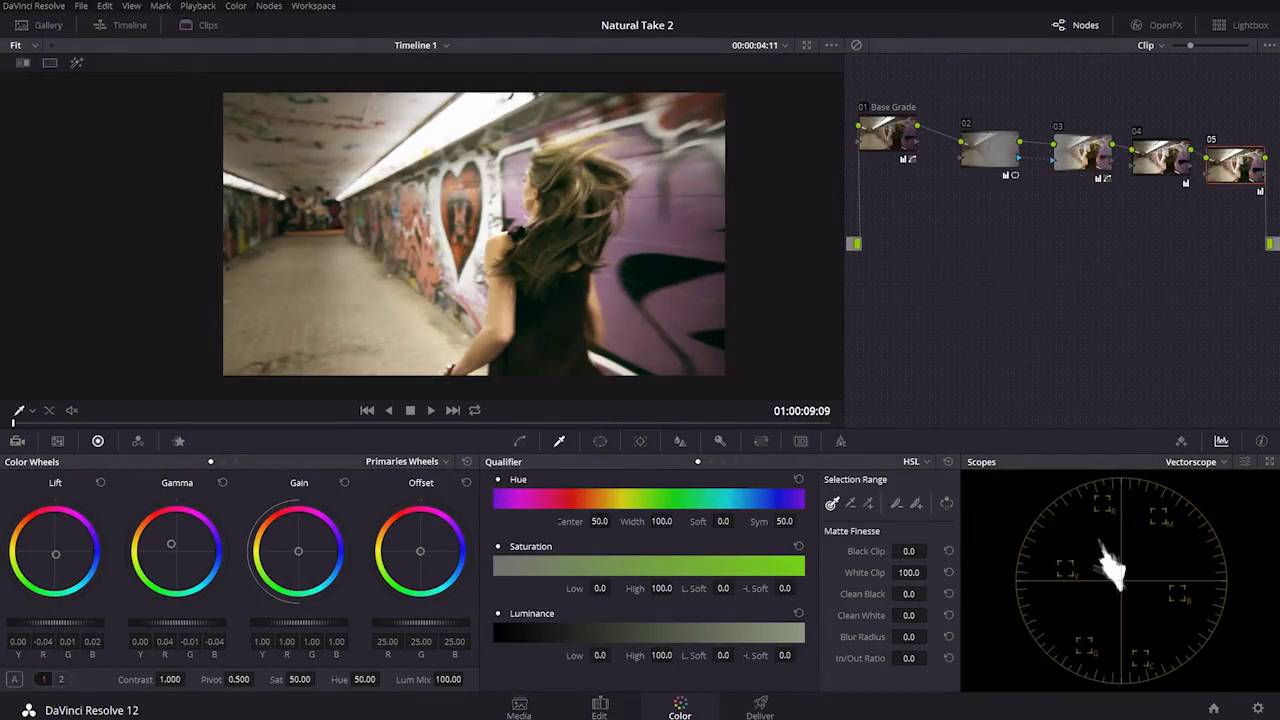 Meskipun penggunaan warna natural adalah awal yang bagus, terkadang merupakan hal yang sangat berguna untuk memberikan sentuhan yang lebih strong agar suatu video benar-benar menonjol. Pikirkan kembali ke acara-acara televisi atau film favorit Anda. Banyak yang mudah diingat karena mereka menggunakan warna yang khas. Seberapa besar look bergantung pada genre — film-film zombie misalnya, cenderung ke arah gritty (berbintik),  pemandangan yang pucat, dan itu lah sifat dari proyek Anda. Apapun situasinya, warna (coloration) adalah deretan antrian visual kepada viewer, memberi kesan apa yang mereka lihat dan mungkin apa yang diharapkan.

Kursus ini memperkenalkan style dari color grading, teknik yang dapat Anda gunakan untuk menghadirkan look yang diimajinasikan ulang untuk video Anda. Style color grading dengan elemen-elemen yang disesuaikan seperti saturation, contrast, dan highlights untuk membawa "suasana" warna yang unik ke dalam produksi Anda. Hati-hati, karena: penyesuaian atau adjustment ini adalah garis tipis antara penarik perhatian dan gangguan. Sangat mudah untuk bertindak terlalu jauh dan berisiko kehilangan perhatian audience karena terlalu over-editing.

Dalam video di atas, Anda akan melihat cara cepat men-transform banyak klip yang sangat berbeda dengan men-style-nya dengan color grade yang seragam. Anda akan melihat bagaimana beragam elemen dapat bekerja sama untuk membangun tampilan baru yang akan membuat para viewer kembali lagi untuk menonton lebih banyak.

Ikuti Kursus Lengkapnya
Ikuti seluruh kursus tentang color grading sebagai bagian dari subscription ke Envato Elements. Elements adalah resource yang murah, dapat Anda mendownload untuk semua jenis asset digital. Sebagai member, Anda akan memiliki stock image, video dan foto template, kursus, dan lebih banyak lagi tersedia di ujung jari Anda.
Lebih Banyak Tutorial Color Grading
Photographer and writer based in north east England.
Marie Gardiner is a writer and photographer from the North East of England. After gaining her degree in Film and Media, Marie worked in the media industry, before leaving to set up the business she runs with her partner: Lonely Tower Film & Media. As well as writing about visual practices like photography and video, Marie is also the author of Sunderland Industrial Giant (The History Press, 2017) and Secret Sunderland (Amberley Publishing 2019). Her photographic work focuses on landscapes and industrial ruins, particularly those of the North Pennines as she continues to work on her long-form documentary project Changing Landscapes.
Looking for something to help kick start your next project?
Envato Market
has a range of items for sale to help get you started.