Read Time:
7 mins
Languages:
With the vast amount of options available to DSLR users, it can be confusing and time-consuming to select all the relevant settings to get the shots that you want. Thankfully, there are few ways in which you can set up your Canon DSLR to allow you to quickly select your preferred settings so you never miss a shot.
---
Custom Settings Using C1, C2 and C3
Utilising the custom options on your pro-level Canon DSLR is a quick and easy way to ensure that you never miss the shot you're after. Using the C1, C2 and C3 options, you can preset certain exposure and camera settings to suit your specific needs.
It may be that you're shooting landscapes and you need to jump to a long exposure settings with a lower ISO, longer shutter speed, auto power-off disabled and 2-second self timer, but don't have time to search through menus to alter all the settings. Well with the custom modes, you can preset your preferred long exposure settings in C1 so all you have to do is simply switch the dial and you're ready to shoot.
How to Load the Custom Modes
In order to create your own modes, set the camera up for a specific shooting mode with the settings that you're most likely to use. For example, for a landscape setting, I would put the camera into manual, select an aperture of f/11 as I know that in most cases that will produce a sharp image with good depth of field.
Once you're happy with your selected settings, simply hit the Menu button, head to one of the wrench icons, within which you'll be able to select Camera User Setting. Through that menu, you'll be able to register the current camera settings to either C1, C2 or C3.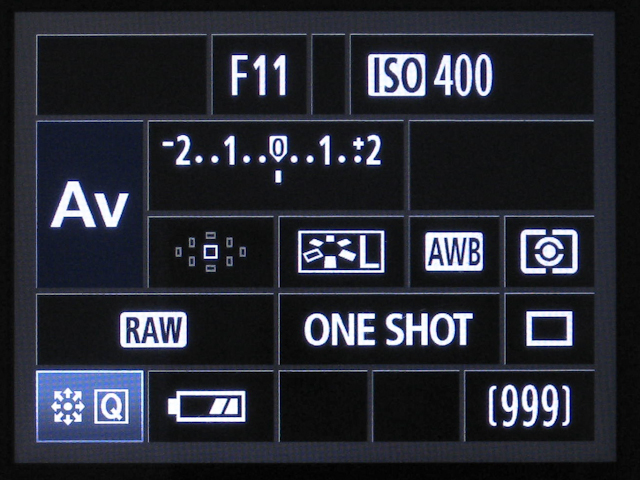 Examples of Custom Modes
I thought it might be useful to offer you some examples of the custom modes that I have created.
Quick Shot
This is the most useful for me, as often I find myself fiddling around in manual mode with different exposure settings and I'll suddenly just need to take a quick shot. So I set have the following setting loaded under C1.
Aperture Priority mode
f/5.6
ISO 400
All AF Points
Single Shot
Auto WB
RAW
Low Light
I'm often shooting in low light at music gigs or in old churches at weddings, so this is always a good option to have!
Shutter Priority
1/60
ISO 3200
Center Point AF
Single Shot
Auto WB
RAW
Long Exposure
For those times when you're out shooting landscapes and it would otherwise take you a few minutes to dial everything in!
f/11
Bulb
ISO 100
Centre Point AF
Single Shot
Auto WB
RAW
Action
Obviously, you only have three slots. However, if you rare shoot long exposures, this might be a good alternative. This is very helpful for sports or photographing fast-moving kids.
Aperture Priority
f/4 (or as wide as the lens will allow to ensure the fastest shutter speed)
ISO 640
AI Servo
Single Shot
Auto WB
RAW
---
Making the Most of 'My Menu'
What Is My Menu?
How often do you find yourself flicking through the seemingly endless menus in your camera to try to find the setting option that you want to change? To solve this problem, Canon has come up with a way of allowing you to prioritise your menu options.
The My Menu option is an extremely useful way of accessing the settings that you use most often. By allowing the individual camera user to select specific menu settings and collating them into one single quick access menu. It's similar to having a selection of favourites in your web browser for the sites that you want quick access to.
How to Create Your My Menu
Creating and managing your My Menu options is extremely easy. Simply enter your menu options and scroll along the icons at the top of the screen and select the green star on the far right hand side.
To add your menu options, select My Menu Settings, then Register, at which point, you'll be able to scroll through the complete list of menu options, selecting your options as you go. You can then arrange the order within the menu using the Sort option, and also remove unwanted selections using the Delete option.
Useful Settings to Have in My Menu
The beauty of it being completely customizable is that you can prioritise whatever menu options you need most often. Personally, I have options such as Image Quality, so I can easily switch between shooting in RAW and JPEG.
I also have selected White Balance so I can switch between WB options. Histogram is also helpful, allowing me to navigate between brightness and RGB. I also have the Erase Image option making easy to clear my card after I've downloaded my images onto my hard drive.
It may be that you want to format your card after every shoot, control the LCD brightness or access the speedlite settings, it's totally up to you.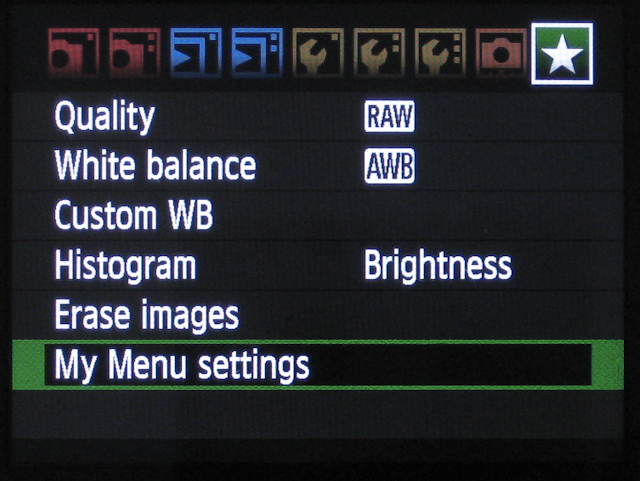 ---
Picture Styles
Another way of ensuring that you capture the image that you want is by employing Canon's Picture Styles. These allow the photographer to make decisions regarding the qualities of the image. Picture styles work in a similar way to choosing a type of film, knowing that different types of film have varying qualities suitable for different types of photography.
Selecting a roll of film may be an alien concept for many of the younger readers, but essentially, these picture styles allow you to create the image you desire using certain presets that affect elements of the image.
Canon cameras come with six pre-loaded picture styles: Standard, Portrait, Landscape, Neutral, Faithful and Monochrome. Each is designed to suit a specific setting in order to produce the most accurate image. The variation within each picture style is dictated by four variants: Sharpness, Contrast, Saturation and Colour Tone. Each picture style has specific settings.
For example, the Landscape picture style is set with high blue-green colour tone to amplify the natural colours and make them more vivid within your image. It also has increased sharpness and contrast to ensure that the details are brought out from the foreground all the way through the image.
Customising Picture Styles
Within the six supplied presets, you actually have the option to customise the image settings, allowing you to, for example, increase the sharpness on the Portrait preset, or alter the contrast within the Monochrome preset. In doing so, you won't loose the original settings, as the camera leaves a reminder arrow on the original setting, allowing you to return to the default with ease.
Arguably the most useful aspect of the picture styles customisation options is the ability to create your own from scratch. You can use one of the presets as a base and then go on to alter the sharpness, contrast, saturation and colour tone as you see fit. This allows you to create picture styles that suit your image and colour preferences depending on the type of images that you take.
Picture Style Files
Canon also offers an extension to the six presets that you will find within your camera with the option to download a set of Picture Style Files that allow for further versatility within the image and colour presets, extending the functionality of picture styles and allowing you as a photographer the best chance of making the image you want.
These options include Studio Portrait, Snapshot Portrait, Nostalgia, Clear, Twilight, Emerald, Autumn Hues and Video Camera X Series Look. Picture style files are available as a download for both in-camera use and with Canon's post-processing software.
---
Take Control of Your Camera
I've always found then when it comes to my gear setup, it pays to be organised. You don't want to be the guy that misses a shot of a lifetime because you didn't have your camera ready in time.
By employing the three simple customization methods that we've been through in this tutorial, you'll be able to get the shots you want without agonising over menus and fiddling with settings. You'll be able to quickly select your personalised presets in order to get the shots you want!
Weekly email summary
Subscribe below and we'll send you a weekly email summary of all new Photo & Video tutorials. Never miss out on learning about the next big thing.
Update me weekly
Translations
Envato Tuts+ tutorials are translated into other languages by our community members—you can be involved too!
Translate this post
Powered by
Looking for something to help kick start your next project?
Envato Market
has a range of items for sale to help get you started.