Melody Nieves
So far in this series of project-based Instagram stories, we've covered everything from How to Create a Color Story on Instagram, to telling stories with simple slideshows in How to Make a Simple Slideshow Story, to How to Tell an Instagram Story With Sequential Images. Today, let's dive into creating a fun photo grid using Adobe Photoshop and easy-to-use apps.

If you need a refresher of the basics on Instagram Stories, then check out our quick overview: Getting Started with Instagram Stories. Or go deeper by attending the free School of Instagram. You'll learn the best tips and tricks for successful Instagram Stories, how to use special apps to create compelling Stories, and more.
What's a Photo Grid?
A photo grid is a collection of photos that are positioned vertically and horizontally to make one overall shape, usually a square or rectangle.

It's kind of like playing Tetris, but with pictures.
And when it comes to sharing your thoughts and experiences on Instagram, photo grids are just one more way to break the ice with your followers.

How to Choose a Theme
So what do you love? Sports? Music? Food? Random adventures? No matter what you pick, just make sure that it's something you love and are passionate about because passion will always be palpable to your viewers.

And because you're super passionate about your theme, you'll likely have more images to choose from. This will be essential because in order to create a photo grid, you'll need more than just one visual.

Can't think of a theme on your own? Take a look at this quick list of five themes to help you decide:
All about you: Selfie addict? Share your favorite photos of yourself.

Daily adventures: Adventure shots from your daily travels.

What's on your playlist?: Your favorite musicians and/or songs right now.

Rest and relaxation: Calm photos to invoke calm or meditative vibes.
Some sound advice: A collection of quick inspirational quotes or profound words to live by.

How to Choose the Right Photos
Create Theme Piles
For this series of stories I'm going to focus on creating three photo grids. Each grid will have at least three images, with room for more if I can creatively make it work. My initial hope is to lead the grid with a quote and then pair it with two or three images that help tell the story.

When working with grids, more is not necessarily better. How your stories show up on everyone's device will differ in scale and even resolution, so you have to try to consider the best way to approach each grid.
Since there are so many things that I love, I'm going to separate each of my photo grids into a different category. So art, love, and travel are three areas of my life that I already love and want more of.

Decide What Works
There are two important factors to consider when choosing the images that will work in your photo grid: the size and orientation of the images, and the relationship between them.  
Although it may not seem like a big deal, the way your photos physically fit together will play a huge role in the success of your story. To fit several photos into a grid, you usually need to crop them and often have to change the original orientation of the photo—crop a landscape orientation to make it portrait, for example. While this is a simple and necessary step, you may lose some of the appeal or power behind your photos if you crop them haphazardly. 
The second factor in deciding what works is the general aesthetic. Simply put, do the three or four photos you've chosen even look good together? But don't fuss too much: view your photos with some distance and try to find those with similar moods, colors, or compositions, and I'm sure it'll all play out well.

Exploring Different Layouts
When creating a layout, first ask yourself some important questions, such as:

What is the most important aspect of your story? 
What do you want people to know about you?
Their answers will help you determine the order your photos should appear as well as how to establish the photo hierarchy. When thinking about the order, think of the photos as chapters in your story: which chapters do you want to tell and in what order? When it comes to hierarchy, the biggest photos, those at the top, and especially those toward the top left take priority. 
Then explore different layout choices. This is especially easy when working with a layout app because they will offer many creative layouts to choose from and will allow you to quickly rearrange the photos in the grid. And don't be afraid to get your hands dirty! Play around with different shapes, the sizes of your images, and the way they've been cropped to make sure you're telling exactly the story that you want.

Want to learn more about storytelling through photography? Check out these tutorials below:

What to Use to Create Photo Grids
Photo grids are so easy to make, whether you decide to use an app or take a more hands-on approach. Here are just two simple ways to create your own.

Photo Grid Apps

For the purpose of this example, I'll be using a combination of Photo Grid and Adobe Photoshop to create my stories.

You can download Photo Grid for free for your devices through the Google Play or iTunes app stores. Want more filters, effects, or layouts to choose from? Here are just a few more apps that share similar capabilities:
To create a photo grid with the Photo Grid app, first select all the photos you would like to use. Then choose the layout you desire. Here I'll keep this example simple with a square. But just as a reminder, Instagram Stories are best created in portrait orientation or else your photos will automatically appear zoomed in.

Finish with filters, stickers, or switch up the background for more personality. It's as simple as that! Save your grid to your device, then upload it to Instagram.

Adobe Photoshop
If you love having control over what you present, consider creating your photo grid with Adobe Photoshop.
To create a grid in Photoshop, I first opened a New Document at 1440x2560 pixels. These are the typical dimensions of photos displayed on my cell phone and I find that those dimensions work best on Instagram Stories. 
Then I Copy and Paste each photo I would like to use onto its own layer, then organize the photos for each theme into their own Groups. Use the Free Transform Tool (Control-T) to adjust the size of each photo and position it into place.
For some of my pictures, I decided to overlay a quick quote using the Text Tool (T). 

Play with the layouts, flip your photos by going to Edit > Transform > Flip Horizontal, or use Adjustment Layers like Color Lookup for fun, colorful effects. Just like before, save your new photo grid to your device before finally uploading it to Instagram.

The Final Instagram Story

Stand out from the crowd and share your life in a creative way with photo grids on Instagram Stories. Put your own twist on your grids by taking advantage of Adobe Photoshop and easy-to-use apps. Try including filters, drawings, or emojis that you can access easily in the apps and on Instagram Stories. When you're finished, upload your grids to share with your followers.
Check out my final story in this quick video below.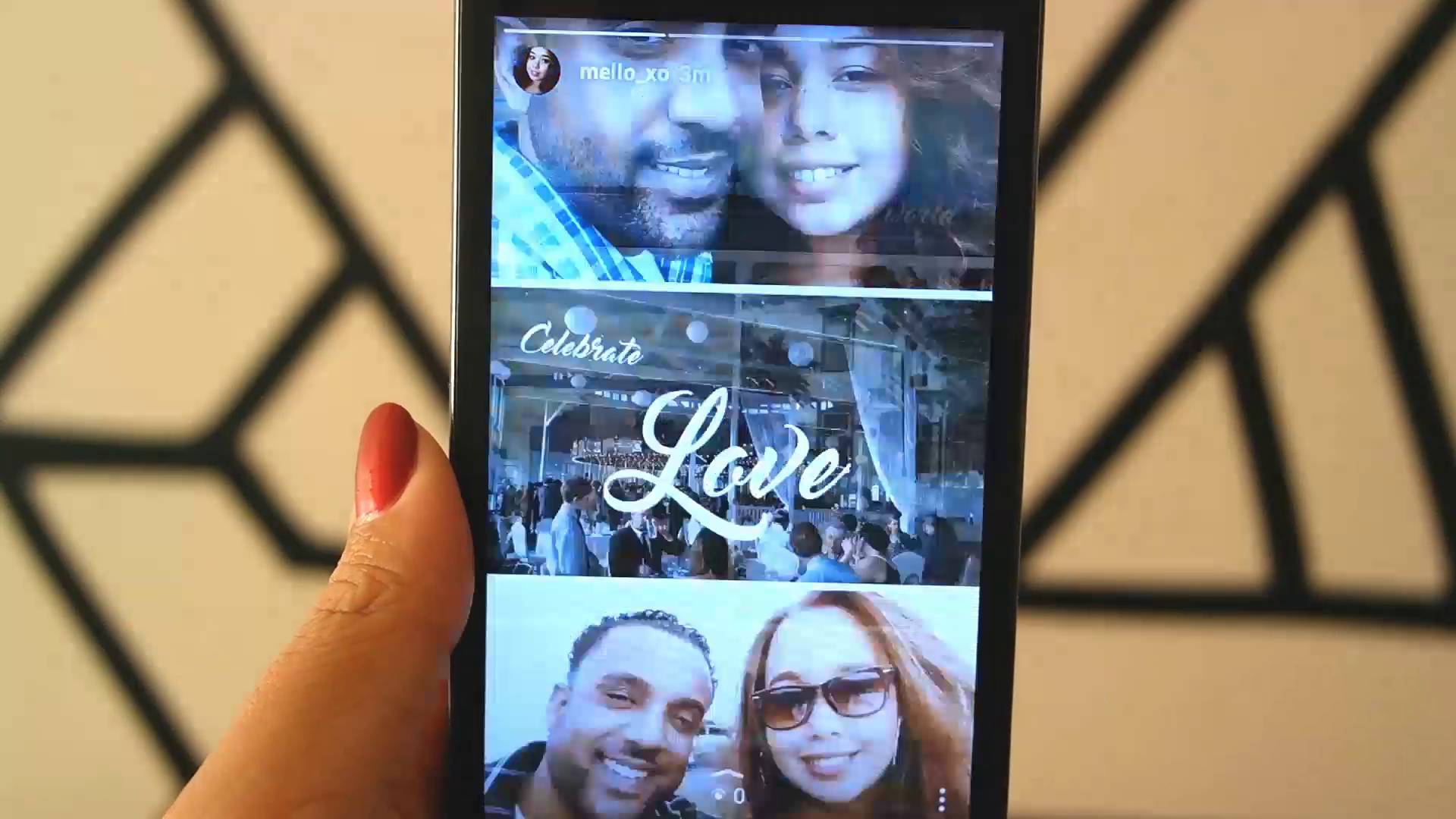 Have any great ideas for more creative Instagram stories? Share them with us in the comments below!

Build an Instagram Website with Milkshake
Milkshake is an Instagram website maker. Milkshake will help you create a free website for your Instagram profile all on your phone, instantly. Show the world what you're made of, and build a beautiful website for your Instagram fans and followers. Check out Milkshake. 
Want a weekly email summary?
Subscribe below and we'll send you a weekly email summary of all new Photo & Video tutorials. Never miss out on learning about the next big thing.
Sign up
Digital Artist - CT, USA
I'm an Afro-Latina digital artist originally from Long Island, NY. I love to paint, design, and photo manipulate in Adobe Photoshop while helping others learn too. Follow me on
Instagram
or tweet me
@MelloNieves
and tell me what you'd like to see next!
Looking for something to help kick start your next project?
Envato Market
has a range of items for sale to help get you started.