Read Time:
7 mins
Languages:
Podcasts have seen such an uptick in popularity, and with many spending more time at home in the current climate, there's the potential for even bigger audiences than usual. Here we'll take a look at how you can add an audio visualiser to your podcast audio, why you might want to do that (hint: it's YouTube), and a how to customize a react template for After Effects.
What is an Audio React Visualiser?
In a nutshell, an Audio React Visualiser is a graphic that moves in time to whatever audio track you set with it. They range from the very visually interesting, things like cartoon animations to glitch effects, effects around logos, to subtler, simpler, cleaner looks.
Why Use An Audio React Visualiser for Your Podcast?
There are lots of reasons that you might want visuals to accompany sound – audio visualisers are really popular with DJs for example, as it's a nice extra to have some cool movement to play with a set.
You might wonder why you'd want to use an audio visualiser with something that's primarily speech audio, like a podcast. Generally podcasts are being hosted on platforms that don't fit well (or allow) moving visuals.
However, some podcasts fit better in places other than the standard platforms, and that's when adding interesting visuals can be of real benefit.
Ian R Buck makes a compelling argument for as to why you should publish your podcast on YouTube, citing an increase of 50% in listenership from his test. Ian also lists benefits like being able to more easily monetise your content on YouTube through adverts, expanding thinking around added context like timestamps and search algorithms, and being able to encourage greater audience feedback via YouTube when compared to standard podcast platforms.
There's also the question of audience and where yours is likely to be. If your podcast is about gaming, for example, your core audience are more likely to be on YouTube than they are to be on podcast hosting sites. This means you're more likely to pick up extra viewers because your content (or content like it) is what users are actively searching for, particularly if you're specific to a certain game or platform.
If we're saying that YouTube can be a better place to host a certain type of podcast, then we inevitably come to the fact that YouTube doesn't let you upload just audio. If that's where you want to put your podcast then it makes sense to create something visually engaging to go with it. 
Let's take a look at how you can do that in After Effects.
How to Make a Video for Your Podcast with an Audio React Animation Template for After Effects
For this demonstration, I used Cassette Audio Visualizer from Envato Elements, where everything is available to download as part of a subscription. There are lots of other Audio React templates to choose from, too. Here's what the animation looks like, after the video we'll jump into how to customise the template for your podcast: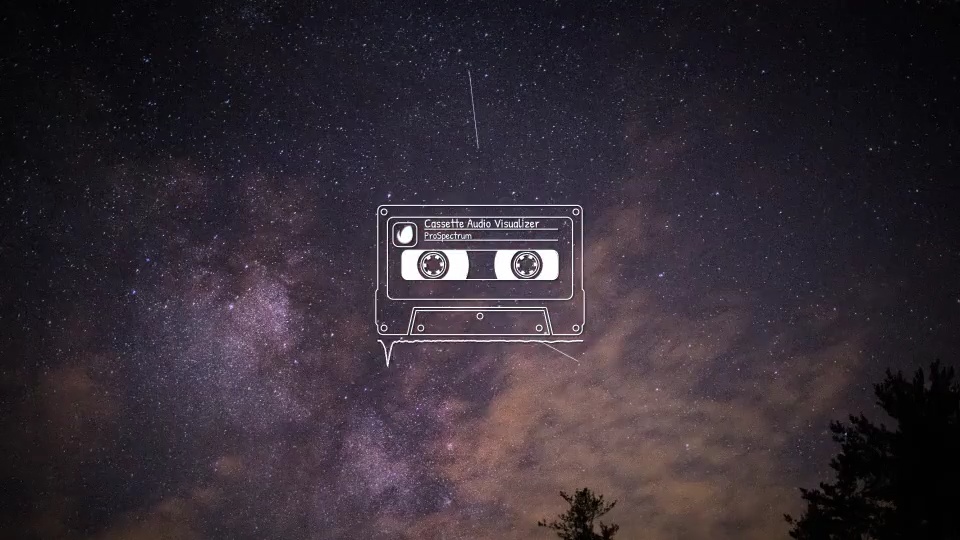 Open the Template
This is how the project looks when you open it in After Effects.
You'll see the main output is broken down into three: settings and two text layers which correspond to the writing on the tape. The project window contains folders and sub folders that related to different aspects of the template.
Add Your Assets
Hit File > Import to add your assets. Obviously you'll want your audio, but you can think about visuals like podcast or channel branding, and logos.
The assets should drop into logical folders in the Project panel.
Change the Text
Changing the text is really simple in this template. In Main on your timeline, double click on the text you want to change and name it something related to your podcast. 
Place Audio
You've already imported your assets, so find the folder in Project that your audio is in and drag the audio file onto your timeline.
Click on the Main folder in the timeline to go back to the composition and you'll see the waveform underneath the cassette, which will move to your audio.
Add Branding
It's wise to add something that tells your audience at a glance who you are and what this is they're listening to, so try to add a logo or some other imagery if you can.
If you have a logo, you can add that to the tape. Open the Edit folder and double click on Logo to open it into your timeline. It'll be an empty placeholder, so drag your logo from the Project panel in the same way as you did with the audio, into the placeholder.
You'll need to resize it to fit the placeholder so that it looks right on the cassette.
Once you've added your logo, you'll need to make it visible, as it's set to off by default. To do this, go back to the Main folder on your timeline and double-click Settings to open the effects tab. Scroll down until you find Logo and click it to change it to 'on'.
Change Background
The template comes with a default background but you can add your own branding or just a different texture or colour to fit your brand using an image file.
Once imported in the same way as you've done with other assets, find your image in the Project panel and drag it onto your timeline.
With this particular template it's worth remembering that the cassette design is an outline, so anything you place behind it will show through.
You'll need to switch the background to 'on' in the same way you did for the logo, by going into Settings then Effects.
More Adjustments
Even though this is a nice simple template, it has the potential to make more changes if you feel confident to: things like the colour of the waveform can be changed, as can the cassette colour, you can add a vignette and so on.
The best way to do that is to further explore the Settings folder. This is where all the potential design variables are and you can test what looks good by making adjustments and switching different elements off and on to see what works best.
Render and Upload!
When you're all done, just export your project to your desired format and upload it to YouTube.
More Help to Get Your Podcast Started
Read the Envato Video Marketing Guide
Boost your video marketing skills with our comprehensive guide: You'll learn video marketing from start to finish.
Download Free Video Assets From Mixkit
Check out Mixkit for free stock videos, free stock music, and free templates for Adobe Premiere Pro.
Make a Motion Graphics Video Online With PlaceIt
You don't need professional software to create visually-appealing videos, you can make them right in your browser: PlaceIt is an online service with a video maker uses professionally-designed motion graphics templates.
Envato Elements: Unlimited Downloads
Envato Elements offers millions of stock items: photos, music, video clips, fonts, video project templates for After Effects, Premiere Pro, Final Cut Pro and Motion, and creative courses from Envato Tuts+, all with a single subscription.
Weekly email summary
Subscribe below and we'll send you a weekly email summary of all new Photo & Video tutorials. Never miss out on learning about the next big thing.
Update me weekly
Translations
Envato Tuts+ tutorials are translated into other languages by our community members—you can be involved too!
Translate this post
Powered by
Looking for something to help kick start your next project?
Envato Market
has a range of items for sale to help get you started.