André Bluteau
You are alone in an empty mall at midnight. Hazy pink and blue neon lights colour the food court. You can hear arcade machines pinging faintly while wordless elevator music plays over far-away speakers. You feel, though you are not sure why, overwhelming nostalgia. In the dull polish of the concrete floor, you see a shimmering vision both other-worldly and oddly familiar: welcome to the vaporwave.
On this page, we'll take a look at ten Top Final Cut Pro vapourwave templates, with premium templates from Envato Elements and Envato Market, plus a free template from Mixkit, to help you craft a vaporwave-style video.
Top Vapourwave Templates for Final Cut Pro
Vaporwave is a look born from of the meeting of lo-fi internet culture and unbridled arch-capitalist utopia fantasies. The aesthetic combines influences of 80's and early 90's Japanese consumerism—tape cassettes, VHS players, boxy futuristic cars, neon signs, and vibrant city development—with internet-y themes, memes, and the visuals of analog or early computer graphics.
Featured Template Pack for Vapourwave Videos From Envato Elements
This template features classic VHS overlays and beautiful era-specific typography to create a stylish, stylized opener.
Creating the vaporwave aesthetic can be as simple or as complicated as you'd like. On the one side of the spectrum, you can go all out and make something highly stylized. On the other, you can also pick and choose the aspects of the look that you like, using the aesthetic as an undertone to your videos. In between, you can play with what you think makes this genre interesting. How do you imagine what different futures might have looked like?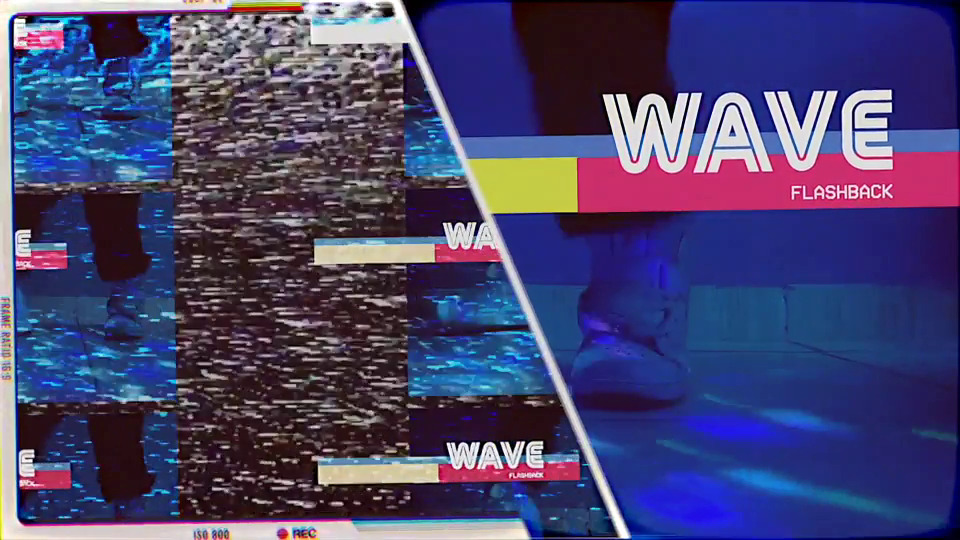 Project Details
This project was created by Envato Elements author Motionsparrow.
Program version
: Apple Motion 5, FCPX
10.4.6 and above
Requirements: none, no plugins needed
Resolution: 1920x1080 HD 
Key Features
VHS Opener comes packed with seven media placeholders, seven text placeholders, and a logo placeholder.
Download and Try
With a subscription to Envato Elements you get unlimited Final Cut Pro templates and more.
More Top Vaporwave Templates From Envato Elements
Unlimited downloads from Envato Elements makes it easy! You can try as many Final Cut Pro Templates as you'd like! If you are looking for more vapourwave templates to round out your video, check out these fantastic alternatives:
First up, take a look at VHS Opener, another opener of the same name. This template has many of the same over-arching themes as our featured asset, though executed differently. Next up, try Neon Creative Titles, a brand new template on Elements that features six high quality retro titles to choose from. And check out Glitch Logo Reveal and Glitch Logos, which are both great options for both reveals and stings. Last, but not least, VHS Transition Pack can be used to keep continuity to your video's transitions.
Final Cut Pro Vapourwave Templates on Envato Market
An Elements subscription might not fit your project: with Final Cut Pro templates from Envato Market you can keep your work on a budget without loosing out on style. 
Try using this great static overlay pack, featuring five options with alpha channels as the foundation to build your own vapourware video from the ground up! 
Check out this pack that has 15 amazing analog overlays of glitches and beautiful textures that are perfect to tone down the digital sharpness and contrast of your video. These overlays have been captured at a high quality 16:9 aspect ratio.
This is a little different than the others on this list! Neon Instagram Stories features five classic retro-styled stories with drag-and-drop templates for ease of use. This a full vertical formatted FCP template that's perfect for social media!
Analog tech inspired overlays are an amazing way to achieve an authentic vapourwave vibe. This pack contains. 76 unique overlays, making it a perfect toolkit to have in your arsenal.
Free FCP Template from Mixkit
For FCP templates that are completely free try Mixkit, here's one of the best for a vaporwave.
This is a creative glitch effect with a beautiful distortion as one clip moves to another.
More Resources for Filmmaking and Creating Vaporwave-Inspired Videos
If you are filming your own video, adjusting your camera settings and using filters is a great way to improve your results. This aesthetic has a softer image, in all respects, and making a few practical adjustments can really help sell the look. Of course, you don't have to do all of these things. Sometimes less is more.
In-camera, try turn downing your contrast and sharpness. 
Shoot in classic 4:3 aspect ratio. Doing this in-camera really aids with your framing.
Use soft light: by diffusing or bouncing your light source you are able to make subject look more natural.
Filters: The Black Pro Mist 1/8 is a great diffusion filter that blooms light sources and softens skin.
Making these changes can really help your footage fit with retro-inspired templates. The trade off in doing things in-camera rather than all in post is that you're married to your choices from the get-go. 
Keep Learning With Envato Tuts+
Here are more free resources from Envato Tuts+.
Recommended Tutorials
Learning the ins and out of filmmaking is made fun and enjoyable with Envato Tuts+. There are thousands of award winning guides, giving you everything from quick tips to in-depth courses, taking you through the needed steps to create great work. If you're just staring out making video, check out Recording Video with a DSLR, how to Record Better Video on Your Smartphone, and Learn the Lingo, Camera Shots & Techniques in Storyboarding to get started.
After you've gotten comfortable with your camera, try following along with Video Editing in Final Cut, Introduction to Video Editing in Premiere Pro, and Setting Up Your Mac for Photo and Video to help you start out with editing.
Free Video Courses: Follow Envato Tuts+ on YouTube
Subscribe to the Envato Tuts+ YouTube channel for free courses taking you through step-by-step on a variety of software, subjects and techniques. Plus we regularly post the hottest trends and tips. Here is a great course covering the animation of an urban rainfall in a very vaporwave-inspired, Neo Tokyo type scene by Jonathan Lam!
More Video Resources
Envato has tonnes of amazing resources for you to try. PlaceIt lets you easily make high quality motion graphics directly in your browser, no software needed! Envato Studio connects you with creative talent for your projects. Reshot has free photos, icons, and graphics. Twenty20 has a diverse library of stock photography and thoughtfully curated collections.
More FCP Templates
Find more top templates for Final Cut Pro X in these articles:
About This Page
How We Picked
We looked at projects and considered all kinds of variables, including organization, complexity, experience required and overall difficulty, minimum hardware specifications, included versions and options, formats, resolution, file size, dependencies and required plug-ins (if any), language options, software versions supported, style, design, and cost. You can read more about how we select items at How We Pick Video Templates to Feature on Envato Tuts+.
This page was edited and published by Jackson Couse.
Share Your Craft on the Envato Forums
Last but not least! if you find yourself using one of these Final Cut templates, let us know by joining the Envato forums. We look forward to seeing your creations!
Want a weekly email summary?
Subscribe below and we'll send you a weekly email summary of all new Photo & Video tutorials. Never miss out on learning about the next big thing.
Sign up
Ottawa, Canada
Andre Bluteau is a writer and producer based out of Canada. He specialises in Adobe Creative Cloud, Final Cut Pro X, and Logic.
Scroll to top
Looking for something to help kick start your next project?
Envato Market
has a range of items for sale to help get you started.