Andrew Childress
Cualquier vídeo puede beneficiarse de un título llamativo. Un texto sencillo puede explicar el propósito del vídeo y añadir comentarios que el audio no puede captar.
Los mejores títulos Final Cut Pro siguen unos pocos principios clave: son rápidos (pero no demasiado rápidos), son atractivos y son llamativos. Hoy te presentaremos 20 de las mejores plantillas Final Cut Pro y aprenderás a utilizarlas para crear títulos animados para vídeo en Final Cut Pro.
Las 15 mejores plantillas de títulos Final Cut Pro
La ventaja de utilizar las plantillas de títulos es que no tendrás que empezar a trabajar desde cero: en lugar de aprender animación y crear títulos para vídeos desde cero, podrás utilizar el trabajo de otros para ahorrarte horas de trabajo de diseño. Solo tienes que abrir un título, añadir tu texto y elegir los colores, y lo verás animado en el lienzo.
Cuando estés listo para añadir un título, empieza con una plantilla de Envato Elements. Este servicio de descargas ilimitadas para creativos te ofrece cientos de plantillas Final Cut Pro, además de un millón de recursos en categorías como imágenes de stock, gráficos, metrajes y mucho más.
Veamos 15 de mis opciones favoritas disponibles en Envato Elements para crear títulos animados para vídeo. Nota: muchas de estas plantillas Final Cut Pro requieren el software Motion de Apple para personalizar completamente la animación.
Con 30 impresionantes opciones de títulos, es un hecho que este paquete te encantará. Cada título es completamente personalizable para adaptarse a cualquier necesidad, tanto si estás trabajando en un vídeo promocional profesional como en un vídeo para redes sociales, seguramente encontrarás las plantillas de títulos Final Cut Pro más elegantes para ti.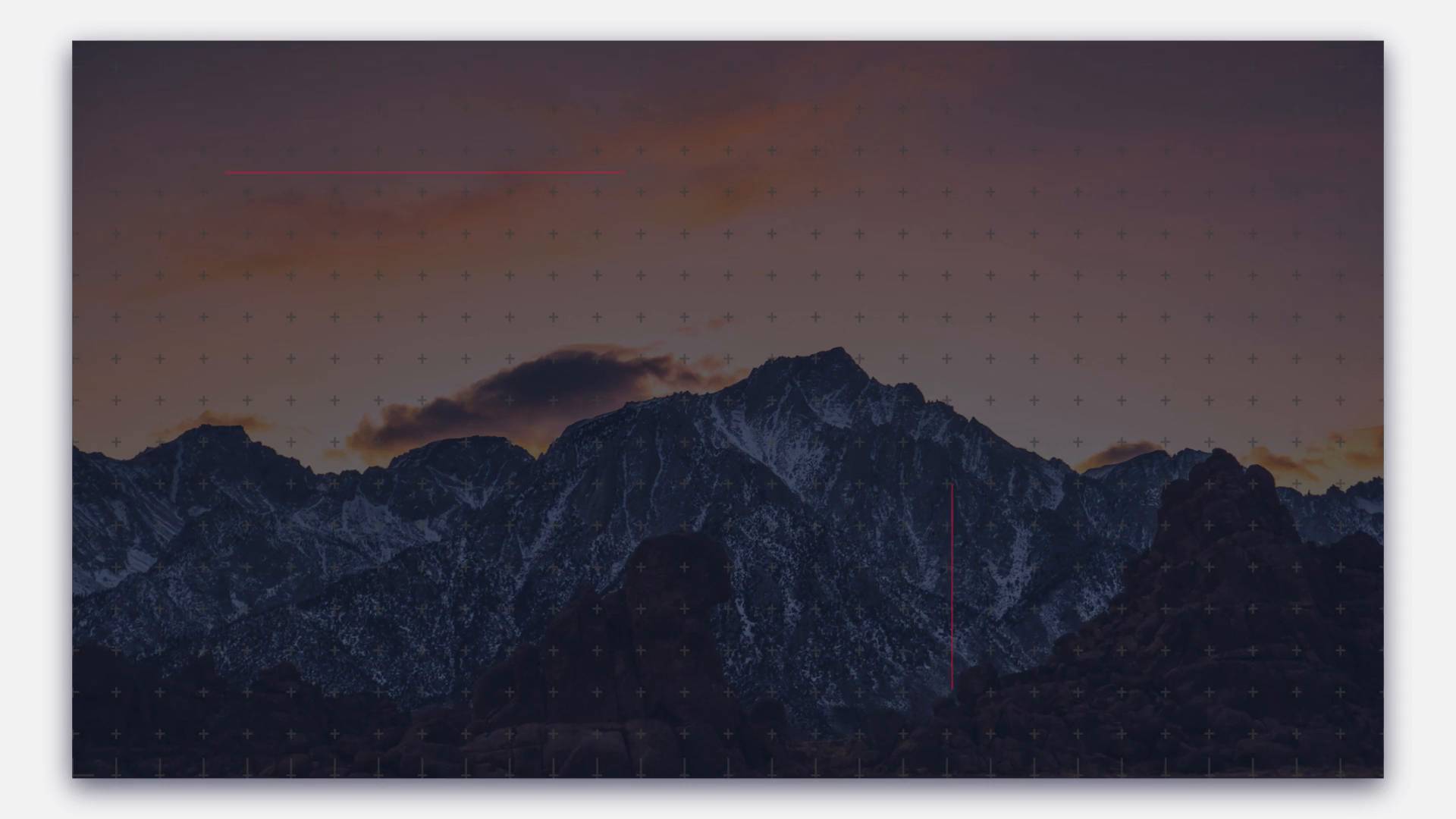 El extravagante estilo de distorsión le dará un toque grunge a tus producciones. Consíguelo con este paquete de títulos para Final Cut Pro con geniales efectos de distorsión. Elige entre 15 animaciones para una máxima personalización.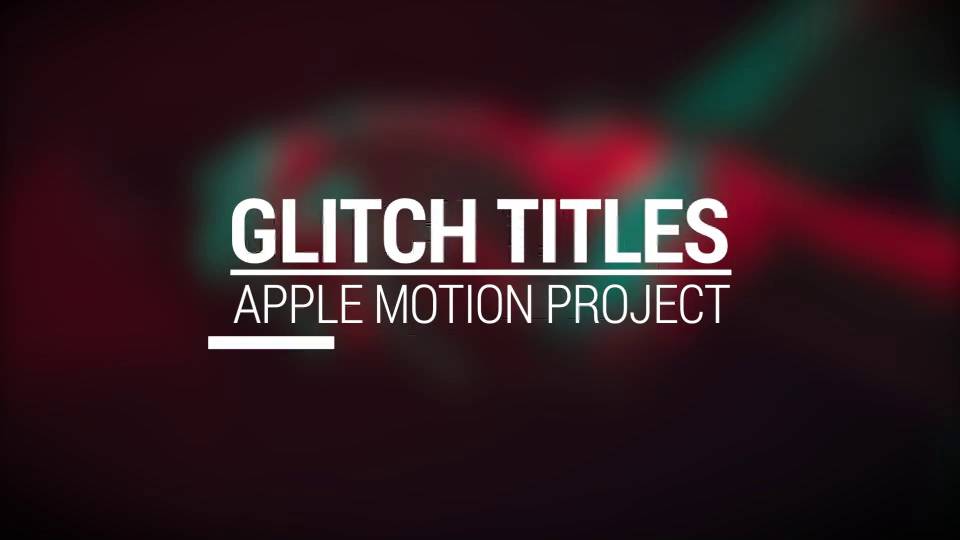 Las tipografías animadas añaden un toque personal a cualquier vídeo, puesto que integran a la perfección las palabras y el vídeo en un movimiento único y fluido. Y con esta sencilla plantilla, puedes añadirlas a tu propio trabajo en un instante y crear títulos para vídeos en poco tiempo.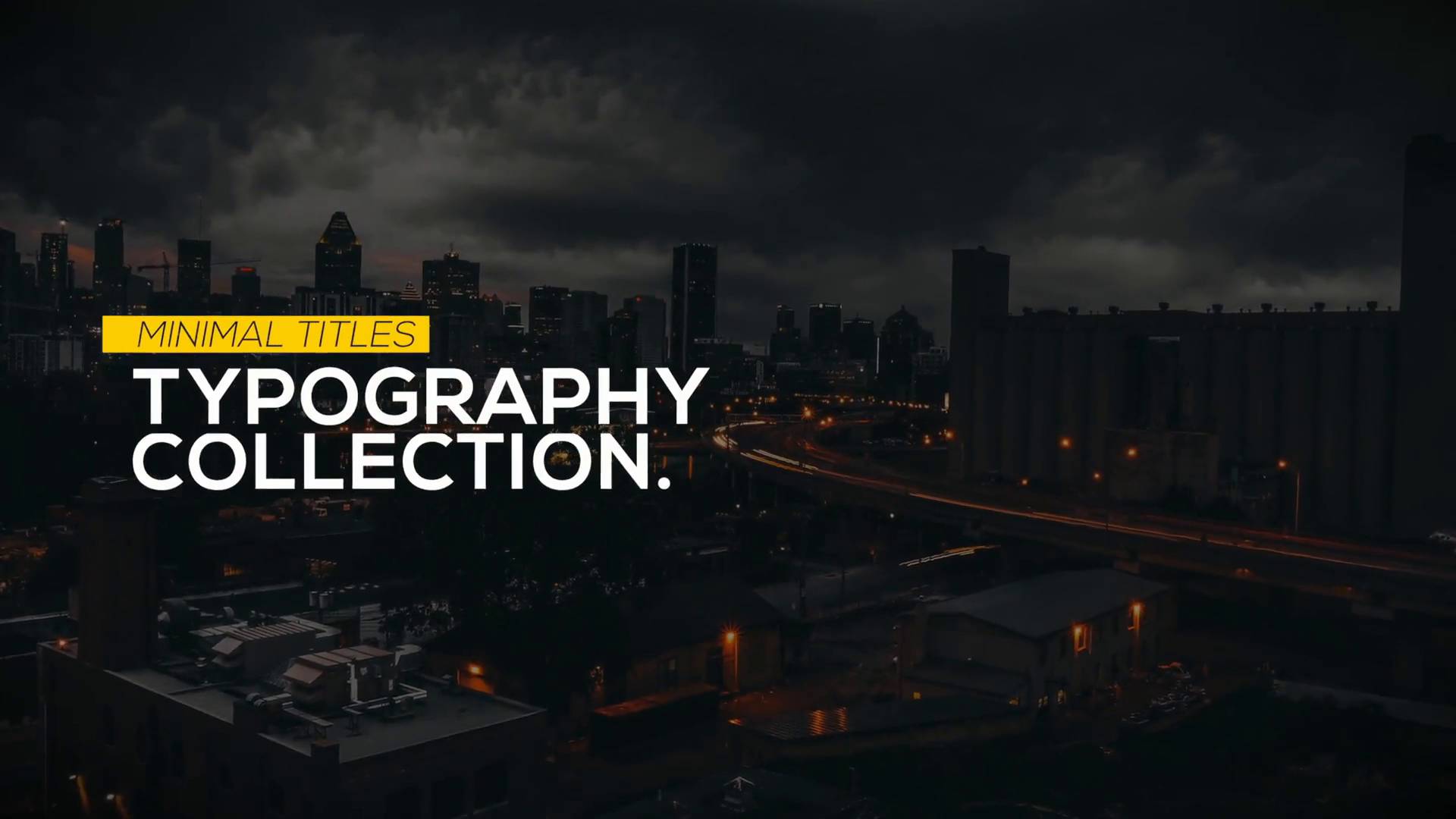 4. Títulos para entregas de premios - Apple Motion
Estos títulos dorados son la introducción perfecta para los vídeos de premios, los momentos importantes de las bodas y mucho más. Los gráficos brillantes llamarán la atención del público y harán que tu texto cobre vida. Todo lo que tendrás que hacer para crear títulos animados para tus vídeos será añadir tu propio contenido.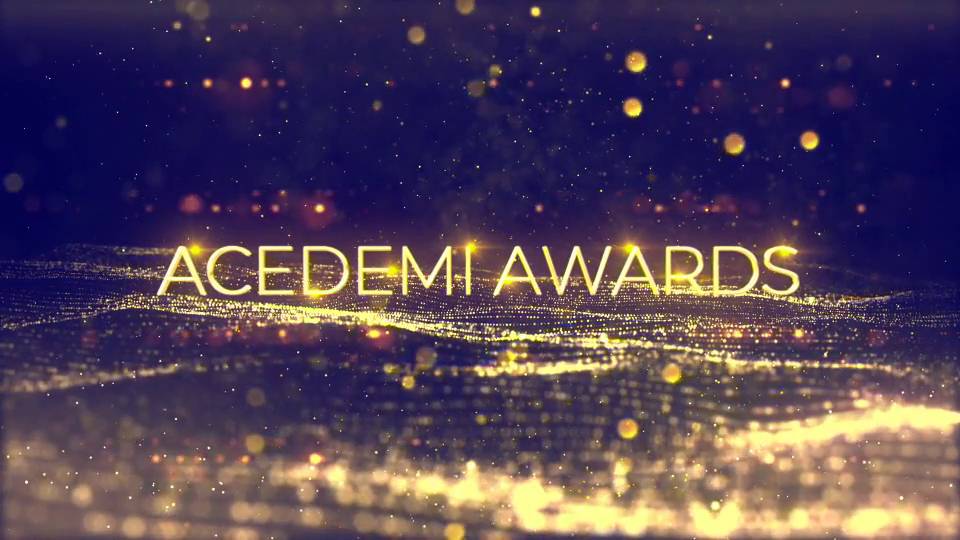 5. Títulos FCPX 4K
El futuro del vídeo es la ultra alta definición. Captura la máxima definición con estos títulos 4K de alta resolución. Lo suficientemente versátiles para cualquier proyecto, se verán muy bien en cualquier pantalla.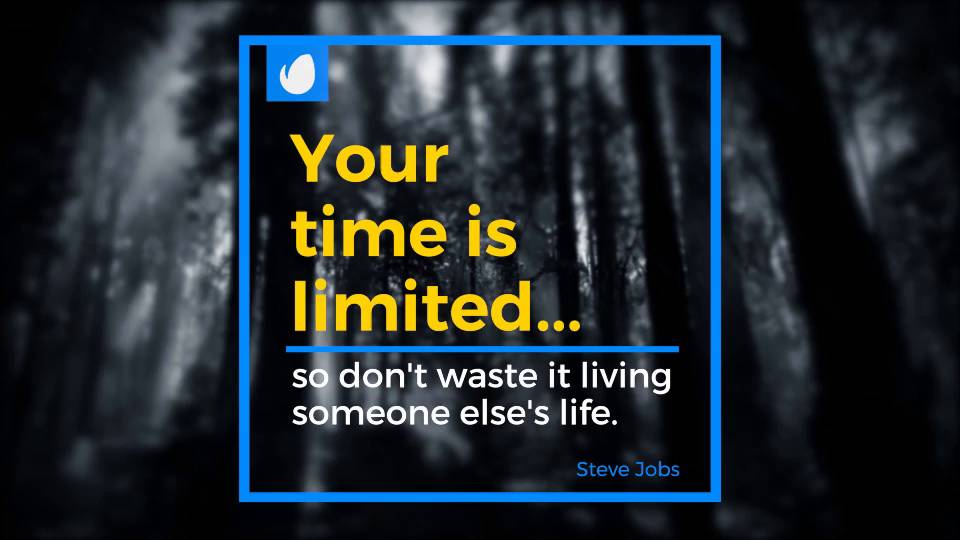 Siguiendo con el tema del 4K, estos títulos animados añaden animaciones fluidas a las pantallas de alta definición. Podrás seleccionar entre 26 opciones únicas para que se adapten perfectamente a tus vídeos, y luego añadir tu propio contenido, y estará listo.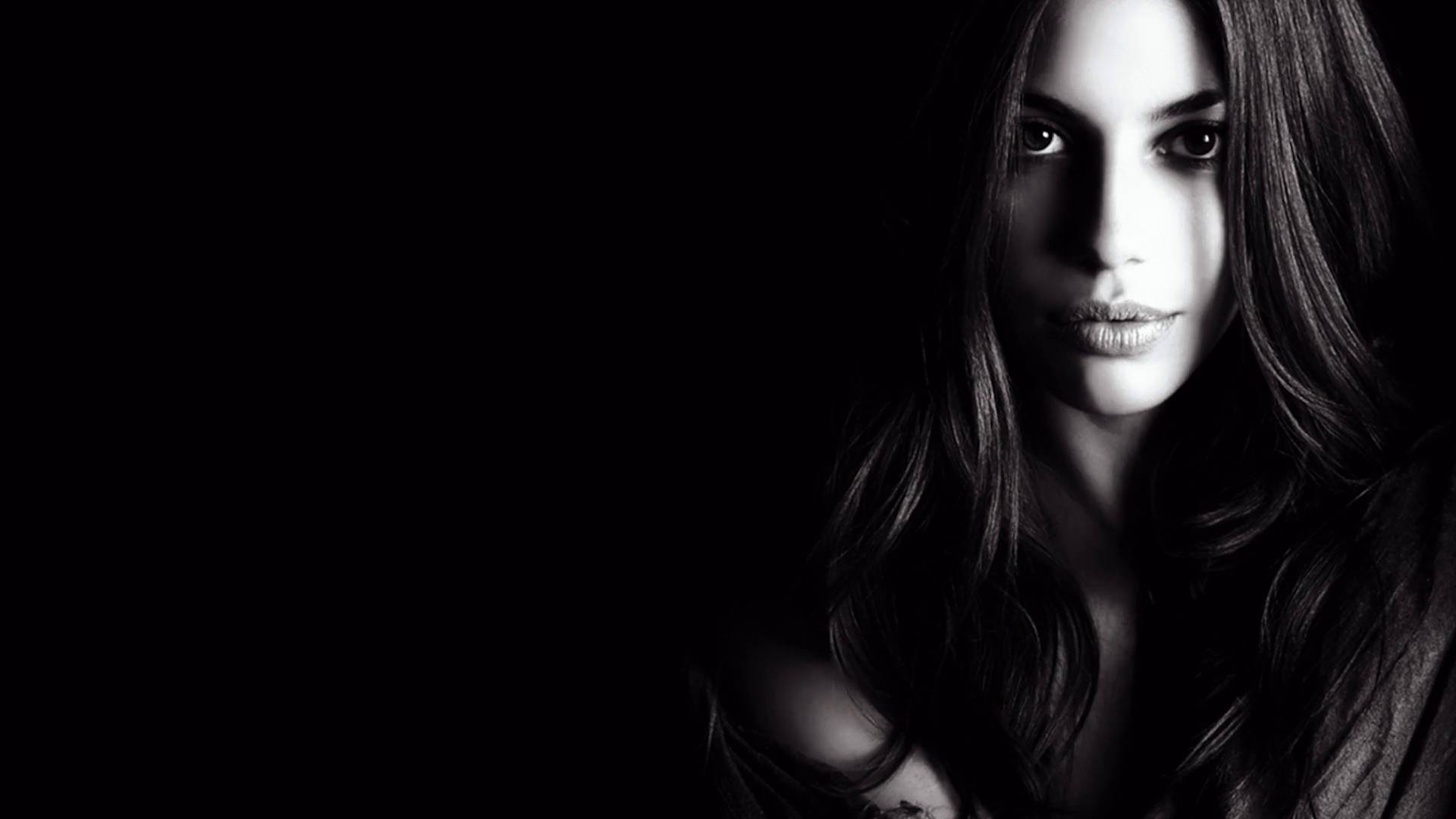 Los títulos con efectos de distorsión no tienen por qué ser excesivos. Si se combinan con una filosofía de diseño minimalista, pueden desvanecerse en el fondo mientras se superponen con estilo a tu vídeo. Esta plantilla captura este espíritu, ofreciéndote un estilo arenoso que no distrae.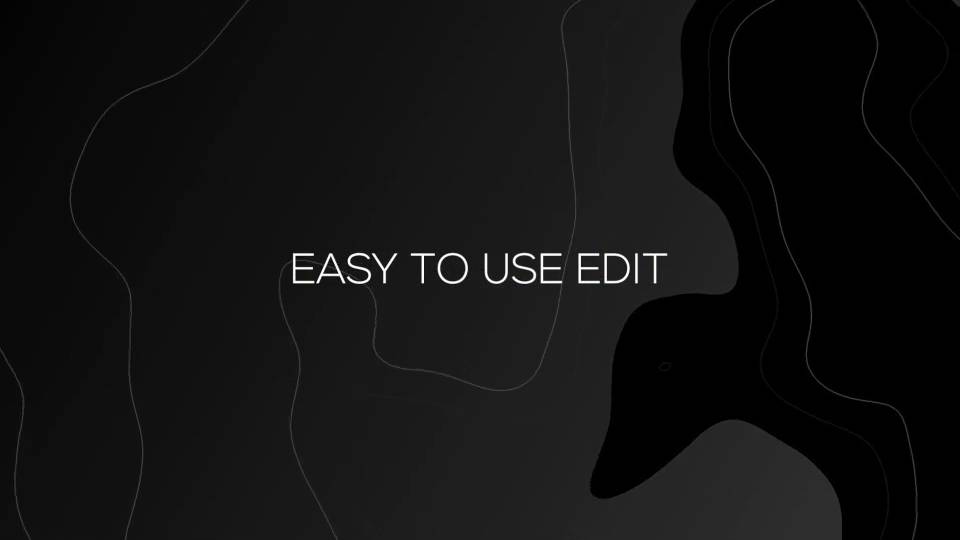 ¿Estás buscando un paquete de títulos multipropósito y versátil para Final Cut? Entonces este paquete de plantillas Final Cut Pro con 30 opciones es para ti. Los colores son totalmente personalizables y se utilizan fuentes gratuitas en todo el paquete.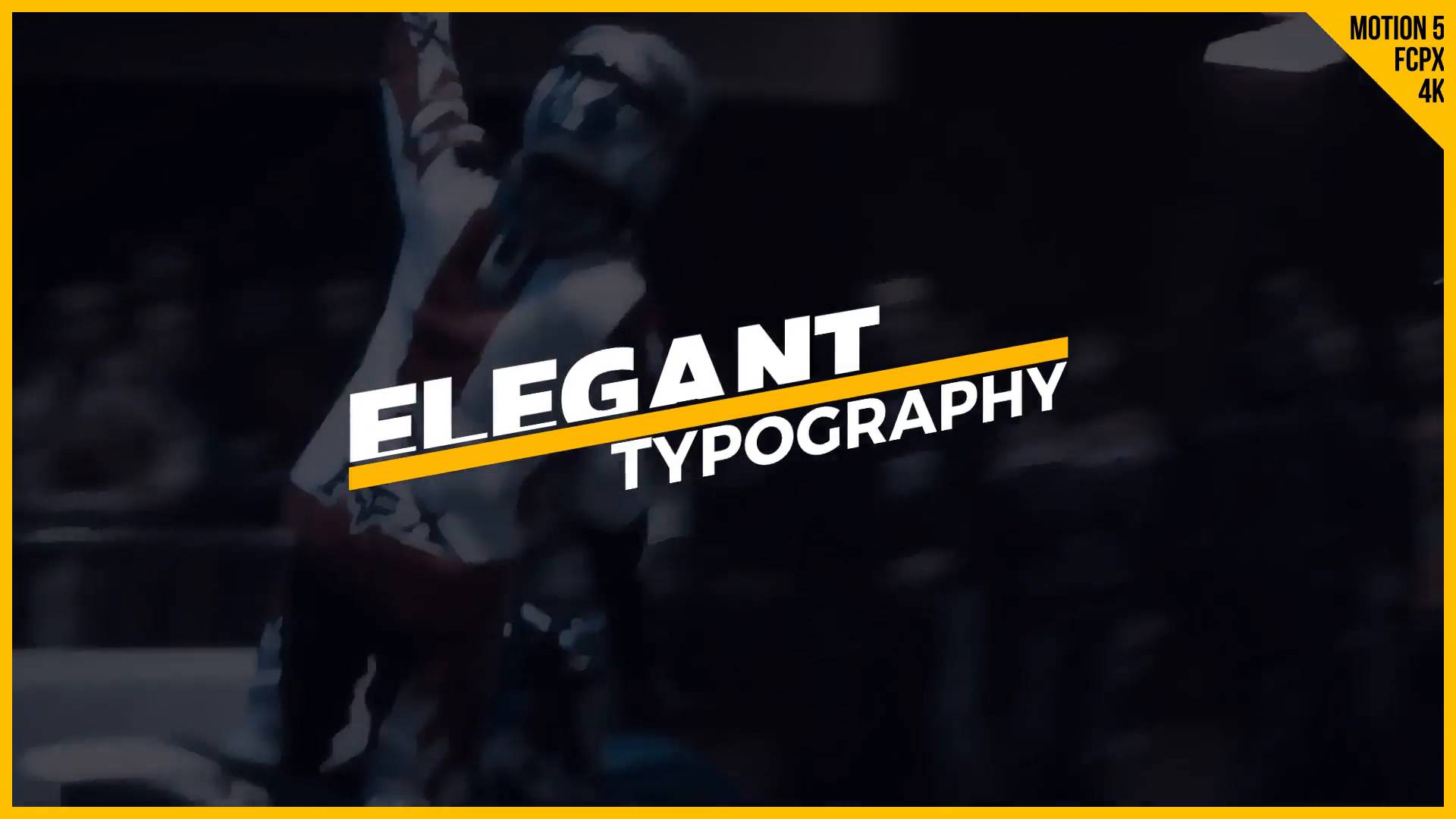 Si la simplicidad es lo más importante para ti, estos elegantes títulos son perfectos para ti. Cada uno de ellos tiene un aspecto refinado, pero sin ser excesivo. Están diseñados para complementar el contenido de tu vídeo sin saturarlo.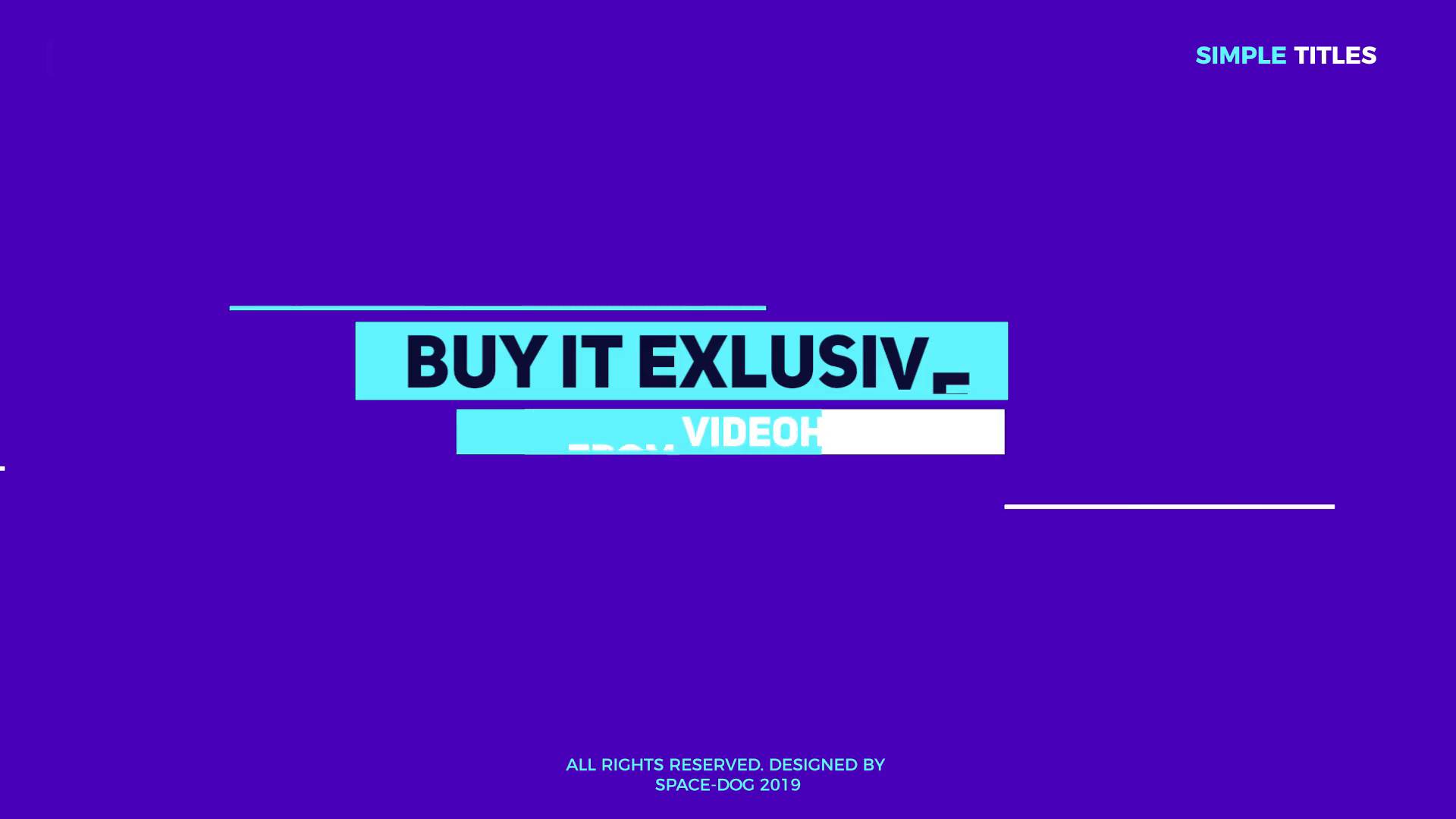 Útiles para cualquier tipo de proyecto de vídeo, estos sencillos títulos corporativos aportan valor en cualquier ámbito. Son perfectos para presentaciones, anuncios, intros y mucho más. Esta plantilla incluye incluso un práctico tutorial para ayudarte a empezar.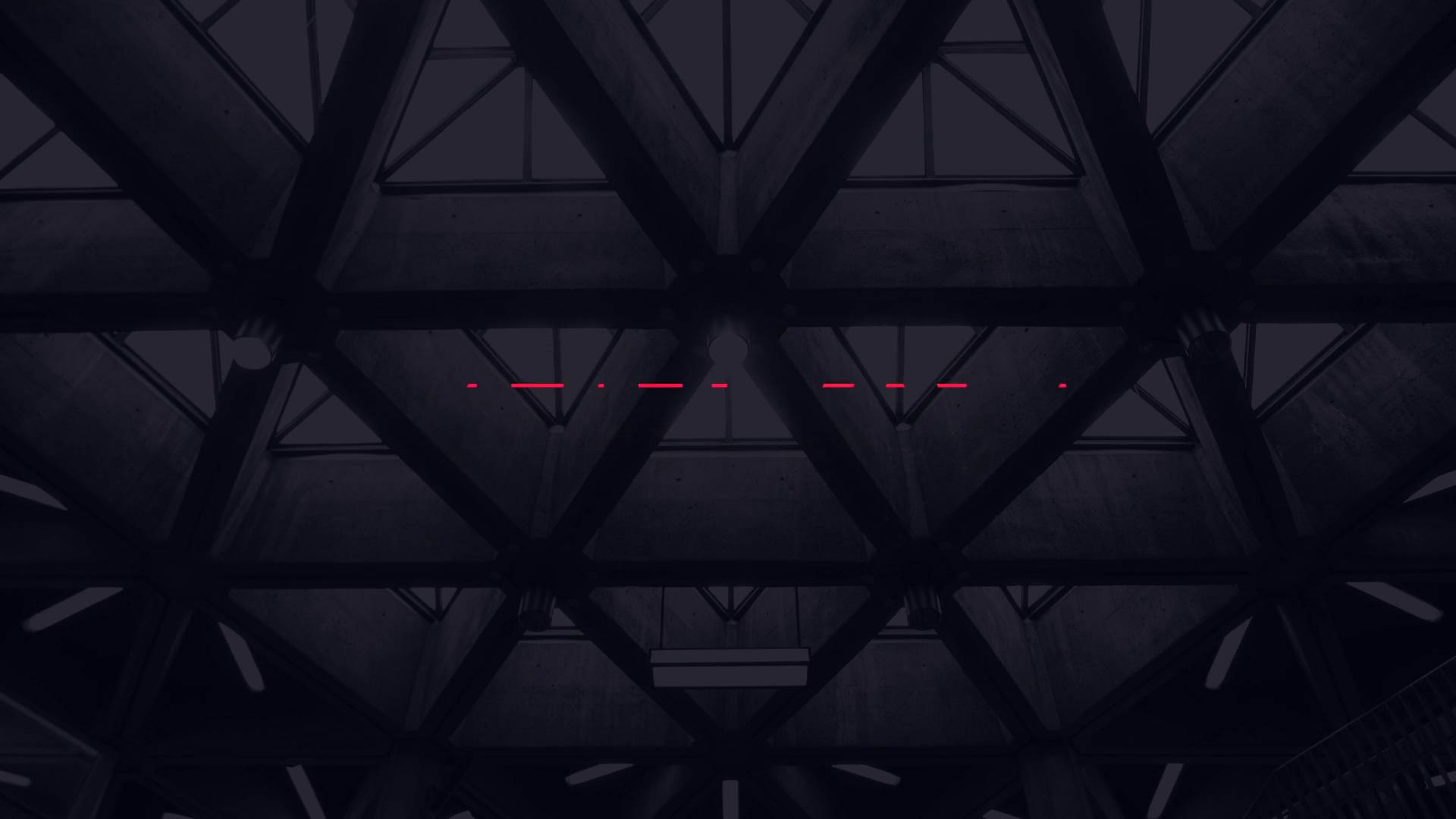 Los diseños de distorsión no tienen por qué ser oscuros y sombríos. Así lo demuestra esta vibrante colección de títulos con efectos de distorsión. Estos brillantes títulos animados le darán nueva vida a tu trabajo en un instante.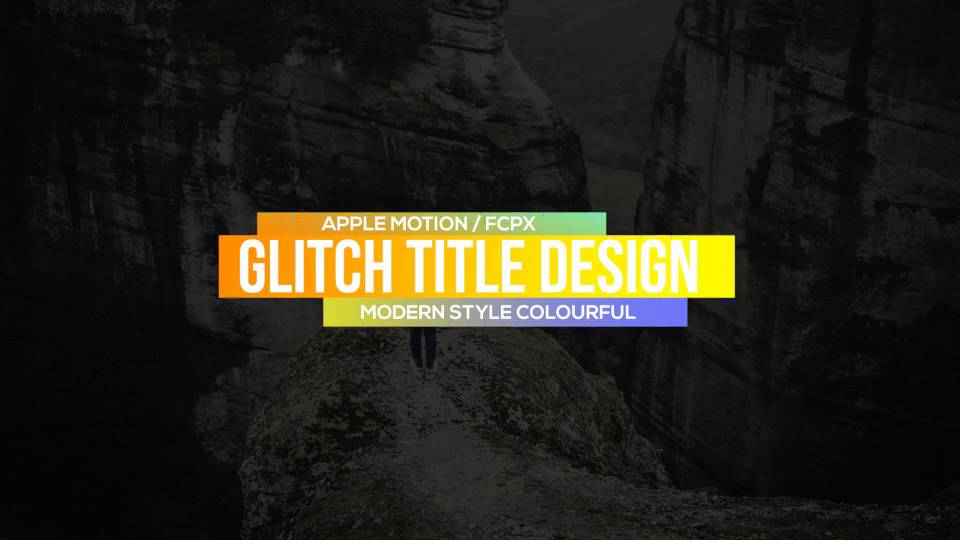 Deja que tus vídeos brillen con textos explicativos. Todo lo que necesitas son títulos llamativos y este paquete para impulsar tu creatividad. Diseñados para llevar inspiración a cualquier lugar, estos títulos minimalistas son el complemento perfecto para tu próxima producción.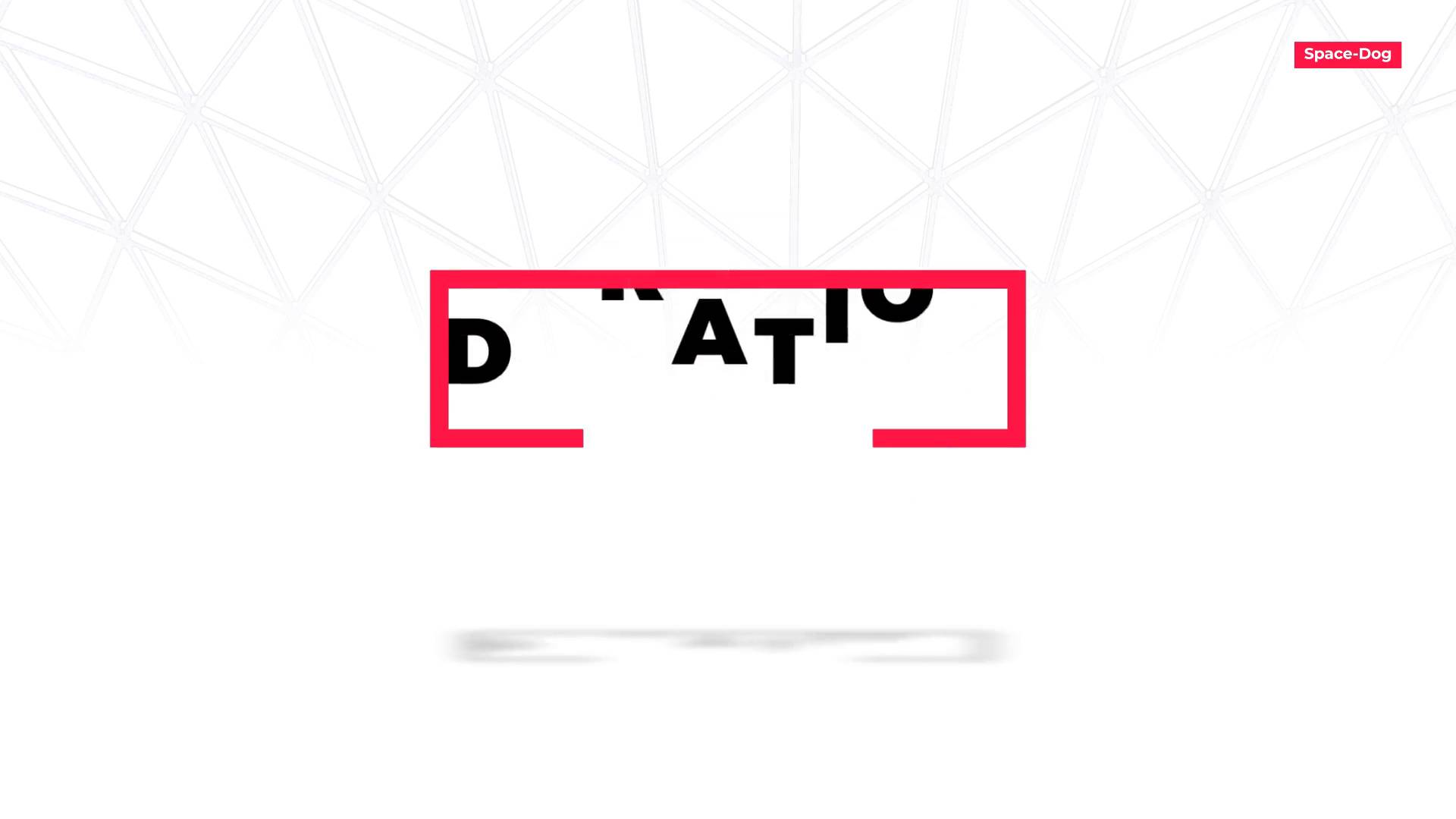 Cualquiera sea tu proyecto creativo, estos títulos diseñados a mano serán perfectos para ti. Cada uno fue diseñado para que puedas trabajar con él en el generador de vídeos. Y con plantillas prediseñadas como esta, no necesitarás experiencia profesional en la producción de vídeos para conseguir grandes cosas.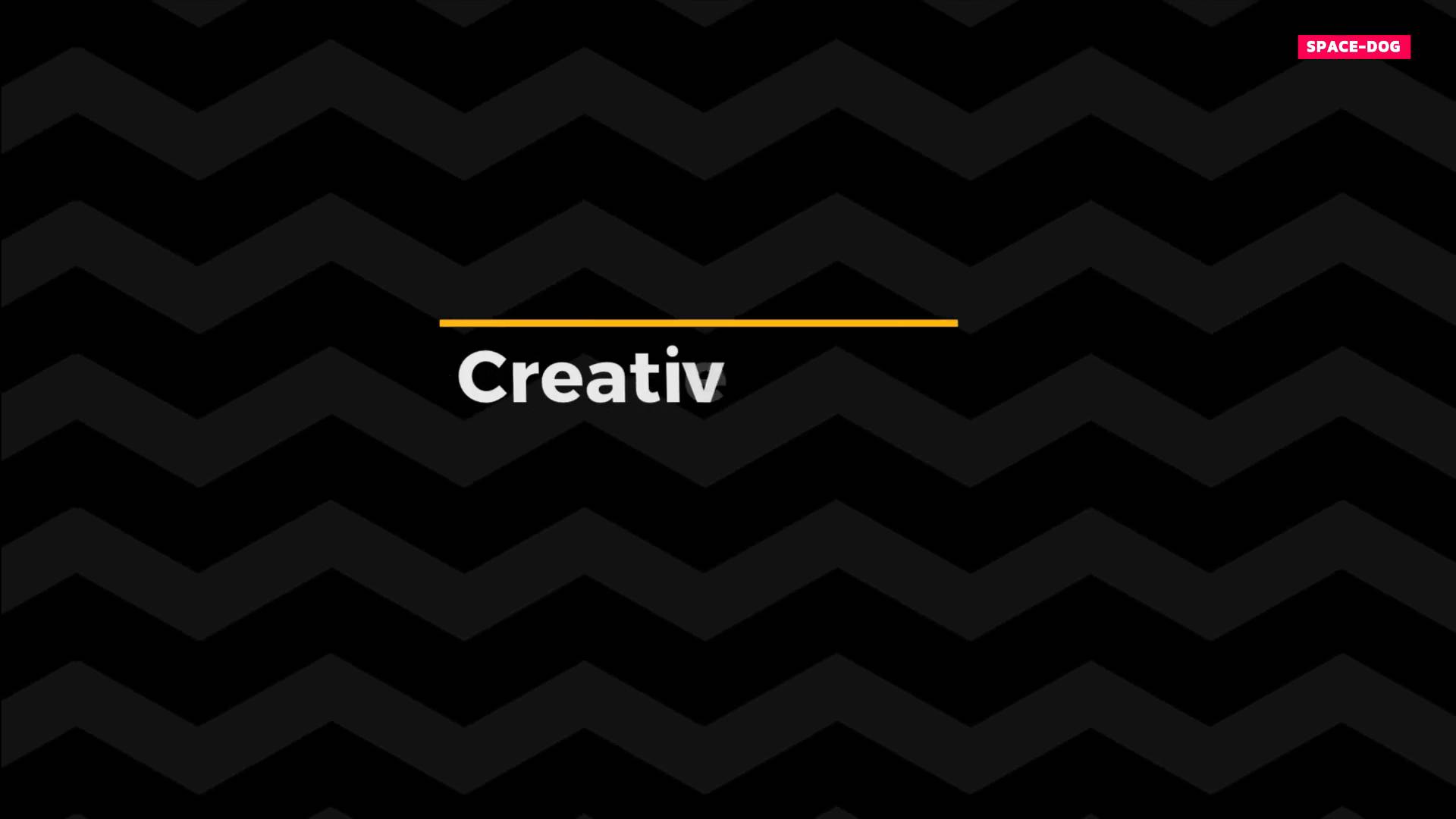 Con más de cuatro docenas de opciones de títulos diferentes, este paquete ofrece la máxima versatilidad creativa en una sola descarga. Se incluyen títulos, overlays y mucho más, así que es un hecho que podrás encontrar uno a tu medida. Cada uno de ellos es personalizable, lo que te permitirá crear títulos para vídeos totalmente originales en cuestión de segundos.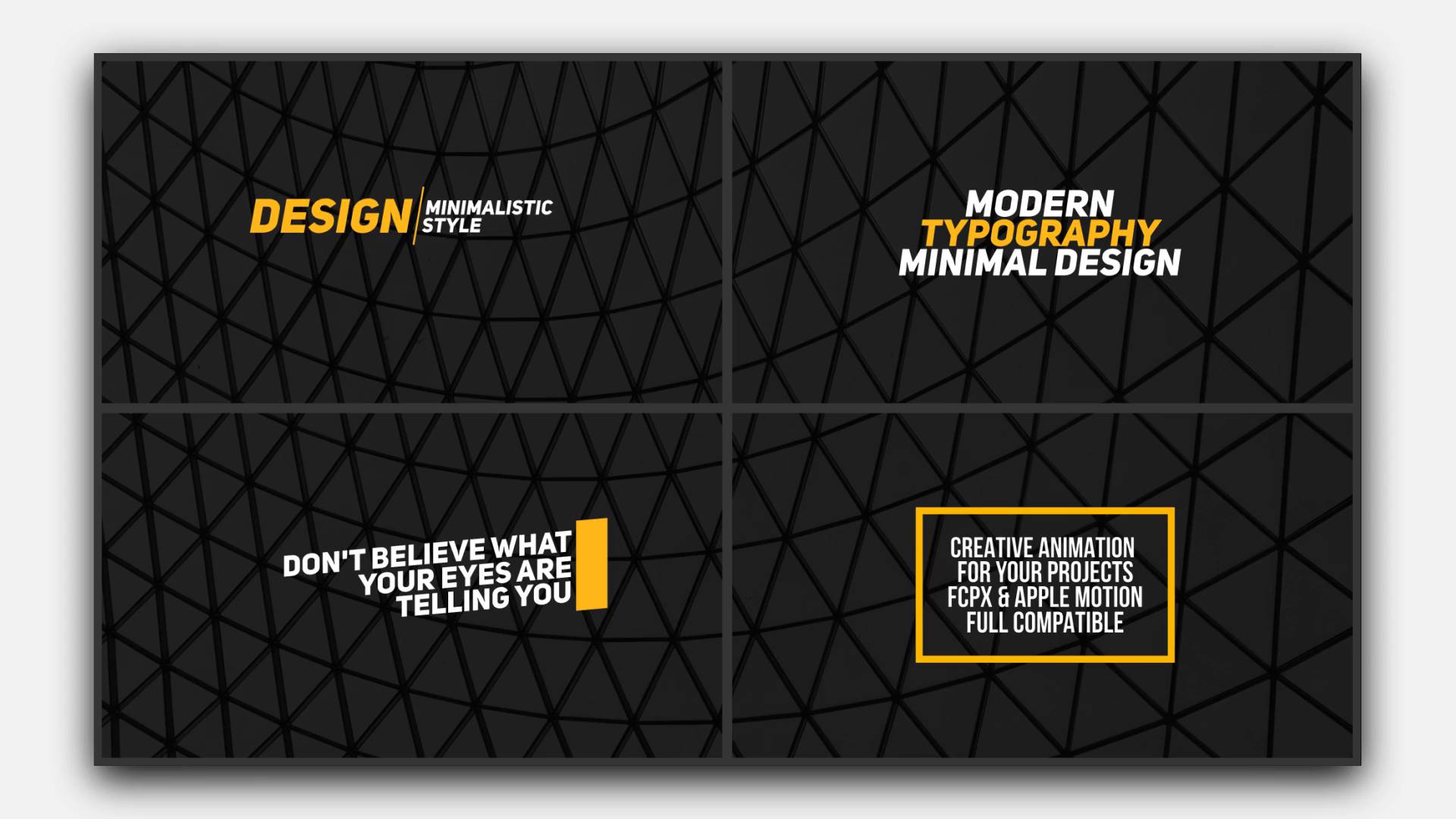 Por último, pero no menos importante, asegúrate de echarle un vistazo a este increíble y versátil paquete de títulos. Cada uno de los 30 diseños tiene un aire minimalista, pero ofrece un estilo muy potente. Podrás crear tus títulos para vídeos gracias a las sencillas opciones de personalización.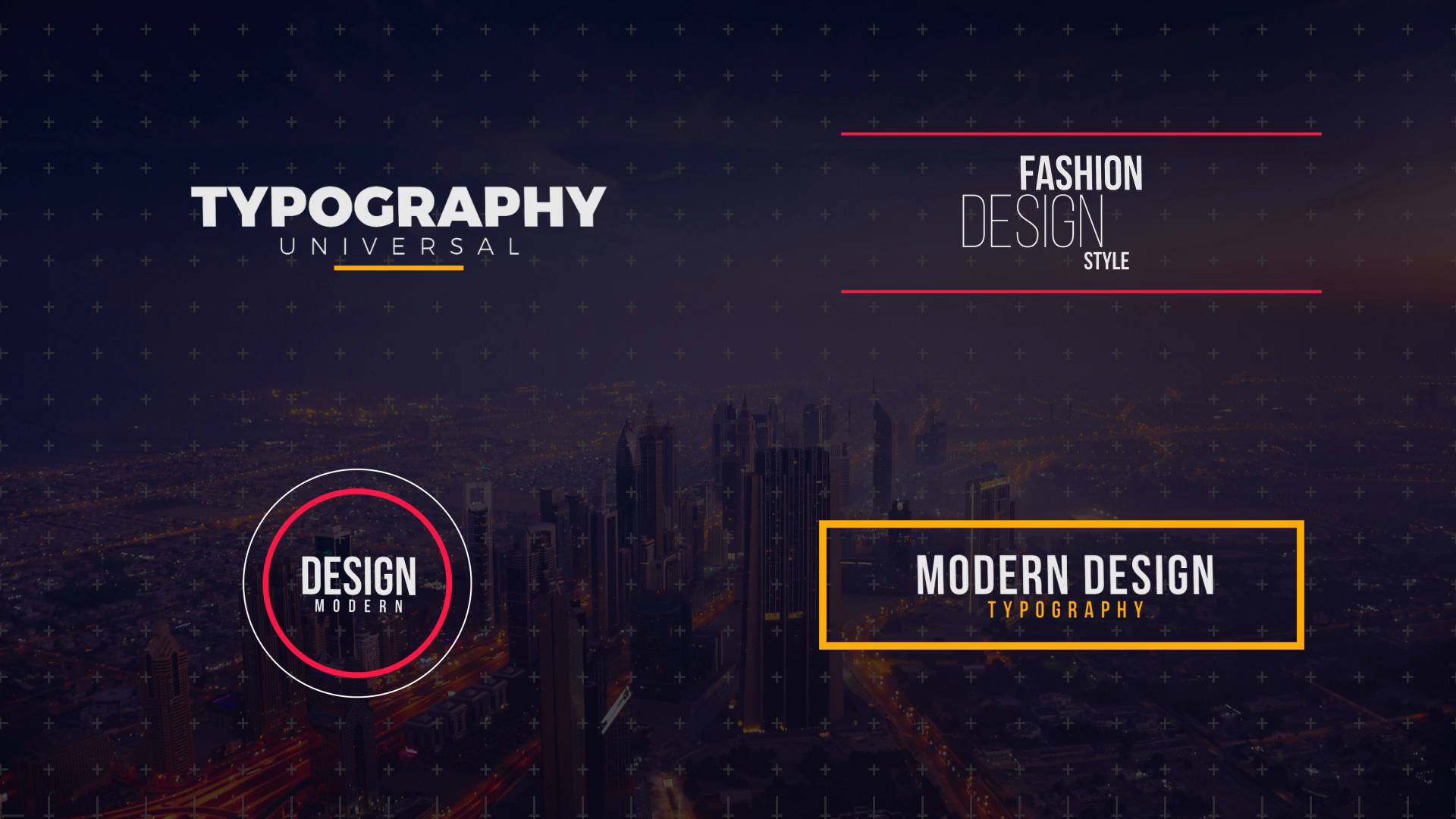 Más títulos Final Cut Pro disponibles en Envato Market
Si solo quieres comprar plantillas Final Cut Pro X individuales para tu próximo proyecto de vídeo, puede que Envato Market sea mejor sistema para ti. En lugar de un modelo basado en suscripciones, Market ofrece las mejores plantillas Final Cut Pro que podrás adquirir de forma inmediata. Estos son 5 de mis proyectos favoritos de Final Cut Pro disponibles en Envato Market.
Con resoluciones de hasta 4K, no tendrás ningún problema en utilizar este proyecto para tu próximo lanzamiento en Blu-Ray. Aunque nunca vayas a publicar en dicho formato, estos títulos escalables de gran nitidez constituyen una opción visual increíblemente atractiva.
No solo es una sólida selección de títulos de texto para Final Cut Pro, sino que también incluye los elementos de animación que te ayudarán a lanzar tu vídeo de forma impactante. ¡Utiliza cualquiera de estas opciones para empezar tu vídeo con fuerza!
Si estás buscando algo más elegante, el paquete Títulos para bodas le dará vida a tu gran día con delicadeza y estilo.
El paquete Títulos modernos es otra de las opciones más sólidas y sencillas de esta selección que ofrece una gran variedad de estilos visuales para añadir texto a tu producción. Con las múltiples opciones que ofrece este paquete no tendrás que utilizar el mismo texto de título dos veces nunca más.
Como Envato Market es una opción de pago por uso, el máximo valor está en los elementos que se pueden volver a utilizar sin repetir el mismo efecto. Este paquete de títulos para Final Cut Pro se ajusta perfectamente a este concepto, gracias a la gran cantidad de opciones que incluye para crear títulos para vídeos animados y llamativos.
Consejos útiles para editar en Final Cut Pro
Final Cut Pro es una popular herramienta de edición de vídeo con una sorprendente cantidad de funciones. Si quieres mejorar tu capacidad para crear proyectos en este programa, ten en cuenta estos útiles consejos.
1. Organiza con carriles de audio
Trabajar con audio en Final Cut Pro puede tornarse caótico rápidamente. Si quieres organizarte mejor, los carriles de audio son la mejor manera de categorizar las diferentes pistas de audio con las que estás trabajando. 
Para poner en práctica este consejo, haz clic en la pestaña Vista. A continuación, haz clic en Índice de línea de tiempo y selecciona Carriles. En este punto puedes decidir si quieres seleccionar un carril de audio para que aparezca en el tuyo propio o si quieres que todos los carriles de audio aparezcan en sus propios carriles.
2. Crea marcadores de posición de clips
Esta es una función muy útil que te permitirá trabajar en los espacios vacíos de tu línea de tiempo. Si todavía estás esperando el metraje, puedes crear un marcador de posición para dicha toma mientras sigues trabajando. Selecciona dónde quieres generar el marcador de posición en tu línea de tiempo. Este tutorial de Final Cut Pro de Apple te explica cómo hacerlo.
3. Busca y reemplaza texto
Si bien me parece excelente que utilices una de las plantillas de títulos FCP de este artículo, esto no significa que no puedas cometer errores tipográficos. Afortunadamente son muy fáciles de arreglar. Podrás cambiarlos rápidamente haciendo clic en Editar, luego en Buscar y Reemplazar texto del título. Esta es una forma excelente de ahorrar tiempo, especialmente con proyectos grandes.
Más recursos disponibles en Envato
Si necesitas producir vídeos promocionales con regularidad o trabajas en vídeo marketing, asegúrate de echarle un vistazo a estos recursos disponibles en Envato.
Optimiza tu vídeo marketing con la guía de Envato
Potencia tus habilidades de vídeo marketing con nuestra completa guía. Aprenderás sobre vídeo marketing de principio a fin de modo que, ya seas un principiante o un profesional, adquieras algunas habilidades útiles para mejorar tu siguiente vídeo.
Descarga vídeos, música y plantillas gratuitas en Mixkit
Visita Mixkit para conseguir vídeos de stock gratuitos, música de stock gratuita y plantillas gratuitas para Adobe Premiere Pro.
Produce vídeos con gráficos animados online con Placeit
Placeit is an generador de vídeos online with professionally-designed motion graphics templates. Placeit es un generador de vídeos online que incluye plantillas con gráficos animados diseñadas profesionalmente.
Envato Elements: descargas ilimitadas
Envato Elements te brinda millones de artículos de stock: fotos, música, videoclips, fuentes, plantillas de proyectos de vídeo para After Effects, Premiere Pro, Final Cut Pro y Motion, además de cursos creativos de Envato Tuts+, todo incluido en una sola suscripción. Descarga tantos recursos como desees por un módico precio mensual.
Más tutoriales y proyectos de Final Cut Pro 
Los títulos pueden preparar el terreno debidamente para tu próximo vídeo, además de que son fáciles de crear en Final Cut Pro. Con la ayuda de estas plantillas, podrás crear títulos animados para vídeo y producir tu próximo proyecto fácilmente. Échale un vistazo a estos útiles tutoriales para los creadores de títulos y los usuarios principiantes de FCPX:
Want a weekly email summary?
Subscribe below and we'll send you a weekly email summary of all new Photo & Video tutorials. Never miss out on learning about the next big thing.
Sign up
I believe that life is too short to do just one thing. In college, I studied Accounting and Finance but continue to scratch my creative itch with my work for Envato Tuts+ and other clients. By day, I enjoy my career in corporate finance, using data and analysis to make decisions. I cover a variety of topics for Tuts+, including photo editing software like Adobe Lightroom, PowerPoint, Keynote, and more. What I enjoy most is teaching people to use software to solve everyday problems, excel in their career, and complete work efficiently. Feel free to reach out to me on my website.
One subscription. Unlimited Downloads.