Andrew Childress
El equipo de calidad de Envato elige solo los mejores artículos para la venta en VideoHive, pero solo una pequeña cantidad de estos artículos llegan al codiciado lugar de "artículos destacados" en la parte superior de la página de inicio de VideoHive. En este artículo, descubre los archivos de proyectos de video y los clips de material de archivo que han aparecido en VideoHive en los últimos seis meses.
YouTube Promo Kit 2.0 - Paquete de YouTube Premiere y After Effects
Abridores de canal, títulos de emisión, tercios inferiores y mucho más: este paquete lo tiene todo. Cuando intentas hacer despegar tu canal de YouTube, este paquete es una ventaja increíble. Funciona tanto con Adobe Premiere como con Adobe After Effects.
El efecto glitch se siente bien en casa, en ciencia ficción y en los videoclips modernos. Incluye un vídeo adecuado para asegurarte de que tu público se mantenga sintonizada.
De todos los productos de títulos similares disponibles, este destaca por ser moderno y muy diferente.-mark2120
No todos los proyectos pueden permitirse el presupuesto de un animador para crear personajes y animaciones para tu vídeo. La mejor opción en estos casos es utilizar un paquete como AniTrailers para crear una animación.
Convierte sus imágenes fijas en un atractivo rollo de vídeo con este paquete rápido. Es muy fácil colocar tus propias imágenes en los marcadores de posición de After Effects.
La calidad es excelente en esta presentación de diapositivas. Pero la atención al cliente fue mucho más que excelente.-revolutionbyarrow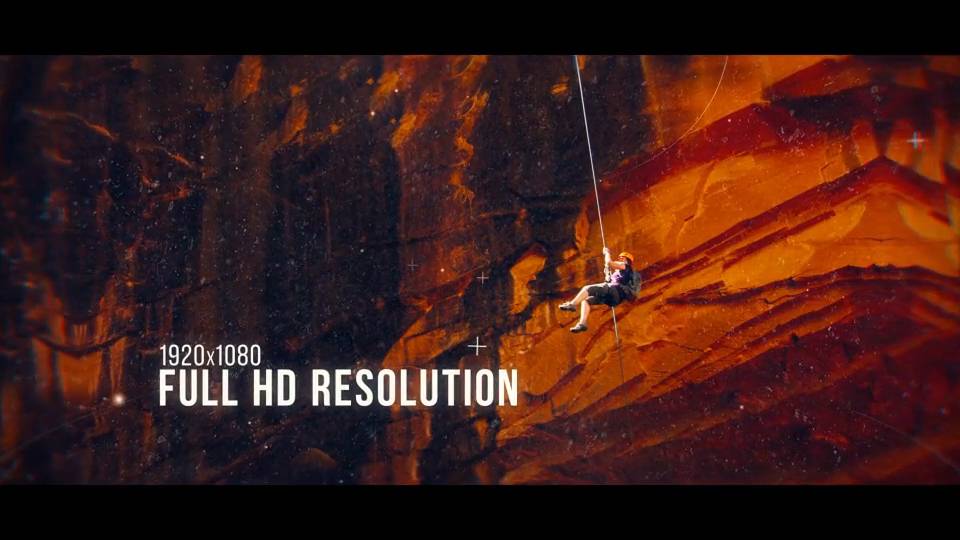 Observa cómo tu archivo de logotipo plano cobra vida con este proyecto tridimensional. ¡Me encanta que este proyecto ilumina tu logotipo con mini-bombillas, casi como un marcador de estadio deportivo!
Epic Light - Plantilla de animación de partículas de Apple Motion
Apple Motion es muy potente, pero se necesita algo de tiempo para aprender a usarlo. En lugar de aprender Motion desde cero, prueba el proyecto Epic Light para obtener una forma brillante y colorida de animar tu logotipo con colores intensos.
Stomp - Typographic Intro - Plantilla de introducción tipográfica de After Effects
Menos es más, y Stomp es un maravilloso ejemplo de esto. Todo lo que se necesita es una tipografía limpia con música y ritmo para realmente captar la atención de la audiencia. Use tu propio mensaje y sincronízalo con música para crear un video impactante.
Prepara el escenario para tu vídeo con un título limpio y fácil de usar. Hay 50 efectos de título separados en resolución 4K que funcionan muy bien en Adobe After Effects.
The YouTuber Pack - Paquete de títulos de Final Cut Pro
¡Los usuarios de Final Cut también son YouTubers! Este paquete es el conjunto perfecto de tarjetas de título para los usuarios de Final Cut que buscan llevar sus canales de YouTube al siguiente nivel.
iPhone X - App Presentation - Plantilla de demostración de la aplicación de After Effects
¿Necesitas crear una demo para tu aplicación de iPhone? Este paquete es tu nuevo mejor amigo. En lugar de contratar a una compañía de producción para promocionar tu aplicación, este paquete es una forma económica de mostrar tu próxima gran aplicación.
Event Promo - Plantilla de vídeo promocional de After Effects
¡Haz que la sangre de la multitud bombee antes de tu gran evento! Este paquete es la manera perfecta de hacerlo. Combina imágenes con cuadros de texto para entusiasmar a tu público.
Gran proyecto - ¡fácil de utilizar y altamente personalizable! Respuesta muy rápida e informativa si tienes alguna duda.-Outdooractive
A veces, no tienes suficiente material en tu biblioteca para construir el vídeo tal y como lo tienes en mente. Las imágenes de archivo, como este vídeo de inspiración de escalada en roca, pueden ser un complemento muy útil en ese caso.
Aquí hay otra gran herramienta para crear animaciones sin un animador dedicado en tu equipo. Un conjunto de herramientas como este está diseñado pensando en los no expertos en animación, por lo que es fácil incluso para los editores de video novatos crear animaciones.
Dynamic Fashion Pack - Plantilla de montaje para After Effects
Este fantástico paquete está dirigido a los amantes de la moda, pero no hay ninguna razón por la que no puedas utilizarlo con cualquier material de archivo y fotos. Los mejores elementos de este proyecto de vídeo son la tipografía llamativa, los colores fuertes y contrastados, y su facilidad de utilización.
Un gran trabajo, moderno e innovador -manouwa
Ya sea que estés preparando un documental, una presentación de diapositivas o una entrevista, este paquete de texto y tercios inferiores es esencial. Resoluciones HD y 4K incluidas para cada proyecto.
Sync - Promoción de tipo rápido de After Effects
Estoy seguro de que has visto promociones de Fast Type, con imágenes de movimiento rápido y tipografía nítida. Este tipo de video realmente se puso de moda después de la serie de anuncios de Apple en este estilo. Si estás buscando recrear el aspecto con un presupuesto ajustado, consulta el proyecto Sync.
Aquí hay otra versión de la creación del efecto de glitch (falla) en Adobe After Effects. Combina esa falla con tus propios recursos fácilmente gracias a este proyecto.
History Slide - Presentación de diapositivas envejecida de After Effects
¡Retrocede en el tiempo con este paquete de presentación de diapositivas! Más que una simple presentación de diapositivas, este proyecto tiene superposiciones y texturas que realmente envejecerán tus fotos.
Typography - Paquete tipográfico de After Effects
No puedes equivocarte con una tipografía limpia y colores brillantes. Me encantan los videos tipográficos por su versatilidad y facilidad de uso, y este proyecto no es una excepción. No importa el tema, este paquete es una excelente opción.
Aquí hay otra versión de la creación de animaciones en Adobe After Effects. Imagínate poner una cara amigable con tu pequeña empresa utilizando estos personajes para presentar lo que tienes para ofrecer. ¡No tienes que saber nada sobre la creación de animaciones para usar este proyecto para crear videos amigables!
¡Es un kit increíble! ¡Me encanta de verdad! ¡Todos los personajes y el movimiento es increíble! ¡y fácil de usar! -bemii
No tienes que hacer un viaje a la Gran Manzana para montar tu proyecto de video en Nueva York. En lugar de volar tu propio helicóptero, prueba este metraje de archivo para preparar la escena para tu video.
Hay muchas selecciones de After Effects en este resumen, así que es estupendo ver también algunos proyectos de texto elegantes para Final Cut. Las escenas de títulos de gran aspecto no necesitan efectos increíbles para destacarse, solo un texto sencillo como el que se ve en este vídeo.
Estos son absolutamente hermosos. Variados, elegantes y fáciles de trabajar.-dschwizzle
Get Real Logo Bundle - Animaciones de logotipos llamativos de After Effects
Claro, hay muchos proyectos de animación de logotipos limpios y minimalistas. ¿Qué pasa cuando necesitas algo más llamativo? El paquete Get Real es el proyecto para ti. Con texturas como fuego, tierra, arena y tinta para animar tu logotipo, el paquete Get Real es una visita obligada.
Stomp Logo - Introducción de logotipo rítmico
El paquete Stomp Logo está diseñado para sincronizar la introducción de tu logotipo con un audio lleno de ritmo. Aunque la pista de audio de muestra no se incluye en el proyecto, este facilita la sincronización de la animación con tu propio audio en tiempo real.
Cinematic Slideshow - Proyecto de presentación de diapositivas en After Effects
Excelente plantilla, la estructura del proyecto es muy organizado y la plantilla en sí visualmente atractiva con muchas opciones para personalizar-highway1024
Restaurant Display - Proyecto Video Menú en After Effects
Aquí está un proyecto realmente elegante y único para cualquier persona en el espacio del restaurante. Me he dado cuenta de que muchos restaurantes tienen pantallas LCD para mostrar sus menús, incluyendo las opciones favoritas. Utiliza este proyecto para crear este tipo de configuración fácilmente.
Connect Opener - Plantilla de proyecto de alta tecnología para After Effects
Este proyecto se sentiría como en casa en una película de ciencia ficción moderna. La elección de la fuente futurista y el efecto de línea vectorial establecerían el escenario perfectamente para un thriller futurista.
¿Qué editor de video no necesita una forma de cortar sin problemas entre escenas? Aunque la mayoría de las aplicaciones cuentan con animaciones simples como cortes o fundidos, este paquete realmente llevará tu apariencia de transición al siguiente nivel.
No puedo decir lo suficiente sobre la calidad y variedad de estas transiciones. Si no está seguro de comprar esto, que esta revisión sea lo que te lleve al límite. - AndrewJamesEditMusic
3D Pop-Up Book Toolkit - animaciones de personajes de After Effects
Este paquete de animación para Adobe After Effects es verdaderamente único. Esto no solo presenta las animaciones de personajes que has visto en otros proyectos en este resumen, sino que también prepara el escenario perfectamente en un fondo de libro emergente en 3D. Haz clic en el enlace anterior para verlo en acción.
Corporate Timeline - Presentación corporativa de After Effects
El estilo y la cadencia de este proyecto de After Effects lo hacen perfecto para presentar una revisión anual. Utiliza la presentación de diapositivas para mostrar cómo los eventos pasados se vinculan con el presente y el futuro y ayudar a otros a comprender su empresa.
Sigue aprendiendo
Espero que hayas disfrutado del resumen y hayas encontrado nuevos proyectos geniales para probar. ¡Mira estos tutoriales gratuitos y sigue aprendiendo!
Want a weekly email summary?
Subscribe below and we'll send you a weekly email summary of all new Photo & Video tutorials. Never miss out on learning about the next big thing.
Sign up
I believe that life is too short to do just one thing. In college, I studied Accounting and Finance but continue to scratch my creative itch with my work for Envato Tuts+ and other clients. By day, I enjoy my career in corporate finance, using data and analysis to make decisions. I cover a variety of topics for Tuts+, including photo editing software like Adobe Lightroom, PowerPoint, Keynote, and more. What I enjoy most is teaching people to use software to solve everyday problems, excel in their career, and complete work efficiently. Feel free to reach out to me on my website.
One subscription. Unlimited Downloads.