Andrew Childress
Envato's quality team picks only the best items for sale on VideoHive, but only a small number of these items make it to the coveted "featured items" spot at the top of the VideoHive home page. In this article, discover the video project files and stock footage clips that have featured on VideoHive in the past six months.

Channel openers, broadcast titles, lower thirds, and more: this pack has it all. When you're trying to get your YouTube channel off the ground, this pack is an incredible head start.  Works with both Adobe Premiere and Adobe After Effects.

The glitch effect feels right at home in science fiction and modern video clips. Includes some fitting video to make sure your audience stays tuned-in.
Of all the similar title products available, this one stands out because it is modern and very different.—mark2120

Not every project can afford the budget of an animator to create characters and animations for your video. The best option in these cases is to use a pack like AniTrailers to create an animation.
Turn your still images into an engaging video roll with this quick pack. It's a breeze to drop your own images into the After Effects placeholders.
The quality is excellent on this Slideshow. But the customer support was well beyond excellent.—revolutionbyarrow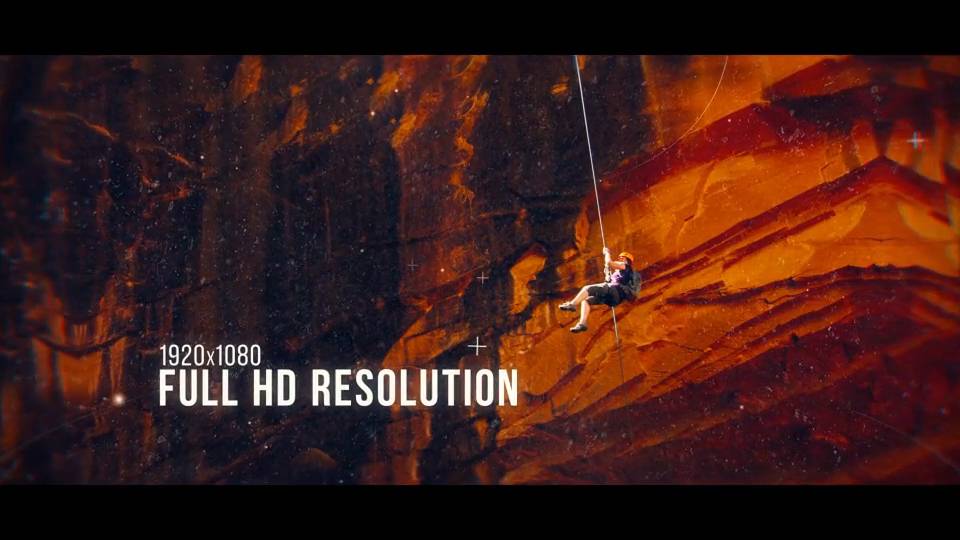 Watch your flat logo file come to life with this three dimensional project. I love that this project lights up your logo with mini-bulbs, almost like a sports arena scoreboard!
Epic Light — Apple Motion Particle Animation Tempalte

Apple Motion is plenty powerful, but it takes some time to learn to use it. Instead of learning Motion from scratch, try out the Epic Light project for a bright and colorful way to animate your logo with intense colors.
Less is more, and Stomp is a wonderful example of this. All it takes is clean typography set to music with a beat to really grab an audience's attention. Use your own message and sync it up to music to create an impactful video.
Set the stage for your video with a clean and easy to use title. There are 50 separate title effects in 4K resolution that work great in Adobe After Effects.
Final Cut users are are YouTubers too! This pack is the perfect suite of title cards for Final Cut users looking to take their YouTube channels to the next level.
Need to build an app demo for your iPhone app? This pack is your new best friend. Instead of hiring out a production company to promote your app, this pack is a budget-conscious way to showcase your next big app.
Event Promo — After Effects Promotional Video Template

Get the crowd's blood pumping before your big event! This pack is the perfect way to do just that. Combo footage with text boxes to get your audience excited.
Great Project - easy to use and highly customizable! Very fast and informative response if you have any questions.—Outdooractive

Sometimes, you don't have enough footage in your library to really build out the video as you have it in mind. Stock footage like this inspirational rock climbing video can really act as a useful stand-in when that's the case.
Here's another great tool for creating animations without a dedicated animator on your team. A toolkit like this is designed with non-animation experts in mind, so it's easy for even rookie video editors to create animations.
This fantastic pack is targeted at fashionistas, but there's no reason you couldn't use it with any footage and photos. The best elements of this video project are the flashy typography, strong contrasty colors, and its ease of use.
Great work, modern and innovative!—manouwa

Whether you're putting together a documentary, slideshow, or interview, this lower thirds and text pack is essential. HD and 4K resolutions included for every project.

Sync — After Effects Fast Type Promo
I'm sure you've seen Fast Type promos, with fast moving images and sharp typography. This types of video really came into vogue after Apple's ad series in this style. If you're looking to recreate the look on a tight budget, check out the Sync project.
Here's another take on creating the glitch effect in Adobe After Effects. Combine that glitchiness with your own assets easily thanks to this project.
History Slide — After Effects Aged Slideshow
Go back in time with this slideshow pack! More than a simple slideshow, this project has overlays and textures that really will age your photos.
Typography — After Effects Typographic Pack
You can't go wrong with clean typography and bright colors. I love typographic videos for their versatility and ease of use, and this project is no exception to that. No matter the subject, this pack is a great choice.
Here's another take on creating animations within Adobe After Effects. Imagine putting a friendly face with your small business by using these characters to introduce what you have to offer. You don't have to know the first thing about creating animations to use this project to create friendly videos!
It is an amazing Kit! I really love it! al the characters and the movement is amazing! and easy to use!—bemii

You don't have to make a trip to the Big Apple to set your video project in New York. Instead of flying your own helicopter, try out this stock footage to set the scene for your video.
There are plenty of After Effects selections in this round-up, so it's great to see some fancy text projects for Final Cut as well. Great looking title scenes don't need incredible effects to stand out—just simple text like what you see in this video.
These are absolutely beautiful. Varied, elegant, and easy to work with.—dschwizzle

Sure, there are plenty of clean and minimal logo animation projects. What about when you need something more eye-catching? The Get Real bundle is the project for you. With textures like fire, earth, sand and ink to animate your logo, the Get Real bundle is a must-watch.
Stomp Logo — Rhythmic Logo Intro
The Stomp Logo pack is designed to sync up your logo intro with beat-filled audio. Even though the sample audio track isn't included with the project, the projects makes it easy to sync up the animation with your own audio in real time.
Great template, the project structure is very organized and the template itself visually appealing with many options to customize—highway1024

Here's a really neat and unique project for anyone in the restaurant space. I've increasingly noticed that many restaurants have LCD's to showcase their menus, including favorite choices. Use this project to create this exact type of setup easily.
Connect Opener — After Effects High-Tech Project Template

This project would feel right at home in a modern sci-fi movie. The futuristic font choices and vector line effect would set the stage perfectly for a futuristic thriller.
What video editor doesn't need a way to smoothly cut between scenes? Even though most apps feature simple animations like cuts or fades, this pack will really take your transition looks to the next level.
I cannot say enough about the quality and variety of these transitions. If you are on the fence about purchasing this, may this review be the thing that pushes you over the edge.—AndrewJamesEditMusic

This animation pack for Adobe After Effects is truly one-of-a-kind. Not only does this feature the character animations that you've seen in other projects in this round up, it also sets the stage perfectly in a 3D pop-up book backdrop. Hit the link above to see it in action.
The style and cadence of this After Effects project make it a perfect for presenting an annual review. Use the slideshow to show how past events link to the present and future and help others understand your company.
Keep Learning
I hope you enjoyed the roundup and found some great new projects to try. Check out these free tutorials, and keep learning!

Want a weekly email summary?
Subscribe below and we'll send you a weekly email summary of all new Photo & Video tutorials. Never miss out on learning about the next big thing.
Sign up
I believe that life is too short to do just one thing. In college, I studied Accounting and Finance but continue to scratch my creative itch with my work for Envato Tuts+ and other clients. By day, I enjoy my career in corporate finance, using data and analysis to make decisions. I cover a variety of topics for Tuts+, including photo editing software like Adobe Lightroom, PowerPoint, Keynote, and more. What I enjoy most is teaching people to use software to solve everyday problems, excel in their career, and complete work efficiently. Feel free to reach out to me on my website.
Looking for something to help kick start your next project?
Envato Market
has a range of items for sale to help get you started.