Adi Purdila
En el tutorial anterior te mostré cómo lograr un buen fondo para tu estudio de vídeo DIY. Ahora es el momento de instalar el escritorio desde el que voy a trabajar.
Un escritorio de pie como mesa de trabajo
Todos mis "setups" anteriores tenían escritorios normales, en los que me sentaba. Incluso el escritorio de mi oficina principal es así, pero para este estudio quería hacer algo diferente. Como estar sentado en una silla todo el día es malo para la salud, decidí que quería un escritorio de pie.
Hay otra razón para este estilo de "setup": cuando estás de pie tiendes a ser más activo, y eso se traducirá en una presentación más dinámica y atractiva. No queremos que el público se duerma, ¿verdad?
Ahora bien, hay montones de opciones en lo que respecta a los escritorios de pie. Los hay desde baratos hasta muy caros, desde endebles hasta robustos, desde simples hasta motorizados. Aquí hay tres ejemplos de los que he oído hablar:
Tu actividad dicta el tipo de escritorio de pie que necesitas. ¿Pasas de estar sentado a estar de pie con frecuencia? Entonces, compra un escritorio motorizado, incluso con un módulo de memoria. ¿Estás más tiempo de pie que sentado? Entonces, tal vez, te convenga uno que no sea motorizado, pero que tenga un mecanismo de ajuste sencillo, como una manivela.
En el caso de mi nuevo estudio de vídeo, es muy sencillo: Estaré de pie todo el tiempo. Eso significa que puedo utilizar un escritorio muy básico pero robusto.
Lo que necesitarás
IKEA es desde hace tiempo la tienda de referencia para muebles accesibles y bonitos (aunque a veces de dudosa durabilidad). Para este proyecto decidí hacer mi propio escritorio de pie en lugar de comprarlo. Quería algo con una bonita textura de madera, así que compré una encimera de cocina. Para apoyarla y conseguir la altura adecuada estoy utilizando dos caballetes de IKEA. Puedes encontrar los enlaces en los pies de foto. También necesitarás una cinta métrica y un par de abrazaderas.
El precio total es de $160 dólares, mucho menos que el de un escritorio Bekant de pie (unos $500 dólares). Es cierto que los caballetes no permiten un ajuste muy fácil, pero no los voy a ajustar de todos modos, así que no pasa nada.
Sin embargo, $160 dólares siguen siendo $160 dólares, por lo que debo añadir que todas estas cosas, en realidad, no son tan difíciles de hacer uno mismo. Así que, si realmente quieres hacerlo por tu cuenta, ¡hazlo! En tu tienda local de productos de segunda mano, como Habitat for Humanity, es probable que haya una encimera vieja que puedas reciclar. La base de apoyo puede ser simplemente un par de caballetes viejos. Mientras cumpla con su función, no es necesario que sea algo lujoso
Ahora, pongamos manos a la obra y hagamos el ensamblaje.
Instala tu banco de presentación
Los muebles de IKEA son siempre muy sencillos de instalar. Arma los caballetes, asegúrate de que estén a la distancia correcta y coloca la encimera sobre ellos. Para mayor seguridad, fija la encimera a los soportes para que no se caiga nada.
Encuadra la toma y haz los ajustes
Ahora que el mobiliario está preparado, puedes empezar a encuadrar la toma. Esto requiere muchas idas y venidas, ajustes y modificaciones. Con la cámara en su sitio, utiliza una cinta métrica para asegurarte de que el escritorio está perfectamente alineado con respecto a la pared. Comprueba el encuadre en la cámara para asegurarte de que todo se ve bien, y luego haz algunas grabaciones de prueba. ¿Estás cómodo? ¿Puedes moverte y trabajar sin que el escritorio te estorbe? Si no es así, es el momento de hacer más ajustes para que quede lo mejor posible.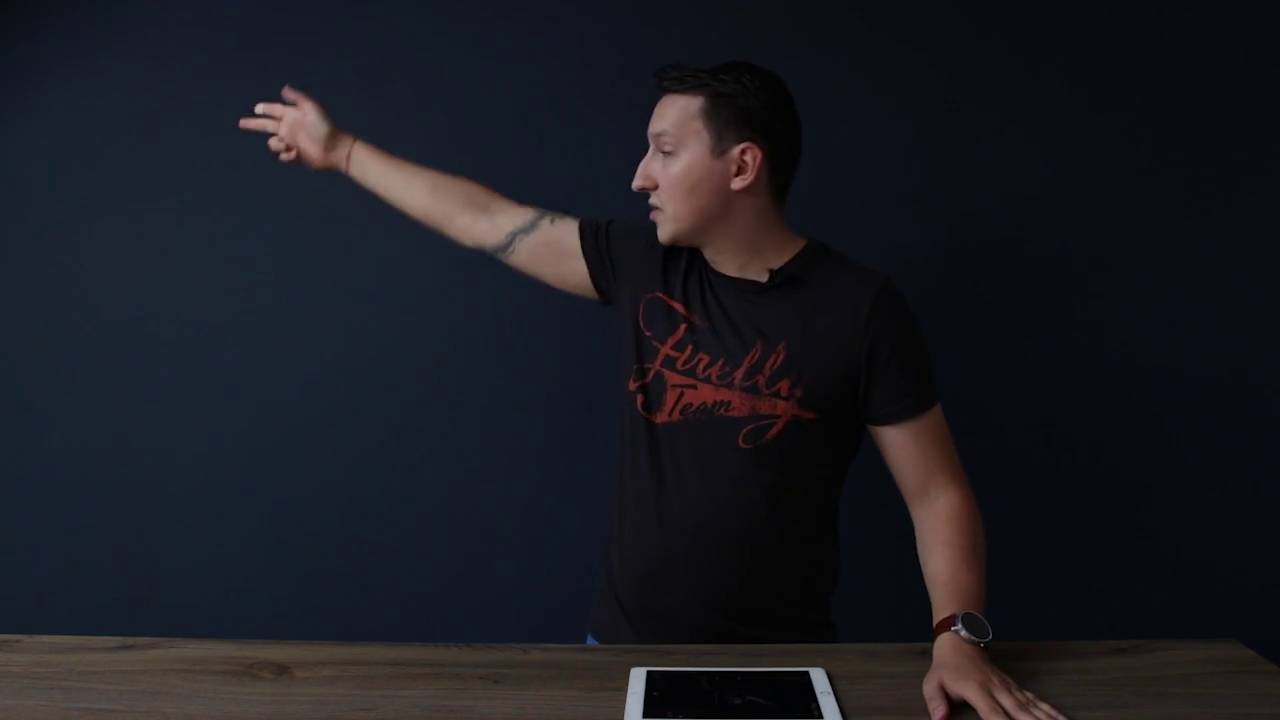 Por el momento, me gusta la posición del escritorio. Puede que la cambie un poco después de añadir la iluminación, pero por ahora cumple bien su función.
Toques finales
Como tu estudio es un lugar muy transitado con cosas pesadas que pueden caerse y causar daños, te sugiero que asegures tu mesa. Las abrazaderas son una buena solución temporal, pero a largo plazo los tornillos o el pegamento son mejores y más adecuados (atorníllalos desde abajo para no estropear tu bonita encimera plana). Unos sacos de arena en los soportes aportarán más peso y estabilidad; una bolsa vieja de arroz o de patatas llena de piedras funciona bien.
El siguiente paso
Pasemos a una parte crucial del proceso: ¡la iluminación! Esta es una de las cosas que potenciará o arruinará tu vídeo, así que acompáñame en el siguiente tutorial para saber cómo iluminar correctamente tu escena.
Want a weekly email summary?
Subscribe below and we'll send you a weekly email summary of all new Photo & Video tutorials. Never miss out on learning about the next big thing.
Sign up
Adi Purdila is a web design instructor for Tuts+. With over 100 courses and 200 tutorials published to date, Adi's goal is to help students become better web designers and developers by creating content that's easy to follow and offers great value. Being self-taught himself, Adi strongly believes that constant learning (academic or otherwise) is the only way to move forward and achieve your goals. When not typing away at his keyboard, he loves woodworking and caring for his ever-growing family of rescue pets. You can stay up to date with what he's doing by following him on social media or visiting his website at adipurdila.com.
Start your 7-day free trial*
*All Individual plans include a 7-day free trial for new customers; then chosen plan price applies. Cancel any time.