Adi Purdila
In the previous tutorial I showed you how to get a great looking backdrop in your DIY video studio. Now it's time to move on and install the desk I'll be working from.
A Stand-Up Desk as Work Table

All of my previous setups had normal desks, the ones that I would sit at. Even the desk in my main office is like that, but for this studio I wanted to do something different. Because sitting in a chair all day is bad for the health, I decided I want a standing desk.
There's another reason for this style of setup: when you're standing you tend to be more active, and that will translate into a more dynamic and engaging presentation. We don't want the audience to fall asleep, do we?
Now, there are tons of options when it comes to standing desks. They range from cheap to very expensive, from flimsy to sturdy, from simple to motorised. Here are three examples that I've heard about:
What you do dictates the type of standing desk you need. Do you switch between sit and stand often? Then get a motorised one, maybe even with a memory module. Do you stand more often than you sit? Then maybe get one that's not motorised, but has a simple adjustment mechanism, like a crank.
For my new video studio things are very simple: I'll be standing all the time. That means I can get away with a very simple, but sturdy desk.
What You'll Need

IKEA has been the go-to store for accessible-yet-good-looking furniture (of occasionally questionable durability) for quite some time now. For this project I decided I would make my own standing desk instead of purchasing one. I wanted something with a nice wood texture so I got a kitchen countertop. To support that and get it to the proper height I'm using two trestles from IKEA. You can find the links in the image captions. You'll also need a tape measure and a couple of clamps.

These totalled to $160, which is significantly less than a sit-stand Bekant desk (around $500). Granted, the trestles don't allow for very easy adjustment but I won't be adjusting them anyway so it's all good. 
$160 is still $160, though, so I should add that all this stuff is, really, not very that hard to make yourself. So, if your really want to DIY, go for it! Your local salvage store, like the ones run by Habitat for Humanity,  will likely have an old counter top you can recycle. The supporting trestles can be as simple as a couple of old sawhorses. It doesn't need to be fancy to get the job done.

Now, let's get to work and set this stuff up.
Install Your Presentation Bench
The furniture from IKEA is always so simple to install. Build the trestles, make sure they're about the right distance apart, and lay the table top across them. For safety, clamp down the tabletop to the supports so that nothing falls over while we're getting set up.

Frame the Shot and Adjust

Now that the furniture is in place you can start framing the shot. This takes a lot of going back and forth, tweaking and adjusting. With the camera in place now, use a tape measure to make sure your desk is square to the wall. Check your framing on the camera to make sure everything looks right, then do some test recordings. Does it feel right? Can you move around and work without the desk getting in the way? If not, it's time to do further adjustments to the desk to get it as close to the final position as possible.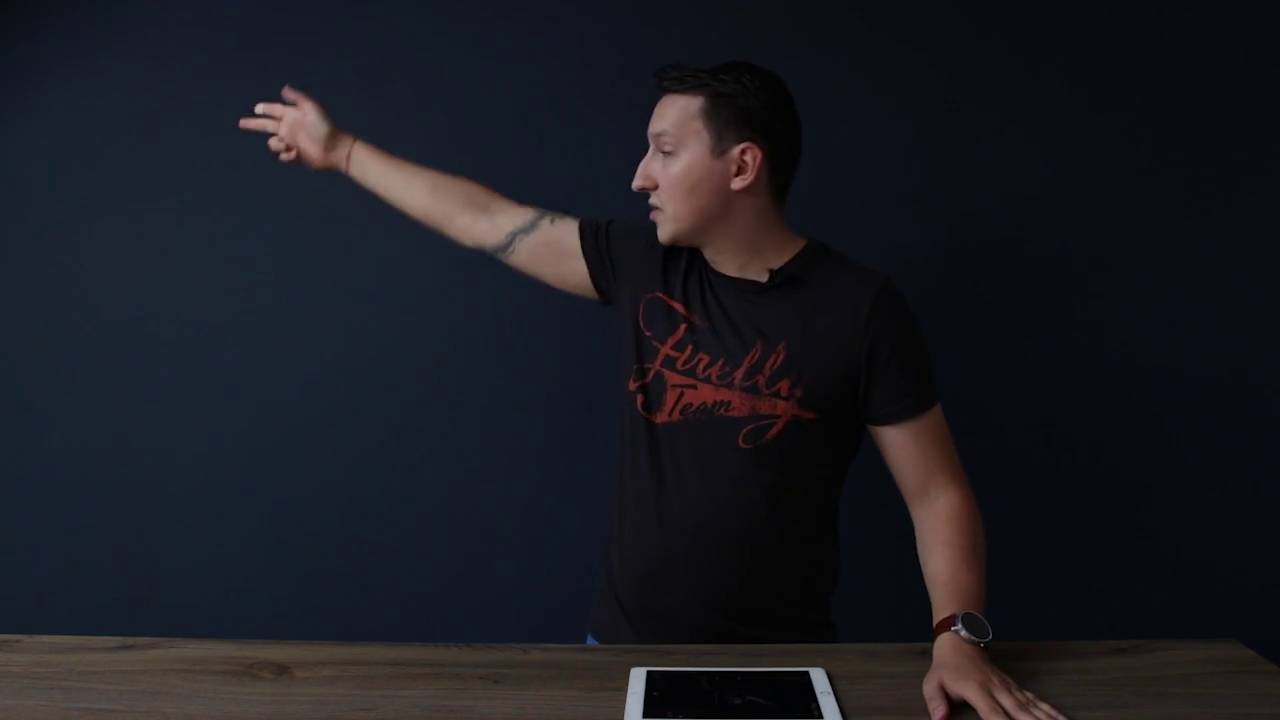 I like the desk position for the time being. I might change it up a bit after adding the lighting but for now it does the job nicely.
Finishing Touches
As your studio is a busy place with heavy things that can fall and hurt people, I do suggest  securing your table. Camps are a good temporary solution, but over the long run screws or glue are nicer and tidier (screw up from below so you don't ruin your nice flat counter top). Sandbags on the supports will give added weight and stability; an old rice or potato bag full of rocks works well.

The Next Step

Let's move on to a crucial part of the process: lighting! This is one of the things that will make or break your video so join me in the next tutorial to find our how to properly light your scene.

Want a weekly email summary?
Subscribe below and we'll send you a weekly email summary of all new Photo & Video tutorials. Never miss out on learning about the next big thing.
Sign up
Adi Purdila is a web design instructor for Tuts+. With over 100 courses and 200 tutorials published to date, Adi's goal is to help students become better web designers and developers by creating content that's easy to follow and offers great value. Being self-taught himself, Adi strongly believes that constant learning (academic or otherwise) is the only way to move forward and achieve your goals. When not typing away at his keyboard, he loves woodworking and caring for his ever-growing family of rescue pets. You can stay up to date with what he's doing by following him on social media or visiting his website at adipurdila.com.
Scroll to top
Looking for something to help kick start your next project?
Envato Market
has a range of items for sale to help get you started.