Slavik Boyechko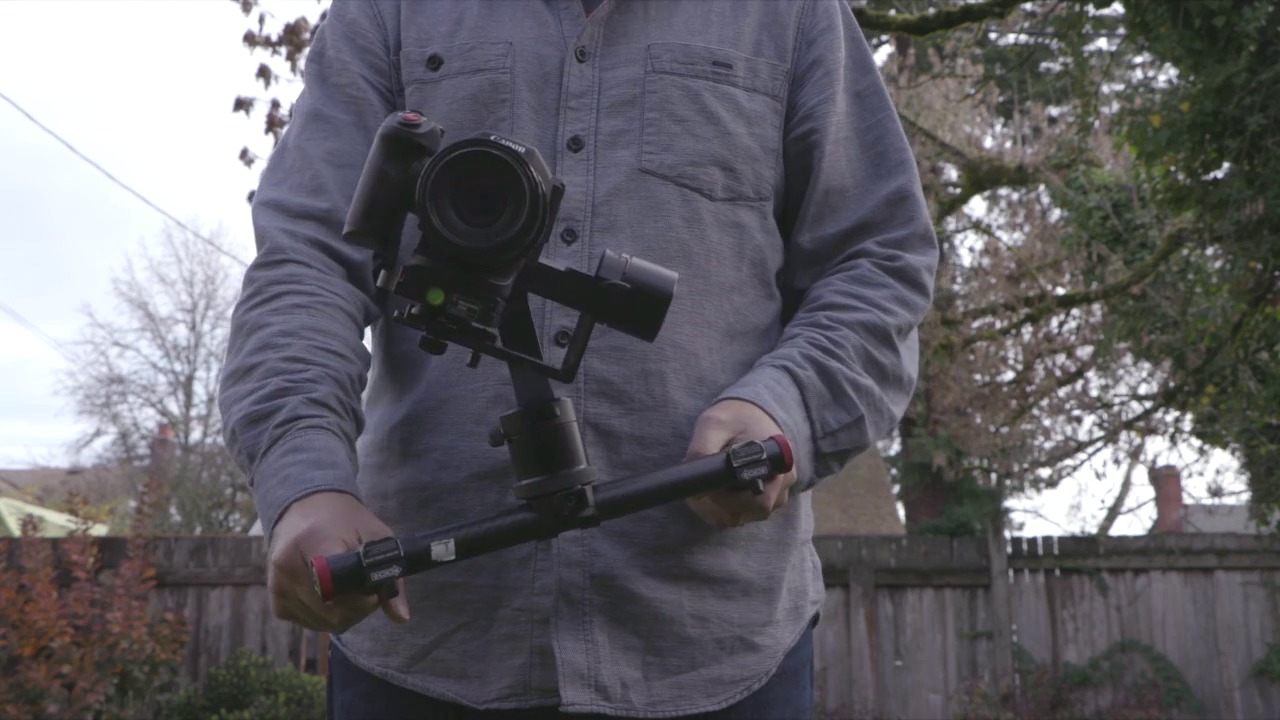 Un gimbal puede mantener tu cámara nivelada y dirigida hacia adelante, pero si no es capaz de girar contigo mientras sigues a una persona o a un objeto, puede ser muy frustrante.
Así que la mayoría de los gimbals ahora tienen un «modo de seguimiento» que, de manera electrónica, realiza el paneo y se inclina contigo a medida que giras el gimbal a la izquierda y a la derecha, o si deseas que la cámara se dirija hacia arriba o hacia abajo.
La velocidad del modo de seguimiento del gimbal se puede ajustar generalmente con el software, y es importante considerar la velocidad que deseas en función del tipo de toma que quieres conseguir.
Si estás grabando deportes de acción, o caminando junto a una persona que está girando frecuentemente, tal vez quieras que el modo de seguimiento sea súper sensible. Pero para la mayoría de las tomas, la velocidad ideal del seguimiento del paneo e inclinado es lenta, constante y cinemática.
No obstante, si el modo de seguimiento es demasiado lento, es posible que tengas problemas con el gimbal al no hacer el paneo lo suficientemente rápido mientras giras. En un coche, por ejemplo, cada vez que el coche realice un giro, el gimbal intentará desplazarse contigo hacia tu nueva dirección. Y si no puede seguir la velocidad del coche, la cámara puede golpear el lado más alejado del gimbal y perderás la toma.
Algunos gimbals tienen un modo en el que el gimbal bloquea su eje de paneo e inclinación, de manera que la cámara mantiene su dirección hacia adelante sin importar si lo mueves hacia arriba y abajo como un brazo, o si giras el gimbal a la izquierda o a la derecha. Este modo es perfecto para mantener una toma recta mientras caminas hacia adelante o hacia atrás.
La tecnología de los gimbals se está moviendo rápidamente, y ahora existen algunos gimbals con motores más potentes, que te brindan la posibilidad de ajustar el nivel del horizonte de la cámara simplemente manteniendo la cámara en posición durante un par de segundos. Esto es útil en coches, aviones y helicópteros, o en cualquier momento en que el gimbal pierda su horizonte y no puedas detener el vehículo para reajustar los motores del gimbal. Asimismo, los motores más potentes permiten activar el «modo de seguimiento» en el eje de rodadura, de manera que tu cámara puede girar contigo mientras realizas giros, simulando la perspectiva de un avión o de un pájaro mientras gira.
Slavik Boyechko is an Emmy award-winning filmmaker and owner of Minn Films, which creates inspirational videos about people and organizations.
Weekly email summary
Subscribe below and we'll send you a weekly email summary of all new Photo & Video tutorials. Never miss out on learning about the next big thing.
Update me weekly
Looking for something to help kick start your next project?
Envato Market
has a range of items for sale to help get you started.