Tool seperti Adobe Premiere memiliki semua yang Anda butuhkan untuk menghasilkan film berdurasi panjang, tetapi kadang-kadang bisa sangat sulit untuk bekerja dengan tool yang begitu powerful. Pengeditan video sederhana mungkin tidak perlu banyak: biasanya untuk mendapatkan look dan feel dari rekaman sequencing, cutting, dan correction sudah mencukupi.

Di situlah aplikasi pengeditan baru Adobe muncul, Adobe Rush, (sebenarnya disebut "Adobe Premiere Rush"). Rush menampilkan tool penting untuk mengedit rekaman video. Adobe Rush mungkin merupakan platform yang sempurna untuk editor video sesekali atau untuk editor video saat bepergian, berkat aplikasi mobilenya.

Tonton dan Belajar
Lihat screencast singkat di bawah ini untuk melihat Adobe Rush beraksi. Anda akan belajar cara menggunakan Rush untuk mengedit video dengan cepat, menerapkan look, menambahkan transisi ke tembakan Anda, dan mengekspor video yang sudah jadi.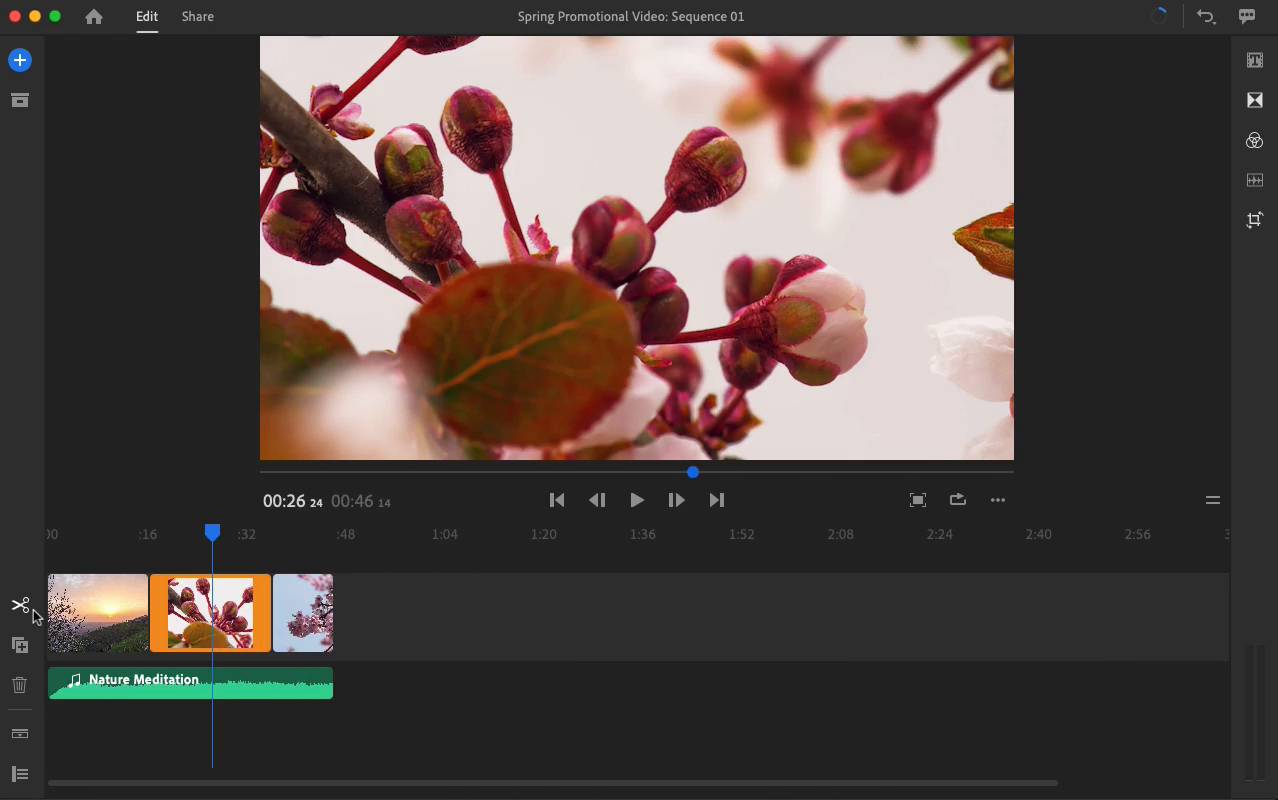 Baca terus untuk melihat Rush beraksi, dan cari tahu apa Rush adalah yang Anda pilih daripada banyak aplikasi pengeditan lainnya di luar sana.
Mengapa Menggunakan Adobe Rush?
Mungkin Anda sudah menggunakan aplikasi pengeditan video lainnya. Jika Anda sudah nyaman dengan aplikasi lain seperti Premiere atau Final Cut Pro, itu lebih baik untuk Anda. Bagi saya, saya hanya mengedit video sesekali, jadi aplikasi yang lebih sederhana dengan proses belajar yang lebih pendek menarik bagi saya. Jika Anda seperti saya, Adobe Rush patut dicoba, terutama jika Anda belum memiliki platform pengeditan video selama ini.

Berikut adalah beberapa aspek utama yang membedakan Rush:
Rush lebih sederhana, sehingga membutuhkan waktu lebih sedikit untuk menyelesaikan pengeditan video
Terjangkau, dengan harga $9,99 per bulan melalui layanan berlangganan Creative Cloud Adobe. Jelas bahwa Adobe memposisikannya sebagai versi editor video Photoshop dan Lightroom (dikemas pada titik harga yang sama dalam apa yang disebut "Adobe Creative Cloud Photography plan.")
Aplikasi mobile Rush sangat bagus dan merupakan cara yang masuk akal untuk mengedit video saat bepergian
Rush mendukung format file .MOGRT yang sudah umum, yang memungkinkannya untuk bekerja dengan template library besar yang sudah ada di luar sana untuk Premiere

Versi Rush yang berfitur lengkap adalah langganan bulanan, tetapi Anda dapat memulainya dengan gratis dengan tiga ekspor video. Lihat halaman Adobe tentang harganya untuk detail lebih lanjut tentang peningkatan ke versi aplikasi berbayar.
Cara Menggunakan Adobe Rush
Mari kita mulai untuk mengedit proyek video di Rush. Kami akan membahas langkah-langkah utama yang perlu diketahui setiap editor video untuk mendapatkan hasil maksimal dari aplikasi ini.
1. Buat Project dan Import Footage
Untuk memulai Project video, kita perlu mengimpor rekaman, foto, dan audio ke Rush. Mulailah dengan membuat project baru: klik Create a New Project.
Sekarang saatnya mengimpor semua asset yang ingin Anda gunakan. Anda selalu dapat menambahkannya ke koleksi ini nanti, tetapi mulai dengan menjelajah ke folder tempat video, audio, dan gambar Anda disimpan.
Sekarang klik pada setiap file yang ingin Anda tambahkan ke proyek Anda. Anda akan melihat mereka masing-masing disorot dengan nomor di atas, yang menunjukkan bahwa mereka akan ditambahkan ke project Anda saat ini.
Jika Anda ingin mengambil pengeditan project ini dari perangkat lain, saya sangat menyarankan agar kotak Sync with Creative Cloud dicentang. Ini akan membantu Anda mengakses proyek ini di perangkat lain, termasuk di aplikasi mobile.
Baiklah! Cukup klik Create, dan Anda siap untuk memulai dengan project pengeditan video baru Anda.
2. Trim dan Sequence Video Anda pada Timeline

Setelah Anda mengklik Create, Rush menempatkan semua klip di timeline dalam urutan yang sama dengan yang Anda klik pada tahap impor. Anda akan melihat setiap klip di timeline dan video akan memutarnya secara berurutan dari kiri ke kanan, seperti kebanyakan aplikasi pengeditan video lainnya.
Setiap proyek mungkin perlu sedikit pengurutan ulang (re-sequencing). Di Rush, hal tersebut sesederhana drag and drop untuk memindahkan klip ke dalam urutan yang Anda inginkan.
Banyak klip akan memiliki lebih banyak footage daripada yang ingin Anda sertakan dalam produk akhir. Untuk memotong (trim) atau membagi (split) klip video, pilih klip itu, lalu tekan ikon gunting di sisi kiri Rush. Hal ini akan membagi klip menjadi dua bagian pada titik yang Anda pilih.
Anda juga dapat mengambil (grab) ujung video untuk mengubah titik awal dan titik akhir. Ambil saja handle di bagian tepi video dan seret untuk mempersingkat atau memperpanjang klip.
Akhirnya, transisi membantu Anda menjembatani dua klip. Untuk melakukannya, klik pada dua klip yang ingin Anda transisikan, lalu klik menu Transitions di sisi kanan. Anda dapat memilih dari transisi bawaan dan menyesuaikan durasinya dari menu Edit.
Secara umum, tidak satu pun dari kontrol ini akan terasa asing jika Anda telah menggunakan aplikasi editing video lainnya. Kontrolnya sederhana dan mudah. Sebagian besar adalah drag-and-drop, dan menarik pada handles untuk menyesuaikan runtime dari sebuah klip.
3. Tambahkan Efek dan Adjustment Video
Setiap aplikasi pengeditan video membutuhkan seperangkat tool sederhana untuk menyesuaikan look dan feel dari sebuah footage, tanpa perlu aplikasi lain. Sekali lagi, Rush menemukan keseimbangan yang baik antara kesederhanaan dan efektifitas.

Dengan klip yang dipilih, klik pada color tool (ikon lingkaran yang tumpang tindih) di sisi kanan Rush. Segera, Anda akan melihat preset yang dapat Anda terapkan pada gambar untuk perbaikan satu klik sesuai style dari footage Anda.
Untuk kontrol yang lebih tepat, klik pada tab Edit. Jika Anda telah menggunakan Adobe Lightroom, banyak dari kontrol ini akan terlihat familier. Banyak correction tool umum untuk white balance, exposure, dan contrast semuanya ada di sini. Anda juga akan melihat lebih banyak tool bergaya, seperti preset look untuk Faded Film dan Vignette.
Pengaturan ini adalah cara mudah untuk menyesuaikan footageAnda. Untuk koreksi sederhana dan penyesuaian visual, Rush memiliki tool yang Anda butuhkan.

4. Kontrol Audio
Sebagian besar project akan menyertakan klip audio sebagai backing track untuk produksi atau narasi audio di atas adegan utama. Bekerja dengan audio pada dasarnya sama dengan klip video dalam hal sequencing: Anda dapat menyeret klip untuk bergerak pada timeline, atau klik ikon trim untuk membagi (split) klip.
Selain kontrol standar ini, Anda juga dapat menyesuaikan level volume dan menerapkan preset "music" atau "voice". Dengan memilih klip tersebut, kemudian klik pada ikon audio di sisi paling kanan: tarik pada slider volume untuk menyesuaikan volume klip secara keseluruhan.
Pada dropdown Advanced , Anda dapat menerapkan "types" ke audio. Misalnya, ubah ini menjadi Voice untuk preset yang disesuaikan dengan kata yang diucapkan dalam audio. Kontrol di Rush sangat terbatas untuk audio, tetapi ini adalah sentuhan yang bagus untuk menjaga hal-hal tetap sederhana.

5. Tambahkan Text Overlay dan Title
Adobe Rush jelas ditargetkan untuk pembuat konten media sosial. Karena itu, Rush memiliki cara yang sangat powerful dan ok untuk menambahkan text overlay dan judul.
Untuk menambahkan teks, klik pada type tool di sisi kanan. Anda akan melihat preset untuk style teks mulai dari judul hingga overlay lower thirds.
Tool ini sangat mudah diterapkan. Klik pada placeholder teks, ketik di atasnya, dan Anda akan melihat teks diperbarui di atasnya. Anda selalu dapat mengambil klip di timeline dan menggeser atau menyesuaikan panjangnya sesuai kebutuhan.
6. Ekspor dan Bagikan
Pengaturan export adalah salah satu fitur yang menakutkan di sebagian besar program pengeditan video yang sering membuat hal-hal lebih rumit daripada yang seharusnya. Memilih format, codec, dan mendapatkan ukuran file akhir yang tepat terlalu rumit di sebagian besar aplikasi.

Pendekatan Rush terhadap ini adalah salah satu fitur favorit saya. Klik Share di bagian atas aplikasi, lalu arahkan aplikasi ke tempat Anda ingin menyimpan video Anda. Dari dropdown Advanced, ada beberapa pilihan (opsional) tetapi, secara umum, itu lebih mudah daripada kebanyakan aplikasi editing video lainnya.
Rush juga membuatnya mudah untuk terhubung ke layanan sosial dan mengunggah file Anda langsung ke mereka. Klik salah satu aplikasi sosial yang ada untuk mulai menghubungkannya ke akun Anda dan mengatur alur untuk mengirim langsung ke layanan tersebut.
Go Mobile dengan Rush
Sepanjang proses ini, saya telah menunjukkan Premiere untuk macOS. Tapi saya telah meremehkan fitur favorit saya dari Adobe Rush: kemampuan untuk terus mengedit bahkan ketika saya jauh dari komputer saya.
Adobe membangun Rush dari bawah ke atas dan jelas bahwa kompatibilitas seluler adalah fokus utama. Versi mobile Adobe Rush sudah ada di sini untuk iOS, dan Android direncanakan untuk tahun depan.
Saya baru-baru ini memiliki iPad Pro, dan saya harus mengatakan bahwa Rush serasa dibuat khusus untuk mengedit rekaman saat bepergian. Jika Anda memilih untuk menyinkronkan rekaman dengan Creative Cloud, proyek Anda menunggu Anda di aplikasi seluler.

Adobe menggunakan beberapa magic kompresi untuk membuat ini dapat digunakan. Anda tidak perlu mengunduh versi resolusi penuh dari rekaman asli berkat pendekatan file proxy ini. Untuk pengguna seluler yang terjepit soal penyimpanan, ini adalah fitur yang hebat.
Di aplikasi iPad, semua fitur dan too terus dapat diakses. Pada dasarnya, semua yang ada di tutorial ini bekerja persis sama dengan versi desktop. Kontinuitas antar platform itulah yang membuat Adobe Rush layak untuk dicoba.
Terus Belajar
Adobe Rush adalah pengingat yang bagus bahwa lebih sedikit bisa lebih banyak. Karena fitur penting dari pengeditan video Rush, saya menemukan Rush menjadi salah satu cara tercepat untuk menyelesaikan proyek pengeditan. Dan kemampuan untuk terus mengerjakan proyek dengan aplikasi seluler membantu Anda menyelesaikan pengeditan di tempat-tempat yang belum pernah Anda bisa lakukan sebelumnya!
Salah satu fitur favorit saya di Rush adalah kompatibilitas dengan format file MOGRT. Itu berarti bahwa banyak proyek yang telah dikembangkan untuk Premiere berfungsi dengan baik di Rush. Coba round-up ini untuk menggunakan template di Adobe Rush:
Sudahkah Anda mencoba Adobe Rush? Fitur-fitur apa yang dibutuhkan untuk menjadi platform pengeditan utama Anda? Beri tahu saya di bagian komentar di bawah.
Want a weekly email summary?
Subscribe below and we'll send you a weekly email summary of all new Video tutorials. Never miss out on learning about the next big thing.
Sign up
I believe that life is too short to do just one thing. In college, I studied Accounting and Finance but continue to scratch my creative itch with my work for Envato Tuts+ and other clients. By day, I enjoy my career in corporate finance, using data and analysis to make decisions. I cover a variety of topics for Tuts+, including photo editing software like Adobe Lightroom, PowerPoint, Keynote, and more. What I enjoy most is teaching people to use software to solve everyday problems, excel in their career, and complete work efficiently. Feel free to reach out to me on my website.
Looking for something to help kick start your next project?
Envato Market
has a range of items for sale to help get you started.