Read Time:
6 mins
Languages:
Two of the most popular video editing progrmas for macOS users are iMovie and Final Cut Pro X (FCPX). While iMovie caters to more casual video editors, FCPX aims to let you do more complex projects while still being user-friendly.
If you're thinking of splurging on an FCPX license, you might be wondering if iMovie can take its place. And indeed, iMovie is enough for some hobbyist video editors. In this tutorial, we compare and size up iMovie and FCPX: you'll learn which tool is the right choice for you, and if you can afford to skip skip the costly, but powerful, FCPX.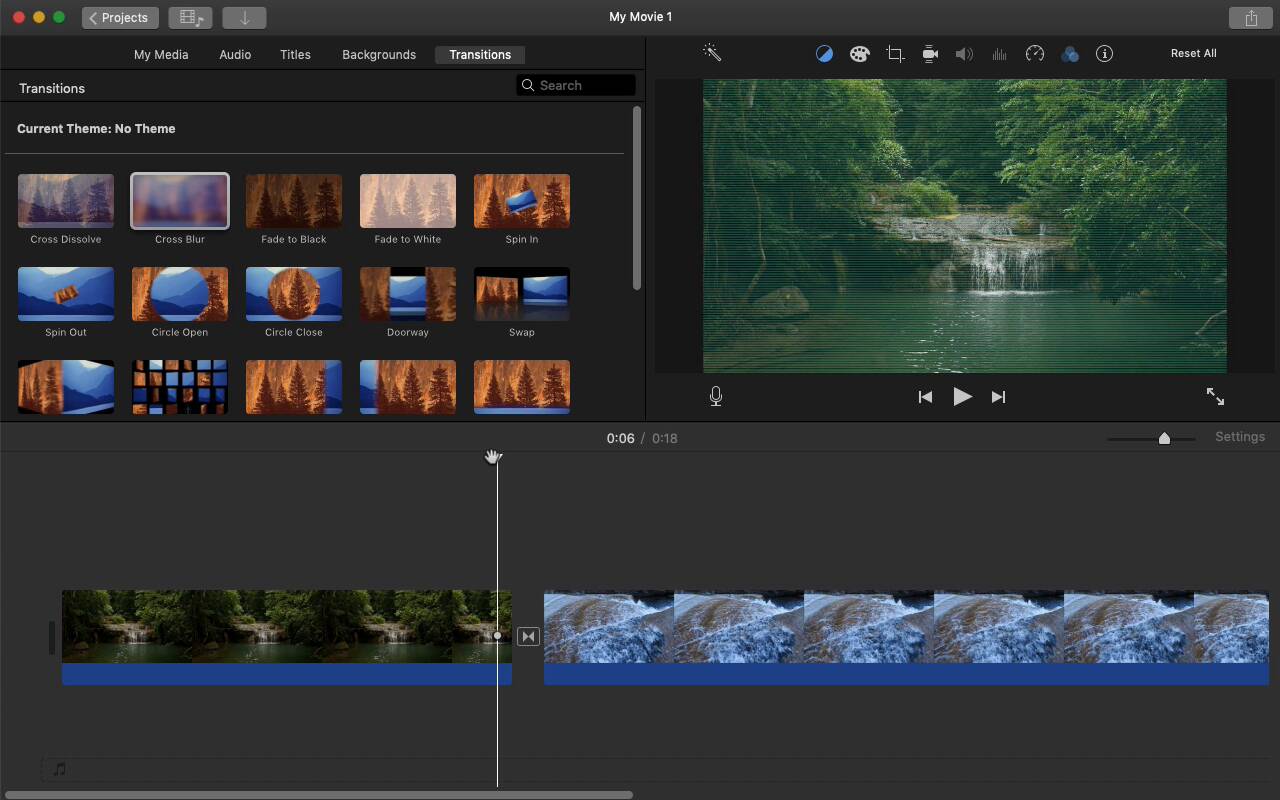 Why You Might Choose iMovie Over FCPX

Creative software has always been a top priority for Apple's software development teams, and iMovie is no exception. It's a perfectly capable video editing app at a price that can't beat be: free (you already paid for it with your macOS license, of course).
You can grab iMovie from the App Store on either macOS or iOS (more on the mobile apps in a minute.) As you open it up, the interface will look familiar if you've used practically any video editing app. There's a panel to drop your clips into the app, and a timeline at the bottom of the interface to sequence clips.
In addition to sequencing your clips, you can adjust the look and feel of your footage easily with the corrections panel. That might include simple tweaks like saturation, white balance, and exposure. It doesn't include in-depth adjustment tools like scopes, but it's good enough for most footage.
Another reason to consider iMovie as your primary platform is that it has a robust iOS app. Whether you're editing on an iPhone or iPad, you can continue your edit on the go. Again, it doesn't have every feature that you need, but it likely has enough for most edits. 
iMovie is more than good enough for compositing clips together, chaining them into the proper order and applying minor corrections and tweaks. If that's what your video editing needs consist of, it's likely that iMovie could be the right platform for you.

Why You Might Choose Final Cut Pro X
It's no secret that Final Cut Pro X has long been a mainstay in semi-pro and small-budget professional video edits. More than a few FCPX projects have made their way onto the silverscreen. That's proof-positive that FCPX has a place in the workflow of many professionals.
Final Cut Pro X has every tool a video editor needs. That includes advanced features like color grading, multi-camera support, and an amazing Ken Buns pan effect that makes it perfect for producing your voice-over video.

If you want a platform that you can grow with, consider learning FCPX. It's more work to start in, but, with a bit of knowledge, you can quickly grow into a professional video editor. It's really all about what your aspirations are as a creative; aspiring pros should learn a tool that they can grow with, while iMovie is enough for the occasional editor.
Even though FCPX is more sophisticated and seen as "professional," Apple has been updating it in recent years to cater more to the mid-market, serious hobbyist crowd. (In fact, that has often been to the chagrin of the seasoned professional.)

Another reason that you might turn to FCPX is that it works nicely with Apple's animation tool, Motion. Most editing apps like FCPX or Premiere are good for basic animations, but Motion can extend the functionality to professional motion graphics and 3D renders, and it ties in beautifully with FCPX.
Take the first step in learning FCPX below:
Other Video Editing Apps Worth Considering
Many macOS users will weigh the two apps that we highlighted in this article as their key choices, but they aren't the only way to edit your video on macOS.

Adobe Premiere
If there was one video editing platform that benefited from pros switching away from FCPX, it's undoubtedly Adobe Premiere. Given that Adobe's flagship video editing platform works on both Windows and macOS, it attracts users that work on both operating systems.
Much like Final Cut Pro X, Premiere also features a learning curve that requires mastery before you can use the app effectively. Check out the tutorial below to start learning.
Adobe Premiere Rush
Adobe Premiere Rush (or just "Rush" for short) is a more lightweight version of Adobe's flagship video editing platform. It came on the scene in 2018 and features a trimmed down interface that's clearly targeted at YouTubers and other influencers.
Rush is Adobe's answer to iMovie. It has enough robustness to edit together a video project, but without all of the tools that can add unnecessary complexity. It also has some pretty solid mobile apps that help you keep editing on the go.
Check out the tutorial below to learn more about Rush and why you might choose it over other apps:
DaVinci Resolve
Maybe the best combination of cost (free) and robustness is DaVinci Resolve. It's truly amazing that there are so many features and tools inside a no-cost platform. Resolve quickly gained favor with editors for its powerful color correction and adjustment tools.
However, much like FCPX, there is a learning curve to take on. Check out the tutorial below for one of the best examples of how you can use Resolve to adjust the color in your video footage.
Each of these apps has their pluses and minuses. I recommend learning at least one of them so that you don't get caught off-guard when you need to edit a video project. It's an important skill to have in your creative toolkit and can round out your skillset.
Keep Learning Video Editing
No matter which video platform you settle in with, you can use tutorials to learn the app and save yourself the many hours of learning that most software requires.
Many skills are useful across a wide variety of apps. Ultimately, creating great videos is about storytelling. You can use these tutorials below to improve your next video regardless of the app you're using:
macOS users have many options available when it comes to editing a video. Which one did you choose, and why? Let me know in the comments section below and share with your fellow Tuts+ readers.
Weekly email summary
Subscribe below and we'll send you a weekly email summary of all new Photo & Video tutorials. Never miss out on learning about the next big thing.
Update me weekly
Translations
Envato Tuts+ tutorials are translated into other languages by our community members—you can be involved too!
Translate this post
Powered by
Looking for something to help kick start your next project?
Envato Market
has a range of items for sale to help get you started.