Andrew Childress
There's nothing worse than coming home after a shoot only to find that your perfect image has a spot on it. Whether that's a dust spot or blemish on a subject that's more obvious in the image than in the viewfinder, you need tools to correct spots. 
In this tutorial, I share a quick guide to using Lightroom's Spot Removal tool, and then you'll learn about a lesser-known tool called Visualize Spots that makes it easy to find all of those tiny imperfections you may want to correct.
Where Do Spots Come From?
Unfortunately, correcting dust spots is just a part of life for busy photographers. Tiny bits of dust, hairs, and other small particles sneak their way onto the camera sensor—the suction from zoom lenses is a common culprit.

Especially if you're shooting landscape images, photographing solid blocks of tone, or using small apertures, you're likely to see dust spots on your image. Most modern cameras have self-cleaning sensors, but you may still see the occasional spot on your sensor.
Camera sensors need periodic cleaning to remove dust and other particles from them. Those spots are increasingly visible as you use a smaller aperture (think f/16-f/22) with those spots refracted with smaller apertures.
Check out Stefan Surmabojov's tutorial below to find out more about keeping your camera sensor and other gear clean.
More generally speaking, the Visualize Spots feature you'll learn in this tutorial could also be used to correct spots like skin blemishes or imperfections. 
Watch & Learn
In the screencast below, you'll see how the Visualize Spots tool makes it easy to pinpoint the spots that need correction. Learn to turn it on, find spots, and easily correct them with only a few clicks.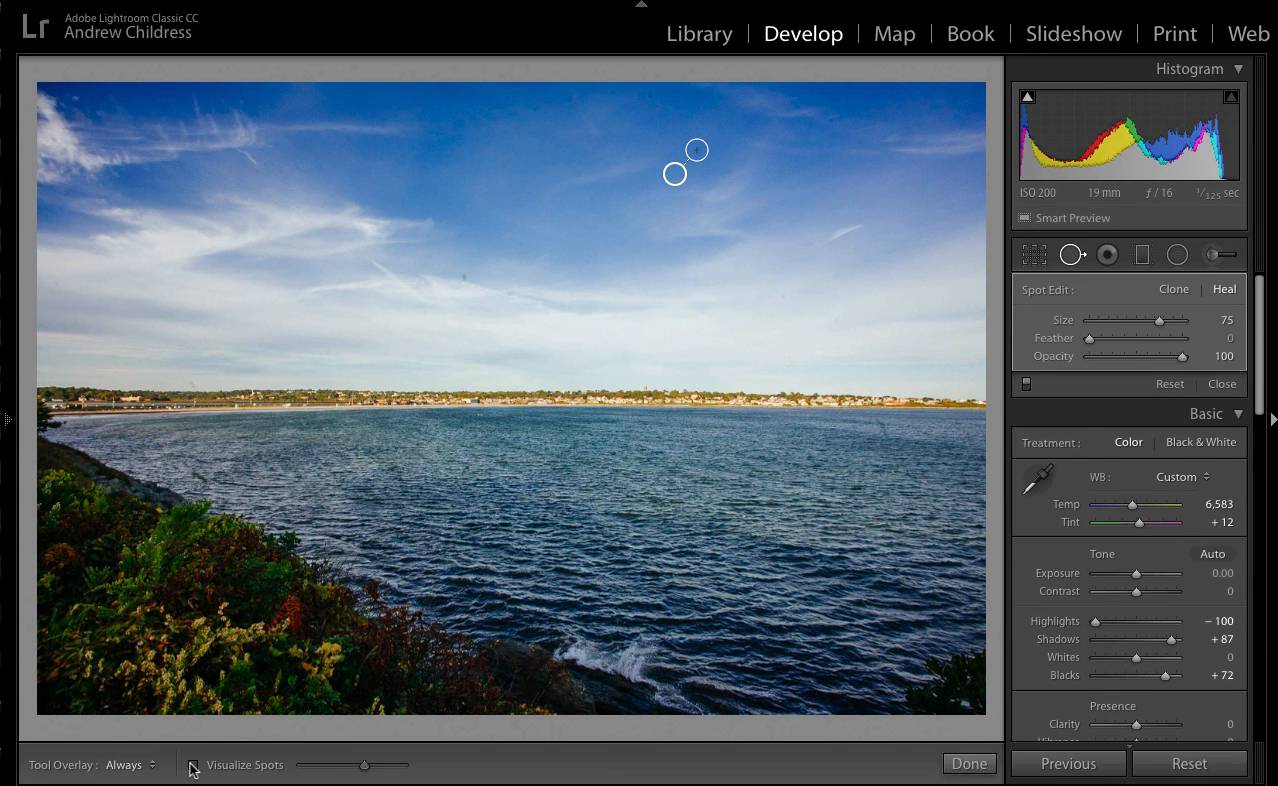 In the rest of the tutorial, I'll show you step-by-step directions to get the most from this tool.
Spot Corrections in Lightroom
To use this tool, let's start off by making sure that we're working in the Develop module. Lightroom is several tools in one (a raw processor, a file organizer, a layout and printing program, and more) and the Develop module is where we can change the look and feel of an image. 
The Develop module also has spot correction tools. This means that you can adjust part of an image with fixes like local adjustments or spot patches. 
While many photographers think that these types of tools and adjustments are reserved for Adobe Photoshop, Lightroom has a surprisingly robust set of tools to apply regional corrections built right in.
In this tutorial, we're using the Spot Removal Tool that I highlighted in the screenshot above. Get started by clicking on it.
The simplest way to use the Spot Removal tool is simply to click on the spot that you want to remove. Lightroom automatically will guess at a part of the image to sample replacement pixels for. You can always click and drag the spot if you want to sample another part of the photo.
It's easy enough to remove spots using this tool. But, how can you find all of the spots you need to clone out with the least work possible? Read on to find out.

How to Visualize Spots in Lightroom
Now that you've entered the Spot Removal Tool, you have access to turn on Visualize Spots, a feature to help you pinpoint spots that may need correction with the Spot Removal tool.
Below the image, you should see a toolbar where you can turn on the Visualize Spots feature. Simply click on the Visualize Spots option to enter a helpful view for finding spots.
Once you turn on the Visualize Spots option, Lightroom will invert the photo into a black and white image with strong edges. This type of view really draws attention to the spots that may need correcting.
In the example above, it's clear that everything that Lightroom has highlighted isn't a spot that needs correction. The white highlighted lines on the left side of the frame are clouds and not dust or noise.
When I'm working in this view, I'm constantly toggling it off and on to ensure that the spots I'm going to correct are real imperfections. Once I've identified the spots to correct, I'll simply click on them to use the Spot Removal tool.
Of course, there's no way that Lightroom knows exactly what spots you're looking for. Think of this as a visualization tool that helps you find spots, but you can't simply click on each and every outline.

Adjusting the Spot Visualization Threshold
To really hone in on what spots may need correction, you can use the slider next to the Visualize Spots feature. Pull it to the left or right to bring more or less detailed lines to potential spots is really helpful, and you can do just that with this slider.
In the example below, you can see an example of pulling the slider up. In the screenshot on the right, the lines have much more detail around them to potentially detect spots that need correction.
Recap & Keep Learning
The Visualize Spots feature is easy to miss in Lightroom, but I can't stress enough how useful it is to pinpoint those imperfections. Use the Visualize Spots feature to find them quickly and make easy corrections.
How do you find spots? Are you using a manual feature to do so, or are you now using the Visualize Spots option for finding and spotting imperfections?

Want a weekly email summary?
Subscribe below and we'll send you a weekly email summary of all new Photo & Video tutorials. Never miss out on learning about the next big thing.
Sign up
I believe that life is too short to do just one thing. In college, I studied Accounting and Finance but continue to scratch my creative itch with my work for Envato Tuts+ and other clients. By day, I enjoy my career in corporate finance, using data and analysis to make decisions. I cover a variety of topics for Tuts+, including photo editing software like Adobe Lightroom, PowerPoint, Keynote, and more. What I enjoy most is teaching people to use software to solve everyday problems, excel in their career, and complete work efficiently. Feel free to reach out to me on my website.
Scroll to top
Start your 7-day free trial*
*All Individual plans include a 7-day free trial for new customers; then chosen plan price applies. Cancel any time.