Read Time:
6 mins
Languages:
Los vídeos con letras se han vuelto realmente populares y son perfectos tanto para artistas consagrados como principiantes. La buena noticia es que se pueden producir de forma rápida y económica, y en este artículo veremos cómo.
¿Por qué hacer un vídeo con letra?
Costo y tiempo
Elegir hacer un vídeo con letra puede ser una opción completamente práctica. Es posible que no tengas el presupuesto o los recursos para hacer un vídeo musical completo, pero con un vídeo de letra animado, aún puedes darle a tu canción una presencia visual en canales importantes como YouTube.
Para mayor claridad
A los fanáticos les encanta saber las letras y cantar, pero a veces pueden escuchar mal y eso a menudo se traduce en errores en los sitios de letras. Un artista que publica un vídeo con letras es una excelente manera de asegurarse de que las letras correctas estén ahí desde el principio.
Para contar una historia
Los vídeos con letras pueden incluir animación gráfica y texto cinético, pero incluso solo con texto animado puedes contar una historia y expresar el significado de tus letras de una manera significativa, a través de cosas como la elección de la fuente y tu estilo, pronto los veremos.
Grandes ejemplos de vídeos con letras exitosos
Muchos artistas están usando vídeos con letras, y aunque probablemente tengamos una idea particular que nos viene a la mente cuando pensamos en un vídeo con letras, existen muchos enfoques diferentes. Veamos algunos. Hay muchas referencias de Taylor Swift en la siguiente sección.
Solo letra: Only the young de Taylor Swift
Si recién estás comenzando con el vídeo, es posible que desees comenzar con letras animadas sobre un fondo relativamente simple. Only the young usa destellos sobre un fondo que de otro modo sería simple. El texto en sí está simplemente coloreado y la fuente es fácil de leer. Taylor tiene un mensaje simple y directo para transmitir, y el estilo del vídeo con letras lo respalda.
Letras con animación gráfica para contar una historia: The man de Taylor Swift
Aunque el último sencillo de Taylor, The man, tendrá un vídeo musical completo, esta versión animada con letras fue lanzada varias semanas antes para ayudar a generar entusiasmo por el sencillo y el anticipado vídeo musical.
Una vez más, el estilo de fuente y la ubicación de la letra reflejan el tono de la canción (en su mayoría son letras mayúsculas, aparecen agresivamente y desaparecen rápidamente) y la animación en el fondo cuenta la historia que se transmite en la letra.
Letras animadas con imágenes fijas o imágenes sutiles: Just one of the guys de Jenny Lewis
Usar un metraje sutil (ver: ¡no distraer!), O imágenes fijas, detrás de la letra puede ser una forma sencilla de agregar interés visual sin necesidad de animar una historia completa. En este vídeo de Jenny Lewis, la imagen de desplazamiento en un televisor con algunos efectos de falla adicionales funciona muy bien y no distrae tu atención de la letra.
Letras animadas... de forma distinta: One foot de Fun
One foot es un vídeo tan inteligente porque la letra está escrita en las cosas y luego filmada, es una forma realmente interesante de abordarlo. La canción trata sobre avanzar cuando las cosas se ponen difíciles y en particular, hace referencia al conflicto entre la comunidad LGBT y la religión. Aquí vemos los pies de alguien caminando físicamente por ese camino y es una poderosa metáfora visual.
Qué debemos considerar al hacer el vídeo con letra
Elección de la fuente
Usa una fuente que se adapte al estado de ánimo que estás tratando de transmitir en el vídeo, pero trata de equilibrar esto para que las letras sean fáciles de leer en un tiempo relativamente corto en la pantalla.
Cuánto hay en la pantalla
Tu vídeo debe ser, sobre todo, fácil de leer y comprender. No dejes que la animación o la narración emocionante se aleje de eso.
El tema y la narración
Contar una historia que se ajuste a tu letra es excelente para un vídeo de letra animado y, como hemos visto en los ejemplos anteriores, es posible hacerlo de varias maneras. El tema de tu vídeo debe coincidir con la letra o complementarlo.
Cómo hacer un vídeo con letra animada en Adobe Premiere Pro
¿Te sientes inspirado para hacer tu propio vídeo con letras? Comenzar con una plantilla es realmente útil, así que aquí hay una selección de plantillas y elementos de letras animadas para Premiere Pro de Envato Elements y Envato Market.
Este estilo divertido y líquido se adapta a cualquier vídeo con letras optimistas. Simplemente coloca las composiciones proporcionadas y cambia los tiempos y estilos. Puedes hacer todo bien en Premiere Pro desde la versión 2019 y superior.
Estos elementos líricos incluyen parpadeos, corazones, flores y mucho más. Agrégalos a tu vídeo con letras para crear una sensación adicional de movimiento e interés, y cambia los colores para adaptarlos.
Esta plantilla de Premiere Pro es un estilo simple con un efecto de salpicadura de pintura ligeramente sucio. Cambia fácilmente la duración, simplemente coloca el fondo deseado y escribe tus letras en los 60 titulares de texto proporcionados.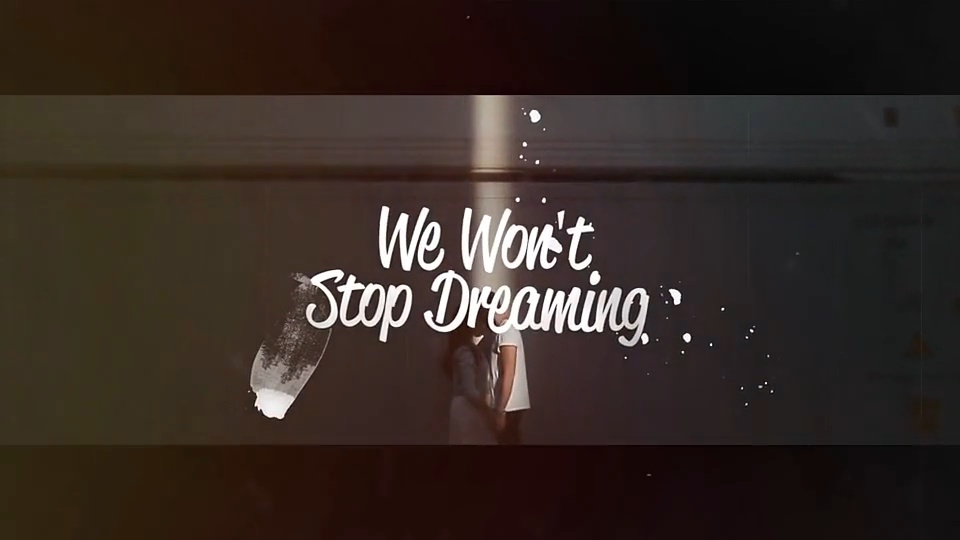 Glowing Scribbles es otra buena plantilla de varios elementos móviles para Premiere Pro, pero con una gran variedad, lo que significa que puedes seguir usándolos en todos los vídeos musicales sin que tengan el mismo aspecto. Hay más de 300 elementos en estilos de neón y 180 animaciones cuadro por cuadro.
Más inspiración para vídeos musicales
Más recursos de vídeo impresionantes de Envato
Guía de vídeo mercadotecnia de Envato
Mejora tus habilidades de vídeo mercadotecnia con nuestra guía. Aprenderás mercadotecnia en vídeo de principio a fin para mejorar tu próxima producción y conectarte con los clientes.
Recursos de vídeo gratuitos de Mixkit
Echa un vistazo a Mixkit para ver vídeos de archivo gratuitos, música de archivo gratis y plantillas gratuitas para Adobe Premiere Pro.
Haz vídeo de gráficos en movimiento en línea con PlaceIt
PlaceIt es un creador de vídeos en línea con plantillas de gráficos en movimiento diseñadas profesionalmente; puedes hacer vídeos rápidamente, directamente en tu navegador.
Envato Elements: descargas ilimitadas
Envato Elements ofrece millones de artículos de archivo: fotos, música, clips de vídeo, fuentes, plantillas de gráficos de todo tipo, plantillas de proyectos de vídeo para After Effects, Premiere Pro, Final Cut Pro y Motion, y cursos creativos de Envato Tuts +.
Weekly email summary
Subscribe below and we'll send you a weekly email summary of all new Photo & Video tutorials. Never miss out on learning about the next big thing.
Update me weekly
Translations
Envato Tuts+ tutorials are translated into other languages by our community members—you can be involved too!
Translate this post
Powered by
Looking for something to help kick start your next project?
Envato Market
has a range of items for sale to help get you started.