Marie Gardiner
¿Quisieras saber cómo hacer un vídeo con letras en movimiento? Los vídeos líricos con letras animadas se han hecho muy populares y son perfectos tanto para artistas consolidados como para principiantes. La buena noticia es que puedes crear textos animados para tus vídeos con letras en movimiento de forma rápida y económica, y en este artículo veremos cómo hacerlo.
¿Por qué hacer un vídeo lírico con letras animadas?
Costo y tiempo
Elegir hacer un vídeo con letras en movimiento puede ser una opción totalmente práctica. Puede que no tengas el presupuesto o los recursos para hacer un vídeo musical completo, pero con un vídeo lírico que tenga letras animadas puedes darle a tu canción una presencia visual en canales importantes, como YouTube.
Para la claridad
A los fanáticos les encanta conocer las letras de las canciones y cantarlas, pero a veces pueden escucharlas mal y eso suele generar errores en los sitios web de letras de canciones. Es buena idea que los artistas publiquen vídeos con las letras animadas de sus canciones, de esta manera se asegurarán de que las letras sean las correctas desde el principio.
Para contar una historia
Los vídeos líricos con letras en movimiento pueden incluir animaciones gráficas y texto cinético, pero incluso con solo crear textos animados se puede contar una historia y transmitir el significado de la letra de una manera significativa, a través de aspectos como la elección de la fuente y el estilo; hablaremos de este tema en breve.
Excelentes ejemplos de vídeos líricos con letras animadas exitosos
¿Quieres ver ejemplos de cómo hacer un vídeo con letras en movimiento? Muchos artistas utilizan los vídeos líricos con letras en movimiento y, aunque probablemente tengamos una idea concreta que nos viene a la mente cuando pensamos en un vídeo con letras, existen muchos enfoques diferentes. Veamos algunos vídeos con letras en movimiento que te guiarán para crear textos animados personalizados. Hay muchas referencias a Taylor Swift en la siguiente sección.
Solo letras - 'Only The Young' de Taylor Swift (Vídeo con letras animadas)
Si acabas de iniciarte en el mundo del vídeo, es posible que quieras empezar con letras animadas sobre un fondo relativamente sencillo. Only The Young utiliza destellos y flashes sobre un fondo liso. El texto está coloreado con sencillez y la fuente es fácil de leer. Taylor quiere transmitir un mensaje sencillo y directo, y el estilo del vídeo lírico lo refuerza.
Letra con animación gráfica para contar una historia: "The Man" de Taylor Swift (Vídeo con letras animadas)
Aunque el último single de Taylor, The Man, tendrá un vídeo musical completo, esta versión con letras animadas se publicó varias semanas antes para crear expectación por el single y el esperado vídeo musical.
Una vez más, el estilo de la fuente y la disposición de la letra de este vídeo de letras con movimiento reflejan el tono de la canción, la mayoría de las letras son mayúsculas, aparecen de forma agresiva y desaparecen rápidamente, y la animación de fondo cuenta la historia que transmite la letra.
Letra animada con metrajes estáticos o sutiles: "Just One of the Guys" de Jenny Lewis (Vídeo con letras animadas)
Utilizar algunas imágenes sutiles (es decir: ¡que no distraigan!) detrás de la letra puede ser una forma sencilla de añadir interés visual sin necesidad de animar toda la historia. En este vídeo con letras en movimiento de Jenny Lewis, la imagen que se desplaza a través de un televisor con algunos efectos de deslizamiento incluidos funciona muy bien y no desvía la atención de la letra.
Letra animada... de una manera diferente: "One Foot" de Fun (Vídeo con letras animadas)
One Foot es un vídeo muy ingenioso porque la letra fue escrita en diferentes objetos y lugares, para luego filmarse, lo que deja ver un enfoque bastante interesante. La canción trata de seguir adelante cuando las cosas son difíciles, y en particular hace referencia al conflicto entre la comunidad LGBT+ y la religión. En este vídeo vemos los pies de alguien recorriendo físicamente ese camino y es una metáfora visual muy poderosa. Un excelente ejemplo de cómo animar textos de forma poco convencional.
Qué debes tener en cuenta a la hora de hacer tu vídeo lírico de letras con movimiento
La elección de la fuente
Utiliza una fuente que concuerde con el tono que quieres transmitir en tu vídeo de letras con movimiento, pero equilibra esto con que una letra sea fácil de leer en un tiempo relativamente corto en la pantalla.
Cuánto hay en pantalla
Tu vídeo con texto Premiere debe ser, sobre todo, fácil de leer y entender. No dejes que las ganas de animar textos con animaciones o narraciones extravagantes te alejen de este objetivo.
El tema y la narración
Contar una historia que corresponda a la letra de la canción es la mejor manera de sacar partido de un vídeo musical animado y, como hemos visto en los ejemplos anteriores, hay muchas maneras de conseguirlo. El tema de tu vídeo con texto Premiere debe adaptarse a la letra o complementarla.
Cómo hacer un vídeo lírico con letras animadas en Adobe Premiere Pro
¿Te sientes inspirado para crear textos animados que puedas incluir en tu propio video lírico? Empezar con una plantilla con texto Premiere es realmente útil, así que aquí tienes una selección de plantillas y elementos para crear letras con movimiento en Premiere Pro disponibles en Envato Elements y Envato Market.
Este estilo líquido y divertido se adaptará a cualquier vídeo lírico con texto Premiere que tenga un aire optimista. Basta con añadir tu contenido en las composiciones incluidas, cambiar los tiempos y los estilos para crear textos animados originales. Puedes hacerlo todo directamente en Premiere Pro a partir de la versión 2019. Ya no te preguntarás más cómo hacer un vídeo con letras en movimiento, todo lo que necesitas está en las plantillas Premiere Pro, como esta.
Estos elementos líricos incluyen destellos, corazones, flores y mucho más para que puedas animar textos de forma profesional. Añádelos a tu vídeo lírico con texto Premiere para crear una sensación adicional de movimiento e interés, y cambia los colores a tu gusto para animar textos que tengan tu toque.
Esta plantilla con texto Premiere Pro tiene un estilo sencillo con un efecto de "salpicadura de pintura" ligeramente descuidado. Cambia la duración con facilidad, simplemente coloca el fondo que desees y escribe tu letra en los 60 marcadores de posición incluidos.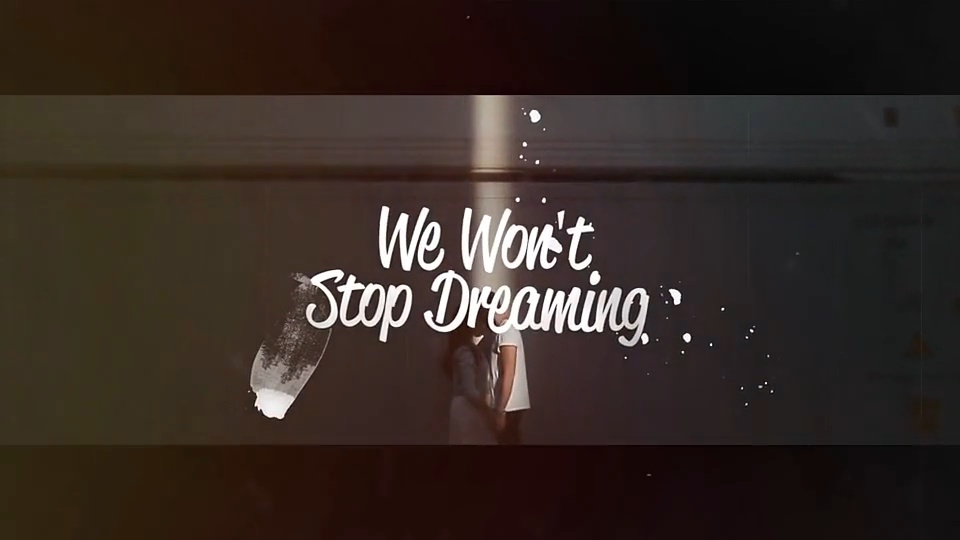 Garabatos brillantes es otra bonita plantilla con diversos elementos animados para Premiere Pro, todos sumamente variados, lo que significa que podrás seguir utilizándolos en todos tus vídeos musicales sin que se vean iguales. Hay más de 300 elementos en estilos de neón, y 180 animaciones cuadro por cuadro para que puedas animar textos como lo desees.
Más ideas de vídeos musicales
Más increíbles recursos de vídeo de Envato
Guía de vídeo marketing de Envato
Potencia tus habilidades de vídeo marketing con nuestra guía. Aprenderás sobre vídeo marketing de principio a fin para mejorar tu próxima producción, y así conectar con tus clientes.
Recursos de vídeo gratuitos de Mixkit
Visita Mixkit para conseguir vídeos de stock gratuitos, música de stock gratuita y plantillas gratuitas para Adobe Premiere Pro.
Produce un vídeo con gráficos animados en línea con Placeit
Placeit es un generador de vídeos en línea que utiliza plantillas con gráficos animados diseñados por profesionales; podrás producir vídeos rápidamente, directamente en tu navegador.
Envato Elements: descargas ilimitadas
Want a weekly email summary?
Subscribe below and we'll send you a weekly email summary of all new Photo & Video tutorials. Never miss out on learning about the next big thing.
Sign up
Photographer and writer based in north east England.
Marie Gardiner is a writer and photographer from the North East of England. After gaining her degree in Film and Media, Marie worked in the media industry, before leaving to set up the business she runs with her partner: Lonely Tower Film & Media. As well as writing about visual practices like photography and video, Marie is also the author of Sunderland Industrial Giant (The History Press, 2017), Secret Sunderland (Amberley Publishing 2019), and Celebrating Sunderland (Amberley Publishing 2023). Her photographic work focuses on landscapes and industrial ruins, particularly those of the North Pennines as she continues to work on her long-form documentary project Changing Landscapes.
Start your 7-day free trial*
*All Individual plans include a 7-day free trial for new customers; then chosen plan price applies. Cancel any time.